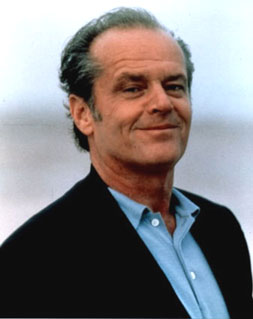 10        JACK NICHOLSON (1937- )
It is no secret that Jack Nicholson and Warren Beatty have been bosom pals for a long, long time. Actor friend Bruce Dern has been quoted regarding both men's obsession with sex: 'Jack Nicholson and Beatty have contests about it.' One of Nicholson's many former girlfriends, actress Veronica Cartwright, was more specific, describing him as – 'funny, charming, and capable of maintaining an erection for hours on end.' Uh-huh.
Veronica Cartwright                                                     Susan Anspach
Jack's first publicized romance was his three-year liaison with actress Georgianna Carter (1957-60). Soon after their break-up he married Sandra Knight, his only trip down the aisle in his 79 years so far. They produced a daughter together before splitting in 1968. Susan Anspach made Five Easy Pieces with him in 1970 and their very brief liaison produced a son before they too went their separate ways.  From 1980 to 85 he and minor actress Winnie Hollman were an 'on and off' item. While they were 'on' a daughter, Honey, was born in 1981.His five-year relationship with actress Rebecca Broussard (1989-94) resulted in two children as well.
model Winnie Hollman    with Rebecca Broussard   and Anjelica Huston
Undoubtedly, the love of his life so far has been Anjelica Huston, the actor daughter of legendary director John Huston. Their relationship was spread over about 16 years (from 1973 to 1989), although it fell apart at least once during that time. One imagines his constant infidelities during those years would have had something to do with their inevitable break-up. In the seventies he was known to have affairs of varying lengths with singer Joni Mitchell, Margaret Trudeau, the former wife of Canadian Prime Minister Pierre Trudeau, actresses Jill St. John, Rachel Ward, Kelly le Brock and the afore-mentioned Veronica Cartwright, and the Aspen, Colorado high society party girl Nancy Pfister. (Miss Pfister, incidentally, would be axed to death in her bed in 2014!)
with Meryl Streep       with Michelle Phillips
Christina Onassis was said to have trysted with Nicholson when she visited Los Angeles in 1980, and supermodel Janice Dickinson openly discusses her own 1980 affair with him. When Nicholson and Meryl Streep co-starred in Ironweed in 1987, they were rumoured to have enjoyed a brief fling off-screen. In fairness to Jack, his two-year affair with former singer of The Mamas & the Papas pop group, Michelle Phillips, was over by the time he hooked up with Anjelica.
with Lara Flynn Boyle                           Cynthia Basinet
In the nineties he landed actress Melanie Griffith, but seemed to focus more on models such as Angie Everhart, Amber Smith, Amanda de Cadenet and Karen Mayo-Chandler. Then there was a two-year romance with singer Cynthia Basinet (she had a 1997 hit with 'Santa Baby'), and a turbulent relationship with the volatile actress Lara Flynn Boyle. Since sending Lara on her way he has been seen with Kate Moss and Paz de la Huerta, among others. Hollywood madam Heidi Fleiss has since stated that the ever horny Jack was one of her A-list clients.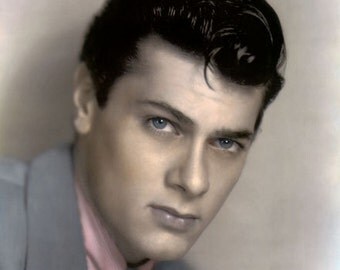 9          TONY CURTIS (1925 – 2010)
When we look at the famous names that have been intimate with Tony Curtis it becomes evident that there were not anywhere near as many as say Beatty, Gable or Sinatra and others, but don't let that fool you. Tony Curtis went after women with a vengeance. All women. 'All through my life I wanted to conquer every woman I met', he disclosed in his autobiography. In his 85 years of life he estimated he had perhaps 1,000 bed-mates, but that is only a rough estimate. In his early years in Hollywood he used his astonishing good looks to seduce starlets, office employees, chorines, script girls, etc. 'These girls of 18 or 20 were fodder', he recalled. 'All the guys at the studio, including myself, would feast on them, take their sweetness. There were a lot of them. I don't remember their names. Then they would go home and get married. Poor darlings. They came and went. I ran around with a lump in my pants, chased all the girls. I got a lot of girls while I was at the peak. If I didn't get them, I got their stand-ins.'
with wife Janet Leigh                with Christine Kaufmann          and with Andria Savio
and Jill Vandenberg 2004
Three of his six wives were actresses – Janet Leigh (1951 – 62), Christine Kaufmann (1963 – 68) and Andria Savio (1983 – 92). Wife number six was a horse trainer named Jill Vandenburg who was 46 years his junior!
Curtis was constantly unfaithful to Janet Leigh in the fifties as his star rose and he became a heartthrob to millions of female fans across the world. When Wanda Hendrix's marriage to Audie Murphy struck a reef in 1950, Curtis latched onto her briefly. That same year he trysted at his beach cottage in Malibu with a very young Norma Jean Baker, soon to be transformed into Marilyn Monroe. Gloria DeHaven and the ill-fated Suzan Ball fell under his spell, as did Terry Moore, Yvonne de Carlo and Jeanne Carmen. One night stands with Mamie van Doren, Anita Ekberg and an aging Joan Crawford followed, and a very strong rumour placed him in bed with the up and coming Grace Kelly years before she became Princess Grace of Monaco. Throughout much of 1960 and '61 he was hot with Natalie Wood.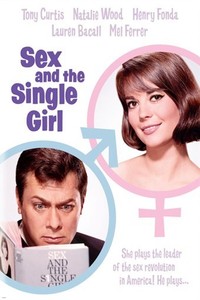 with Natalie Wood                  with MM in Some Like It Hot
Curtis never made any excuses for his behaviour. He loved women and he loved sex, and he just happened to be attractive enough (and in the ideal profession) to take full advantage of that. Even as he got older he continued to be seen with young, beautiful women. 'I wouldn't be seen dead with a woman old enough to be my wife', he delighted in saying. And he meant every word of it. Probably the saddest thing about his ambitions would be his marriage to Janet Leigh, for he stated quite candidly that he only married her to advance his career. 'I could see the two of us could get more attention together', he said. They were both beautiful young people and he figured (correctly) that their love affair and union would have their pictures on the cover of every magazine in Tinsel Town. Fame and fortune would follow sooner or later. In the meantime he cheated on her constantly.
Tony and Janet's daughter
Jamie Lee Curtis with John Cleese
in A Fish Called Wanda
In a 2008 interview Tony had this to say: 'I'm just wondering how many more years I have. I don't have 20. I don't have 15. How many years do I have?' As it happened, he had only two left and they flashed by too quickly. In 2010 he passed away at the age of 85. If he could still speak I have no doubt he would say he had a good life and regretted nothing.
8          ELVIS PRESLEY (1935 – 77)
It is quite possible that, had he lived a long life, Elvis Presley may well have topped my list. After all, he was only 42 when he died, yet he chose lovers more or less at will from the moment he cut his first record until the day he took his last breath. Those who knew and admired him spoke of his staggering physical beauty, of his incredible charisma whenever he walked into a room. Little wonder women instantly felt attracted to him. He could also effortlessly turn on that Southern charm of his.
Elvis and Natalie                         and with Tina Louise
I thought the best way to approach his love life would be to divide it into three decades – the fifties, sixties and seventies. Actress Natalie Wood was one of his first girlfriends, but she was disillusioned by his non-smoking, non-drinking status at that time. Natalie liked 'faster' guys. Tina Louise (Ginger in Gilligan's Island), Tempest Storm, Venetia Stevenson and Jeanne Carmen came and went quickly. So did Yvonne Lime, one of the starlets in his 1957 film Loving You. There was a lengthy romance with recording artist Anita Wood (1957 – 62) and a simultaneous one with actress Kathleen Case (1957 – 60). It was in 1959 that he first laid eyes on 14 year-old Priscilla Beaulieu while he was stationed at an army base near her home in West Germany. At the time he was 'going steady' with yet another girl named Margrit Burgin. As we know, he would wait until 1967 before marrying Priscilla.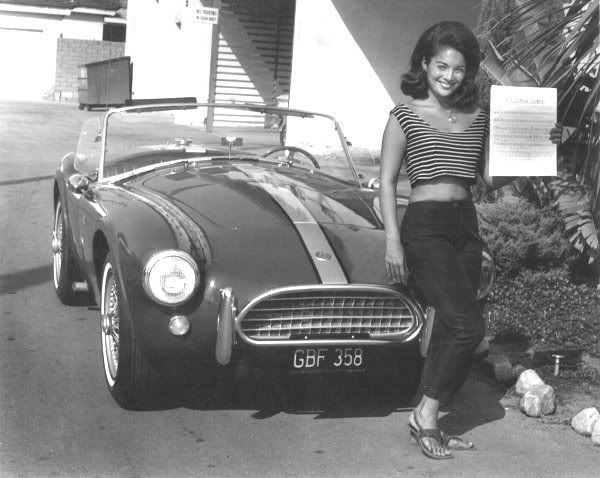 with Margrit Burgin    singer Carol Connors                                  14 year-old Priscilla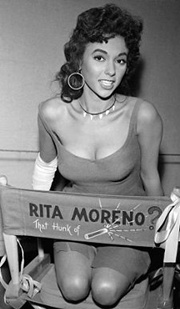 Elvis and Juliet Prowse                Tura Satana                     Rita Moreno
The sixties began with Elvis dating Carol Connors, the lead singer of The Teddybears, a singing group that had just scored a monster hit with 'To Know Him is to Love Him'. That same year (1960) he made G I Blues with leggy dancer Juliet Prowse. They became lovers. In 1961, however, he actually proposed marriage to another exotic dancer Tura Satana, but she turned him down. West Side Story star Rita Moreno was rumoured to have been an intimate that year as well.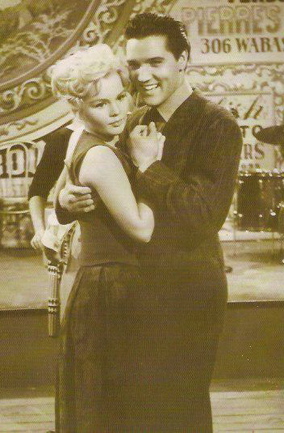 Elvis and Tuesday              and with Ann-Margret             and Yvonne Craig
Throughout the sixties he bedded many of his co-stars. Yvonne Craig (Kissin' Cousins and It Happened at the World's Fair) was one, Terri Garr, Tuesday Weld and (allegedly) the stunning Joan O'Brien were others. Singer/actress Shelley Fabares was seen in his company through 1964 and his hot affair with his Viva Las Vegas co-star Ann-Margret brought headlines. Nancy Sinatra had an affair with Elvis in 1968 and 1959's Miss America, Mary Ann Mobley, spent time with him at Graceland. There were many more lovers as the decade drew to a close, even though he had married Priscilla in 1967.
Marriade to Priscilla 1967                           with Linda Thompson in latter years
Nothing much changed in the seventies either. By the time his divorce from Priscilla became official in 1973 he had already been cheating on her with Barbara Leigh (she wrote a book about their affair), Joyce Bova (she aborted his child, or so she wrote), and Raquel Welch had allegedly slept with him in 1972. From 1972 until 76 the other great love in his life, Linda Thompson, lived with him at Graceland. Kiss and tell actress Cybill Shepherd slept with 'the King' in 1974 and has spent the years since then regaling nightclub audiences with all the juicy details of their bedroom antics in her act.
I doubt if Elvis himself could have recalled the names of all the girls he slept with in the twenty plus years that he ruled the world before his untimely end in 1977. What you have read here is only a sampling.
7          GARY COOPER (1901 – 61)
A lot of very good judges of horse flesh in old Hollywood maintained that for sheer looks and animal magnetism, no male movie star came close to Gary Cooper. Female office staff would sneak away from their desks if he was filming on a nearby sound stage just to look at him. Of course, there were an awful lot who did more than just look, but the man had an aura that was undeniable. His first Tinsel Town girlfriend was Evelyn Brent in the late twenties, but he really hit the headlines after Clara Bow took one look at a photograph of him and insisted he star opposite her in It (1927). Few noticed him in that picture, but everyone did when he made Wings that same year and commenced a very public romance with Clara.
Coops and Clara                                                 Coops and Lupe
Coops and Mexican actress Lupe Velez made The Wolf Song in 1929 and they were soon a hot item. At a party one evening she shocked the gathering when she unzipped his flies and sniffed his crotch! Insanely jealous of Cooper's close friendship with gay actor Anderson Lawler, she announced to onlookers that she could smell Anderson's cologne on her lover's underwear! Was Gary bisexual? I have no idea. Lawler's brother wrote that Anderson and Cooper were lovers, for whatever that is worth. One thing is certain, however. Coops made it into the beds of a host of big-name actresses in the thirties. Barbara Stanwyck, Joan Blondell, Marlene Dietrich, Merle Oberon, Claudette Colbert, Carole Lombard, Mae West, Joan Crawford and Tallulah Bankhead all tried him before he suddenly married the little known Sandra Shaw in 1933.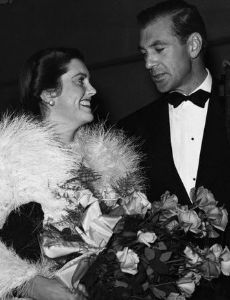 with his wife Sandra Shaw
Sandra Shaw was born Veronica Balfe in Brooklyn in 1913. Her only screen claim to fame (and it was miniscule) came when she landed the uncredited role of the blonde girl that King Kong drops in the 1933 version of King Kong. Nicknamed 'Rocky', she would remain Mrs. Gary Cooper until his death 28 years later. Not that being married altered Coops' pursuit of beautiful women. Not at all. He nailed Ingrid Bergman in 1935, Arlene Dahl in 1946 and Paulette Goddard twelve months later. In between these conquests were countless lesser lights in one night stands.
with Ingrid Bergman in          with Patricia Neal on The Fountainhead set
For Whom the Bell Tolls (1943)
Then, in 1948, the 47 year-old actor encountered the love of his life, a 21 year-old actress named Patricia Neal who made The Fountainhead (1949) with him. Their love affair would carry on until 1953. Rocky knew of it, but her staunch Catholicism forbade any thought of divorce, so the Gary – Patricia romance remained an open secret for a few years. She is believed to have aborted his child during that time. The relationship ultimately ended because of his serial philandering. It seems good old Coops was incapable of remaining true to his wife or his mistress. He slept with Barbara Payton, Ty Power's ex-wife Annabella, Anita Ekberg, Giselle Pascal, Suzy Parker and Gina Lollobrigida. When young and beautiful Grace Kelly threw herself at him it was the last straw for Miss Neal. She departed for Europe.
with Grace Kelly in High Noon
Crazy Lupe Velez has been widely quoted as saying Cooper had 'the biggest organ in Hollywood, but not the ass to push it in well.' Very classy, Lupe. True or not, he seems to have been considered by most of his women as 'a lousy lover and an even lousier husband.' But they all agreed he was a real 'dish' to gaze upon when he was young.
6          MARLON BRANDO
Marlon Brando was yet another Hollywood sex addict. He simply could not help himself, seducing women (and a large number of famous men) at every opportunity. He fathered 16 children by his own count, five of them with his three wives, the other eleven from countless affairs down the years. He claimed that a loveless childhood drove him to seek affection in the beds of hundreds of women (and men), but the sorry fact remains that he showed very little love to his own children either. Only Christian lived with him, and that was only on one occasion. The truth is, Brando devoted all his time to his films, his civil rights causes – and to getting laid.
Wally Cox
Most historians have always conceded that he took male lovers on occasion, but the numbers now come as a surprise to many (including me). By his own admittance he acknowledged Montgomery Clift, James Dean, Tyrone Power, Laurence Olivier, John Gielgud, Cary Grant, Noel Coward, Leonard Bernstein and the last love of his life, director Christian Marquand (1994 – 2000). Others, listed by several historians, include Rock Hudson, Tab Hunter, Burt Lancaster and – I personally find difficult to believe – Paul Newman and Gregory Peck! Brando's deep friendship with Wally Cox may or may not have been consummated, but the mumbling one openly admitted that he kept the pyjamas that Wally died in. He also secretly kept his friend's ashes hidden in a closet and would often speak to them! 'If Wally had been a woman', Brando confided later, 'I would have married him and we would have lived happily ever after.'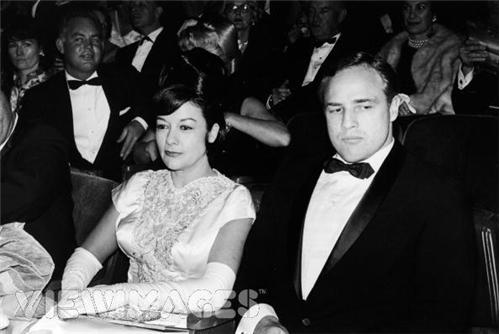 with Anna Kashfi                                   and with Movita
and with Tarita
Brando married three women – actresses Anna Kashfi (1957-9), Movita Castenada (1960-62) and Tarita Teriipia (1962 – 72). In his own words he claimed he turned down the opportunity to bed Liz Taylor, 'because her ass was too small', and Sophia Loren, 'because her breath was worse than a dinosaur's'. He was in such demand one can only presume he could afford to be choosy. Those who measured up to his lofty standards in the fifties included actresses, Marlene Dietrich, Ingrid Bergman, Shelley Winters, Merle Oberon, Eva Marie Saint, Tallulah Bankhead, France Nuyen, Anna Magnani, Hedy Lamarr, Grace Kelly, Ava Gardner, Lee Meriwether, Susan Hayward, Vivien Leigh, Bette Davis, Rita Moreno, Rita Hayworth and Katy Jurado.
Singers Edith Piaf and Eartha Kitt could not resist him, nor could heiress Gloria Vanderbilt. The Collins sisters, Joan and Jackie, probably compared notes later, and Marilyn Monroe became an intimate (and close friend) from 1955 until her death in 1962. Even Jackie Kennedy, tired of her husband's infidelities, enjoyed one of her own with Brando, even choosing JKF's favourite rendezvous hotel for their trysting place.
As Brando's weight ballooned alarmingly after middle-age, he tried any number of diets to curb it. Grossly overweight, he reached 260 pounds at one point, it was affecting his love life and that disturbed him greatly. Former actress Jill Banner met him in 1976 and the couple stayed together until 1980. Two years later she was killed in an auto accident. She was 35. It is believed that Hollywood madam Heidi Fleiss serviced the aging actor in 1997, seven years before his death at 80.