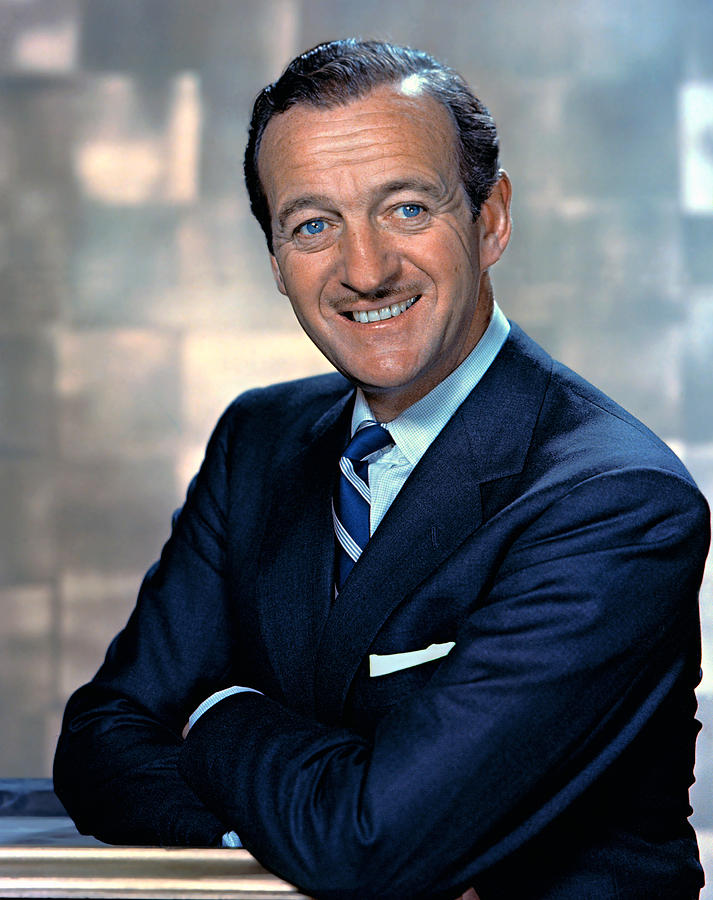 15        DAVID NIVEN (1910 – 83)
David Niven acquired a reputation in Hollywood as a great 'swordsman'. Of course, he was not alone in that regard, but how much of his reputation was built on fact is questionable. He did, however, spend a great many years in the company of his good friend Errol Flynn, a notorious rake who made bedding women (and men) a lifetime pursuit. It would be fair to say that between them there was never a shortage of eager females. Niven married twice and both unions ended in tragedy. In 1946 his first wife Primmie died after falling down some stairs whilst playing a game. He was shattered by her death and attempted to find escape from his misery in the beds of scores of actresses, (among them a very young Marilyn Monroe).
Primmie and David Niven                with 2nd wife Hjordis
Back in the thirties he had boarded with the Young family for some time and would later be romantically involved with one of the daughters, Loretta. Ann Todd, Virginia Bruce and 'Bugsy' Siegel's future squeeze Wendy Barrie were also linked with him around that time, but his most serious affair was with the stunning Merle Oberon in 1930. He seriously dated Carole Lombard for a while, long before she met and wed Gable. Norma Shearer also shared his bed after her husband Irving Thalberg passed away.
with Merle Oberon           with Grace Kelly
His second marriage was a tragedy from the outset. His wife, a Swedish model named Hjordis Tersmeden, would remain with him until his death in 1983, but most of their marriage was loveless. Indeed, on her death in 1997 she left explicit instructions that her ashes were not to be interred alongside his under any circumstances. Perhaps, her husband's dalliances with Deborah Kerr, Princess Margaret, Dame Margot Fonteyn, Hedy Lamarr, Grace Kelly and others wrecked the marriage long ago. Perhaps, Hjordis' own indiscretions did. Her 20 minute servicing by JFK in a closet during a party was known to many – her husband included.
14        RORY CALHOUN (1922 – 99)
Rory Calhoun was signed by 20th Century Fox after Alan Ladd's wife and Hollywood agent, Sue Carol, saw him horse-riding in a Los Angeles park and arranged a screen test for him. Before that he had been in considerable trouble, having dropped out of school, drifted into petty theft, and then started boosting cars, for which he served three years in a federal reformatory. When his screen career began to take off, his agent Henry Willson released details of Rory's criminal past to Confidential magazine in exchange for the publication holding off on a story about another of Henry's clients, Rock Hudson. Confidential reluctantly agreed not to 'out' Hudson as a homosexual and ran with the Calhoun story instead. Rory's career was considered expendable at that time. Oddly enough, the story did little to impede it.
Henry Willson and Rock hudson     Rory and Guy Madison
Rory and his wife Lita Baron
In 1948 Rory married singer/actress Lita Baron, a fiery Spaniard who sang with the Xavier Cugat Orchestra. The union lasted 22 years until they arrived at the divorce court and Lita named seventy-nine women her husband had committed adultery with throughout their marriage. 'Heck, she didn't even include half of them', he bragged outside the courtroom. And it was true. Betty Grable, Lana Turner, Beverly Tyler, Yvette Vickers, Barbara Stanwyck, Vera-Ellen and Corinne Calvet were just a few of his myriad conquests. Interestingly, several reliable sources reported that he and fellow actor Guy Madison were found in an intimate embrace in Rory's car. The studio heads were advised and the story was buried. Both men were making good money for the studio at that time. For a long time their relationship remained one of Hollywood's best kept secrets.
13        CLINT EASTWOOD (1930 – )
For some reason the name Clint Eastwood is rarely mentioned in discussions about Hollywood's more notorious womanizers – but it should be. Although he has only married twice, he has father at least seven children with five different women. Strong rumours suggest there is an eighth child also. There were claims in 2006 that he sired a son in 1959 to a woman named Rosina Glen, but this has never been verified. Given the man's secrecy regarding his sex life, the rumour has every chance of being true.
Clint and wife Maggie          and with his 2nd wife Dina Ruiz
His first marriage was to Maggie Johnson in 1953 and it survived for 25 years despite his endless philandering. The couple parented a son in 1968 and a daughter in 1972. His only other marriage was to Dina Ruiz in 1995. It produced a daughter in 1996 and a divorce in 2014. Eastwood's known lovers during his first marriage include actresses Inger Stevens and Jean Seberg, troubled ladies who both suicided a few years later. French star Catherine Deneuve had a relationship with him in 1966, Susan Saint James in 1969, and Sondra Locke commenced her 14 year affair with him in 1975. Roxanne Tunis gave him a son (in secret) in 1964. Jayne Mansfield almost certainly participated in a one night stand with him in the fifties, the year after he married Maggie.
with Inger Stevens in            and with Jean Seberg in Paint Your Wagon (1969)
Hang 'em High (1968)
Eastwood's 14 years with Miss Locke were punctuated by numerous affairs (all unknown to her). They also co-starred in six feature films together. Years later she learned that he had sired a son and a daughter with Jacelyn Reeves. She was flabbergasted to learn that his 'other family' had been included as beneficiaries in his will. Ten years of palimony litigation followed until Sondra settled out of court for an undisclosed amount in 1999. During their relationship (both were married to others in the beginning), he still found time to service Barbra Streisand, singer Tanya Tucker, Jamie Rose, Rebecca Perle, Dani Janssen, the widow of actor David Janssen – and many, many others. Sondra was married to gay sculptor Gordon Anderson the whole time she and Clint were living together. The Andersons are still legally husband and wife to this day.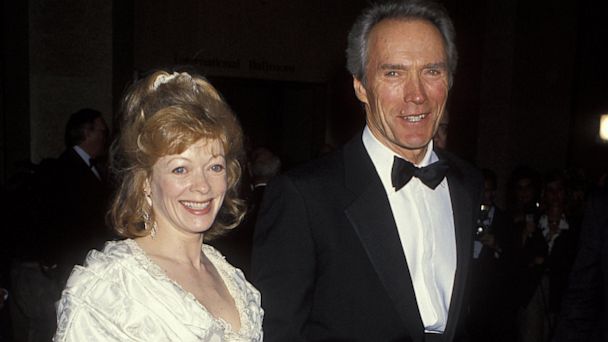 with Sondra Locke                  and with Frances Fisher
Frances Fisher played Kate Winslet's mother in Titanic (1997). Four years prior to that she became the real life mother of Eastwood's daughter Francesca. Friends, (including Clint's first wife Maggie), hoped he would marry Frances, but they broke up abruptly after she discovered he had another 'family' with Jacelyn Reeves. As he approaches his 87th birthday Eastwood is involved with photographer Erica Tomlinson-Fisher and restaurant hostess Christina Sandera. He recently bought homes for both women.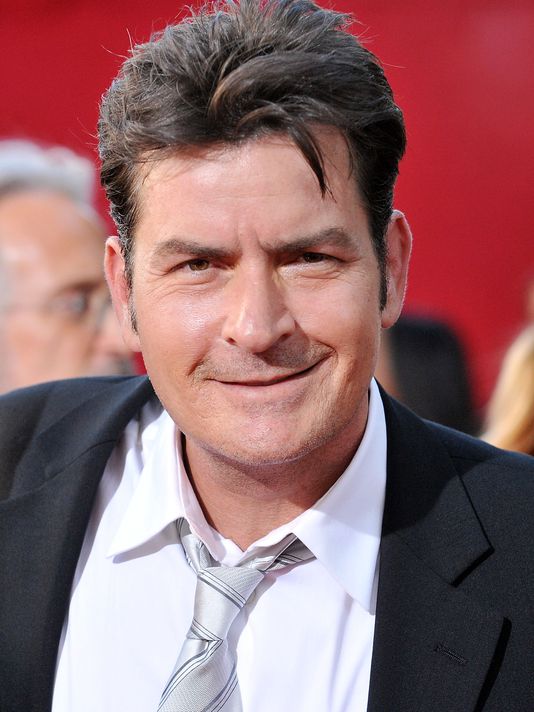 12        CHARLIE SHEEN (1965 – )
It almost goes without saying that a list of this nature would have to include Charlie Sheen, not so much for quality as for quantity. The man admits he has been a 'sex addict' for decades and in that time he has seduced and occasionally married some very beautiful women, but overall it would be reasonable to say that Charlie's success in this area, more often than not, had more to do with the size of his bankroll than anything else.
Charlie and Donna Perle
with Denise Richards                                  and with Brooke Mueller in 2007
His first marriage was to model Donna Peele in 1995, but it only lasted a year. Marriage number two in 2002 to beautiful actress Denise Richards lasted longer, but ended unceremoniously 4 years later when he started bringing home prostitutes for sex! Well, that would do it alright. His third trip down the aisle was with real estate agent Brooke Mueller, but it too was over quickly. Given Sheen's deplorable track record in the fidelity stakes none of these disasters was unexpected, however painful they probably were to his spouses.
Heidi Fleiss
By his own admission Sheen claims to have spent $50,000 on hookers, mostly through Hollywood madam Heidi Fleiss. He also boasts that he has slept with around 5,000 women in his life. That might be something to brag about, depending on one's point of view, had not most of them been paid for with cold hard cash or his credit cards.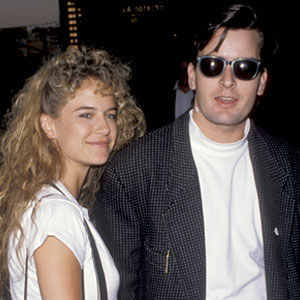 with Kelly Preston                     and Robin Wright
In his early days, before the drugs, booze and sex addiction really kicked in, and before he lost his looks, Charlie squired some gorgeous, respectable women about town. An early lover was actress Robin Wright, long before she met and married Sean Penn. Winona Ryder was another. In the early 90s he was briefly engaged to the stunning Kelly Preston who would eventually marry John Travolta. Perhaps, Charlie 'accidentally' shooting her with a shotgun cooled their ardour somewhat, but more likely than not it was the endless procession of 'other women' that did the trick.
I had intended to list the major porn stars who slept with Sheen but, frankly, I lost interest because there were just too many of them. Besides, one porn actress is as good as the next in my book. Of course, not every conquest was bought and paid for. Socialites Tamara Beckwith and Tracy Richman, model Stephanie Seymour and Playmate Summer Altrice were certainly not hookers, but decent, respectable beauties were few and far between. Porn stars and hookers served his purpose adequately anyway.
11        MICKEY ROONEY (1920 – 2014)
Mickey Rooney was a movie actor for 88 years! In 2006 he was paid $250,000 for his rather tiny part in Night at the Museum and had three more projects lined up at the time of his death in 2014. Of course, none of this remotely compared to his universal popularity as Andy Hardy back in the late thirties and early forties. He made 15 Andy Hardy pictures between 1938 and 1946 and the public ate them up, even though he was in his mid-twenties for the last one and still playing a teenager. In 1939 and 1940 he was the world's number one box-office star! And, boy, did he make the most of it.
as Andy Hardy (1938) with    with Judy again in Babes on Broadway (1941)
Judy Garland
Mickey was a sex addict all his life and the Andy Hardy films were where MGM tried out its starlets. Mickey tried them out as well. Almost all of them. There was also a bunch of musicals he made with Judy Garland during the war and he was well known to sample the girls in the chorus lines on a regular basis. 'Sure I love the chicks', he said. 'I love 'em all. But when you're nuts about too many, how can a guy settle down to one?' With that philosophy he went through eight wives and cheated on the lot.
marriage to Ava Gardner 1942   and to Martha Vickers 1949
Wives, young starlets and chorus girls aside, Rooney always found time to seduce a lot of big stars as well. In 1938 he was hauled before Louis B Mayer at MGM and read the riot act. In no uncertain terms 18 year-old Mickey was told to cease his full-blown affair with 38 year-old recent widow Norma Shearer. 'You're Andy Hardy, for Christ's sake!' bawled his boss. Mickey and Norma had been going at it hammer and tongs in her trailer for several weeks and the whole studio knew about them. His position at the top of the box-office pile gave him a certain added 'appeal' as he rogered his way through the likes of Gene Tierney, Gloria deHaven, Lana Turner, Liz Taylor, Carole Landis, Linda Darnell, Beverly Tyler, Abigail Adams, Betty Grable and Joi Lansing. Even the unknown Norma Jean Baker went to bed with him. Lana Turner denied ever sleeping with him. Rooney said he took her virginity.
at front left – Mickey & Norma Shearer 1939
When the stunning young 19 year-old Ava Gardner refused to sleep with him unless they were man and wife – he promptly married her. Then he cheated on her just as quickly. Groucho Marx took him to the MGM brothel one evening, the legendary 'T & M Studio', where hookers were cut to resemble famous Hollywood stars. Groucho was a regular. Mickey enjoyed himself, but why settle for copies when he could sample the originals? The very sexy Martha Vickers became one of his wives three years after she turned heads as Lauren Bacall's wild sister in The Big Sleep (1946). They divorced less than three years later. Indeed, his first seven marriages combined did not last as long as his eighth one. In 2014, after making 100 movies in 88 years, he passed away.