If anyone epitomized the Hollywood studio system it was Darryl F. Zanuck. His rise to power is quite extraordinary given he was minimally educated and barely literate. Born in Wahoo, Nebraska in 1902 to an alcoholic father and the daughter of Wahoo's only hotel owner, Darryl was abandoned by both parents before his 13th birthday. Left to his own devices, he lied about his age when he was only 15, enlisted in the US Army in 1917, and may have seen action in Mexico against Pancho Villa's forces. Evidently, he did fight in France shortly before World War One concluded.
Mustered out soon after peace was declared, he held a variety of jobs before trying his hand at writing a film scenario. Actor/producer William Russell actually liked the scenario he wrote and purchased it. Irving Thalberg was also looking out for movie plots and purchased another of Zanuck's efforts. Story-editor Frederica Maas at Universal Pictures' New York office, was certain at least one of his early scenarios was totally plagiarized from another author's work. If that was so, then there is every possibility that the virtually illiterate young man plagiarized others also. It appears, however, that he was truly blessed with an ability to convince others that he was the real deal. Russell, Thalberg and others believed he had a knack for concocting movie ideas.
Zanuck's ticket to the big time
After serving an apprenticeship with the likes of Mack Sennett, Syd Chaplin and Carl Laemmle in the then fledgling picture business, Zanuck joined forces with Malcolm St. Clair to churn out nineteen Rin Tin Tin scripts for Warner Bros, many of them under various pseudonyms. Whether or not he wrote them himself must now be a matter for conjecture, but it is a matter of historical record that the Rin Tin Tin films of the twenties kept Warners afloat when the studio was in serious danger of going under. The studio hired him at less than $500 a week in 1924, but within a year he was being paid $5,000 a week, such was the impact of his Rin Tin Tin movies and Zanuck's perceived value to the studio. Conscious of his academic limitations, from that day onwards he always kept a dictionary hidden in his bathroom at the studio and would sneak in there to look up the meanings of words his underlings used that were unknown to him. Charlie Chaplin did the same thing at his own studio.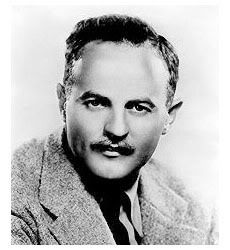 Zanuck in the twenties at Warners
By the end of 1925 Zanuck suddenly found himself head of production at the studio at the tender age of 23. It would be accurate to say that Warners owed much of its style to him as well, but then the brothers made it clear to him that he could never be anything more than an employee. Disillusioned, he quit to form 20th Century Films in 1933. To do this he had to have backing from Louis B. Mayer and Joseph M. Schenck. Two years later the new studio absorbed the bankrupt giant Fox and became 20th Century Fox. Zanuck would rule the studio for decades. And he was very good at it, acquiring a reputation for being a 'hands-on' boss, one who excelled in utilizing editing to transform reasonably good movies into timeless classics. The Grapes of Wrath (1940), How Green Was My Valley (1941) and Twelve O'clock High (1949) were just three of his highly successful productions.
When America entered World War Two in 1941, Zanuck convinced Chief of Staff, General George C Marshall, to commission him as a colonel in the Army Signal Corps and post him as a 'liaison officer' to London. Zanuck served there and in North Africa making documentaries that were mediocre at best. In 1944 he resigned his commission and returned to Fox where he continued to run things until the late fifties.
Colonel Zanuck during WW2
Zanuck was one of the many movie moguls who callously took advantage of hundreds of young girls with stars in their eyes. Every day from 4pm to 4.30pm his office was declared off limits to everyone as he indulged himself by seducing starlets and chorus girls (mostly) in his private room. The official word was that he was 'in conference'. Some of the girls, like Carole Landis and Linda Darnell for instance, were 'regulars', but usually it was the latest '6-month option' who spent a half-hour or so on her back or on her knees, doing her best to ingratiate herself with the man who had the power to make or break her career-wise. His method was both crude and arrogant. He would lead the girl into his private sanctum and then open his robe to expose his erection! Most young, ambitious 'wannabes' accommodated him, although he did not always succeed with the more established stars. Betty Grable, for example, was less than impressed when he tried it on her. She gave his member an indifferent glance. 'That's beautiful', she said drily. 'You can put it away now.' Then she walked out. Betty had been around the block a few times.
Carole Landis                       Linda Darnell
By the early fifties Zanuck had fallen for a Polish actress who had lived with him and his wife for a few months. They issued her with a new name, Bella Darvi, and Darryl threw her into a movie (The Egyptian) in 1954 with Marlon Brando. She was beautiful but no actress and her English was almost completely indiscernible. Brando walked out after the first read-through and refused to do the picture. In the late fifties Zanuck's affair with Miss Darvi sank his marriage, although he and wife Virginia would remain husband and wife in name only. He decided to relinquish the day to day running of the studio and move to Europe to produce movies there. Over the next decade or so he accumulated a string of beautiful girlfriends from across the continent, among them Juliette Greco, Irina Demick and Genevieve Gilles, who were all his mistresses at one time or another as he pushed and pushed to turn them into stars in his productions. For varying reasons none of them found favor with cinema audiences and their careers were brief and unspectacular.
Bella Darvi                                   Juliette Greco                  Irina Demick
After completing the successful The Longest Day (1962), Zanuck decided to return to the USA and run 20th Century Fox again, promoting his son Richard to Head of Production along the way. Darryl was still seething over being limited to an eight million dollar budget for his film, a necessary restriction brought about by the studio facing the real possibility of going bankrupt because of the escalating costs of Cleopatra (1963). Having to use his own money to complete The Longest Day only added to his displeasure.
Irina in The Longest Day (1962)
Richard Zanuck oversaw a number of hit movies as Fox's Head of Production – The Sound of Music (1965), Planet of the Apes ((1968) and Patton (1970), to name but three; but a string of costume musicals failed and cost the studio a bundle. Even so, he was traveling better than his father by then. Darryl kept sinking money into vehicles for his latest girlfriend, Genevieve Gilles, and they were disasters. One of them, Hello-Goodbye (1970), lost $4 million. Nervous board members decided to 'kick him upstairs' to the symbolic position of Chairman and to promote Richard to President at Fox. Empowered to hire and fire, Richard promptly terminated Miss Gilles' contract and infuriated his father who called a meeting of the Board and fired his son on the spot, appointing others in various capacities to replace him. He then ordered Richard off the lot. It was a fatal error by Zanuck Senior.
Richard D. Zanuck               Virginia & Darryl
the ever-present cigar
His much maligned wife, Virginia, had amassed 100,000 shares in the studio (most of them 'guilt' payments from her husband for his dalliances), and she now signed them over to a group of disgusted shareholders. One hastily convened meeting later and Darryl Zanuck's time as studio boss at 20th Century Fox came to an end. He was the last Hollywood tycoon to fall. In 1979, having made his peace with both Richard and Virginia, he died from cancer of the jaw at the age of 77. A lifetime of smoking enormous cigars had caught up with him. Those who knew him said that the only thing larger than his cigars was his libido.