There have been a great many 'feel good' movies made down through the decades, but in my opinion Love Actually (2003) resides at the top of the list. My wife and I have watched it many times and it never seems to lose its appeal. The performances are strong, the script is easy on the ear and not too complicated, and the score throughout is ideal for the fare being dished up. And whoever chose the very beautiful women for the cast deserves a medal as big as a frying pan. In no particular order of preference, I thought Joanna Page, Martine McCutcheon, Heike Makatsch, Nina Sosanya, Lucia Moniz, Keira Knightly, Claudia Schiffer, Denise Richards, January Jones, Shannon Elizabeth, Ivana Milicevic, Sienna Guillory and Elisha Cuthbert, constituted the most magnificent collection of stunningly beautiful women ever seen in one movie. And you can add to them the members of 'Billy's Video Vixens' and his beautiful session singers as well. If that sounds sexist I could not care less. The presence of beautiful women is half the reason men enjoy movies anyway and, for that matter, the presence of handsome men constitutes half the reason why women watch them as well. Beauty may very well be shallow and skin deep – but so what?. We cannot eat a flower but we would much rather look at a rose than a potatoe. There are lots of flowers in Love Actually – of both genders.
Hugh Grant doing what all British PMs do.
Jamie & Aurelia
There were many terrific moments in this picture as well. Hugh Grant as the British Prime Minister, dancing to the Pointer Sisters hit single 'Jump', tickled most people, although Hugh positively hated the scene because no PM would do such a thing, he said. True, of course, but who cares? It was fun to watch. The entire romance between Colin Firth's character (Jamie) and Aurelia, (played beautifully by Lucia Moniz), when neither spoke a single word of the other's language, was enchanting and very funny.
John and Just Judy                                                                     Juliet & Mark
Alan Rickman & Emma Thompson
The love that developed between the two young nude models (John and Just Judy), portrayed by Martin Freeman and Joanna Page respectively, was tastefully handled, yet it still had to be edited out of the US television screening entirely. My personal favourites were the very moving Christmas tribute to Keira Knightley's character (Juliet) by her secret admirer Mark, played by Andrew Lincoln, and Emma Thompson's tearful reaction to her husband's Christmas present.
Aurelia & Jamie 'swimming' in 18 inches of water
As in most movies, all was not what it appeared to be in Love Actually. For instance, the pond swimming scene featuring Jamie and Aurelia took place in about eighteen inches of water, with both actors on their knees pretending to tread water. There were no eels to worry about, of course, but the mosquitoes feasted on Colin Firth, causing his elbow to swell alarmingly and necessitating hospitalization.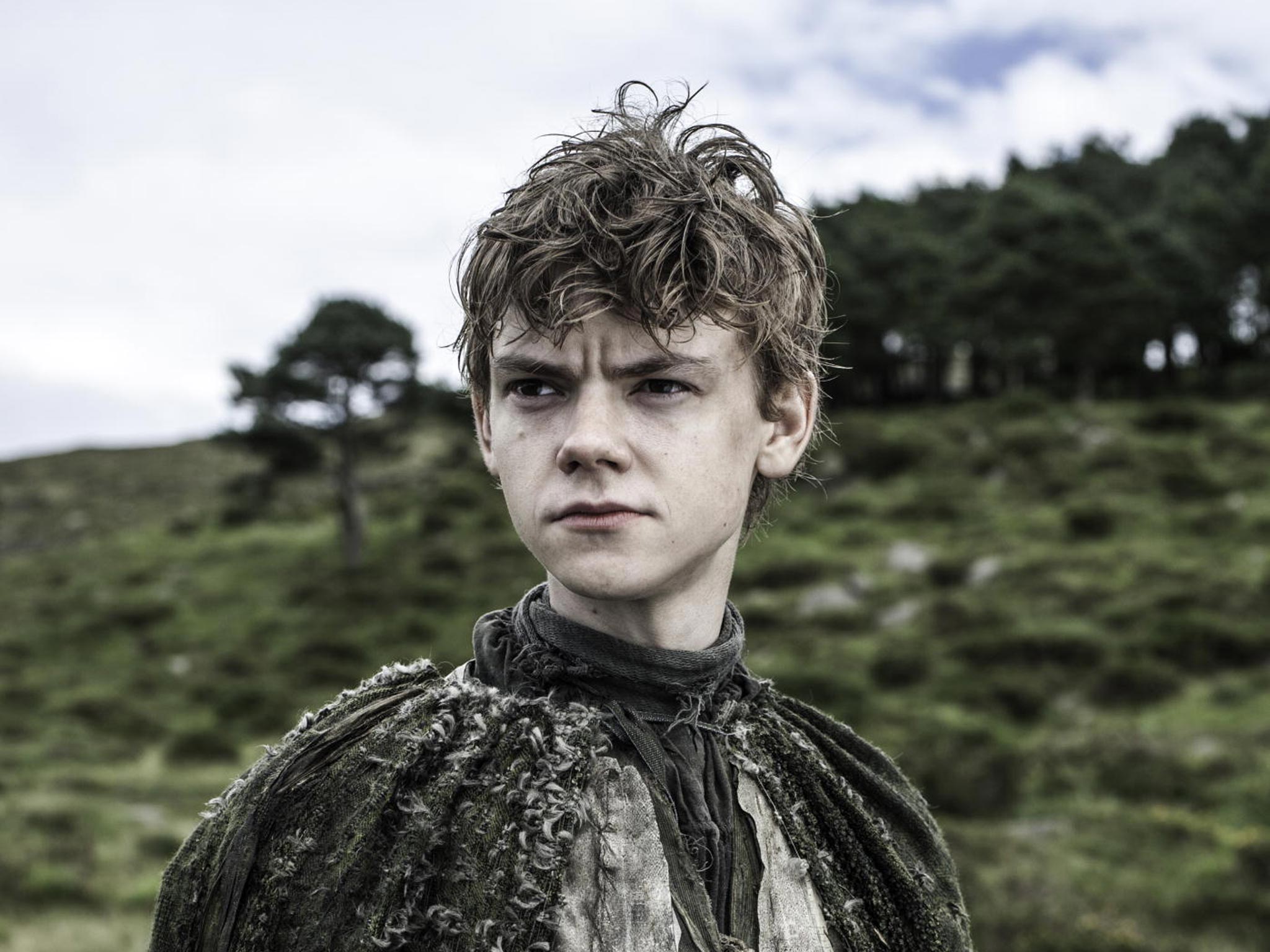 Thomas Brodie-Sangster in Love Actually   and Game of Thrones
The, 'We need Kate and we need Leo and we need them now', scene with Liam Neeson (Daniel) and his screen son Sam, played by Thomas Brodie- Sangster, showed Liam with a toothpick in his hand at one point, and Sam with a toothpick in his mouth later when they are relaxing on the lounge. The toothpicks were not scripted. It was just a legacy of Neeson's always having one protruding from his mouth ever since he gave up smoking. Curiously, young Thomas was 13 and playing a thirteen year-old in this picture, yet in 2013 he was again cast as a 13 year-old, young Jojen Reed in 'Game of Thrones. He was 23 years old by then. By the way, he is the second cousin twice removed of Hugh Grant. Oddly enough, in real life Brodie-Sangster is just five years younger than Keira Knightley.
Emma wearing her 'fat suit'.
Fans of Emma Thompson could be forgiven for believing she had let herself go over the last few years. She appeared to be considerably overweight and a victim of middle-aged spread. In truth she is quite a thin woman, so director Richard Curtis was compelled to put her in a 'fat suit' to make her look like a middle-aged mother of two.
Laura Linney & Rodrigo Santoro
Laura Linney was making two movies simultaneously – Love Actually and Mystic River – One in London and the other in Boston. The only way she could do so was for her to commute between North America and Europe several times until her commitments to both productions had been met. Her love interest in Love Actually was played by Brazilian heartthrob Rodrigo Santoro.
The Number Ten Downing Street front door was not the real residence of the Prime Minister, of course. It was created in the Shepparton Studios car park. As for the interior of # 10, it was recreated from memory by director Richard Curtis and his production designer Jim Clay, based on their two-hour tour of the real building by the then Chancellor of the Exchequer Gordon Brown. No photographs were permitted to be taken or sketches drawn, so their recreation had to be from memory alone.
Jamie surrenders his taxi to screen legend Jeanne Moreau
Ruby Turner (centre) in Love Actually
The lady we see getting into the taxi at Marseilles Airport is none other than legendary French actress Jeanne Moreau. At the school Christmas pageant, soul singer Ruby Turner portrays Joanna Anderson's mother, one of the back-up singers. Joanna was played by 10 year old Olivia Olson, whose voice had to be edited to make it 'fit' her age because the director was concerned that audiences would struggle to believe such vocals came from a ten year-old, and would be bound to assume she was merely lip-synching Mariah Carey's hit record. The music video for Billy Mack's song, 'Christmas Is All Around' is an obvious tribute to Robert Palmer's eighties clips for 'Addicted to Love' and 'Simply Irresistible', complete with a bevy of heavily made up, pouting 'musicians' in skimpy outfits.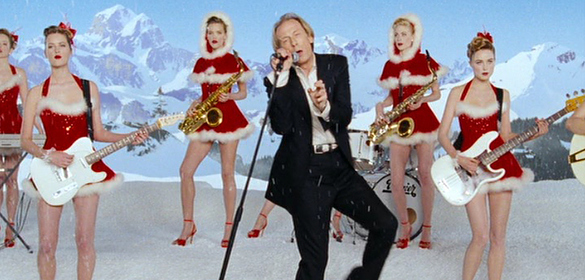 Billy & the Video Vixens                                          Robert Palmer 'Addicted to Love'
An awful lot of critics did not like this film. And the reasons were many. Basically, however, it would be safe to say that its detractors found its treatment of 'falling in love' to be far too simplistic and shallow. And, of course, they were right. But it is a movie. It is make-believe. So who cares? So what if Jamie and Aurelia fall in love despite being able to communicate? So what if the PM falls for a staffer whom he barely knows? So what if Mark secretly has the hots for his best friend's wife? He doesn't really do anything about it. And is the world truly going to grind to a standstill because ten year-old Joanna plants a little peck on Sam's cheek? Love Actually is a tongue-in-cheek look at a dozen relationships, most of which are resolved happily. It ain't Shakespeare or Hemingway (thank God!). It is simply a romantic comedy slapped together with a bevy of beautiful people and accompanied by a pleasant soundtrack. What's not to like?
Claudia Schiffer's $300,000 performance
Love Actually was budgeted for around $45 million and grossed an estimated $247 million worldwide! No doubt it pays to be famous and beautiful as well. Former model Claudia Schiffer was rewarded with roughly $300,000 US for her one-minute cameo.