There have been very few genuinely funny westerns made. James Garner's Support Your Local Sheriff (1969) was, in my opinion, the very best ever, but two Lee Marvin films were not far behind it. One was Paint Your Wagon, released in the same year and hilarious, but it probably fits into the 'musical' category, despite being set in the Old West. The other was Marvin's classical contribution to the comedy-western – Cat Ballou. The guy had a real flair for comedy that was only realized late in his career.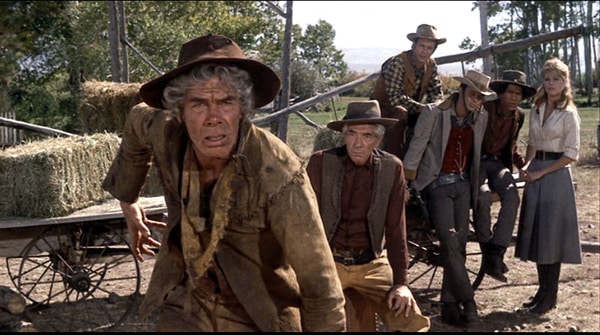 'No Gun?'
Kirk Douglas was offered the role of Kid Shalleen before Marvin but rejected it. Interestingly, fourteen years later he accepted the cartoon character part of Cactus Jack in The Villain (1979), but the movie failed miserably. The picture was a live action interpretation of one of Warner Bros 'Looney Tunes' cartoons, although it was made at Columbia.  Kirk's character, Cactus Jack Slade, was a human version of Warners' Wile E. Coyote, but the concept simply did not work. In fact, it was Kirk's last western.
Kirk Douglas as Cactus Jack in The Villain
Jack Palance desperately wanted to play Shalleen, but he was never asked. It would be fascinating to know who it was that decided perennial 'heavy' Lee Marvin would make a funny drunken gunfighter in a comedy. His performance was outstanding enough to land him a Best Actor Oscar. And he was a more than worthy winner. Such are the vagaries of the Academy Awards – his Ben Rumson in Paint Your Wagon was, in my opinion even better, yet he failed to even be nominated for it.
Lee as Ben Rumson in Paint Your Wagon
A scene that lovers of Cat Ballou still talk about is the one in which an inebriated Shalleen is seen sitting atop his horse (also drunk), both of them leaning against a wall. It took hours for the horse's trainer to get his steed to keep its forelegs crossed long enough to make the shot. This was accomplished by continually feeding the animal sugar lumps, then crossing one of its legs over the other time after time after time. Eventually the horse grew tired enough to not uncross them for a few seconds in front of the camera. Little wonder that Marvin's acceptance speech on Oscars night opened with the words: 'Half of this probably belongs to a horse out in the Valley somewhere.' The winning of an Academy Award really is a big deal, financially, if for no other reason. Lee was paid a meagre $30,000 for Cat Ballou, but the Oscar changed his pay packet forever. Four years later he was paid a million dollars for Paint Your Wagon and another million for Monte Walsh the following year.
a couple of drunks
Cat Ballou was based on a serious western novel by Roy Chanslor, an author who passed away in April 1964 a year before the film's release. The story is very loosely based on the real life story of Butch Cassidy and the Sundance Kid, the title character being the mysterious Etta Place, a schoolteacher and long-time lover of the Sundance Kid. Ann-Margret was first approached to play Cat. Her refusal left the door open for Jane Fonda (who was contracted to Columbia anyway), and she was terrific in the part, even though she resented playing the straight role to a bunch of crazy characters. She took her role very seriously while Marvin and the others had a ball.
three images of Lee Marvin – all from Cat Ballou
and three more
The atmosphere on the set was quite strained. When Jane's husband, French director Roger Vadim, visited for a few days things got worse. He and Marvin took an instant dislike to each other. 'When he was drunk', wrote Vadim in his 1986 memoir, Bardot, Deneuve, Fonda, 'he would tell me that he hated the French. But I like you because you're half Russian, even though I hate Russians also.' Dwayne Hickman, on the other hand, was thrilled to work with Marvin. 'Never have I met such an outrageous personality', he remembered. 'Lee loved to drink, and the more he drank, the more outrageous he became. He had a story about everything and everybody.'
Jane Fonda never looked more gorgeous than she did as Cat Ballou 
Filming went ahead at break-neck speed. 'The producers had us working overtime day after day', recalled Jane, 'until one morning Lee Marvin took me aside. 'Jane', he said, 'we are the stars of this movie. If we let the producers walk all over us, if we don't stand up for ourselves, you know who suffers most? The crew. The guys who don't have the power we do to say, 'Shit, no, we're working too hard.' You have to get some backbone, girl. Learn to say no when they ask you to keep working.'
Dwayne Hickman and Michael Callan               Tom Nardini as Jackson
The delightful performances of Cat Ballou's supporting cast is often overlooked because of Lee Marvin's tour de force. Michael Callan probably thought that playing the romantic lead opposite Jane could jump-start his career that had been in second-gear for some time, but it was not to be. Both he and Dwayne Hickman were highly personable in their roles, as was Tom Nardini as the Sioux, Jackson Two Bears, but all anyone could talk about was Marvin's astonishing, out of character, performance.
Jane had no idea they were making a classic, although she felt it was probably going to be a 'good film'. 'I hadn't been around when they filmed Lee's horse, leaning cross-legged up against the barn in what's become a classic image, or when Lee tries to shoot the side of the barn.' It was only when she saw the final print that she knew they had a hit on their hands. Fans could be forgiven for believing that Jane was present for all of the 'he did it, he missed the barn', scene, but her lines were filmed later.
Jane and Reginald Denny
British star Reginald Denny played Sir Harry Percival in Cat Ballou and would pass away two years after the film's release. During World War Two he and an associate invented radio controlled model planes that were used by the military for target practice, enabling them to do away with the previous practice of having targets towed behind piloted aircraft. Near the end of the war he gave permission for a war industry photo shoot at his plant. The shoot would probably have gone un-noticed were it not for one of his young workers, a very pretty young woman, catching the eye of several of the photographers assigned to the project. Dozens of shots of the girl led to her being signed to a movie contract in due course. Her name was Norma Jeane Mortensen – soon to become Marilyn Monroe.
Norma Jeane Mortenson
Stubby Kaye & Nat 'King' Cole
Nat 'King' Cole and Stubby Kaye were billed as 'the Shouters', their job being to sing verses to the very catchy 'Ballad of Cat Ballou' every now and then as a form of narrative. Nat had a singing engagement at a Lake Tahoe nightclub during the shoot, so he had to commute between that and the Cat Ballou set daily. Cast and crew saw him coughing regularly on location and assumed he was simply working himself too hard. In fact, he was already in the closing stages of lung cancer. He died before the picture was released.
Cat Ballou started out as a minor production in 1964, yet it finished in the Top 10 money-earners of 1965 and catapulted Lee Marvin to stardom. In the opinion of this writer that should have happened a lot sooner. The man had more stage presence than anyone I can think of. When he was in a scene he demanded our focus, not only through his acting but via his wonderfully rich voice. He could be incredibly funny when it was called for, thoroughly menacing at others, and a larger than life hero if required. And he was tough. Some actors must pretend to be hard-cases, but not Lee Marvin. What you saw was what you got.