25          PULP FICTION (1994) – The popular Chuck Berry hit, 'You Never Can Tell', gets a second life as Uma Thurman and John Travolta join the 'Jack Rabbit Slim Twist Contest' – and win. To my mind Travolta is one of the most watchable actors going around, and has been since Welcome Back, Kotter.
24          TOP GUN (1986) – Every once in a while a piece of music comes along that perfectly suits a particular movie. A group called Berlin recorded, 'Take My Breath Away', and it will never again be associated with anything but Tom Cruise, Kelly McGillis and Top Gun. Kenny Loggins' 'Danger Zone' is ideal for the flying sequences too.
23          BORN FREE (1966) – The enormously popular theme, 'Born Free', was composed by the same two gentlemen who wrote 'Thunderball', John Barry and Don Black. Matt Monro recorded it and it won an Academy Award for Best Song. It has since become synonymous with African wildlife films.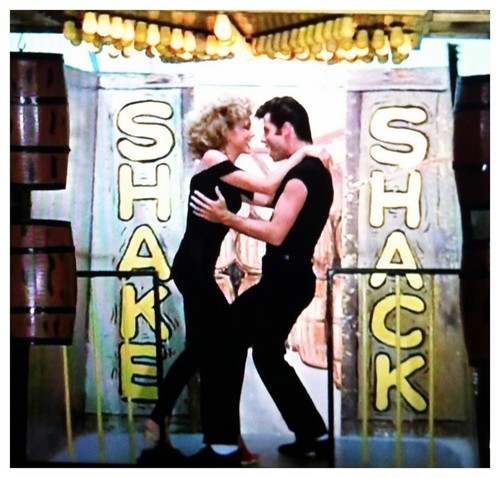 22          GREASE (1978) – The irrepressible John Travolta again features in this list, this time accompanied by a leather-clad Olivia Newton-John belting out 'You're The One That I Want', a catchy number that topped charts all over the world.
21          THE MAGNIFICENT SEVEN (1960) – The movie opens with the bandit gang riding towards the village and Elmer Bernstein's fabulous theme filling the theatre. Any western fan worth his salt just knows he is in for a good time. One of the all-time super movie themes, it was beaten for the Best Music Oscar that year by Ernest Gold's 'Exodus'.
20          KISS ME KATE (1953) – The versatility of Cole Porter places him in a class all his own. The opening song and tap dance is performed by the inimitable Ann Miller, one of Hollywood's all-time great artists. She belts out 'It's Too Darn Hot' while dancing around the room and on table tops. What a talent she was.
19          HATARI! (1962) – The movie itself was light-hearted and not very memorable, but the piece titled 'Baby Elephant Walk', written by Henry Mancini, became very popular. The delightful Elsa Martinelli is seen taking three baby elephants to the waterhole for a swim and adds to the charm of the piece.
18          SATURDAY NIGHT FEVER (1977) – 'Staying Alive' by the brilliant Bee Gees will forever be associated with John Travolta strutting along the sidewalks of Brooklyn as the picture's credits roll. The movie itself is poor, but the music is sensational. As for the dancing, well, there were a million guys around the world back then who could do what Travolta did on the dance floor!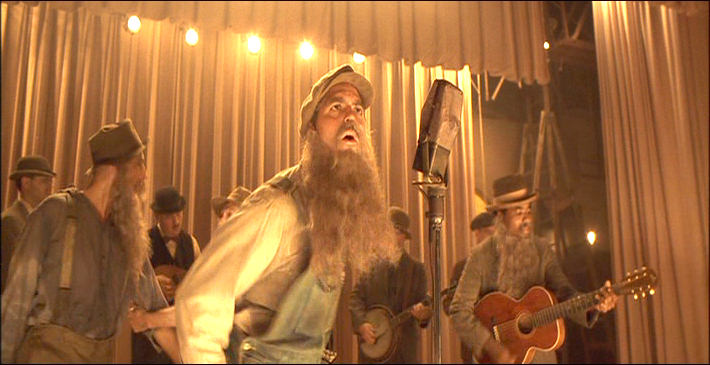 17          O BROTHER, WHERE ART THOU? (2000) – This really is a fun film, full of some unusual (but interesting) music. The tune, 'Man of Constant Sorrow', pops up twice during the movie and is entertaining each time. Nobody does his own singing, but who cares? A Coen Bros. classic.
16          SONG OF THE SOUTH (1946) – You will almost certainly not see this Disney feature ever again on your TV because it has been deemed 'politically incorrect' by those who do all the deeming for the rest of us dumb slobs. I have it in my collection and it is a terrific little picture. James Baskett plays Uncle Remus and sings the award-winning song, 'Zip-a-Dee-Doo-Dah', complete with animated butterflies, birds, et al.
15          TO SIR WITH LOVE (1967) – The finale of this 'feel good' piece of floss has a scene where real life pop singer Lulu serenades the teacher (Sidney Poitier) on behalf of his entire class with the title tune. Poitier was very good (as usual), but the movie has dated considerably. Judy Geeson was a 'knockout'!
14          THE GOOD, THE BAD & THE UGLY (1966) – Ennio Morricone's much-loved theme tune was designed to mimic the yowling of a coyote. I vaguely recall each time the theme guitars blasted out in the theatre; it set the hairs on my neck bristling. (I was very young). I also enjoyed a piece called 'Ecstasy of Gold' that played as Eli Wallach's character ran around a cemetery in search of a particular grave. Metallica have a superb version of it on one of their albums.
13          PAINT YOUR WAGON (1969) – Harve Presnell is the only acknowledged singer in the movie and his rendition of 'They Call the Wind Maria' is easily the best vocal performance in the film. And so it should be. But it is non-singer Lee Marvin whose vocals capture the spirit of the picture when he monotones his way through, 'Wand'rin' Star'. He even managed to turn it into a world-wide hit single, admittedly aided by a wonderful male chorus.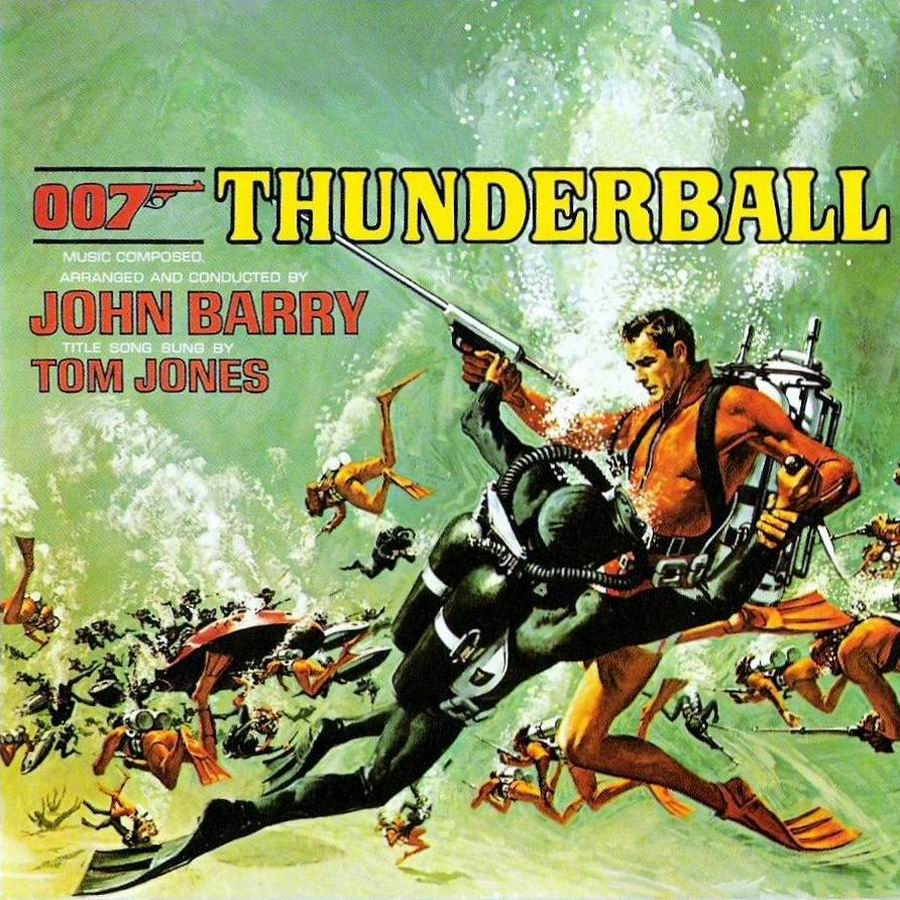 12          THUNDERBALL (1965) – Such was the success of Shirley Bassey's recording of the theme for Goldfinger a year earlier, the producers insisted on a theme being written that focused on the name Thunderball. Whereas 'Goldfinger' was the name of a character, 'Thunderball' was not, and this proved to be a daunting problem, hence the nonsensical use of the word in the Tom Jones song. Jones's vocals were equally as impressive as Miss Bassey's and the franchise had another hit on their hands.
11          SINGIN' IN THE RAIN (1952) – This delightful movie is chockablock with great songs and fine dancing. It is considered to be one of the best musicals ever put on celluloid; possibly even the best. Donald O'Connor's very funny delivery of 'Make 'em Laugh' was outstanding.
10          SEVEN BRIDES FOR SEVEN BROTHERS (1954) – The piece of music by Gene de Paul played during the 'House-raising Sequence', as it was later named, enabled the actors and dancers to participate in a combination of dancing and acrobatics that proved to be one of the all-time great dance sequences in movie history.
9            CASABLANCA (1942) – Of all the iconic songs in movie history, 'As Time Goes By', would probably win the title of 'the most iconic' – if there ever was such an award. It was sung in the picture by drummer (not pianist) Arthur 'Dooley' Wilson. He faked his piano-playing by watching the hand movements of the real pianist Elliot Carpenter as he sat in front of him, out of camera-shot and behind a curtain.
8            GOLDFINGER (1964) – The story is utterly ridiculous; the script has more holes in it than a Swiss cheese; the acting is passable at best. But Goldfinger has one gigantic plus going for it and that is its fabulous theme song, delivered as the credits roll by the inimitable Shirley Bassey. I am surprised that more ticket-buyers don't leave the theatre the moment she stops singing. I would.
7            HIGH SOCIETY (1956) – Choosing the best song in High Society was not easy. Frank Sinatra and Bing Crosby delivered a delightful duet called 'Well, Did you Ever?', but the even better tongue-in-cheek duet from Sinatra and Celeste Holm titled, 'Who Wants to be a Millionaire?', was the show-stopper.
6            CALAMITY JANE (1953) – There are several good tunes in this little romp, but Doris Day's 'I Just Blew in from the Windy City' is the cleverest and bounciest, delivered superbly by the era's best female pop singer – bar none. 'The Deadwood Stage' and 'Secret Love' were not far behind either.
5            OKLAHOMA! (1955) – Having already selected 'People Will Say we're In Love', I had to choose between the very clever 'Kansas City', the iconic 'Oh, What a Beautiful Mornin' and…'The Surrey with the Fringe on Top'. 'Surrey' got the nod because of its lyrics. Hammerstein uses Rodgers' melody to paint a canvas. A truly superb song.
4            THE BAND WAGON (1953) – I could not possibly list 50 great moments in musical film without including something from the best dancing duo, not to mention the sexiest female dancer ever. 'The Girl Hunt' number in The Band Wagon features Fred Astaire and Cyd Charisse (red sequin dress and all) in the second best ever dance sequence of all time.
3            THE ROCKY HORROR PICTURE SHOW (1975) – It is worth it to watch this rather over-rated musical just to see Tim Curry as Frank. N. Furter strut his stuff with 'Sweet Transvestite'. He is sensational. Nothing he has done since can touch him in this.
2            1776 (1972) – This musical about the signing of the Declaration of Independence was panned by the critics, rather harshly I might say. I thought it made history fun, and did so with some well thought out lyrics to catchy tunes. The best of these was delivered by a gentleman named John Cullum (I can hear you saying, 'Who?'). He portrayed Edward Rutledge from South Carolina and his powerful indictment of the hypocrisy of northerners involved in the slave trade, titled, 'Molasses to Rum', is simply superb.
1            KISS ME KATE (1953) – The brilliant song and dance sequence to Cole Porter's immortal tune, 'From This Moment On', featuring Ann Miller, Tommy Rall, Jeanne Coyne, Bobby Van, Carol Haney and Bob Fosse is positively breath-taking. Musical numbers just do not come any better than this.