When the United Artists cast and crew arrived in Prague, Czechoslovakia in June 1968 to shoot this picture, Alexander Dubcek had only recently become the Communist Party Secretary in Czechoslovakia. Unlike his predecessors, he was a man bent on improving the lot of his countrymen by softening the hard-line policies put in place by the Soviet Union since World War Two. The cast and crew of The Bridge at Remagen were suddenly caught up in a momentous event in 20th century Europe as the Czech people began to take steps to liberate their nation from the iron grasp of the Soviet Union. The Soviets moved quickly to stamp out such thoughts.
Alexander Dubcek
Local newspapers began running tall tales aimed at the 'Remagen' crew. One even ran a ridiculous headline that read: 'American Tanks and Troops have Entered Prague', based on the handful of WW2 tanks brought in for the battle scenes. Rumours abounded that the Czech students employed in the movie as soldiers were, in fact, real American soldiers, and that the piles of movie props were in reality arms piles headed for Czech anarchists. All the accusations were fanciful and completely unfounded.
Leonid Brezhnev
Dubcek had secret meetings with Soviet leader Leonid Brezhnev that lasted three days. Soon afterwards all Prague street signs were taken down in order to make Russian maps of the city useless. Then, on the morning of August 21, Soviet tanks suddenly appeared in the city. Secretary Dubcek and his colleagues were arrested and whisked away to the Ukraine, hog-tied on the floors of armoured cars. The Remagen film crew were moved to the International Hotel and placed under virtual house arrest for a week.
Soviet tanks in Prague, spring 1968
Robert Vaughn
Shortly after that a clearly broken Alexander Dubcek spoke on television, urging his compatriots to work in concert with the Soviet troops to avoid any bloodshed. Two teenaged boys handing out 'Freedom' pamphlets were machine-gunned by a Soviet tank. The Czech translator with actor Robert Vaughn, a lady named Pepsi Watson, angrily tore down the Soviet flag atop the hotel and hurled it at the tanks below. She has not been heard from since that day. After a week of house arrest and curfews the film's cast and crew were escorted to the Austrian border and released. The remainder of the movie was shot in Hamburg and Rome.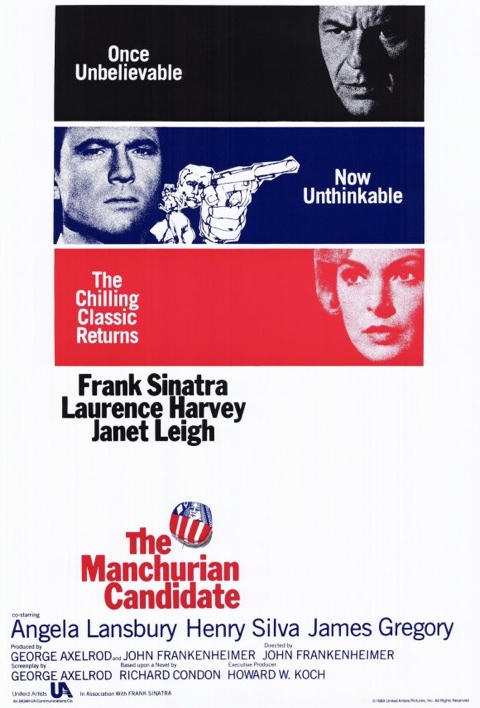 As anyone who has watched this thriller would know, The Manchurian Candidate focuses on the use of a hypnotized political assassin, a robot-killer so to speak. There are experts today who are convinced that this same method was employed to get Sirhan Sirhan to attack Senator Bobby Kennedy back in 1968. By coincidence, the director of this picture, John Frankenheimer, actually drove RFK from Malibu to the Ambassador Hotel in Los Angeles on the evening of his assassination.
Director John Frankenheimer
Officially, Sirhan is serving a life sentence for killing Kennedy, but it now seems certain that he could not have fired the fatal shots, although he was definitely present and did get off some shots. The autopsy report clearly proves that the fatal shots were delivered from just a few inches away from Bobby's head – and they were fired from behind, from below and from the right. Every witness, every witness, swore that Sirhan was standing in front of the senator, approximately two to five feet away! Furthermore, his .22 Iver Johnson pistol only held eight shots, yet the FBI report says there is no doubt that at least twelve shots were fired. Ballistics experts have also verified that the bullets extracted from Kennedy's head were not from Sirhan's weapon.
Senator Robert Kennedy           Sirhan Sirhan
Standing directly behind RFK was a security guard who admitted dropping to his knee and firing shots during the melee. Incredibly, this man's weapon was not examined and tested to see if it matched the forensics of the fatal rounds. Only one photographer took pictures of the assassination, but his camera was confiscated by the LAPD and the photographs he took have never been recovered. In 2008, Dr Robert Joling, a past president of the American Academy of Forensic Scientists, assisted by sound expert Philip van Praag, concluded that at least 12 shots were fired – from two different guns.
Countess Helene Gaillet de Neergard recently revealed details of a conversation she had with Aristotle Onassis, just after they had been intimate at his retreat on Scorpios in 1973. He told her of his extreme hatred for Bobby Kennedy, something that had festered since 1953 when Bobby was investigating the Greek tycoon's business dealings during the McCarthy hearings.
Helene Gaillet de Neergard               Lee Radziwill & her sister Jackie Onassis
Jackie & Ari 1974
Ari had already wormed his way into the Kennedy family by sleeping with Jackie's sister Lee Radziwill. When Jackie lost her baby in August 1963, it was Onassis who convinced her to come to Scorpios to recover. Three months later her husband Jack was assassinated. Eventually, Jackie and Ari would marry. Much of this was already known to the countess, but Onassis's next statement was not: 'You know, Helene', he said quietly. 'I put up the money for Bobby Kennedy's assassination.' There are those who feel there are connections between the shootings of JFK, RFK, Martin Luther King and George Wallace. Maybe so. Nothing much surprises me in the world of power politics anymore.
This now classical film noir was produced by the newly formed Hecht-Hill-Lancaster Productions. Burt Lancaster, his agent Harold Hecht and James Hill signed important players and obtained top scripts to produce for their company. In 1957 they announced their intention to make 10 films worth $14 million in 1958.
Curtis & Lancaster at their finest                           Walter Winchell
Alexander Mackendrick was chosen to direct Sweet Smell of Success, a story based on a novelette by Ernest Lehman. The role of J.J.Hunsecker, played by Lancaster, was based on New York columnist Walter Winchell. As filming progressed Lancaster's intimidation of several people on set, Mackendrick and composer Elmer Bernstein among them, genuinely frightened them. 'Burt was really scary', said Bernstein. 'He was a dangerous guy. He had a short fuse.' The director cleverly capitalized on Burt's menacing persona, suggesting he wear his browline glasses to enhance his 'scholarly brute' image, and then rubbed Vaseline on the lenses, giving him a permanently blank gaze. It was most effective.
Martin Milner as Steve Dallas                      Emile Meyer as Lt. Harry Kello
Tony Curtis really wanted the role of the sycophant Sidney Falco, even though his studio (Universal) thought such a negative role might ruin his career. He was sick of playing pretty boy roles anyway. He wanted to improve as an actor and this role would prove to be the best performance of his life. Robert Vaughn was all set to play Steve Dallas, but his call-up for National Service in the army saw him replaced at the last minute by Martin Milner. The narc in the picture was named Lt. Harry Kello and played by Emile Meyer. He was based on NYPD detective Eddie Egan, the man whom Gene Hackmam would immortalize as 'Popeye' Doyle in The French Connection in 1971.
Ernest Lehman
Surprisingly, the movie failed at the box-office and Lancaster blamed Lehman, claiming that his withdrawing from the picture through illness somehow damaged the picture. In fact, Burt confronted the man in front of the cast and threatened to physically assault him. Lehman stood his ground. 'Go ahead', he said. 'I need the money.' Lancaster backed down. Over the years Sweet Smell of Success has gradually attained cult status, and rightly so, for it is a brilliant example of the film noir, beautifully scripted with rich characters portrayed by actors who know their stuff.