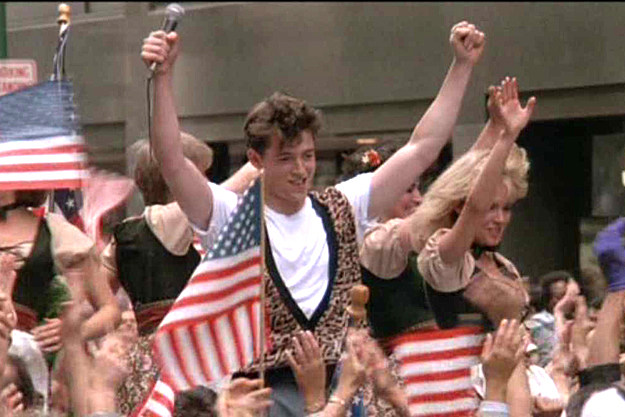 50          FERRIS BUELLER'S DAY OFF (1986) – A clip that I personally cannot abide is this one of Matthew Broderick miming to the Beatles', 'Twist and Shout', while standing atop a parade float in the city. His miming is not very good either, but the dancing and crowd reaction are appealing. Needless to say, young audiences in the eighties loved it.
49          BREAKFAST AT TIFFANY'S (1961) – Henry Mancini wrote 'Moon River' specifically for Audrey Hepburn and she didn't disappoint him. Her rendition in this picture was his favorite of the many, many interpretations he heard over the years. The picture sucked, however. Has there ever been worse miscasting than Audrey playing a hooker? Well, yes, actually. John Wayne as Genghis Khan in The Conqueror (1956) takes some topping!
48          STAND BY ME (1986) – The Chordettes' hit 'Lollipop' from the fifties seemed to fit this picture like a glove as the four young boys set off along the railway track to find a dead body. There are a number of hits from the era in this enjoyable film, including Ben E. King's superb 'Stand By Me', but I favor the 'Lollipop' scene most.
47          EASY RIDER (1969) – Easy Rider is one of those Hollywood productions that takes on a life of its own far greater than the sum of its parts. The truth is it is not much of a movie at all, much less a great one. The Steppenwolf hit Born to be Wild has become identified with it so, with enormous reluctance, I include it in my list.
46          NOTTING HILL (1999) – Ronan Keating's hit song, 'When You Say Nothing at All', plays as Hugh Grant and Julia Roberts clamber over a fence into a private park for a romantic interlude. This is one of those tunes that just seem to 'fit' the moment.
45          THE REVOLT OF MAMIE STOVER (1956) – This movie is all but forgotten today, but it contains a song that was one of my favorites when I was a boy. It is called, 'If You Wanna See Mamie Tonight', and it is sung by the melodic Ames Brothers, one of whom (Ed) played Mingo in the Daniel Boone TV series of the fifties and sixties.
44          DELIVERANCE (1972) – The banjo music throughout is perfect for this thriller set in the backwoods of Georgia, especially the playing of 'Dueling Banjos' early in the film. Although actors Ronny Cox and Billy Redden appear to be playing, the instrumentals were completed by Eric Weissberg and Steve Mandell. Redden's hand movements were unconvincing, so a local musician named Mike Addis hid behind him with his arm inserted in Redden's sleeve and played for him. Camera angles kept him out of shot. The music was dubbed later.
43          THE WARRIORS (1979) – The Warriors is an extremely silly and annoying film that depicts city gangs as somehow worthy of a begrudging admiration. The acting is as hammy as can be, the script is downright laughable, yet still it has two things going for it. The obviously choreographed 'rumbles' are entertainingly done and the score by Barry de Vorzon is terrific, especially the exciting 'Baseball Furies Chase'.
42          THE WIZARD OF OZ (1939) – Judy Garland's wistful singing of 'Somewhere Over the Rainbow' stands head and shoulders above the rest of the score yet, oddly enough, it came extremely close to being cut from the film altogether because it ran too long. Fortunately, wiser heads prevailed and it was retained.
41          JESUS CHRIST SUPERSTAR (1973) – This rock musical enjoyed its moment in the sun despite its rather odd presentation. Personally, I would have preferred it to have been played as a full costume drama. Of course, even a musical about the life of Jesus had to follow the usual formula by inserting a comedy tune, in this case 'King Herod's Song', vocals by Zero's kid Josh Mostel.
40          KISS ME KATE (1953) –   Howard Keel's brilliant rendition of 'Where is the Life that Late I Led?' is performed flawlessly on a runway projecting out into the audience. This is the first of four tunes on my list from this brilliant Cole Porter musical.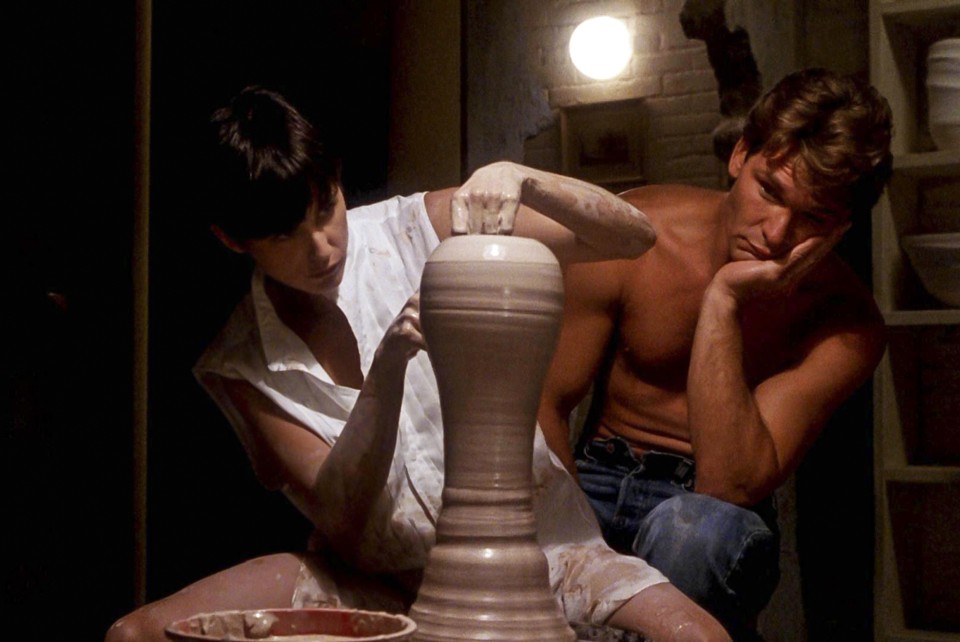 39          GHOST (1990) – One of the most over-played pop songs in history would have to be the Righteous Brothers' 'Unchained Melody'. Like many people, I am sick to death of hearing the thing, yet it has become synonymous with Patrick Swayze and Demi Moore because of the clay-modelling love scene in Ghost.
38          GIGI (1958) – Gigi richly deserved its Oscar for Best Picture in 1958. It is lavishly photographed, has fine performances from all its leading players, and is chock full of wonderful songs. I tossed up between 'I Remember it Well' and 'Thank Heaven for Little Girls', before settling on the latter. Maurice Chevalier features in both.
37          CAROUSEL (1956) – Carousel has two enormous pluses going for it – Shirley Jones and Gordon MacRae – and a very cute, slightly lesser plus in Barbara Ruick. Unfortunately, it also has 'You'll Never Walk Alone' and 'If I Loved You', not two of my favorite songs, and both get reprised in the movie to boot!  MacRae sings 'Soliloquy' (otherwise known as 'My Boy Bill'), which is the highpoint of the score in my opinion, although I felt they could have filmed it more interestingly.
36          DIRTY DANCING (1987) – Just why this sugary romance has become a cult classic is beyond me. Perhaps, it has something to do with the tragic death of actor Patrick Swayze. Or maybe because of the dance he and Jennifer Grey perform to the hit, '(I've had) the Time of My Life', by Bill Medley and Jennifer Warnes. Yuk!
35          OKLAHOMA! (1955) – Another exceptional Rodgers & Hammerstein musical with at least a half dozen outstanding songs. Two of them have made my list. The first of them is the beautiful duet, 'People Will Say We're In Love', from Gordon MacRae and Shirley Jones. I just had to get Shirley into my list. She was the best.
34          THE PRODUCERS (1967) – As much as I enjoyed Dick Shawn's 'Love Power' when I first saw this film, the principal song in the whole production would have to be 'Springtime for Hitler', a tongue-in-cheek love-song to the Nazi leader that, as intended, absolutely appalls the audience. A Mel Brooks movie that is actually clever. If only Gene Wilder wasn't in the thing.
33          KISS ME KATE (1953) –   A second highlight from this wonderful Cole Porter score is the very clever and highly entertaining performance of 'Brush up Your Shakespeare' by Keenan Wynn and James Whitmore who play two most unusual hoodlums.
32          G I BLUES (1960) – There were an awful lot of sub-standard musicals pumped out by Elvis Presley in his career, but G I Blues was without doubt the best of them. It contained eleven songs and most of them were quality. The scene where he sings 'Wooden Heart' to a group of children watching a Punch & Judy Show was proof positive of the man's charismatic ability on the screen. Sadly, we saw far too little of it in the rubbishy pictures that followed.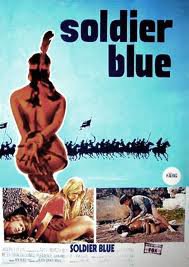 31          SOLDIER BLUE (1970) – Based on a true life atrocity that took place in Colorado in 1864, this bloody western was crucified by the critics, mostly for its excessive violence. Ironically, all the atrocious conduct we see from the cavalrymen actually happened in real life! In fact, there was far more criticism of the film's depiction of the Sand Creek Massacre than there was of the actual event over a century earlier. Buffy Sainte Marie's rendition of the theme from Soldier Blue is sung as the opening credits roll. It matches the mood of the picture perfectly.
30          SOUTH PACIFIC (1958) – There are many wonderful songs in this musical, but Juanita Hall singing 'Happy Talk' while the gorgeous France Nuyen does her 'finger-talking' thing is one of the highlights. Juanita also memorably sang 'Bali Hai', but director Joshua Logan's decision to use different colored lens filters ruined many of the sequences.
29          SINGIN' IN THE RAIN (1952) –     Of course, any discussion concerning this movie has to include Gene Kelly's fabulous singing and dancing to the title tune. The man possessed a fine voice for ballads, as indeed did Fred Astaire for that matter. Their dancing was masterful, but as singers they both held their own admirably. No-one delivers 'Singin' in the Rain' anywhere near as enchantingly as Kelly.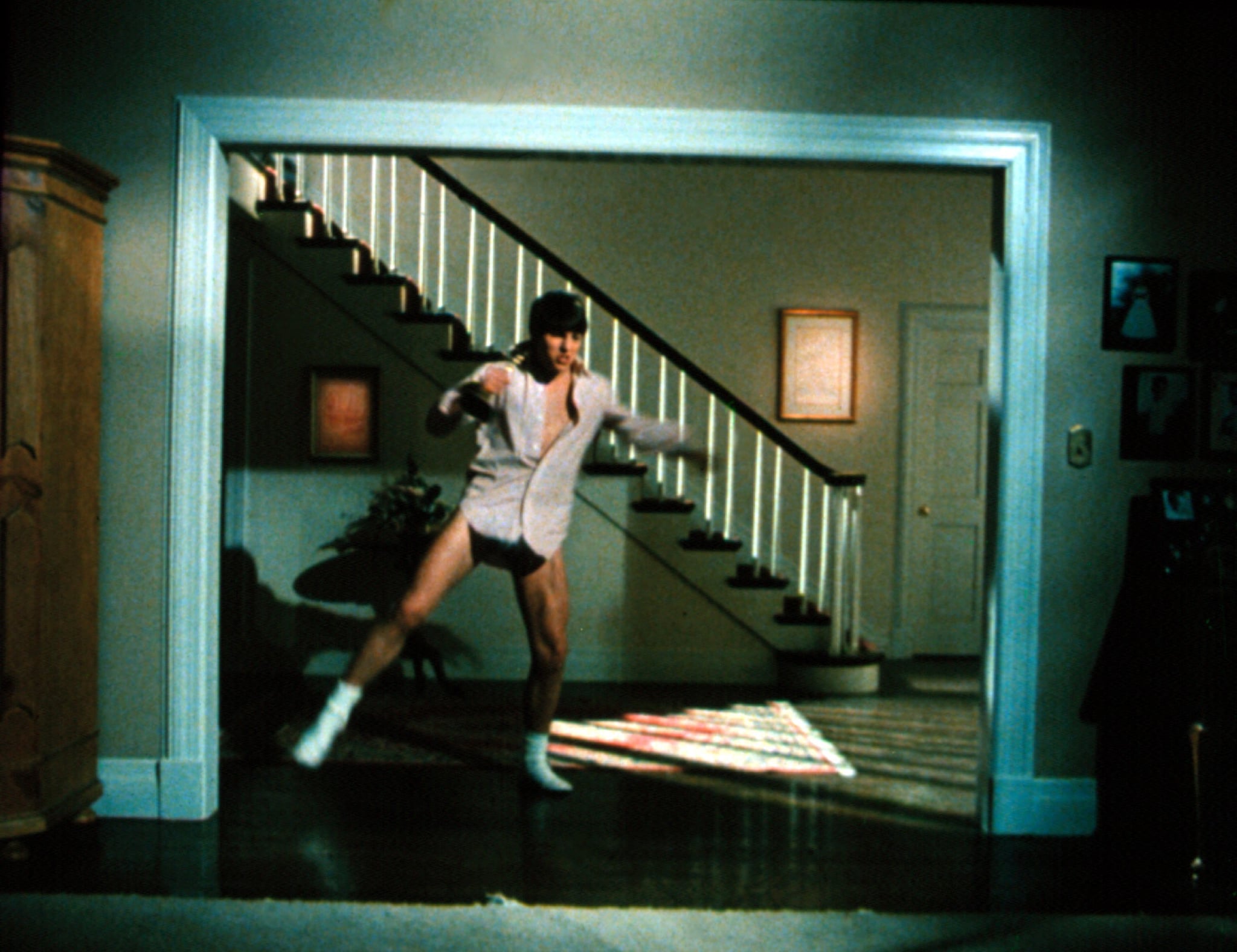 28          RISKY BUSINESS (1983) – Watching Tom Cruise sliding across the hallway in his socks and underpants and miming to Bob Seger's hit tune, 'Old Time Rock & Roll', is not exactly something I much enjoy seeing, but it certainly clicked with several million female fans around the world. The picture itself was actually pretty good and it turned Cruise into a superstar.
27          PRETTY WOMAN (1990) – The iconic scene in which Julia Roberts tries on various dresses to the Roy Orbison song 'Pretty Woman' was the precursor of a rash of similar scenes dished up over the next decade, including another one featuring Julia the following year; this time to Van Morrison's 'Brown-Eyed Girl' in Sleeping With the Enemy.
26          LOVE ACTUALLY (2003) – There are a lot of memorable musical moments in this terrific romantic comedy, but the one that brings a smile to most faces is the brief excerpt from the Pointer Sisters' hit tune 'Jump' that features Hugh Grant as the British Prime Minister dancing and wiggling his butt at No 10 Downing Street.
PT 2 – (25-1) – will be posted in two days' time.