Bobby DARIN                                   Sandra DEE                           (1960 – 67)    divorced
Bobby Darin & Sandra Dee
As a struggling songwriter in the legendary Brill Building, Bobby met up and coming singer Connie Francis and fell desperately in love with her. The girl's strict Italian father refused her permission to even date boys, so their romance was snuffed out long before either of them achieved fame.
Bobby with Connie Francis
In 1958, 22 year-old Bobby sang 'Splish Splash' on Dick Clark's New American Bandstand and it was instantly a huge hit. Within a year he had two Grammies and his version of 'Mack the Knife' topped the charts for nine weeks, occupying a spot in the top ten for an astonishing 52 weeks!
When he made the movie Come September (1961), he met pretty 17 year-old actress Sandra. They married in December 1960 and soon had a child. The couple divorced in 1967 and despite his already weakened heart condition, Bobby worked tirelessly campaigning for Senator Robert Kennedy's Ill-fated tilt at the presidency. Kennedy's assassination affected the singer deeply and he lost interest in life in general for some time. When the artificial valves in his heart began to fail in 1973 he opted for surgery to replace them. Sadly, he did not survive the operation. Bobby had already willed his body to the UCLA Medical Facility for research. He was just 37.
Sandra Dee & Troy Donahue
in A Summer Place (1959)
Sandra enjoyed a successful movie career, the highlight (or lowlight, depending on what you think of the movie), being her performance in the pot-boiler, A Summer Place (1959). All her life she struggled with anorexia, alcoholism and depression, the legacy of a sexually abused childhood it would seem. In 2000 she was diagnosed with throat cancer and kidney complications and passed away in 2005 at the age of 62.
Bette DAVIS                                      Gary MERRILL                   (1950 – 60)    divorced
Betty & Gary in All About Eve
Actor Gary Merrill was the last of Bette's four husbands. All four beat her up during their marriages. In spite of this, she told a reporter, 'I'd marry again if I found a man who had fifteen million dollars, would sign over half to me, and guarantee that he'd be dead within a year.'
Bette dining with Wyler during Jezebel
The love of her life was the director of 1938's Jezebel, William Wyler. He was married at the time of their affair and was unwilling to leave his wife for her.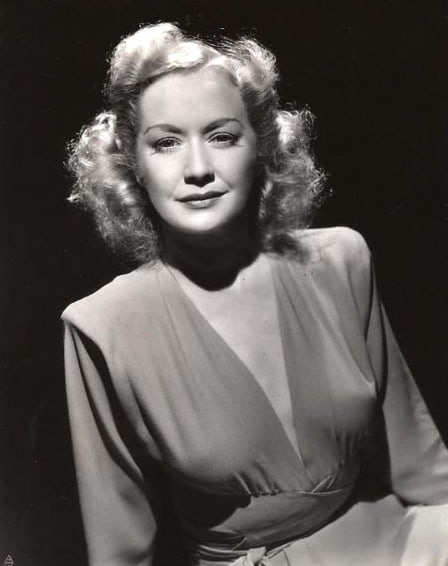 with another lover Anatole Litvak       Miriam Hopkins
Another affair (with writer/director Anatole Litvak) was the cause of her long-running feud with his then wife Miriam Hopkins, although Bette's habit of landing roles Miriam desperately wanted was another mitigating circumstance. We do know that Bette underwent three abortions while pregnant to Wyler and two of her husbands, Harmon Nelson and Arthur Farnsworth.
with the children, BD, Margot & Michael
Gary and Bette met on the set of All about Eve and were quickly smitten with one another. Davis already had a daughter (Barbara, known as B D) from a previous marriage, but because of Bette's age, (she was 42), they decided to adopt two children after the wedding. 'We were very pleased with our little boy Michael', she later said, 'but our adopted daughter (Margot), who was a beautiful baby, was brain-damaged…You can't return a baby like you can a carton of cracked eggs.' When asked about Mr. Merrill, she had this to say: 'Gary was a macho man but none of my husbands was ever man enough to become Mr. Bette Davis.'
BD & Bette
He was also a hopeless drunk who was known to attend Broadway shows, handkerchiefs stuffed in his ears, and audibly berate the performers until he was ejected. At restaurants, on occasion, he would sit with his date at a table, completely inebriated, and bark like a dog. When he began nipping at the heels of nearby patrons the management would again intervene and remove him. Sober he was both articulate and intelligent, but those days became rarer as he grew older. Bette's final years were marred by her eldest daughter, BD, publishing a scathing, tell-all book in 1985 titled, My Mother's Keeper.
Geena DAVIS                                    Jeff GOLDBLUM                 (1987-90)        divorced
                                                               Renny HARLIN                    (1993-98)        divorced
Jeff & Geena                                        Renny & Geena
At 6 feet (183m), Geena Davis is as tall as Sigourney Weaver, which makes the two ladies the tallest successful actresses in Hollywood. After her first movie role in Tootsie (1982), it took just six years and six more pictures for Geena to win a Supporting Actress Oscar for The Accidental Tourist in 1988. Her most remembered movies, however, would have to be Thelma & Louise (1991) and A League of Their Own (1992).
with Susan Sarandon in Thelma & Louise     in A League of Their Own
In 1985 she played opposite her future husband Jeff Goldblum in the highly forgettable Transylvania 6-5000. They married two years later but divorced in 1990. Actor/director Renny Harlin became the third of her four husbands in 1993. He directed Die Hard 2 (1990) and Cliffhanger (1993) Geena is a very talented and intelligent individual. She has an IQ of 140, is a member of MENSA and a world class archer, placing 24th in the US Olympic Archery semi-finals in 1999.
Geena Davis – Olympics squad archer
Jeff Goldblum made his screen debut in the 1974 Charlie Bronson hit Death Wish, although you must look hard to notice him. He was billed as 'Freak#1' among three hoodlums. Oddly enough, two years later he played one of three hoodlums in another Bronson film, St. Ives. Significant roles in two of the Jurassic Park blockbusters and the surprisingly popular Independence Day (1996) made him a wealthy man. For the record – his surname is pronounced 'Gold-bloom', not 'Gold-blumb'.
Jeff Goldblum in Jurassic Park
Judy DAVIS                                       Colin FRIELS                       1984 –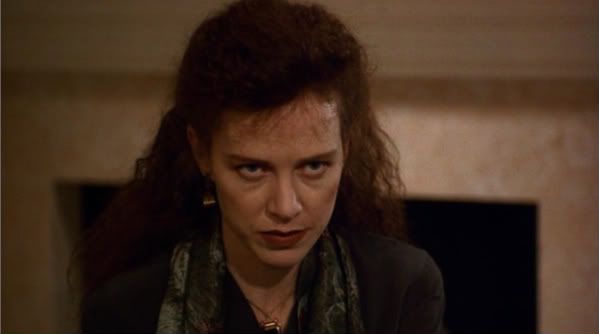 Judy Davis                                                                       Colin Friels
Judy Davis was born in 1955 in my home town of Perth, Western Australia. She first came to prominence when she portrayed Sybylla Melvyn in My Brilliant Career (1979) and has since been twice Oscar-nominated, first for A Passage to India (1984) and then for Husbands and Wives (1992). A product of the National Institute of Dramatic Art (NIDA) back in Australia, she and Mel Gibson once played opposite each other in Romeo & Juliet at drama school. Her future husband Colin Friels was also a fellow student. Judy has appeared in five Woody Allen pictures thus far. He considers her to be one of the most exciting actresses in the world.
as Adela Quested in A Passage to India
In the 1980s the press dubbed Judy as the leader of the 'Australian New Wave'. Today's stars Cate Blanchett, Nicole Kidman and Toni Collette all cite her as their role model. Scottish-born Colin Friels has been married to Judy since 1984. They have two children. He has won seven acting awards in Australia (including two AFI awards) and been nominated for six more. Since 1997 he has been in full remission after being diagnosed with pancreatic cancer.
Portia DE ROSSI                              Ellen DEGENERES              2008 –
Portia & Ellen on their wedding day
Portia de Rossi first became known to television audiences as Nelle Porter in the hit series Ally McBeal back in 1998. Formerly Amanda Rogers of Geelong in Victoria, Australia, she changed her name when she was 15. Five years later she was cast as one of three models in Sirens, and four years after that she hit the big time as Nelle, 'the Ice Queen', in Ally McBeal. She married a man in America in order to obtain a Green Card, and despite her preference for female companions. 'In high school I had sex with girls quite a few times', she said. 'They were straight women who I convinced to jump in the sack with me.'
Portia as Nelle 'the Ice Queen' Porter in Ally McBeal
the voice of Dory in Finding Nemo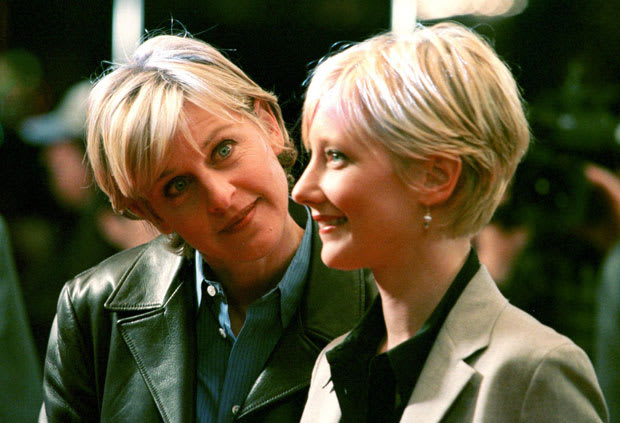 Ellen and Anne Heche
She met Ellen DeGeneres on a photo-shoot. 'She took my breath away', said Portia. They were married in 2008 and in September 2010 she officially took Ellen's surname as her own. She is now Portia Lee James DeGeneres. The Ellen DeGeneres Show has been continually running since 2003 and appears to be as popular as ever. That same year (2003) saw Ellen provide the voice for Dory in the animated classic Finding Nemo. She was previously in a three year relationship with actress Anne Heche.