Director Dorothy Arzner & Crawford
'I like to think that every director I've worked with has fallen a little in love with me', Joan Crawford once confided in an interview none too modestly. 'I know Dorothy Arzner did'. No surprises there. Given her well-documented sexual orientation Dorothy may well have fallen in love with many of her leading ladies over the years. When it came to Joan's male directors, however, she usually left nothing to chance, often offering herself physically before or during production to gain an edge over the rest of the cast.
Crawford & Dors (R)
'Joan Crawford was notorious for her falsies', said Diana Dors who was not. 'Even lying down, she wanted to have an upright bosom for the screen. The older she got, the more concerned she was with keeping it up. It got rather pathetic, because it became her main worry in most of her scenes…I was there, I witnessed it. It was gruesome'.
Paul Bern & his wife Jean Harlow
Joan Crawford in the 1930s
Joan claimed she unsuccessfully asked the definitively gay actor William Haines to marry her when she was a struggling starlet. Despite his refusal they remained good friends for the rest of their lives. 'The happiest marriage I've seen in Hollywood', Joan once said, 'is Billy Haines and Jimmy Shields'. And she was probably right. At the time she was sleeping with Paul Bern, the man who would later wed Jean Harlow before the MGM fixers put the story about that he shot himself. He didn't. His mentally disturbed wife did it. At the height of his romance with Joan he bought her a $10,000 ermine coat and bumped her weekly salary from $75 to $500.
Joan & Doug Jnr
When she married Douglas Fairbanks Junior he was penniless and estranged from his famous parents. Joan paid for everything. MGM heads knew about her criminal record, the fact that she had been arrested for prostitution, but Mayer and J Edgar Hoover were pals, so the FBI 'misplaced' her arrest sheet. Eddie Mannix, on Mayer's orders, bought the negatives of her porno films that she made as Billie Cassin. Finding and purchasing all the prints, however, proved to be a much more expensive (and difficult) task.
Stanwyck & Crawford
Tallulah Bankhead
Joan had a long affair with Tallulah Bankhead and slept with just about all her co-stars. Both women had been intimate with both Fairbanks Jnr and Franchot Tone. Bankhead personally told Mayer that Joan had slept with his biggest female star, Barbara Stanwyck, and Joan later confirmed it with LB at a dinner party.
James Dean
Warner Bros allowed James Dean to live behind the studio's drug store. They did not want him sponging off acquaintances by inviting himself into their homes for days at a time. Bad for publicity. Mail-room employees at Warners were used to seeing him emerge from his apartment each day and head straight for the mail-room. There he would shake each envelope addressed to him, checking to see if there was any 'return postage money' inside from fans requesting an autograph or signed picture. On finding one he would tear it open, pocket the money, and toss the envelope and letter in the trash. 'What are you looking at?' he would snarl at the mail-room staff. 'They're addressed to me.' What a charmer he was.
Sam Goldwyn
Samuel Goldwyn could not abide the concept of losing and would go to considerable lengths to make sure that he didn't, whether it was in business or at play. He even taught his young son Sam to upset the backgammon board if Dad appeared in danger of facing defeat. On one occasion the boy tipped over the board three times during a game between his father and Groucho Marx. In exasperation Groucho took the boy out of the room for a chat. They returned a moment or two later and the game resumed without any further interference from young Sam. 'How did you do it?' Goldwyn asked Groucho. 'I taught him to masturbate', was the reply.
Groucho Marx
Back in the early days he found himself unable to meet his studio's payroll. The wild (but generous to a fault) Mabel Normand gave him #50,000 in Liberty Bonds, no questions asked, and saved the day. 'If they will tide you over you may have them, she said. By the summer of 1920 Mabel herself was broke, booze and drugs having not only wiped out her savings, but her health with them.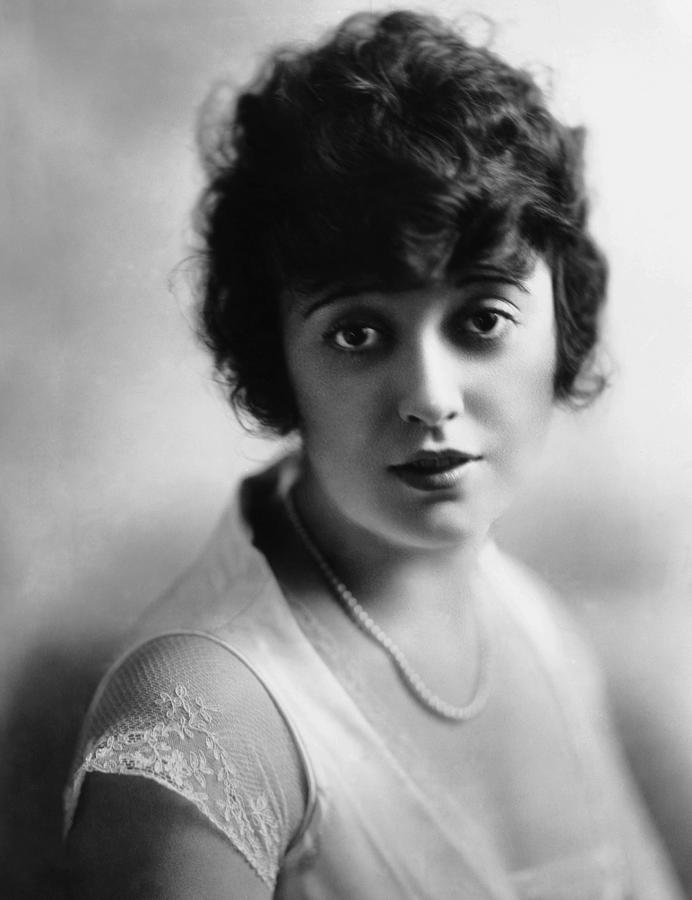 Mabel Normand
Sam & Frances Goldwyn
Sam was always forgetting his birthday. One year, his wife Frances met him at the door, blindfolded him and led him into the dining room before leaving briefly to attend to something in the kitchen. Sam took the opportunity to break wind with great gusto and then flapped his coat tails about to disperse the odour. Frances returned a moment later and removed the blindfold. Thirty-two guests she had invited to a surprise party in his honour were silently seated at the dining table awaiting their dinner.
George Raft
Carole & George in Bolero
Bolero (1934) teamed Carole Lombard and George Raft for the first time. True to Hollywood form they were soon embroiled in a steamy affair. Raft was renowned in Tinsel Town for being a 'sexual technician'. When asked by a reporter to name Hollywood's greatest lover, Carole quickly replied, 'George Raft'. Realising she had put her foot in it, she at once put in the other foot by asking, 'Or did you just mean on the screen?'
Norma Shearer
George & Norma
Jimmy Stewart & Norma
Ty Power & Norma
Mickey Rooney as Andy Hardy
George became Norma Shearer's third lover after her husband Irving Thalberg died in 1936. Having restrained herself sexually for nearly a decade due to Irving's delicate health, Norma quickly made up for lost time after he died. First, she set her sights on Tyrone Power, but he did not fancy aggressive women so she missed out. Next, there was a six-week fling with 30 year-old Jimmy Stewart until he hurriedly backed off as well. Third in line was the perpetually aroused teenager Mickey Rooney, currently riding the crest of the popularity wave as Andy Hardy. That was ended in no uncertain terms by L B Mayer. The last thing Mayer needed was the public learning that Andy Hardy was obsessed with sex and servicing other MGM stars in their late thirties.
The 'Queen of the Lot' then took up with 44 year-old George. He was a survivor from New York's Hell's Kitchen, an illiterate former prize fighter, gangster, taxi-dancer and, by most accounts, one hell of a lover. George was married and broke when he took up with Norma. When his wife demanded $500,000 for a divorce, most of which would have to come from Norma, George was given his marching orders, hell of a lover or not. Norma loved her money a lot more than she loved Mr. Raft.
Betty Grable & George
Marlene Dietrich & George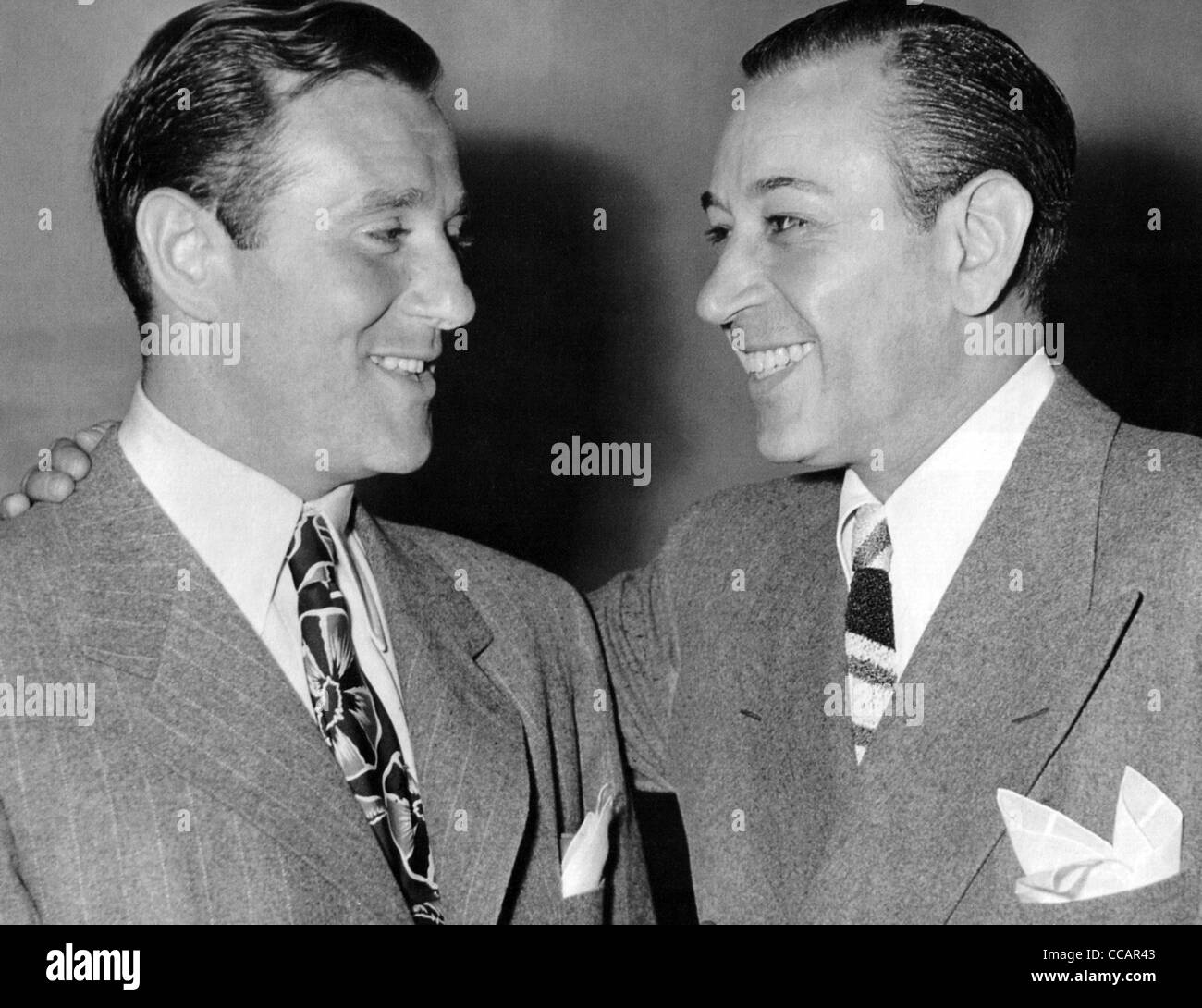 George and his pal 'Bugsy' Siegel
Besides Norma many people in Hollywood did not trust him an inch anyway. And with good cause. Howard Hawks believed he was sent out to California by the New York mob to 'carry a gun for the gangs'. This was pretty much confirmed when Raft hosted a welcoming party for Benjamin 'Bugsy' Siegel on his arrival in the movie capital. Siegel was representing Lucky Luciano, Meyer Lansky and other mob bosses in their move to take over certain rackets on the west coast. According to Jimmy Cagney's autobiography, Cagney by Cagney, Raft used his clout with the mob to abort a hit on Jimmy who was President of the Screen Actors Guild at that time and bent on defying mob infiltration in the movie industry. The Mafia plan was to have a several hundred pound klieg light fall on the actor's head. George managed to get the hit cancelled. He would go through a succession of celebrity lovers, prominent among them Marlene Dietrich and the teenaged Betty Grable, but his career never really took off like it should have. He lived out his final days as a host/greeter at mob clip joints.