1967-8
#22       THE F.B.I.
#26       IRONSIDE
(1967-75). Detective Robert Ironside is wheelchair-bound due to an assassination attempt, and is portrayed by the former star of Perry Mason, Raymond Burr. A large man, Burr encountered great physical stress from spending many hours in the wheelchair over the nine years the show remained in production.
#27       DRAGNET
#30       IT TAKES A THIEF
(1968-70). Robert Wagner plays a convicted cat burglar employed by the US Government as an espionage agent. In fact, after just one season as an employee of the spy agency S.I.A., he becomes a freelance operative for reasons known only to the writers and executives. This was a good show, mainly because Wagner is very good in just about everything he does. The guy has style with a capital 'S'. Surprising it did not go longer.
1968-9
#11       MISSION IMPOSSIBLE
(1966-73). The real-life brother of actor James Arness (Matt Dillon in Gunsmoke) was Peter Graves, the man who played Jim Phelps, head of a super-secret government agency known as 'Impossible Missions'. Actually, Dan Briggs (played by Steven Hill) was the head in season one. Graves replaced him in season two. Both Mission Impossible and Star Trek were shot at the Desilu Studios, hence just about every guest star on one show or the other appeared on both. So, too, did William Shatner, George Takei and Leonard Nimoy. Nimoy was Spock on Star Trek and Paris on Mission Impossible. Martin Landau (Rollin Hand) and Barbara Bain (Cinnamon Carter) were husband and wife at the time. Both left the series after being refused a pay rise. Their marriage endured for 36 years.
#16       IRONSIDE
#18       THE F.B.I.
#20       DRAGNET
#28       THE MOD SQUAD
(1968-73). Three young things work as undercover agents for the police. Michael Cole, Clarence Williams III, and Peggy Lipton play the leads in this grossly dated series. All three of their characters have been in trouble with the law and have agreed to spy on and betray members of their age group to avoid jail time themselves.
1969-70
#16       IRONSIDE
#19       HAWAII FIVE-O
(1968-80). Jack Lord plays Steve McGarrett, head of a fictional elite branch of the Hawaii State Police. Richard Boone of Have Gun-Will Travel was first choice for the lead. He was already residing in Hawaii, but he declined. Lord moved to the island from California and remained there for the rest of his life. The series' 12-season run made it the longest-running crime show ever, until Law & Order entered its 13th season in 2002-3. The 'FIVE-O' in the title refers to Hawaii being the fiftieth state of the union.
#23       THE MOD SQUAD
#25       THE F.B.I.
#30       MANNIX
(1967-75). More than likely, the main reason for the success of Mannix may well have lain in its excessive use of violence (for its day). Mike Connors plays private eye Joe Mannix who works out of Los Angeles. Personally, I am surprised it lasted for as long as it did.
1970-1
#4        IRONSIDE
#7        HAWAII FIVE-O
#10       THE F.B.I.
#11       THE MOD SQUAD
#12       ADAM-12
(1968-75). Martin Milner and Kent McCord play two Los Angeles police officers, Pete Malloy and Jim Reed, who patrol in their police car – call sign 1 ADAM-12. The '1' stood for the area of the division they were stationed in; 'ADAM' indicated a two-man patrol car; '12'represented the area they were patrolling.
#17       MANNIX
1971-2
#7        MANNIX
#9        ADAM-12
#12       HAWAII FIVE-O
#15       IRONSIDE
#17       THE F.B.I.
#21       THE MOD SQUAD
#29       CANNON
(1971-6). Frank Cannon, private investigator, was originally a policeman who left the force after his wife and child were killed in a car accident. William Conrad, a former WW2 fighter pilot, was 51, balding and overweight, when he hit the big time playing Cannon. His wonderfully resonant voice saw him regularly employed on radio for decades, but his weight prevented him gaining a lot of movie and TV work in front of the camera.
1972-3
#3        HAWAII FIVE-O
#10       IRONSIDE
#11       ADAM-12
#14       CANNON
#23       THE ROOKIES
(1972-6). The series follows the exploits of three young police officers played by Georg Stanford Brown, Sam Melville and Michael Ontkean. By the show's conclusion, however, the actor receiving the bulk of the program's fan mail was Kate Jackson who played Melville's wife. She would go on to even more success as Sabrina Duncan, one of Charlie's Angels.
#24       BARNABY JONES
(1973-80). Buddy Ebsen somehow managed to make a hit out of playing an elderly, milk-drinking private eye. He was 64 years old when the series began and over 70 when it concluded.
#29       THE F.B.I.
1973-4
#5        HAWAII FIVE-O
#7        KOJAK

(1973-8). Lt. Theo Kojak is superbly played by Telly Savalas. His real life brother George gets a berth as Detective Stavros in 115 of the show's 118 episodes as well. Who said nepotism was dead? About the only thing different about Kojak was his habit of sucking on lollipops, yet Telly was such a consummate performer that he was able to inhabit the character and make it his own. In short, he was terrific.
#10       CANNON
#18       BARNABY JONES
#22       THE STREETS OF SAN FRANCISCO
(1972-7). Karl Malden plays the 20-year veteran cop teamed up with the young inspector played by Michael Douglas. Malden was the better actor, although inclined to overact on occasion, but Douglas had more than his fair share of charisma and pretty much stole the show. It led to a fine movie career for him.
#23       ADAM-12
#25       THE ROOKIES
1974-5
#10       HAWAII FIVE-O
#12       THE ROCKFORD FILES
(1974-80). Jim Rockford, played by Jim Garner, is an ex-convict turned private investigator. Fans of Maverick were no doubt delighted to find Garner back in a rating show. I know I was. The Rockford character, in fact, is not unlike Brett Maverick – laid back, a bit lazy and purporting (untruthfully) to be somewhat cowardly. Garner could play that role in his sleep.
#14       KOJAK
#15       POLICE WOMAN
(1974-8). One wonders just how many young guys were tempted to join the police force in America in the hope that they might encounter a 'Pepper' Anderson along the way. Angie Dickinson had every hot-blooded male's pulse racing when she portrayed 'Pepper', (including that of the President of the United States for that matter), and it was she who demonstrated that women could be believable in action roles.
#16       S.W.A.T.
(1975-6). Steve Forrest (center) and Robert Urich (far right) were the most accomplished players in this short-lived series about a Special Weapons and Tactics team. Although it rated well, the series was canceled in its second season because of all the controversy surrounding its excessive violence. Urich had been recommended for his role by Burt Reynolds. He impressed Aaron Spelling who later placed him in Vega$, a series that ran much longer.
#19       THE ROOKIES
#20       MANNIX
#21       CANNON
#22       THE STREETS OF SAN FRANCISCO
1975-6
#16       STARSKY & HUTCH
(1975-9). Paul Michael Glaser (right) plays tough guy Starsky, but it is David Soul as the educated Hutch who catapulted this plainclothes cop program into the Top 30. Women simply adored him. The two actors 'clicked' so well together, however, that Aaron Spelling and the other producers joked that the pairing was TV's first heterosexual love affair.
#20       KOJAK
#22       BARETTA
(1975-8). Loose cannon actor Robert Blake plays loose cannon undercover detective Tony Baretta in this New York based cop show. Dana Elcar (you might recall him as the FBI boss in The Sting (1973), left the series after 12 episodes. He and Blake did not get along. As most people know, Blake was charged with the murder of his wife in 2002. He was acquitted in 2005.
#27       THE STREETS OF SAN FRANCISCO
#30       POLICE WOMAN
1976-7
#5        CHARLIE'S ANGELS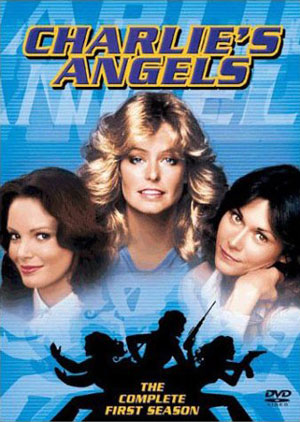 (1976-81). This absurd concept has a wealthy mystery man anonymously employing drop-dead gorgeous women to risk their lives in dangerous situations for his detective agency. Kate Jackson, Cheryl Ladd and Farrah Fawcett were three angels, but only Jaclyn Smith remained for the whole series, the others drifting off to movie and modeling assignments.
#8        BARETTA
#19       HAWAII FIVE-O
1977-8
#5        CHARLIE'S ANGELS
#22       BARNABY JONES
#23       HAWAII FIVE-O
1978-9
#12       CHARLIE'S ANGELS
#23       VEGA$
(1978-81). Robert Urich is Dan Tanna, a Vietnam vet employed as a private investigator in Las Vegas. Urich was married to Heather Menzies who played Louisa, one of the von Trapp children in The Sound of Music (1965), until cancer claimed him at 55.
#24       BARNABY JONES
#25       CHiPs
(1977-83). The series name stood for 'California Highway Patrol'. Larry Wilcox (right) and Erik Estrada play officers Baker and Poncherello respectively, around whom the series revolves. Wilcox was a real life veteran of the Tet Offensive during the Vietnam War. Estrada clashed with both him and his replacement after Larry quit the show because of the friction.
1979-80
#18       CHiPs
#20       CHARLIE'S ANGELS
#29       VEGA$