For Pt 2 of my look at nostalgic TV series I will look at the 'Law & Order Shows', those involving police or lawyers, private eyes or secret agents between the years 1950 through to 1966-7. As with the westerns, the focus will be on those series that made it into the Top 30 in the USA each year.
1950-1
#13       MAN AGAINST CRIME
(1949-54). Esteemed character actor Ralph Bellamy played Mike Barnett, a tough private detective in New York City in this quite violent series. Many episodes were filmed 'live' and, at the end of each one, Bellamy would step out of character to read out a list of the veterans' hospitals that would be receiving free donations of cigarettes from the show's sponsor the R.J. Reynolds Tobacco Company!
1951-2
#14       GANG BUSTERS
(1952-5). Gang Busters was a precursor of 'America's Most Wanted'. Each episode focused on true crime stories. At the end of each one the public would be asked to provide information on the whereabouts of felons still on the run. The series appeared on alternate weeks, sharing its time-slot with Dragnet. Despite its popularity, Gang Busters was made on the cheap and was dropped in favor of Jack Webb's Dragnet which was far better produced. Richard Crane was the star of the canceled series. His career never rose to any great heights before or after it. Today, if he is remembered at all, it would be for his tenure as Rocky Jones, Space Ranger (1954).
#21       DRAGNET
(1951-9). Dragnet was also known as Badge 714, (the number of home runs hit by Babe Ruth in his career), in America, and featured dead-pan actor Jack Webb as Sgt. Joe Friday. Among the many writers that submitted story ideas for the show was former policeman (and creator of Star Trek) Gene Roddenberry. By the way, regardless of legend, Friday never did say 'Just the facts, ma'am.' Not once. Jack would eventually marry sultry, sexy torch singer Julie London.
#29       MAN AGAINST CRIME
#30       RACKET SQUAD
(1950-3). Reed Hadley had the lead as Captain John Braddock in this well-intentioned series that only lasted a couple of seasons. Each week it exposed a new confidence game to the public, along with warnings to beware of 'get rich quick' schemes and the like. It had no home base so to speak. One episode might be in a city, the next in a country town, the following one at an airport somewhere in America.
1952-3
#4        DRAGNET
#8        GANG BUSTERS
#27       TREASURY MEN IN ACTION (aka FEDERAL MEN)
(1950-5). A group of Federal Treasury agents go after counterfeiters (mostly) and anyone else daring to attempt to bilk the government out of taxpayers money. They are led by 'The Chief' played by an actor with the unfortunate name of Walter Greaza. Then again, he was born with that name and evidently determined to make it, regardless of the racist taunts he was bound to cop. Because he could have changed it had he chosen to. Good for Walter.
1953-4
#2        DRAGNET
#15       TREASURY MEN IN ACTION
1954-5
#3        DRAGNET
1955-6
#8        DRAGNET
#17       THE LINE-UP
(1954-60). Warner Anderson and Tom Tully star in this cop show set in Old San Francisco before it became the high-rise metropolis of today. It looked at actual cases from local police files and often incorporated 'the line-up', hence its name. Tully must have wangled some time off from the series because he was nominated (unsuccessfully) for a Best Supporting Oscar for his portrayal of the Cain's first captain in The Caine Mutiny (1955).
1956-7
#11       DRAGNET
#16       THE LINE-UP
1957-8  NIL
1958-9
#17       PETER GUNN
(1958-61). Peter Gunn had just two redeeming qualities (in my eyes anyway), and they were its iconic theme, written by Henry Mancini and played, incidentally, by future film composer John Williams (Star Wars, Jaws etc.), and the perfectly cast Lola Albright as nightclub singer Edie Hart. Peter Gunn was the first TV series to have its own theme music. Soon, just about every other series was doing so. Craig Stevens played private eye Pete, (not that I ever noticed him whenever Lola was in the room).
#19       PERRY MASON
(1957-66). Raymond Burr was the unlikely actor who became a sex symbol to millions of middle-aged and elderly women throughout the world, courtesy of his charismatic portrayal of the 'unbeatable' attorney Perry Mason. The series seemed to run forever when, in fact, its lifespan did not even extend to a decade. It remains a classic example of formulaic television. It had a formula that worked week after week and the producers stuck to it like glue. Perhaps, that is why I had no time for the show.
1959-60
#7        77 SUNSET STRIP
(1958-64). 77 Sunset Strip was the fictional address of the detective agency inhabited by Stu Bailey and Jeff Spencer, played respectively by Efrem Zimbalist Jr and Roger Smith. But it was the performance of Edd Byrnes as 'Kookie', the slang-talking, hair-combing car park valet next door who stole the show. To the younger generation he became the epitome of the 'cool dude', and the more their parents shook their heads at his language and antics, the more teenagers adored him. Well, the girls anyway.
#10       PERRY MASON
1960-1
#8        THE UNTOUCHABLES
(1959-63). Based (ever so loosely) on the career of US Treasury agent Eliot Ness, this series starred Robert Stack as Ness and used the voice of columnist Walter Winchell as narrator. Both men participated in all 119 episodes, Winchell reportedly pocketing $25,000 per episode for his staccato voice-overs. Not bad dough for 1960. The series lasted four years before it ran out of notorious real-life hoods to highlight. In actuality Ness was only (partially) involved in putting Al Capone away on income tax evasion charges. He was not involved with any of the others. Italian-Americans managed to gain a concession from the producers. It was agreed that any real-life Italian gangsters' names could be used, but any fictional ones had to have Anglo names.
#13       77 SUNSET STRIP
#16       PERRY MASON
#29       PETER GUNN
1961-2
#5        PERRY MASON
#26       THE DEFENDERS
(1961-5). Veteran actor E. G. Marshall and a young Robert Reed play father and son in a law firm that takes on highly controversial (for the times) cases involving such 'hot' topics as euthanasia, 'un-American activities', movie censorship, even abortion. Pretty powerful stuff in 1961. Reed would go on to undying fame as dear old Dad in The Brady Bunch in 1969.
#30       77 SUNSET STRIP
1962-3
#18       THE DEFENDERS
#23       PERRY MASON
1963-4
#26       PERRY MASON
#28       THE FUGITIVE
(1963-7). I suppose it is fair enough to place The Fugitive in this category. After all, the cops chased him relentlessly in every one of the 120 episodes, week after week for five long years. The show made David Janssen and his character Dr Richard Kimble household names. Accused wrongfully of killing his wife, Kimble spends the whole series chasing after a one-armed man (the real killer) in order to clear his name. Another show I did not care for, simply because you knew that every week (except for the last one) he was not going to catch the guy. Annoying. A very popular show, nevertheless.
1964-5
#5        THE FUGITIVE
1965-6
#13       THE MAN FROM U.N.C.L.E.
(1964-8). Robert Vaughn played Napoleon Solo and David McCallum was Illya Kuryakin, agents for The United Network Command for Law Enforcement (U.N.C.L.E.), which makes me wonder why the show wasn't called The Men from U.N.C.L.E. Anyway, it was a moderate hit until the producers decided to 'camp it up' to emulate the very successful Get Smart in the third season. It was a disastrous move that saw the series' ratings plummet. It was cancelled half-way through season four. For some reason McCallum remained 'typecast' as a Russian from then onwards, yet Vaughn's career was not impeded at all.
1966-7
#21       DRAGNET
(1966-70). Jack Webb chose to re-introduce his popular Dragnet series because he was concerned about the drug use (especially LSD) that was prevalent among teenagers in the mid-sixties. Well, that is what the media was told, so who are we to argue? Harry Morgan was selected to play his off-sider. In 1982 Jack had plans for a third series, also featuring Morgan, but Harry was committed to playing Colonel Potter in M.A.S.H. at the time and could not be released. Kent McCord, formerly of Adam-12, was going to take his place, but it all came to nothing after Webb suffered a fatal heart attack in December 1982.
#28       I SPY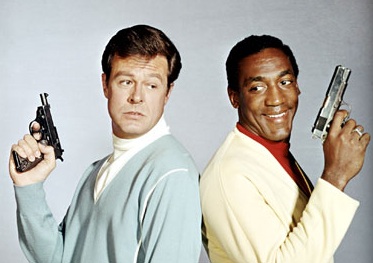 (1965-8). Robert Culp and Bill Cosby play American agents sent around the world on espionage missions. Culp's character is a former Davis Cup tennis pro, Cosby plays his manager who happens to also be a languages expert. It was the first series to have a black star. Consequently, certain NBC affiliates in the Deep South refused to air it because a black man had equal billing with a white. The same affiliates would also ban Star Trek because of the presence in its cast of black actress Nichelle Nichols and Asian actor George Takei.
#30       THE F.B.I.
(1965-74). Efrem Zimbalist Jr was highly effective as Inspector Lewis Erskine of the FBI in this very successful long-running series. Interestingly, recent memos released under the Freedom of Information Act have revealed that the FBI had power of veto over who was selected to guest star on the program. Robert Blake and Bette Davis, for example, were banned, although they were not aware of it. No reason was given.
Part 3 – Law & Order, Spies, Secret Agents from 1967-8 to 1980 will be posted on Sunday May 22.