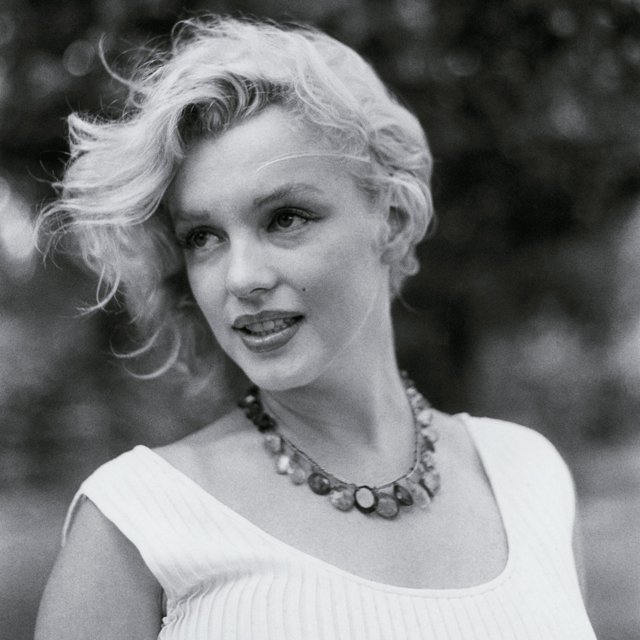 In 1955 the director of On the Waterfront and Gentleman's Agreement, Elia Kazan, wrote a letter of confession to his wife, apologizing for having an affair with Marilyn Monroe in 1950, just after her agent Johnny Hyde had passed away. Kazan came across her when she was distraught and sobbing with grief over the loss of her close friend and occasional lover. He said he felt enormous compassion for her; then one thing led to another…In a 1993 interview with Ecce Panis he threw considerable light on Marilyn's state of mind. 'I never saw her when she wasn't scared, pleading', he recalled. 'She had no confidence in anything but her ability to lure people into beds or fantasies. And I should add that this ability gave her little pleasure. People make fun of her ease in jumping into bed with people, but she was just as quick to write a check or stay up all night with a frightened friend or support someone in an endeavor they cared about. She gave away pretty much everything she had.' He went on to chastise those who offered her help and solace, expecting sex or money in return, but did not include himself in that category. His solace and comfort (presumably) were offered for higher, nobler reasons – yet he slept with her anyway. This was the same man who went before the House Un-American Activities Committee (HUAC) around that time and 'named names', thereby ruining the careers of several people in order to save his own. Feel free to formulate your own assessment of Mr. Kazan's high principles.
Marilyn circa 1950                     Kazan circa 1955
George Sanders was newly married to Zsa Zsa Gabor when he made All about Eve in 1950 with Marilyn, and his new bride was none too happy about it. She knew of MM's man-eating reputation, and she knew her husband and his weakness for the ladies. Consequently, Zsa Zsa tended to haunt the set, day in and day out, keeping an eye on her errant husband. It did her little good. One evening, according to George, he opened his apartment door to find Marilyn standing before him clad only in a fur coat, which she casually opened to him. Later, he confessed to his wife: 'Who am I, darling, not to make love to a woman like that?' Zsa Zsa also claimed she saw four different men from the film crew go into Marilyn's suite for sex on one evening alone.
MM & George in All about Eve (1950)
Zsa Zsa circa 1950
Actually, this whole episode does not ring quite true to me, even though Sanders himself recounted it in his biography. Marilyn usually made love for a reason, either for career advancement, as payment for a kindness, or on the rather rare occasion when she genuinely fell for someone and fostered hopes of love, marriage and children. With George Sanders none of these options appear viable. He was a notoriously vain egotist who rarely even spoke to his co-stars (or anyone else on a set for that matter), so any expectation that he might deign to help Marilyn's career in any way would have been negligible at best. Similarly, it is very unlikely she was repaying him for a kindness. The man was habitually unkind to almost everyone. And he had only recently married Zsa Zsa, one of the most beautiful women on Earth, so if Marilyn entertained any thoughts of true love and eventual marriage she really was living in dreamland.
Celeste Holm
One of her co-stars in All about Eve, Celeste Holm, said she watched MM closely and it was clear to everyone that the young woman was 'scared to death' by the prospect of having to act alongside some of the industry's major players, knowing full well that this was probably her one real shot at getting noticed. Would she really be likely to knock on the door of Sanders' room (of all people), expose herself, and invite herself in for sex? And why should she risk being thrown off the picture by screwing members of the cast and crew one after another like some kind of $2 hooker? Why would Zsa Zsa later say she was? Was that just Miss Gabor making headlines as usual? I suppose it is possible that Marilyn got to know George over the duration of the shoot, but he was a truly difficult man for anybody to get to know, much less an insecure young actress feeling her way on her first major film set.
Tony Curtis circa 1945
Teenager Norma Jeane 1945
In 1950 Marilyn apparently hooked up with Tony Curtis for the second time. They would be thrown together a third time nine years later when they made Some Like it Hot together, but more of that later. By then both were big stars and Marilyn was married to playwright Arthur Miller and unhappily so. In his 2008 memoir Curtis bragged of first seducing her when she was still a teenager, a red-headed, pony-tailed one at that. It happened, he said, in 1945 during the war, possibly while her husband was absent overseas. Curtis served aboard a US Navy submarine tender from 1942 to 1945 with his very good friend Larry Storch, a terrific comedian who would later achieve almost legendary status playing Corporal Randolph Agarn in TV's F Troop series.
Larry Storch as Agarn in F Troop
'She was 19 and didn't look anything like what she became', Curtis wrote. 'She had reddish-brown hair and her figure was not distinguished yet. Her bosoms weren't what they were later and her legs were a little scrawny, but she was putting it all together. All this, according to Tony, took place during his first months in Hollywood when he would take her back to his little beach house in Malibu. 'You could tell she'd already been battered by life, and I found that she'd been in an orphanage, as I had, and that her mother was also schizophrenic. I loved her. And she loved me, but we both wanted to be in the movies, and that meant everything.' Uh-huh.
Actor Nico Minardos
Greek-American actor Nico Minardos was in demand to play mostly Mexicans during the fifties and sixties. He met Marilyn when he appeared as an extra in the 1952 film Monkey Business in which she was a featured player. They reputedly lived together for several months. Years later he would move in with South African singer/dancer Juliet Prowse prior to her moving to Las Vegas to live with her fiancée Frank Sinatra. Minardos was working with actor Eric Fleming (trail boss Gil Favor in TV's Rawhide) on a picture in Peru when a canoeing mishap on the Huallaga River cost Fleming his life. Minardos dived into the torrent in a brave attempt to save him and very nearly lost his life as well.
Spyros Skouras and Marilyn
In a 1986 interview with writer Anthony Summers, Minardos mentioned having an affair and living with Marilyn for seven months in 1952. He also recalled an intimate evening with Marilyn being interrupted by a visit from another of her suitors, 60 year-old Spyros Skouras, the president of 20th Century Fox. Spyros had given Marilyn her first big break and had overseen several of her movies, among them Don't Bother to Knock, The Seven Year Itch and Gentlemen Prefer Blondes, and had a 'special relationship' with the up and coming actress who affectionately referred to him as 'Papa Skouras'. Did she sleep with him in order to get ahead? Well, there is no direct proof of this, but studio moguls were not known for helping out beautiful ingénues out of the goodness of their hearts either. Marilyn, for the record, denied any intimacy with either Skouras or old Joe Schenck, but would she be likely to label the guys who gave her a toehold in the industry as 'dirty old men', and still and still expect to have a career? I think not.
(Part 4 on Saturday April 16)