Even fans of Gone With The Wind do not think much of British actor Leslie Howard's insipid performance in the picture. I certainly felt he was a much over-rated actor whose casting as Ashley Wilkes (a pivotal role) in GWTW almost ruined the movie. In my opinion, it turned what could have been a great picture into merely a fairly good one. Surely, very few movie-goers truly believed that red-blooded, fiery Scarlett O'Hara preferred pathetic, wishy-washy, 46 year old Ashley over dashing, debonair Rhett Butler, yet for over three hours that rather indigestible scenario was force-fed to them. Let's face it, it was just a dumb piece of casting, not helped by Howard's lame performance.
Ashley Wilkes              or           Rhett Butler?
It is not often that an actor sends the 'cringe-factor' needle completely off the scale but, in that horrendous 'heart to heart' Howard has with Scarlett, he accomplishes it with ease, particularly when he puts the back of his hand to his brow and emotes away with great gusto. How that scene survived the cutting room says much about the judgment of those in power at the time. It made everyone else's teeth grind uncontrollably, why not theirs? In fairness to Howard, he hated playing Ashley. In fact he detested the whole set-up. 'I look like that sissy doorman at the Beverly Wilshire, a fine thing at my age', he said. 'I hate the damn part. I'm not nearly beautiful or young enough for Ashley, and it makes me sick being fixed up to look attractive.' One wonders why he accepted the role in the first place.
Howard was born in London in 1893 to a Hungarian Jewish father and a German-English Jewish mother. He was 21 when World War 1 broke out and, like all the other fools, could hardly wait to join up for the big adventure. He luckily survived unscathed until 1917 when he was diagnosed as shell-shocked and invalided out of the Army. Someone suggested acting might help his recovery, he tried it, and within a few short years he was famous on the stages of London and New York.
Howard in uniform during World War One
For 16 years he starred in silent movies, nearly always playing the cool, debonair Englishman, smiling in the face of adversity, and women absolutely adored him for it. His first 'talkie' was Outward Bound in 1930 and his upper class English tones suited his character to perfection. He had married Ruth Martin during the first war and they would remain married until his death in 1943, not that Leslie was at all interested in the union. He was in great demand among the ladies and quite prepared to chase after the rest. Indeed, when his last will and testament was discovered in 1944 it was learned that he had bequeathed his Beverly Hills home to his secretary Violette Cunningham with whom he had been in a relationship since 1938. Actually, she had passed away from cerebral meningitis six months before his death, but he had not gotten around to amending his will before his own untimely demise.
Howard and his wife Ruth 1935.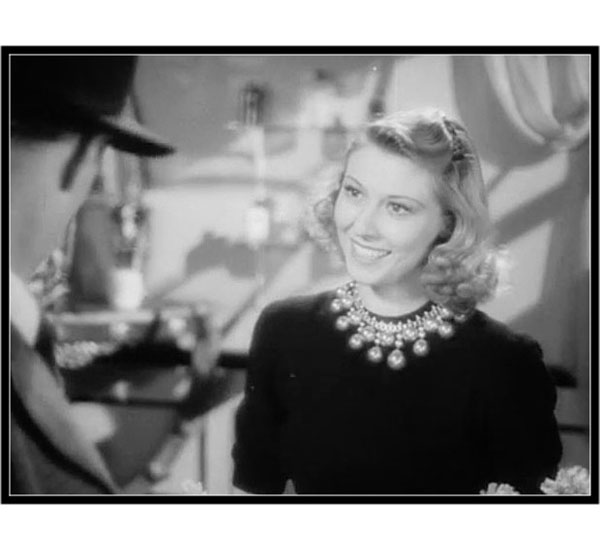 Howard's secretary Violette Cunningham
Howard's list of conquests was pretty impressive. Known everywhere as 'a ladies' man' he once commented that he 'didn't chase women but…couldn't always be bothered to run away.' He and Tallulah Bankhead had a fling in 1927, and he and Merle Oberon got it on when they made The Scarlet Pimpernel in 1934, arguably his best movie. Norma Shearer and Myrna Loy were notches on his belt too. Marlene Dietrich, Mary Pickford, Kate Hepburn and Marion Davies were all rumoured to have warmed his bed, but general consensus would suggest there were many, many others.
With Merle Oberon in The Scarlet Pimpernel (1935)
On June 1, 1943, Howard was aboard flight #777, a KLM airliner, a regular flight from Lisbon to London, when it was shot down over the Bay of Biscay by German fighters. All seventeen souls on board perished. All kinds of theories have emerged since then about Howard's death. It was said that the Luftwaffe had been told Winston Churchill was aboard the flight. Not so, although Howard's manager was aboard and bore a strong resemblance to Britain's leader.
KLM Airliner similar to Flight 777 in 1943.
Another story had Howard being shot down because he had been on a spying mission for Britain. According to one of Leslie's former lovers, the 'Spanish Greta Garbo', Conchita Montenegro, he was sent by Churchill to Madrid to deliver a message to General Franco, the Germans found out about it and pounced on his return flight from Lisbon. Miss Montenegro confided this to a writer just before her death at 95 in 2007. Possible, I suppose, but without further confirmation it is just another theory.
The stunning Conchita Montenegro
One of the eight attacking German pilots was interviewed in a book by Harald Welzer called Soldaten and callously had this to say: 'Whatever crossed our path was shot down. Once we even shot down – there were all sorts of big-wigs in it; seventeen people, a crew of four and fourteen passengers (sic); they came from London. There was a famous English film star in it too, Howard… We stood the aircraft on its head, with the fourteen passengers. They must all have hung on the ceiling! (He laughs)…Such a silly dog, instead of flying straight ahead when he saw us, he started to take evasive action… Then we let him have it alright! All we had to do was press the button, quietly and calmly (He again laughs). When later asked if any of those aboard (there were two children and some women as well) survived the crash into the bay, he replied: 'No. They were all dead. Those fools don't try to make a forced landing, even if they can see it's all up with them.'
Olivia deHavilland as Melanie in GWTW
Laura Hope Crews as Miss Pittypat
It is an interesting quirk of fate that Leslie Howard's death in 1943 made him the first major cast member of GWTW to die, while the actress who played his wife in the film, Olivia de Havilland, will one day become the last major cast member to go. She is still alive and due to celebrate her 100th birthday in July 2016. Laura Hope Crews, the lady who played the minor role of Miss Pittypat, died even before Howard. The teenage sons of Cornelia Vanderbilt, George and William Cecil, were recalled to London from their Swiss boarding school, but were 'bumped' from the flight to enable Howard and his manager to take it.
The biography of Sir William Samuel Stephenson titled A Man Called Intrepid, states that the Germans knew about Howard's mission to Madrid, that Churchill knew they planned to shoot his aircraft down, British Intelligence having broken the German Enigma Code, but he would not risk alerting the Germans to that fact, so he let the attack proceed unhindered. Former CIA Agent Joseph B. Smith recalled a 1957 meeting with the National Security Agency when the need for secrecy was emphasized and the 'sacrifice' of Leslie Howard was used to illustrate the point. It has even been asserted that Howard himself was aware of this, but was prepared to sacrifice his life to keep the Enigma secret. Well, maybe. If so, however, that did not give him the right to sacrifice the other sixteen souls aboard flight 777. What a pity that Churchill was content to take so many secrets to the grave with him.