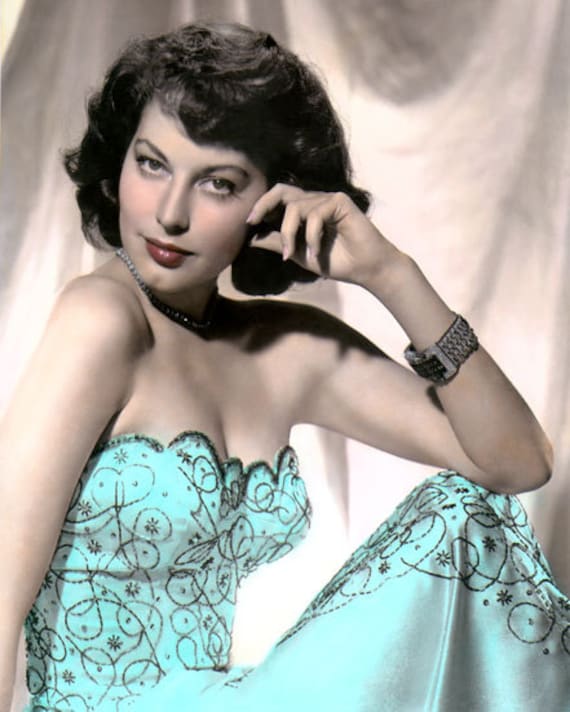 Ava – a unique beauty                           
If Ava had not decided to meet her sister Beatrice in New York in 1941, we might never have heard of Ava Gardner the actress. Beatrice's husband was a professional photographer and offered to do a portrait or two of Ava and display them in his 5th Avenue studio window. One thing led to another and before long she was being interviewed by MGM's New York talent department.
a still from Ava's screen test. She was 17.
Seventeen year-old Ava was asked to walk towards the camera, turn, and walk away to a table where some flowers were reposing in a vase. She was to arrange the flowers, but not to speak. Her Deep South country accent was so broad that most people had difficulty understanding her anyway. When Louis B. Mayer, the head of the MGM studio, saw the footage he was flabbergasted. It is generally he who is credited with the assessment: 'She can't sing, she can't act; she can't talk. She's terrific!' Of course, studio heads often took credit for discovering new talent, so who knows? He offered her the standard MGM contract, brought her to Hollywood at once, and arranged a voice coach whose job was to get rid of that horrendous Carolina drawl.
As Kitty Collins in The Killers (1946)
Despite Mayer's apparent fascination for Ava, success did not happen overnight. Far from it, in fact. She would spend five years honing her craft in 25 films, most of the time uncredited, until she finally got the role that fit her personality and looks perfectly. In 1946 she played a gangster's moll named Kitty Collins in the popular film noir The Killers. Her career took off from there and would last more than three decades before booze and partying took their toll on her looks.
Mr. & Mrs. Mickey Rooney 1942
Mickey Rooney took one look at Ava Gardner when she arrived in Hollywood and was hooked. He pursued her, wooed her and did his utmost to bed her, but the 18 year-old virgin made it clear that any man who wanted to alter that status was going to have to marry her first, so Mickey immediately proposed at a hundred miles an hour. Ava accepted on condition the wedding must wait until she turned 19. When an elated Mickey took her home to meet his mother, the old dear (who obviously knew her little boy well) wryly observed: 'I guess he ain't been in your pants yet'. The couple wed in 1942, Ava being 19 and Mickey 21. By 1943 the marriage was over, mainly because of Rooney's serial adultery. To Ava's great credit she never publicly disclosed the reason. She did not want to ruin his career. When he raved about her lovemaking in his sleazy autobiography, Ava snorted, 'Well honey, he may have enjoyed the sex, but I sure as hell didn't'.
with husband #2 Artie Shaw
Husband number two was jazz musician and bandleader Artie Shaw. Another bad choice. Within a year that, too, was over. Husband number three, Frank Sinatra, fared better in her eyes. 'We were great in bed', she volunteered. 'It was usually on the way to the bidet when the trouble began'. Although Ava always wanted children, she nevertheless aborted Sinatra's baby shortly after filming completed in Africa on Mogambo. 'We couldn't even take care of ourselves', she confessed. 'How were we going to take care of a baby?' Besides, MGM had contractual clauses about its female stars falling pregnant. For that very reason Ava had aborted Frank's child at least twice.
Husband #3, Frank Sinatra, the love of her life
One of Ava's co-stars was the volatile Robert Walker who also fell head over heels in love with her. She was 25 when they worked together and at the height of her incredible beauty. His infatuation died an ignominious death when he walked into her dressing room and discovered her in the arms of third-rate actor Howard Duff. Walker was not overly keen about hitting Duff who was quite a big man, so he belted Ava instead. For some considerable time she was compelled to hide out at friends' apartments as the obsessively jealous actor dogged her every move.
with Robert Walker in One Touch of Venus (1948)
on the town with Howard Duff 1948
Even as she ducked Walker's erratic attentions Ava was hooking up with other men. Within a year she was making The Bribe with Robert Taylor. His marriage to Barbara Stanwyck had always been bumpy. By the time he met Ava it was teetering, due in part to his lengthy bouts of impotency. Ava soon fixed that problem. Observers were titillated to see her on the set casually caressing his crotch with her toe! Around this time she underwent an abortion that the studio hushed up. The father may have been Duff, Walker, Taylor or any of a half dozen others.
Robert Taylor and Ava in The Bribe (1949)
John Huston had an affair with Ava while he was married to actress Evelyn Keyes. It helped her to get parts in The Night of the Iguana and The Bible, both pictures directed by him. Others who found their way into her boudoir in the late forties and early fifties included David Niven and the small-time gangster Johnny Stompanato. He would later meet a sticky end during his relationship with Lana Turner.
Hughes and Ava circa 1946
Each of these beaus had to somehow squeeze his way in between the numerous bullfighters Ava seemed to have an addiction for. Then, of course, there was the irrepressible Howard Hughes, whom she met in 1946. Her two-year affair was fueled by the method he employed with all his women. 'Who could resist a guy who shows up with a tray of diamonds and says 'pick one'?' she said. Not many, it would seem. Unfortunately, Howard also liked to 'bug' his girlfriends. Even Ava's car had a hidden microphone concealed in it. Eventually, she tired of the 24 hour surveillance and gave the billionaire the 'heave-ho'.
with bullfighter Luis Miguel Dominguin
After divorcing Sinatra in 1957 she moved to Spain where she befriended writer Ernest Hemingway. While living at his villa she was introduced to bullfighter Luis Dominguin and was soon his lover. It was the start of a wild, partying interlude in her life that saw Ava bouncing from one bullfighter to another. A particularly nasty relationship with actor George C. Scott saw Sinatra threaten to have his legs broken if he persisted in beating her. Scott quietly ended the affair.
When Mike Nichols was casting The Graduate in 1967, he received a call from 43 year-old Ava. She was interested in the role of Mrs. Robinson. Of course, this would entail the actress being naked. Nichols met Ava in her hotel room to discuss the possibility of her playing the role. 'All right', she said, 'let's talk about your movie. First of all, I strip for nobody.' Anne Bancroft got the role. A life-time of smoking took its toll and Ava suffered from emphysema in her final years. Two strokes in 1986 left her partially paralysed. Within four years she was dead at 67.
Ava Gardner was a genuine screen goddess. As such she had the world at her fingertips for a number of years, yet she never managed to find real happiness. Her lovers read like a 'Who's Who' list – and not just movie stars either. There were gangsters – Bugsy Siegel, Mickey Cohen and Johnny Stompanato. Singers – Vic Damone, Mel Torme, Sammy Davis Jr and Billy Daniels. Society predators such as Porfirio Rubirosa, Howard Hughes, Jorge Guinle; several bullfighters and tennis star Tony Trabert, and (almost inevitably it would seem) a brief interlude with JFK.