Leonard Nimoy, the future Mr. Spock in the Star Trek series, served a stint in the US Army where he reached the rank of sergeant. In 1955 he suggested to an old army buddy named Ken Berry that he go to California and try to make it as a comedian. Berry took his advice and became a stand-up comic specialising in dancing and pratfalls. In 1965 he landed the role of Captain Wilton Parmenter in the cult classic TV comedy series F Troop.
Leonard Nimoy
Ken Berry as Captain Wilton Parmenter
Chief Wild Eagle was the leader of the Hekawi people, their name coming about when two Indians fell over a cliff, one of them asking, 'Where the heck are we?' The original tribe name was to be the Fugawi ('Where the Fugawi?'), but the network censors vetoed that very quickly. The tribal elder, Roaring Chicken, was played by iconic gay actor Edward Everett Horton. His long-time partner was Gavin Gordon who once played the romantic interest of Greta Garbo in Romance (1930), before his lack of charisma relegated him to supporting roles.
Frank de Kova as Chief Wild Eagle
Edward Everett Horton as Roaring Chicken
In his Hollywood hey-day
Melody Patterson was still fifteen when she auditioned for the role of Wrangler Jane. She kept her age secret from the producers (in fact, she told them she was 18) until just prior to shooting episode one. In 1970 she married James MacArthur, the popular Disney actor who also played 'Danno' in the TV series Hawaii 5-0 alongside Jack Lord. Melody put her career on hold for five years when she moved to Honolulu to be near her husband. He died in 2010.
Wrangler Jane & Wilton
James MacArthur 'Book 'em Danno!'
In 2015 Melody passed away in a nursing home at 66 from 'multiple organ failure'. Ninety-two year-old Larry Storch (Corporal Agarn in F Troop) paid tribute to her: 'It's with a heavy heart that we can let you know our beloved Wrangler Jane, Melody Patterson passed away. Our hearts are sad today. RIP Sweet Melody. We love you.'
Larry Storch as Corporal Agarn.
From 1990 to 1994, Tom Arnold had the great misfortune to be married to so-called comedienne Roseanne Barr. The two first met in 1983. When her TV sitcom series Roseanne went on the air in 1988 Arnold was soon involved in it. Beginning in the writing department, he soon upset most people there before elbowing his way into the show itself. Then he really started to bug everybody, including Roseanne, who by that time was his fiancée. His big problem was his monumental drug addiction. In 1989 Roseanne insisted he go into recovery, which he did, and they were married in January 1990 as soon as he was released. As a wedding gift to each other they overhauled the cast and crew of the series and fired a lot of people, including Roseanne's own sister Geraldine.
Tom Arnold and his wife Roseanne Barr
In July that year Roseanne further endeared herself, this time to all of America, when she croaked her way through part of the national anthem as guest 'singer' at a San Diego Padres ball game before grossly impersonating ball players by scratching her crotch and spitting. Millions of viewers were justifiably disgusted. Then, in 1994, she fired Tom (and his girlfriend) from her TV show before filing for divorce. A year later she wed her bodyguard/driver, a man 14 years her junior. She had a son to him in 1995 but they divorced in 2002.
Slaughtering the national anthem
Perhaps, her comments about former president George W. Bush say as much about the woman as anything else: 'I have a huge crush on him. I saw him at a recent fundraiser, and he's a babe. He's got that Ronald Reagan charm. I think he's hot. I respect his wife, but if he wasn't married I'd be putting on my cowboy boots and coming around.'
Her hero
Jack Webb & Harry Morgan
Jack Webb played Detective Joe Friday in the immensely popular TV series Dragnet. His badge number in Dragnet was 714, chosen by him because it was the number of home runs hit by Babe Ruth in his illustrious career. Webb was a huge baseball fan. It may surprise fans of the series to learn that Joe Friday's most famous line, 'Just the facts, ma'am', was never once spoken in any Dragnet episode. The popularity of the series in the fifties was such that people would regularly ring the LAPD and ask for Sgt Joe Friday. There were so many calls that the department had to invent a stock response, 'Sorry, It's Joe's day off.'
Julie London
Mamie van Doren
Although not a handsome man, Webb managed to woo and wed sultry torch singer Julie London when she was at the height of her considerable beauty in 1947. He actually met her in 1942 in a jazz club where she was singing. She was just 15 at the time. He also found his way into Mamie Van Doren's bed for a while when he was single, not that doing so made him in any way unique. He and Julie divorced after six years but remained friends until his death from a heart attack at 62. The LAPD retired badge 714 in his memory
In 2000, at the age of 73, Rick Jason he took his own life with a firearm one week after attending a reunion of the cast of Combat! Fans of this series, which ran five seasons and 152 episodes in the sixties, will remember him playing the platoon's Lieutenant Gil Hanley. He left no suicide note. Police and his fifth wife, Cindy, believe he had unspecified personal problems. Vic Morrow and Rick Jason were supposed to be co-stars in the series, so their names were switched around every other week in the credits, this week Jason first and Morrow second, then next week vice-versa. Morrow eventually became the undisputed star of the series playing Sgt Saunders in all 152 episodes.
Vic Morrow as Sgt. Saunders
Rick Jason as Lt. Hanley
In 1983, while shooting a scene at night for the feature film Twilight Zone: The Movie, the 53 year-old actor and two Vietnamese children were killed when a camera helicopter crashed onto them. In a terrible quirk of fate, Boris Sagal, the man who directed the pilot episode of this series back in 1962, would die a year before Morrow and in exactly the same way. Both men would be decapitated by the rotor blade of a helicopter.
Pierre Jalbert played PFC Paul 'Caje' Lemay, but is known throughout the series as 'Caje' which was short for Cajun. The Canadian actor was a former National Ski Champion of Canada and was named captain of Canada's 1948 Olympic Ski Team. Unfortunately, five days before the Switzerland Games were about to commence he broke his leg and was unable to compete. He passed away in 2014 at the age of 89.
Pierre Jalbert as Caje
 Adam West and Burt Ward
The series ran from 1966-68. Mickey Rooney turned down the chance to play the Joker. Spencer Tracy agreed to play him but only if he could kill Batman. Interestingly, the Bat Cave was built on the very spot where the Skull Island Gate had been for the original 1933 version of King Kong. The gates were later burnt to the ground for the 'Burning of Atlanta' in 1939's Gone With The Wind.
The Bat Cave
Alan Napier plays Cicero in the 1953 version of Julius Caesar, the one that starred Marlon Brando as Antony, but his main claim to fame was his long run as Alfred the butler in the camp TV series Batman. Ironically, before he took on that job he had never even heard of Batman, simply because he had never read a comic book in his entire life. Alfred's character had already been killed off in the comic books when the TV series began, so he was quickly brought back to life in the comics to keep in line with the series.
Alan Napier as Alfred
Frank Sinatra, Natalie Wood and even Cary Grant all wanted to play a villain on the show, but producers were unable to find a way to write any of them into a script. Adam West was so popular as Batman that he was offered the role of James Bond in On Her Majesty's Secret Service (1969). He declined it because he felt Bond should be played by an Englishman. Ironically, Australian actor George Lazenby won the role.
George Lazenby as James Bond
Adam West – as Bond?
In two of the 120 episodes one of Catwoman's Pussycats became the 'love interest' of Robin. She was played by none other than pop singer Lesley Gore who had a huge number one hit with the song 'It's My Party'. She happened to be the niece of one of the show's producers.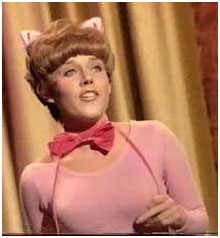 Lesley Gore as a 'Pussycat'