Richard Benjamin & Paula Prentiss 53 years and still going (1961-)
Richard in Westworld
Paula with Rock Hudson
Mr & Mrs Benjamin today
Ann Prentiss 1970
Sixties fans would remember Paula Prentiss. She was a pretty comedienne who possessed a deep, throaty chuckle that fans (including me) found very sexy. In 1961, at the age of 23 she married director/actor Richard Benjamin and they have remained together ever since. Paula's older sister Ann was also an actress, mostly in television, although she did score a leading role as Barbara Miller in California Split (1974). Unfortunately, she developed serious mental problems that, in 1997, resulted in her being sentenced to 19 years in a penitentiary on charges of terrorism, making terrorist threats, assault with a firearm and battery. She was also found guilty of attempting to solicit the murder of her own father and Paula's husband! She died in 2010.

Benjamin has been a director for decades. His acting career's most remembered role would have to be as the surviving tourist on the run from Yul Brynner's robot gunman in Westworld (1973). He also co-starred with Ali McGraw in Goodbye Columbus (1969). Paula played opposite Rock Hudson in Man's Favorite Sport (1964) and with Jim Hutton in 1962's The Horizontal Lieutenant. Never enamored with the Hollywood scene, she has retired a few times, but bobbed back every now and then, usually in one of her husband's films. She has also had psychological issues that interfered with her career from time to time.
Ronald Reagan & Nancy Davis 52 years (1952-2004)
Ronnie with Anne Sheridan in King's Row
with his first wife Jane Wyman
Nancy Davis 1950
When Ronnie Reagan and Nancy Davis tied the knot in 1952 William Holden served as the groom's best man. Holden's wife, actress Brenda Marshall was Nancy's Matron of Honor. Why Ronnie's closest friend, Robert Taylor, missed out is a mystery. Other close pals of the future US President included John Wayne, studio mogul Lew Wasserman, Fess Parker (TV's Daniel Boone), Bob Hope, Rock Hudson and Warren Beatty. Like his pal John Wayne, Reagan supported Senator Barry Goldwater in the 1964 Presidential Election. Goldwater's suggestion that nuclear weapons should be used in Vietnam did not seem to bother either supporter.

Nancy Davis met Ronnie in 1949, when he was President of the Screen Actors Guild and she had been mistakenly blacklisted as a Communist. He soon fixed that and they dated for the next three years. Ronnie dated a number of other actresses during that time, but with Nancy three months pregnant, he suddenly agreed to marry her in 1952. His much-vaunted pro-family values platform may well have played a part in this. Did Nancy threaten to have his baby out of wedlock if he refused to marry her, and thus wreck his political reputation? Somebody probably knows the answer to that question – Nancy – but she will never tell. Anyway, the union certainly passed the test of time, ending only with Ronnie's death in 2004. Meanwhile, at 94, the widow Reagan just keeps on truckin'.
Hume Cronyn & Jessica Tandy 51 years (1942-1994)
Newlyweds
late in life
together in Cocoon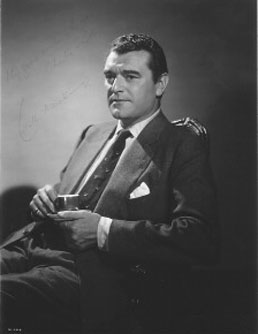 Jessica's first husband Jack Hawkins
an Oscar for Driving Miss Daisy
Canadian-born Hume Cronyn met his English rose, Jessica Tandy, in 1940 and they married two years later. They would appear in 13 movies together (fans would recall them as husband and wife in 1985's Cocoon), and would remain together for over a half a century until Jessica passed away in 1994. Hume would succumb to prostate cancer 9 years later at the age of 91. It was not widely known that he lost an eye to cancer back in 1970 while making the quirky western There Was a Crooked Man. Although a prolific movie actor, he managed to win two Tony Awards and be nominated for six more in a Broadway career that was quite outstanding.

Jessica met and married British actor Jack Hawkins in 1932, a union that lasted eight years. 'Jack Hawkins is a wonderful actor', she said, 'but a rotten husband.' In 1947 she picked up her first Tony for her brilliant portrayal of Blanche Dubois in Broadway's A Streetcar Named Desire alongside newcomer Marlon Brando, Karl Malden and Kim Hunter. She was devastated when all three were chosen for the movie version and she was overlooked for Vivien Leigh. Nearly four decades later Jessica would win an Oscar and a Golden Globe for her wonderful performance in Driving Miss Daisy (1989). At 80 she was the oldest ever recipient of the Best Actress Oscar. She also won three more Tony Awards along the way. Ovarian cancer claimed her at 85.
Paul Newman & Joanne Woodward 50 years (1958-2008)
in later life
together in From the Terrace
Joanne with her Oscar for
The 3 Faces of Eve
Paul Newman and Joanne Woodward met when they were both understudying in the Broadway production of Picnic in 1953. He was married to his first wife at the time and expecting their second child. It would be another five years before he and Joanne tied the knot, a knot that remained tied until his death in 2008 fifty years later. Paul's only son Scott (by his first wife) died at 28 from a drug overdose in 1978. From the 1980s until his death Paul Newman donated in excess of $150 million to various charities.

Newman's career seemed to be regularly linked with James Dean's brief one. Both men auditioned for East of Eden, but Dean got the job, so Paul went off and made the diabolical The Silver Chalice (1954). Dean's early death, however, saw Newman inherit two pictures that had been ear-marked for Jimmy, Somebody Up There Likes Me (1956) and The Left-Handed Gun (1958). In 1959 he turned down the title role in Ben-Hur because he said he had already demonstrated how bad his legs looked in a tunic when he made The Silver Chalice.

Before marrying Newman in 1958, Joanne Woodward was briefly engaged to writer Gore Vidal. In fact, she and Paul moved in with him for a while after they married. Her favorite memory as a little girl was being taken to the premiere of Gone With The Wind where she was so thrilled to see her idol (Laurence Olivier) roll up in a limousine with his wife, Vivien Leigh, that she jumped into the car and onto his lap. She was 9 years old. Olivier recalled the incident when Joanne made Come Back, Little Sheba with him decades later in 1977.