Yesterday, I watched an old 1937 classic on Foxtel called They Won't Forget. In all honesty I chose it because I wanted to see for myself why audiences in 1937 instantly fell in love with newcomer, 16 year-old Lana Turner, in her debut performance as the ill-fated Mary Clay. It took me about two minutes to understand why. Even at 16 she was extraordinarily beautiful, long before she was turned from a brunette into a blonde bombshell. The 'sweater girl' was born there and then as she literally 'bounced' along the street. She was given the part in February 1937, a few days after her sixteenth birthday and just one month after arriving in Hollywood! The girl truly had 'star quality' written all over her. Lana's debut aside, however, I found the movie good for its era, especially when further investigation revealed that it was actually a pretty solid attempt to address one of the most shameful incidents in American history.
Lana (16) as Mary Clay
the birth of 'the Sweater Girl'
This movie, in spite of the disclaimer at the start, was based on the real life rape and murder of 13 year-old Mary Phagan in Georgia in 1913. Twenty-nine year-old Leo Frank, a Jew from up north, was convicted of the crime in a rigged trial and sentenced to death. Feelings ran high enough in the region against 'Jewish predators ravaging our little girls' that there was even a general revival of the Ku Klux Klan in the area. Georgian Governor John Slaton, convinced the verdict was a gross miscarriage of justice, commuted Frank's death sentence to life imprisonment, a decision of enormous courage considering his home was surrounded at the time by a 1000-strong mob baying for blood.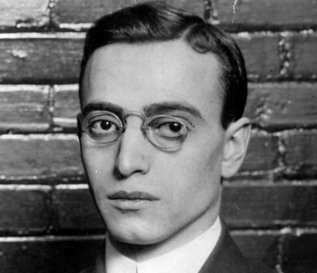 Leo Frank
Jim Conley
Mary Phagan
In August, however, about thirty men broke into the jail and kidnapped Frank, drove him 170 miles to a spot near the Phagan home, and lynched him. His body was then stomped on and mutilated, parts of the noose were sold as souvenirs, as were photographs of the lynching in which the perpetrators are clearly identifiable, before Frank's corpse was delivered to a mortuary. There, a mob filed past the man's remains, many of them spitting in his face. Among the lynch mob were a Superior Court judge, a former governor, a future district attorney, a future mayor of Marietta and several police officers and county sheriffs. Nobody was ever brought to account for the kidnapping or the lynching. In the 1980s a re-investigation of the case strongly suggested that the crime was committed by an ex-convict, a Negro named Jim Conley. In 1986, the Georgia State Board of Paroles and Pardons granted Leo Frank a full pardon. Not that it did him any good.
Gloria Dickson
They Won't Forget was also the screen debut for Gloria Dickson, a 20 year-old actress who played Sybil Hale, wife of the accused man. It was a most impressive and promising debut that received rave reviews, yet her career petered out after a few years. Her first husband, a make-up artist named Perc Westmore, convinced Gloria to have a nose job, after which she could only seem to get B films. By 1944 she was overweight and an alcoholic when she wed one of Jean Harlow's former bodyguards. A year later she was dead at 28. On 10 April 1945 she fell asleep at home with a lighted cigarette in her hand. Her body was found in the bathroom where she had attempted to escape through its window before smoke and flames overcame her. Her pet boxer dog lay dead beside her.
Critics everywhere unmercifully belted Captain Corelli's Mandolin (2001) for any number of reasons. Most complained that it did not do justice to the book, but in all fairness, how many two hour movies do justice to a 400 plus page book? Literature and film are two entirely different mediums. In the book the homosexual character Carlo is one of the main players, but he is virtually ignored in the picture, possibly because the producers felt his sexuality might put some of the public off and affect ticket sales. Who knows? In the book he falls in love with Corelli and sacrifices his life for him by shielding the captain from about 40 machine gun bullets. Evidently, the director was unaware that machine gun bullets at ten paces go through human beings.
Nic Cage as Captain Corelli
Almost without exception the critics hated Nicolas Cage's portrayal of Corelli, especially his Italian accent which they universally described as 'risible'. Personally, I don't get that at all. Sean Connery does everything with his Scottish brogue intact and the critics love him. It matters not if he is a Berber chieftain in The Wind and the Lion (1975), or a Franciscan monk in The Name of the Rose (1986), or even a Russian submarine commander in The Hunt for Red October (1990). Poor Nicolas Cage, who is Italian anyway, was pilloried for delivering an accent here that I personally found charming and funny. In fact, I thought he was terrific in the picture – so shoot me!
Cruz and Hurt
Critics were divided on their appraisal of Penelope Cruz's performance. Oddly, most of them accepted her natural Spanish accent, even though she was playing a Greek woman. Go figure. Some thought John Hurt did only a serviceable job as her doctor father, arguing that playing an old man was not much of a stretch for him because – surprise, surprise – he is an old man himself. Nit-picking at its finest. Almost without exception critics saved most (if not all) their accolades for the cinematography and the beauty of the island of Cephalonia. I must admit that I thought the fighting and atrocities towards the end of the movie seemed rushed, almost as if the production ran out of time or money (or both), and it was decided to wrap it up as soon as possible. But as a love story, and an unusual one at that, I think Captain Corelli's Mandolin has a charm all its own, thanks to Cage's likeable depiction of the lead. And I could not care a fig about the authenticity of his accent.
Proof of Life (2000) is one of those movies that was disliked by the critics and only broke even (roughly) at the box-office. I watch it two or three times a year and enjoy it immensely, especially Russell Crowe's polished performance as the negotiator, and cannot see why it met with such a lukewarm reception. Even the much-publicized off-screen romance between Russell and Meg Ryan could not get the receipts into the black. If anything, the publicity, once the story was out, tended to derail all focus from the picture entirely. Maybe that was it. 'They were incredibly professional and they were discreet', said director Taylor Hackford of Crowe and Ryan. According to David Caruso, Hackford and the crew, nobody was aware of any romance until the shoot moved from Ecuador to London and the tabloids got wind of it.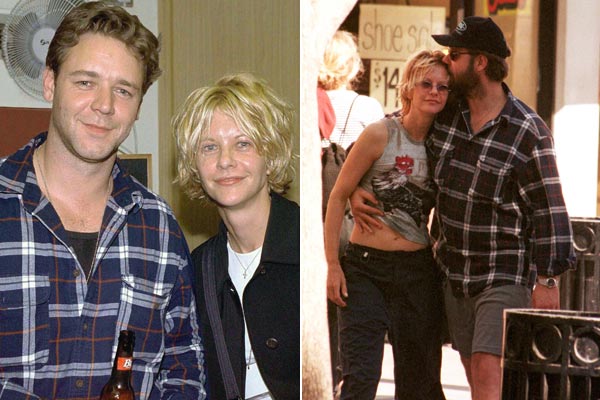 Meg Ryan & Russell Crowe
Although the story is set in fictional Tecala, it is shot in Ecuador. It had been intended to film in Colombia, but the genuine threat posed by Colombian guerillas caused the switch to Ecuador. Sadly, that change proved tragic for David Morse's stand-in, a man named Will Gaffney, who died in a freak accident in Quito when the truck in which he was riding veered suddenly and toppled over a cliff. The film is dedicated to his memory.