Sean Penn is, in my opinion, one of the greatest actors ever, an opinion probably shared by a great many people. Unfortunately, over the years he has acquired a reputation as a violent and difficult man to deal with, especially if you happen to marry him or are involved in the media. Of course, the media delights in publicizing its altercations with him, or indeed anyone else's run-ins with the volatile actor. Nothing sells like stories about the antics of the rich and famous. But there is a political, humanitarian side to Penn that never seems to get the same coverage. The following data about this complex man ignores the sensationalism generally associated with him, and focuses on the record of an intelligent individual and his concern over important issues; and how he is trying to to make a difference where it counts.
with Madonna in happier times
His first foray into the world of politics and humanitarian issues happened on 18 October 2002 when he lodged a $56,000 advertisement in the Washington Post, an open letter to President George W Bush, condemning the proposed Iraq War on humanitarian grounds, and calling Bush, Vice-President Dick Cheney, and Secretary of State Condoleezza Rice 'villainously and criminally obscene people'. He called for Bush to be impeached and personally visited Iraq in December 2002 to meet Iraqis and to get a first-hand feel for their situation. Even ex-wife Madonna supported his stance. 'Good for him', she said. 'Most celebrities are keeping their heads down. Nobody wants to be unpopular. But then Americans, by and large, are pretty ignorant of what's going on in the world.' She was probably a bit harsh on the American people in her sweeping comment. Ignorance of what's going on in the world is scarcely the province of the average American alone.
In the wake of Hurricane Katrina in New Orleans
In September 2005 he became directly involved in rescue operations in New Orleans in the wake of Hurricane Katrina. Penn personally drove a motor boat that rescued 40 people from their ruined homes, transporting them to medical help on dry land. He also made sizeable contributions to relief funds. Needless to say, critics (sniping from the comfort of their living-rooms), cited his taking along a photographer as some kind of proof that it was all done as a publicity stunt. The simple fact remains that, while President Bush condescended to fly over the stricken city in the comfort of Air Force One, Sean Penn was getting soaked to the skin, wading through toxic sludge and debris, helping victims directly. His wife, Robin Wright, said he saw the disaster on TV and made up his mind to do something about it.
Portraying Harvey Milk
In 2009, Penn won an Oscar for his performance as Harvey Milk in the film Milk. In his acceptance speech he strongly supported same-sex marriage. 'I think that it is a good time for those who voted against gay marriage to sit and reflect and anticipate their great shame and the shame in their grandchildren's eyes if they continue that way of support. We've got to have equal rights for everyone!' Six years later, in June 2015, the Supreme Court legalized same sex marriage in all 50 states of the US.
With J/P HRO in Haiti
A catastrophic earthquake struck Haiti on 12 January 2010. Once again it was Sean Penn who put his money and his time into helping the thousands of victims. In conjunction with Sanela Diana Jenkins, he founded the J/P Haitian Relief Organization (J/P HRO), a non-profit group that employed around 350 people, 95% of whom are Haitian, to run camps containing 60,000 displaced victims of the devastation. A cholera outbreak in 2010 was contained through the combined actions of J/P HRO, WHO, and the Pan American Health Organization. In 2015, five years after the tragedy, Penn held his fourth annual Sean Penn & Friends Help Haiti! Home fundraiser in Beverly Hills, California, and raised a further $6 million for the camps. For the record, someone bent on squeezing publicity out of his actions would surely insist his name be mentioned first in the organization, but Ms Jenkins gets first billing with J/P HRO. Critics conveniently overlooked that point.
With Abdul & Bilquis Edhi in Pakistan
In March 2012, Penn visited the flood ravaged areas of Pakistan around Badin, especially the stricken villages of Karim Bux Jamali, Dargah Shah Gurio and Peero Lashari. Accompanied by the US Consul-General, he distributed blankets, quilts, kitchen items and other goods to flood survivors. He also met with renowned Pakistani humanitarian Abdul Sattar Edhi and his wife Bilquis Edhi who run a Female Child Home in the region.
Sean & Jacob Ostreicher
Later in that same year American entrepreneur and flooring contractor Jacob Ostreicher was facing serious money laundering charges in Bolivia when Penn visited him in prison and later attended the man's hearing. Charges of corruption were levelled at some of Jacob's government accusers, and he was eventually released on bail and placed under house arrest. In 2013 he turned up in America where Penn was waiting to take him to his home where the actor nursed him back to mental and physical health. How Ostreicher escaped from Bolivia is still unclear, but it is very evident that he had been imprisoned unjustly, and that Sean Penn had played a role in his release and rehabilitation.
On the news in Argentina
Penn has since spoken out against the renewal of British claims to the Falklands/Malvinas Islands, calling for dialogue between Argentina and Britain 'as the world today cannot tolerate ridiculous demonstrations of colonialism.' Again, he has been strongly criticized, particularly in the British press, for seeming to take Argentina's side in the dispute. He counter-attacked 'irresponsible journalism' for its accusations, 'that I had taken a specific position against those currently residing in the Malvinas/Falkland Islands, that they should either be deported or absorbed into Argentine rule. I neither said, nor insinuated that.' Evidently, even today, vindication and support for the remnants of colonialism still exists.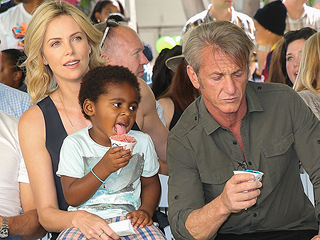 Charlize Theron & Sean
Sean Penn rubs a lot of people the wrong way. He does not suffer fools gladly. He is outspoken and has a temper. He used to have alcohol problems (he still might), and his two marriages, one to Madonna, the other to Robin Wright, were riddled with turbulence and shouting matches. Penn was also violent when drunk, even hitting Madonna with a baseball bat on one occasion. Compare all that to his humanitarian record and we have a genuine enigma. Perhaps, he has changed and mellowed. Only his partners and family would truly know. He and Robin divorced in 2010 after 20 years together. His promising 18 month relationship with Charlize Theron was abruptly terminated by her in June 2015. One source claims that his philanthropic work left him little time to enjoy life with Charlize, so she suddenly decided to stop taking his calls. If that is the reason for the break-up, then he can take comfort in it being a far more defendable explanation than the ones that brought about Madonna's and Robin's exits. One thing seems certain, however. Those who accused Penn back in 2002 of using catastrophes as publicity stunts must surely be prepared now to eat their words. He has been helping victims of injustice and natural disaster for around 13 years! Some publicity stunt.