Kathlyn & Annette
Stephen Ira Beatty
Annette Bening became pregnant to her co-star Warren Beatty when they made Bugsy together in 1991. They married, and in 1992 she gave birth to the first of their four children, Kathlyn. At the age of 14, Kathlyn changed gender and became Stephen Ira Beatty, a decision that was supported by his friends and peers, but (significantly) not by his very famous parents. He is now an outspoken activist for the transgender community. 'I identify as a trans man, a faggy queen, a homosexual, a queer, a nerd fighter, a writer, an artist and a guy who needs a haircut', he stated in a video for the WeHappy Trans website in 2012.
Joey Bishop
Stand-up comic Joey Bishop was born in 1918 and weighed just 2 pounds 14 ounces, making him, at that time, the smallest baby ever delivered at Fordham Hospital, New York City. There were five members of 'The Rat Pack' – Frank Sinatra, Dean Martin, Sammy Davis Junior, Peter Lawford and Bishop (the one that most people have forgotten). Joey would outlive all the others, dying at 89, in 2007, from multiple organ failure.
Jackie Kennedy                                   Marlon Brando
RFK, Nureyev & Jackie
A book titled The Pink Triangle, written by Darwin Porter and Danforth Prince, and released in February 2015, looks at the affairs of Jacqueline Kennedy, one of which involved actor Marlon Brando. According to Porter and Prince, Jackie met him for dinner in January 1964, just two months after JFK's assassination, was quite smitten by him, and invited the mumbling one to a secret weekend away from prying eyes. With deliberate irony she chose New York's Carlyle Hotel for their tryst, the same rendezvous her dead husband had used time after time for his. 'Jackie seemed so prim and proper', said Brando, 'until you got her in the bedroom.' Other lovers taken by Jackie (according to Porter and Prince) included Frank Sinatra, Peter Lawford, Paul Newman and Rudolph Nureyev. Oh yes, and her brother-in-law, Bobby Kennedy, whom she shared with Nureyev! And why did she marry Onassis? For the money, of course, and the privacy he could guarantee her.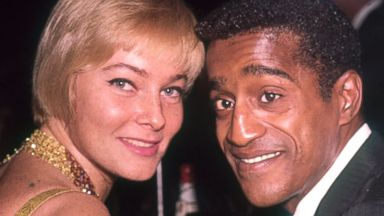 Mr & Mrs Sammy Davis Junior
Lola Falana
Lovely, Swedish-born Mai Britt only made a handful of movies before marrying Sammy Davis Junior and retiring from the screen in 1960 to raise their daughter. It is believed that John F Kennedy asked Sammy (through Frank Sinatra) to delay his wedding to Mai until after the 1960 Presidential Election of 1960. JFK was known to be a friend of the Rat Pack (which included Sammy), and he was fearful that a mixed marriage between acquaintances of his could lose him a lot of Jewish votes. At that time inter-racial marriage was illegal in 31 states. In 1968, the couple divorced when Sammy admitted to having an affair with dancer Lola Falana (the Black Venus).
Michael Clarke Duncan
Notorious B.I.G.
Michael Clarke Duncan, the actor who turned in a terrific performance as John Coffey in The Green Mile (1999), worked as a bodyguard for several performers before he became an actor. These included Will Smith, Martin Lawrence, Jamie Foxx, and several hip-hop singers, among them the ill-fated Notorious B.I.G. who was shot to death as he sat in his SUV back in 1997. Duncan let a friend fill in for him the night of the killing, and the crime convinced him to leave the bodyguard industry and to try acting instead. Sadly, he died from a heart attack in 2012, just shy of his 55th birthday.
BETTY GRABLE
'There are two reasons why I'm in show business', said Betty Grable many times, 'and I'm standing on them.' Actually, there were three reasons, the third being her incredibly pushy mother Lillian. After all, Betty did not enroll herself in Clark's Dancing School at the age of three; nor did she choose to study ballet and tap dancing as a tot. When little Betty finished second in a talent quest and quite naturally took pride in her achievement, Lillian slapped her face hard. 'That will teach you to finish first next time', she said. And it was good old Lillian who lied about the girl's age and got her (at thirteen) a part in the Eddie Cantor 1930 comedy Whoopee! By 1932, Betty had a contract with RKO. She was about to turn sixteen. Her famous pin-up (above) adorned almost every US barracks during WW2. It made her a legend in her own lifetime.
Lizabeth Scott (Wow!)
In September 2015, the greatly under-rated, sultry, film noir star Lizabeth Scott passed away at the age of 92, a defiant recluse to the end. Confidential Magazine ran a story on her in 1954, implying she was not only a lesbian (the magazine used the term 'baritone babe'), but that her number was listed on a Hollywood madam's rolodex, and that Lizabeth had answered the phone in her unmistakable husky voice when Confidential gave the number a call. For her part, Lizabeth never challenged the implication that she was gay, only her supposed connection to call girls, but her lawyer, Jerry Geisler, messed up on a technicality and her suit against Confidential was dropped. She had never bothered to hide her sexuality off-screen. She refused to utilize studio 'beards' on dates; she wore shirts and trousers regularly; and had no interest in entering into a 'lavender marriage' for appearances sake. She was no fool either, knowing full well that Confidential publisher Robert Harrison prided himself on factual accuracy in his stories, even if the prose was pretty much 'over the top' on most occasions. Few stars or studios risked suing him because his sources were varied and generally reliable.
Klinton Spilsbury
I took the time to watch Klinton Spilsbury's only feature film recently, the 1981 super-flop The Legend of the Lone Ranger, and I was surprised to find that it was nowhere near as abysmal as the critics would have us believe. Mind you, it was not a good movie by any stretch of the imagination, but I have struggled through a lot worse pictures in my day. Even Spilsbury was 'OK' – and very good looking – so why did his career begin and end with one movie? By all accounts, the man became obsessed with himself once he hit the big time, so much so that the standard response from colleagues once he left the room was inevitably: 'Who was that masked asshole?' He was actually born in Chihuahua, Mexico, which is a surprise in itself. Equally surprising is the fact that this star of one poor film became an acting coach in Vancouver, British Columbia! The term 'shot himself in the foot' comes to mind.
The breathtakingly beautiful Liv Tyler
Mia Tyler
Steven Tyler – dear old dad
Bebe Buell – dear old mum
Todd Rundgren – dear old psuedo dad
Grandma Cate in Lord of the Rings
and her grand-daughter Liv
Beautiful Liv Tyler is the daughter of Steven Tyler, lead singer for the band Aerosmith, and former model and Playboy Playmate of the Month, Bebe Buell. At the time of Liv's conception and birth her mother was also in a relationship with singer Todd Rundgren, so the girl spent the first eight years of her life believing Todd was her father. When she noticed that Steven Tyler's daughter Mia looked enough like her to be her twin, she confronted her mother and the truth emerged. Steven and Todd met for the first time at Liv's wedding in 2003. Incidentally, even though she plays Cate Blanchett's grand-daughter in the Lord of the Rings trilogy, Liv is just eight years her junior.