It has been over 40 years since The Godfather first hit the screens and created a sensation. A lot has been written about the making of the film, its stars and its director. And more gets written every day. I thought it might be interesting to sort through the thousands of bits and pieces regarding this phenomenal picture, and to select the more interesting or unusual tidbits for your perusal. So, here they are in no particular order:
Pacino at his best
I can understand why Al Pacino boycotted the Oscars in protest over being nominated as a supporting actor in the movie. He clearly had much more screen time than Marlon Brando, yet 'mumbles' alone was nominated in the Best Actor category (and won). Al had to share votes with both James Caan and Robert Duvall in the Best Support category because they, too, were nominated. The whole thing was set up for Brando to win, while Pacino, Caan and Duval were never going to win. Multiple nominations from the same picture in the same category rarely succeed. Pacino was perhaps doubly annoyed, knowing that Brando read virtually all his lines from cue-cards, not bothering to memorize them at all. Personally, I thought it should have been 'no contest'. The picture was clearly Pacino's from beginning to end. The Oscar should have been his.
Director Francis Ford Coppola
Producer Robert Evans
Director Francis Ford Coppola went in to bat for the then unknown Pacino to play Michael Corleone in The Godfather, despite producer Robert Evans being dead against using 'the little dwarf' in the lead. Al is just 5'5″ tall. Evans also wanted Jewish actor James Caan to play Sonny Corleone, while Coppola wanted an Italian actor. Eventually an agreement was reached and both men were signed. By all accounts, it was the shooting of the bathroom scene that convinced executives that Pacino was the goods. That is the scene where he converses in Italian with his intended targets as he prepares to murder them. It is a wonderful piece of acting. By the way, the scene at the toll bridge where Sonny gets turned into a Swiss cheese required Jimmy Caan to be rigged with no fewer than a hundred and forty nine explosive 'squibs', which was some kind of new record. Probably still is.
The restaurant scene
149 squibs in action
These days, Coppola is not so enamoured of Al. 'Now, Pacino is very rich, maybe because he never spends any money,' he says. 'He just puts it in his mattress.' Much of this criticism probably stems from Pacino demanding $7 million to make The Godfather Pt III. Coppola was so incensed by this, he threatened to open the picture with Michael Corleone's funeral! Al ended up settling for a miserable $5 million! It's tough at the top.
Lenny Montana as Luca Brasi
In his wrestling days
Lenny Montana played Don Corleone's loyal enforcer Luca Brasi. Before venturing into acting he was a professional wrestler, served time in prison on Riker's Island, and worked as a bodyguard and part-time arsonist for the Colombo crime family. He was extremely nervous about his one scene with Brando and flubbed his lines a couple of times. Coppola liked the naturalness of his nervous demeanour and kept the performance, later inserting a scene showing Luca rehearsing his speech for the Don. Montana died from a heart attack in 1992 at the age of 66. His son, Lenny Montana Junior, is an alleged member of the Los Angeles crime family.
The author of The Godfather, Mario Puza, has always said that the character Johnny Fontane was not based on Frank Sinatra, but Frank wasn't buying it. When 'Ole Blue Eyes' came across Puzo in a restaurant the actor screamed obscenities and threats at him. So violently opposed to the film was Sinatra that the part of Johnny Fontane was ultimately whittled down to just a couple of scenes. Ironically, Vic Damone pretty much had the part sewn up, until Martino used his mob connections to hang onto it. A further irony: Sinatra had actively sought the role of Vito Corleone, and was disappointed when Brando beat him to it. It was the third time Brando had snagged a role Frank really wanted, the other two being Terry Malloy in On the Waterfront and Sky Masterson in Guys and Dolls.
Gianni Russo's story is an interesting one. He plays Carlo, the husband of Talia Shire, who gets beaten to a pulp by James Caan's character Sonny. Russo has since claimed that his mob connections helped him get the part, but writer Mario Puzo disbelieved him totally. Others were not so sure. He even claimed to have threatened Brando after he learned that Marlon was against him landing the Carlo role. Either way, it was common knowledge that Caan and Russo did not like each other – on-screen or off. In their fight scene Russo suffered two broken ribs and a chipped elbow. Years later, he was involved in a 12 year relationship with singer Dionne Warwick.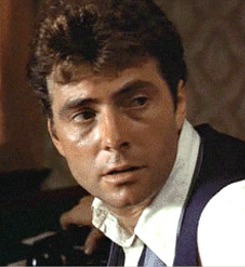 Gianni Russo as Carlo
Sonny giving Carlo a 'message'
If you harbour any thoughts that nepotism in Hollywood is a thing of the distant past, this should make you think again. In The Godfather Francis Ford Coppola inserted the following family members into various scenes: His sister, Talia Shire, plays Connie Corleone. His three weeks old daughter, Sofia, is the baby Michael Rizzi in the baptism sequence. His mother, Italia, pops up in the restaurant meeting. His dad, Carmine, is the piano player in the Mattress sequence. He also wrote the music. His sons, Gian-Carlo and Roman, are in the scene where Sonny pummels Carlo, and at the funeral.
Talia Shire as Connie Corleone
If you watch the scene where Captain McCluskey (Sterling Hayden) confronts Michael Corleone outside the hospital, you will observe an officer say, 'He's clean, Captain. He's a war hero.' The man uttering those words is former NYPD Detective Sonny Grosso, one of the two undercover men who achieved fame busting the 'French Connection' case.
Puzo, by the way, was born in New York City and could not speak Italian. Hence, his mistake using 'Don' with the surname Corleone. In Italian 'Don' means 'Uncle' – Uncle Vito, Uncle Michael…It is not used with surnames. For the record, there were five New York City crime families – the Bonanno, Colombo, Gambino, Genovese and Lucchese families. Puzo borrowed from the Gallo brothers, Joe, Larry and Michael, for his depictions of Michael, Sonny and Fredo Corleone. In fact 'Crazy Joe' Gallo threatened to sue the writer and Paramount Pictures for stealing plot details from his family, but he was murdered in April 1972, about a month after the film's New York premiere.
When the horse's head arrived on set it caused a lot of dissension from animal lovers involved with the making of the movie. 'It upset many crew members', recalled Coppola, 'who are animal lovers, who like little doggies. What they don't know is that we got the head from a pet food manufacturer who slaughters two hundred horses a day just to feed those little doggies.' A fake head was used for rehearsals but, without telling actor John Marley, the real one was substituted for the final take. His scream when he uncovered it was genuine, he said. Funnily enough, there were 17 humans killed in the movie – and one horse. Guess which death caused the most complaints from movie-goers, cast and crew? A similar public outcry happened when Cliffhanger (1993) was previewed. Despite numerous killings and beatings in the picture, the preview audience's outraged reaction to a jack rabbit being machine-gunned was such that an extra few feet of footage was inserted later, showing the little guy hopping away, unscathed, into the woods.