Only recently have details begun to emerge about Ronald Reagan's off-screen activities in Tinsel Town prior to his political career kicking off. In yet another new book, this one titled Love Triangle, by Darwin Porter and Danforth Prince, the writers say they have interviewed persons connected with Ronnie and his family, and have discovered around fifty stars and starlets that warmed his bed in the years leading up to his presidency. Needless to say, his supporters challenge everything written about him that does not conform to the 'squeaky clean' image concocted by his biographers, but that is to be expected. Nevertheless, this is what the writers of Love Triangle have to say, so draw your own conclusions.
Ronnie in the early 30's
Young Betty Grable
Young Susan Hayward
Young Jane Wyman
Reagan arrived in Hollywood aged 26 in 1937, and immediately became embroiled with no fewer than three actresses simultaneously. According to an old friend, singer Joy Hodges, Betty Grable, Susan Hayward and Jane Wyman were all fighting over him long before he gained any real screen status. Even in his own memoirs, Ronnie admitted to suffering from what he called 'leading ladyitis'. It was a disease, he said. Fiery Hayward was especially serious about him, threatening to emasculate the future president if he ended their romance. He did so anyway. As it was, he made about 70 movies over three decades, so the number of leading ladies available to feed his 'disease' was considerable.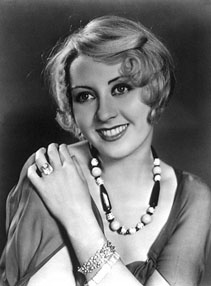 Joan Blondell                                                Gloria Blondell
Glenda Farrell
Other early notches on his bedpost were blousy Joan Blondell and her sister Gloria, as well as Warner Bros star Glenda Farrell who arrived at his room clad only in a mink coat which she promptly discarded once the door was closed. Part of Ronnie's appeal might be attributed to his reputation as a '40 minute man', meaning he took his time as a lover. By comparison, John F Kennedy, a notoriously selfish lover, was a '4 minute man', according to many of his conquests. Not that Reagan was anywhere near perfect, either as a lover or even a companion. Former Warners starlet Jacqueline Park considered him mean and miserly, recalling how he would always make her take the bus to and from his home, even when it was late at night. He simply would not pay for a taxi. When she became pregnant to him he dropped her at once, and she was forced to pay for an abortion. His response to her phone call telling him of her situation was repeated by Miss Park. 'I know how you Hollywood starlets play around with everybody and then you try to blame good people like me, but you can't get away with it', he said. 'You're just going to have to work this one out for yourself. I don't want to be involved.' Then he hung up on her.
Life was not all fun and games in the Hollywood of Reagan's early years. For instance, Warners made him accompany man-eater Lana Turner to a premiere, after which he found himself in her bed. 'Lana is just as over-sexed as I am', he told a golfing buddy the next day. Tough life. He actually became engaged to a blonde screen goddess named Ila Rhodes, a woman with a wild reputation for 'anything goes' sexual escapades, who was responsible for Ronnie progressing from being a dull, unimaginative performer in the sack, to an innovative experimenter. The engagement ended after Ronnie walked out of an orgy at director Edmund Goulding's home while his fiancée chose to stay and party.
In 1940, the already married Wyman convinced him that her marriage was on the rocks when they started their relationship. Ronnie and Jane's marriage lasted eight years, although he carried a torch for her long afterwards. If we can believe Nancy Reagan's memoirs, however, he only wed Jane after she overdosed on sleeping pills and left a suicide note.  Once again, we have conflicting stories regarding the child Ronnie and Jane adopted. Publicly, they adopted 'because so many children are in need of love and care', they gushed. Very touching. Privately, according to friends, Jane did not want to take time out of her career through pregnancy. Again, you be the judge. Anyway, by 1948, Jane was an Oscar-winning A-Grade star and Ronnie's acting career was going nowhere at a hundred miles an hour. His presidency of the Screen Actors Guild took up most of his time and he liked the power. Jane called the union quits.
Jane Wyman & her Oscar for Johnny Belinda
Ronnie moved into a secluded villa in the notorious Garden of Allah hotel, where he was soon back to his old 'swordsman' ways. He allegedly told a friend, 'I woke up one morning and I couldn't remember the name of the gal that I was in bed with.' Patricia Roc, a beautiful but wanton British actress, revealingly known to all as 'Bed Roc', summed up their brief relationship: 'He was still very much in love with his wife yet became fascinated with me.' She added that, night after night she spent talking the wretchedly despondent Reagan out of committing suicide. He missed Jane that much. No doubt Nancy would dispute this vehemently.
Throughout his thirty or so years in Hollywood, like many of the Hollywood 'hunks', Ronnie had to contend with continual propositioning from gay actors. Hedda Hopper's son William (he played Paul Drake in the Perry Mason TV series opposite Raymond Burr) was one such admirer. When Burr rejected Bill's advances, being already secretly married to Robert Benevides anyway, Hopper turned his affections towards Reagan, but was disappointed there as well. Errol Flynn was forever trying to kiss Ronnie on the mouth at parties, but it was well known that Reagan was entirely heterosexual.
Bill Hopper as Paul Drake in Perry Mason
In 1950, Ronnie made Louisa with 18 year-old Piper Laurie. Reagan was 39 at the time and was soon sleeping with her. In her memoirs she recalled him being the 'perfect gentleman' at first, but would later show-off and, in her words, have sex 'without grace'. 'He made sure I was aware of the length of time he'd been 'ardent'. It was 40 minutes', she remembered. 'And he told me how much the condom had cost.'
Stunning young Piper Laurie
Actor friends of Reagan's, William Holden and Eddie Bracken, are quoted as saying that Marilyn Monroe would make visits to Ronnie in 1948, while he was recuperating from a broken thigh bone he sustained playing baseball. She would bring him to climax as he lay immobilized in bed. She was still a 'nobody' at that time. A year later, he and co-star Doris Day, would sneak off to his apartment for sex. According to her biographer, he even considered proposing, but his passion waned and they soon went their separate ways.
Doris Day in the late 40's
On the other hand, Nancy Davis, a B Grader like Ronnie, went after him with a vengeance until, in March 1952, they married. Nancy had a heavy reputation in the movie community. 'If I had a nickel for every Jew she's been under, I'd be rich', said the already rich George Cukor. Writer Anne Edwards recalled, 'Nancy was one of those girls whose phone number got handed around a lot'. MGM casting director Bernard Thau said, shortly before his death in 1983, that Nancy was notorious for giving oral sex in the company offices, a talent he said helped her gain a contract with the studio. Peter Lawford's last wife recounted in her biography about Peter how Nancy would keep her husband and fellow actor Robert Walker 'orally entertained' on road trips to visit her parents in Arizona. Peter told his wife that, 'Nancy Davis was known for giving the best head in Hollywood'.
Nancy Davis circa 1950
Seven months after Nancy and Ronnie were wed their daughter Patti was born. While that happy event was taking place, Ronnie was busy bedding an old flame of his, actress Christine Larson. He had even proposed marriage to her before Nancy became pregnant, but she had declined his offer. Was he aware of his wife's scandalous reputation? Probably not. His political ambitions were too important for him to intentionally carry such baggage into an election. Anyway it mattered little for the press never used it against him, just as they turned a blind eye to JFK's infidelities. Nancy's reputation has been common knowledge for over fifty years and she has wisely opted not to challenge the stories. There are simply too many living and dead witnesses from the old days. One thing is equally certain, however. The love between Nancy and Ronnie appeared very real and lasting.
It is easy to write off recent biographies and 'tell-all' books by arguing that their subjects, more often than not, are no longer with us and unable to defend themselves. And that is a fair enough criticism. It is, therefore, necessary to cross-check, if possible, with other publications, to look at each issue from as many viewpoints as we can, and to ultimately make a judgment regarding what is probably real and what is probably not. That is what I attempt to do in this website and in my books. Hopefully, I get a lot more right than wrong. A great aid in this is knowing that just about everything churned out by the studios regarding the private lives of their stars was highly questionable. I, for one, put more faith in most of the more recent biographies and memoirs than I do in the sixty or so years of studio claptrap and blatant falsehoods aimed solely at placing as many bums on seats as was humanly possible.