Peter Wyngarde (1933 – )
Peter Wyngarde was born in Marseilles, France to an English father and a French mother. For about three years between 1969 and 1972, he portrayed the suave, silky-voiced, woman chasing sleuth Jason King in two series, (Department 'S' and Jason King), and seemed to be forever getting the girl, but always avoiding kissing her at the last moment – week after week. His arrest in 1974 and again in 1975 in men's toilets on 'gross indecency' charges pretty much curtailed his career, even though his homosexuality was well known in acting circles. In fact, he had been in a sexual relationship with prominent actor Alan Bates for a decade, and was known around the industry by his nickname 'Petunia Winegum'.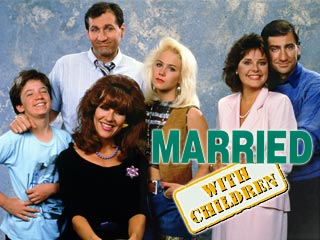 Amanda Bearse (1958 – )
Diminutive Amanda Bearse is both an actor and director. Her big break came in 1987 when she was cast to play Al Bundy's next door neighbour Marcy Rhoades in the hit sitcom Married with Children (1987-97). By 1991 she was directing the show (over 30 episodes), as well as stints directing Reba, Dharma & Greg and Veronica's Closet. She came out as a lesbian in 1993, the first prime-time actress to do so, and is currently married to Carrie Schenken. They have two children.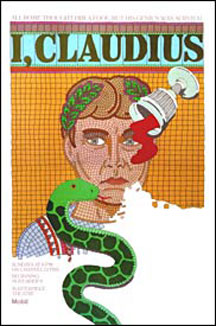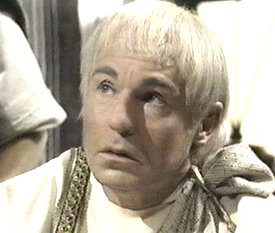 Derek Jacobi (1938 -)
It may be difficult to envisage, but Derek Jacobi's brilliant performance as Claudius in the 1976 series I, Claudius, might not have been if executives had opted for either Charlton Heston or Ronnie Barker in the role, both of whom were seriously considered! Discovered by Laurence Olivier, Jacobi has been an icon of the British theatre for decades, despite his two year attack of 'stage fright' back in 1981 that threatened to end his career. His forte has always been the stage (then television), but he is impressive in whatever medium he chooses. His life-long partner of 27 years is Richard Clifford, a fine actor himself.
Stephen Fry (1957 – )  
Stephen Fry played Anthony Melchett in Black Adder. He is an extraordinary man. Probably, the best way to describe him would be to list what makes him tick, so here goes. I stress these are not in any order of importance whatsoever:
Emma Thompson described him as '90% gay and 10% other'.
Flies his own classic biplane.
Narrates the audiobook versions of the Harry Potter series.
Is an avid collector of teddy bears.
Suffers from bipolar disorder.
Drives his own black cab when in London.
Speaks German fluently.
Has attempted suicide in 2012, and may well do so again, he says.
Is a brilliant and prolific writer.
Works tirelessly for charity.
Was a millionaire at 30.
As a youth he spent time in prison for credit card fraud.
Is 1.94m tall.
Is married to Elliott G Spencer as of January, 2015.
Is co-founder of the Bear Rescue Foundation.
Fervently supports the return of the Elgin Marbles to Greece.
Hosts the British panel show 'QI'.
Has a staggering general knowledge.
Two Stephen Fry quotes:
On being gay:" My first words, as I was being born…I looked up at my mother and said, 'that's the last time I'm going up one of those'."
'Homophobia is still a world problem. Homosexuality isn't and never has been. Homosexuals are not interested in making other people homosexual. Homophobes are interested in making other people homophobic.'
Sara Gilbert (1975 – )
Sara Gilbert is the younger half-sister of actress Melissa Gilbert, (Laura Ingalls Wilder in the iconic series Little House on the Prairie (1974-83). Success came for Sara when she was picked to portray Darlene Conner in Roseanne (1988), a role she made her own for nine years. Between 2001 and 2010 she was in a same sex relationship with writer/producer Ali Adler. They had two children. She has since had a third child with her spouse Linda Perry. All three children were conceived with the help of a sperm donor.
Cynthia Nixon (1946 – )
Between 1998 and 2004 Cynthia Nixon starred as Miranda Hobbes in the positively lousy (but highly successful) series Sex and the City, the show that goes out of its way to convince young women that 'slutty' is cool. She has been an on and off Broadway actress of considerable note since the early eighties, but it took Sex and the City to get her public popularity. In the interim she had become just the fifteenth performer to hold an Emmy, a Tony and a Grammy. Cynthia had two children with her ex-boyfriend, but is now happily married to Christine Marinoni, and they also have a child.
Kirsten Vangsness (1972 – )
We often tend to think that a lot of TV stars found fame and fortune through luck or 'being in the right place at the right time'. Some probably did, but for most of them success came after a lot of hard work, endless rejections, and on top of a mountain of acting experience on the stage, in stand-up comedy houses, and so on. Kirsten Vangsness, who plays Penelope Garcia in Criminal Minds (2005 -), is a classic example of a performer who has done it all long before TV fame arrived. Extensive stage work, awards, and plays she has written, all form part of her resume. These days she earns $100,000 per episode of Criminal Minds. Her first lesbian relationship happened when she was 30, she says.
Neil Patrick Harris (1973 – )
Neil Patrick Harris has tasted fame twice; the first time being back in 1989 when he became a teen heartthrob via his starring role in the TV series Doogie Howser M.D. The series only lasted five seasons (1989 – 93), after which he took to the stage, something he had always wanted to do. His second moment in the sun took place in 2009-10, when he found himself hosting the Emmy Awards and the Tony Awards in 2009, presenting an award at the 2010 Golden Globes, and scoring an opening act at the 82nd Oscars ceremony, also in 2010. He and his partner, David, Burtka were married in 2014 and now have two children.
Gillian Anderson (1968 – )
Gillian Anderson, who played Agent Dana Scully from The Ex-Files (1993 – 2002), had a couple of same sex flings in her youth, but remains convinced she is not gay in the true sense of the word. 'I always knew I still liked boys', she told The Sunday Times Magazine in June 2015. And she certainly seems to, if her sack record is anything to go by. She has been married twice (both times to men), has a child to her first husband, plus two more to an ex-boyfriend named Mark Griffiths. 'To me a relationship is about loving another human being', she explained. 'Their gender is irrelevant.' Fair enough.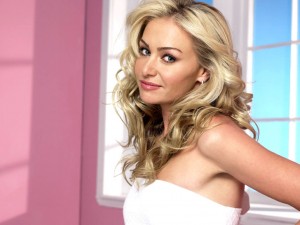 Portia de Rossi (1973 – )
Portia de Rossi was born Amanda Rogers in Geelong, Australia in 1973. She changed her name to Portia when she turned 15. In 1998, she joined the cast of Ally McBeal as 'the Ice Queen', Nelle Porter. One of her ex-girlfriends was singer Francesca Gregorini. Portia openly admits she married her first husband, Mel Metcalf, in order to get a Green Card to work in America. 'In high school I had sex with girls quite a few times', she recalls. 'They were straight women who I convinced to jump in the sack with me.' In 2008 she married Ellen DeGeneres and took her name. Today Portia de Rossi is no more. She is now Portia Lee James DeGeneres.
Hayden Rorke (1910-87)
In 2011, Barbara Eden, the undisputed star of I Dream of Jeannie (1965-70), told an interviewer that Hayden Rorke was gay and had a long-time romantic partner, and that she had enjoyed dinner at their house several times. Rorke played Doctor Bellows in the sitcom, and the entire cast knew he was homosexual. It was of no consequence. Barbara's memoir titled Jeannie out of the Bottle was released in 2011 and pulled no punches when discussing her cast-mates in the series.
Nancy Kulp (1921-91)
As love-sick Jane Hathaway in The Beverly Hillbillies (1962-71), Nancy Kulp was often befuddled and confused, but not so in real life. She was a highly intelligent woman, politically savvy, with a Master's Degree in both English and French. She even ran for Congress, but lost to her Republican rival after co-star Buddy Ebsen taped a radio advertisement for her opponent in which he referred to Nancy as 'too liberal. She and Ebsen did not speak for seven years after the election. In 1967, following her divorce, she courageously 'came out' as a lesbian. Even so, throughout her life she never lacked for amorous companions on the dating scene, 'swinging both ways' as she did.