If Olympic medals were given out for hypocrisy, Loretta Young (1913 – 2000) would have won gold many times over. The studio blurb described her thus: 'Her true beauty lies in her dedication to her family and her faith.' About the only truthful word in that whole line would be the word 'lies'. Loretta attended church religiously (no pun intended), outwardly a Catholic the good old church could be proud of. The truth was considerably different.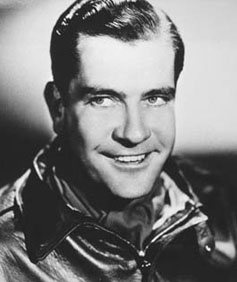 Grant Withers – husband #1
At 16, she eloped with 26 year old actor Grant Withers. Her mother had the union annulled. A studio writer told the press that a most apt description of Loretta would be: 'Sweet, sweeter, sweetest.' Studio people preferred to call her (behind her back) Attila the Nun. On the set of her movies Loretta rolled up every day with her 'Cuss Jar'. Anyone blaspheming was fined 25 cents ('for the nuns').
Spencer Tracy – refused to marry her
One day she overheard Spencer Tracy say 'damn', and immediately swooped on him, demanding his 25 cents. The ill-tempered Tracy angrily pulled a $20 note out of his pocket and stuffed it in the jar. 'Here's twenty, sister', he snarled. 'Go fuck yourself!' He and Loretta then embarked on a year-long affair that ended when Tracy refused to divorce his wife and marry her. He moved out of home and never returned, but he had already tired of Attila the Nun.
Director William Wellman
Romantically, the 1930s were a busy time for the lovely Loretta. And she really was extremely beautiful, at least on the outside. In 1932 she had an affair with socialite Herbert Somborn; the next year it was actors Charles Boyer and Spencer Tracy. In 1934 she was sleeping with director Bill Wellman, yet managed to become pregnant to Clark Gable, but more of that later.  Tyrone Power found time between lovers of both sexes to seduce her in 1937, actors Richard Greene, George Brent and director A Edward Sutherland all kicked a Loretta goal in 1938. In 1939 she wed producer Tom Lewis, but not before bedding Jimmy Stewart, David Niven and writer/director Joseph Manciewicz.
Gable & Young in The Call of the Wild
In 1934, Clark Gable was teamed up with Loretta and director William Wellman to make The Call of the Wild in up-state Washington. Clark (and most of Hollywood) was aware that Wellman had been sleeping with Loretta on each of their last three pictures together. Her pious, holier than thou, attitude intrigued 'the King', and he set his sights on 'nailing' her on location. It did not prove to be a difficult task at all. Two days after they met, the two stars were sleeping together. Before long word got back to Hollywood and to Ria Gable, Clark's long-suffering wife.
She knew of her husband's affair with Elizabeth Allen, which he had not yet terminated by the time Loretta was warming his bed, and she also knew of his endless tryst with Joan Crawford. Loretta Young may well have been the straw that broke Ria's back. She began to contemplate divorce proceedings. Poor Ria would have been even angrier had she known that Clark and another actor, Jack Oakie, were nipping in to Bellingham, Washington each time the weather interrupted shooting on The Call of the Wild, and availing themselves of the brothels there.
On the set, meanwhile, director Wellman was smouldering. His regular 'on location' squeeze had been hijacked by Gable and he resented it. Feelings spilled over the day he dressed down his male lead in front of the entire cast and crew and both men exchanged blows. The reverberations were felt back at the studio, but the troubles were only just beginning. By the time the shoot ended Loretta was pregnant to Gable. He was older than her and married; she was a Catholic girl and single. The result, should the press get hold of it, would end both their careers on the spot, and that meant an enormous loss of revenue for MGM.
Loretta in The Crusades
She still had a movie to make (The Crusades), which she completed before she began to 'show', each day arriving on the set, rosary in one hand and 'Cuss Jar' in the other. Upon learning she was in the family way, Loretta had immediately called Gable and arranged a meeting. When she told him the happy news he was furious. 'I thought she knew how to take care of herself', he said to her mother, adding, 'She was married.' Randy Clark was under considerable pressure from another direction as well, but for the same reason. He had just finished making China Seas and had managed to get one of the extras pregnant along the way! MGM forked out $2,000 for an abortion and pay-off. Their star was beginning to get very annoying.
This new crisis, however, could not be solved with a simple abortion. There was just too much risk involved in the 'Young-Gable' situation, the central issue being that Loretta was a devout Catholic who flatly refused to abort the child. Evidently, her interpretation of a 'good' Catholic was different to everyone else's. An abortion would endanger her mortal soul, but being single and sleeping around, even with married men, and having some of them employ contraceptives, would not. Some way out of the mess had to be found, so the studio fixers, Howard Strickling and Eddie Mannix, put their heads together and hatched a plan.
They announced that Loretta was 'exhausted from overwork', so the studio was sending her on a six months 'break' to Europe. The press instantly smelled a rat. When a star was as 'hot' as Loretta was at the time, there was just no way the studio would deliberately halt her impetus for so long. On the contrary, she would have been rushed into production after production to cash in on her popularity. As everyone was aware, screen popularity could be a fleeting thing. The general consensus was that she, a) was very ill; b) hooked on drugs; or c) pregnant.
Loretta was three months pregnant by the time she boarded a ship for Europe. Once on the Continent she was whisked away to a secret destination, somewhere the press could not possibly find her. But then another problem had arisen. Loretta decided that, come Hell or high water, she wanted to have her baby in the good old US of A! So, the studio sneaked her back into Hollywood and secluded her in a beach-house that was unknown to the media – her grandmother's place. Even when her sister, actress Sally Blaine, was married soon after her arrival, she dare not venture out.
Sisters – Sally & Loretta
Gable was quickly sent off to South America on a publicity tour for Mutiny on the Bounty. He was not happy about it. Not at all. Nevertheless, the press were starting to draw conclusions and printing them. It was only a matter of time before the truth emerged, unless Loretta could give an interview and clear the air. And so it was arranged while Gable was in Latin America. A columnist named Dorothy Manners, an MGM sycophant of the first water, was advised that Loretta was actually back in Hollywood and at the beach-house; that she was desperately ill, but willing to give an exclusive interview to allay her fans' fears. When Dorothy turned up, cameraman in tow, she found poor Loretta in her sick bed, pillows piled up to her neck, and an intravenous drip protruding from her arm. She was very pale (courtesy of the make-up department), and spoke to a script prepared by Strickling. Manners published her exclusive the next day, heading it, 'Fame, Fortune & Fatigue'. Poor Loretta. There was scarcely a dry eye in America – if you don't count Clark and the MGM hierarchy that is.
Gable as Fletcher Christian in
Mutiny on the Bounty
Gable returned from South America aboard a cruise ship, and on the arm of Johnny Weissmuller's wife, Lupe Velez, having spent most of the voyage in her stateroom. A furious Weissmuller had to be held away from him. Strickling immediately ordered his over-sexed star to New York City for the premiere of Mutiny on the Bounty. The studio needed its top money-earner as far away from Hollywood and Loretta as possible. When a baby girl (Judy) was born to Loretta on 6 November 1935, she cabled Clark at his New York hotel room, advising him of the news. He tore up her telegram and flushed it down the toilet. Thirteen days later Ria Gable told Louella Parsons she was filing for divorce. Mrs Gable was utterly fed up with her husband's endless philandering. She had guided him from nothing to a world cinema idol, but he had ceased to need her guidance years ago.
Clark & Ria Gable                                                    the future 'King'
Loretta's baby was sent off to the St. Elizabeth's Infant Hospital in San Francisco at eight months. Then, at nineteen months, and with the connivance of her Roman Catholic Church connections, she adopted her own child. It was not OK for a 23 year-old single woman to adopt a child back in 1936 Hollywood, but money changed hands all over the place to pave the way. MGM forked out payments to reporters, doctors, nurses, police, priests and nuns, county records staff, steamship employees and railroad workers.
On June 11, The Times ran a headline: 'Loretta Young Adopts Two Babies'. The second little girl was a prop. Three weeks later another headline heralded poor, heartbroken Loretta's dilemma: 'Loretta Young Relinquishes Tot To Mother'.  The second child's biological mother had had second thoughts and wanted her kid back. It was all part of the plan, of course. When Loretta eventually married Tom Lewis, she even lied to him about it, telling him that Gable was indeed the father of the child with the protruding ears, but that her sister, Sally Blaine, was the biological mother. And he believed her. Loretta was, in fact, sacrificing her own happiness, absorbing all the innuendo about her and Clark, for the sake of her sister's reputation! What a little trooper she was.
Friends said little Judy had her father's protruding ears, so Loretta allowed no photographs of her until she was two years old and her hair had grown. Even then, until the age of seven not one photograph was taken of the little girl unless she was wearing a hat or bonnet. Gable met her just once in his life, when she was 15. He kissed her on the forehead, she recalled. It was not until the night before her wedding eight years later, that she found out (from her husband) who her real father was. Until then, Loretta had managed to hold her friends to the secret.
Judy Lewis  pre-op                              post-op – no bonnet (at last)
Loretta Young's determination to protect her career and her 'good name' saw her arranging a very painful plastic surgery operation for Judy to 'fix' her ears, when the girl was just seven years old. Only after it was a success did her mother allow the girl to be photographed without a hat or bonnet. Eventually, in 1966, Loretta finally told her the truth. Gable had been dead six years by then, but her confession was strictly a private one. Publicly, she continued to deny her affair with Gable until the day she died. Only after her death in 2000, when her posthumous autobiography went to print, did she finally 'fess up'. It had only taken her 65 years to summon up the courage!
Loretta's second marriage (to producer Tom Lewis) had lasted from 1939 until his death in 1969. How many of her other affairs happened in that period is impossible to estimate, but it is known that she bedded several directors, writers, producers, socialites and actors other than those mentioned above. Exact dates are hazy at best, but the following gentlemen have been confirmed as having been there at some time or another: producers Irving Asher, David O Selznick, Charles Feldman and Gregory Ratoff; writers Robert Riskin and Joseph Mankiewicz; socialites Howard Hughes and John Whitney. The list of actors is a little longer – Russ Columbo, Ricardo Cortez, Bruce Cabot, Peter Lawford, Wayne Morris, Gilbert Roland, Cesar Romero and Lyle Talbot. Her third and final husband was costume designer Jean Louis.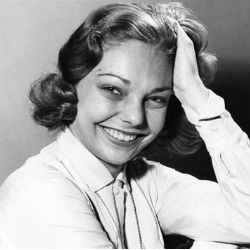 Judy in later years
Judy Lewis (she took her stepfather's name), died at 76, on November 25, 2011. Before she passed away she told an interviewer that whenever she watched the scene in Gone with the Wind where Gable plays with his little girl, she imagined that, perhaps, he was thinking of his own daughter at the time. However, she added, perhaps a truer reflection of the man's feelings for her might be found in his most famous line: 'Frankly my dear, I don't give a damn.'