It is impossible to accurately assess Hollywood's contribution to the winning of World War 2, but it would be fair to say that it was substantial. Apart from the thousands of industry people (including many actors and directors) who actually got into uniform, it was the impact on national morale made by not only feature films, but documentaries, training films and propaganda material, that helped win the conflict. The likes of John Wayne and Gary Cooper may not have fired a real shot in anger, but the thousands of rounds they fired on silver screens around the world inspired millions.
Winston Churchill was indeed deadly serious when he was quoted in London's Daily Telegraph describing the importance of Mrs Miniver (1942) on public sentiment in the USA as being 'worth a whole regiment'. Over the years this sentiment has been 'expanded' to 'a flotilla of destroyers', then to 'a flotilla of battleships', and ultimately to 'a hundred battleships' by various scribes and newspaper editorials, especially as the movie's popularity has gained momentum. Whatever he said, one thing has become perfectly clear; the power of images on celluloid can scarcely be exaggerated. In World War Two most governments were aware of this and used the medium to maximum effect. Nowhere was this more so than in the USA.
Oddly enough, it took considerable prompting to get most of the studios to even start attacking Nazism on the screen. Popular actress Myrna Loy had read Hitler's idiotic Mein Kampf and consequently expended a lot of energy (as early as 1938) warning her peers about the warped aims of Nazism, in particular Hitler's intentions for the world's Jewish population. In response to her efforts she received a letter from MGM's head of foreign distribution, Arthur Loew, telling her to find something else to talk about. Germany was a lucrative market for Hollywood films. Business, after all, was still business. 'Here I was fighting for the Jews', she angrily recalled, 'and they're telling me to lay off because there's still money to be made in Germany. Loew and many of the company executives were Jewish, but they still condoned this horror.' In time they would come around, but only after Hitler had banned the importation and showing of their movies. Only after the 'business' in Europe had dried up anyway.
Myrna Loy
At the outbreak of war David Niven rushed home to England to enlist in the RAF. He was rejected, so he joined the army instead. He always said that 'boredom' caused him to volunteer for the commandos, where he would see a great deal of action and rise to the rank of Lieutenant Colonel by war's end. He participated in the D-Day landings, but was reticent throughout his life to discuss his wartime exploits. One amusing episode, however, is worth repeating here. Somewhere in Europe an American GI, suspecting he might be a German spy, asked Niven who won the 1940 World Series in baseball. 'I haven't the faintest idea', he replied. 'But I do know I made a picture with Ginger Rogers in 1938.'
David Niven as a commando during WW2
James Stewart was as American as apple pie, but he nevertheless joined the Air Corps in early 1941, months before the Japanese attack on Pearl Harbor brought the USA into the conflict. In fact, he first applied in November 1940, but was rejected because he was underweight. Four months later he returned and got in by one ounce. The medico commented: 'That fellow sure is an oddball. Didn't even complain when he found out he'd been accepted'. Louis B Mayer could not understand why one of his biggest stars (earning in excess of $2,000 a week) would give it all up to go fight in somebody else's war. At Moffett Field, the Army Air Corps training camp, mostly female fans would wait outside the gate all day hoping for a glimpse of him. There were dozens of phone calls daily from women offering him anything and everything. Shortly after December 7, 1941, he graduated from flight school and became a second lieutenant. In November 1943 he joined the 445th Bombing Group flying B-24s over Europe, flew twenty combat missions, some extremely hazardous, and was decorated for bravery. A true war hero in every sense of the word.
James Stewart being decorated during WW2
Another hero, but one far less known to the movie-going public was Wayne Morris. By 1941 he had made over 30 pictures and was receiving the full star treatment. His studio expected him to become a major player. That year he appeared in I Wanted Wings with Ray Milland, William Holden and Veronica Lake, during the making of which he caught the flying bug. Two movies later he quit Hollywood to become a naval aviator. Stationed aboard the Essex, Morris flew 57 missions in the Pacific, shooting down seven Japanese planes. Not only was he an ace, but he was also credited with sinking a gunboat, two destroyers, and for participating in the sinking of a Japanese submarine. He flew Hellcats, three of which had to be ditched into the ocean because they were shot full of holes.
Fighter ace Wayne Morris in his Hellcat.
Winner of four DFCs and two Air Medals.
Like many of his fellow actors, Morris was not overly proud of his screen performances. 'Every time they showed a picture aboard the Essex I was scared to death it would be one of mine', he told Silver Screen magazine after the war. 'That's something I could never have lived down.' This most modest of men finished the war with two Air Medals and no fewer than four Distinguished Flying Crosses. His movie career never recovered from his six-year hiatus. It sputtered on for another decade or so before his unexpected death from a heart attack in 1959. He was only 45. Today, he rests in Arlington National Cemetery, near his brother, Richard, a B-17 pilot who was shot down during the war.
Television fans of the sixties would surely remember Eddie Albert. He starred as Oliver Wendell Douglas in two very popular series, Petticoat Junction and Green Acres. He joined the United States Navy in WW2 and was decorated for bravery with a Bronze Star. In one of the bloodiest battles of the entire war (the marine assault on the Tarawa beachhead in November 1943), Albert commanded an assault craft on the first day of the landings. Under horrendous machine gun and mortar fire he rescued between 70 and 150 wounded marines and was cited for 'outstanding performance of duty'. Wounded during the action, he also performed valiantly on Saipan in that same year. Albert would go on to enjoy a wonderful acting career that included two Oscar nominations, one in 1973 for The Heartbreak Kid, the other for his portrayal of Gregory Peck's photographer friend in the 1953 classic Roman Holiday. He passed away in 2005 at the ripe old age of 99.
Eddie Albert during WW2. He won a Bronze Star on Tarawa.
Lesser-known actor Louis Hayward also won a Bronze Star on Tarawa as a Marine combat photographer. The tiny atoll of Betia in the Tarawa group was only 600 acres in area, yet it was defended by 5,000 crack Japanese troops. This beachhead was the first time that combat photographers were sent in with the assault waves. At battle's end only seventeen Japanese troops were still alive. The Americans lost over 1,000 dead and 3,000 wounded. The nightmare of Tarawa affected Hayward's health for the rest of his life. Television's much-loved Matt Dillon (actor James Arness) was wounded at Anzio whilst also earning a Bronze Star for gallantry. Another TV star, the wonderfully funny Art Carney who played Ed Norton on The Honeymooners in the sixties, was a preplacement in a machine-gun squad at Normandy shortly after D-Day, 1944 when he was hit in the leg by shrapnel on his arrival there and promptly evacuated out of combat permanently.
Marine combat photographer Louis Hayward. 
Like Albert, Hayward won a Bronze Star for gallantry on Tarawa.
Art Carney as 'Norton, in The Honeymooners. 
He was wounded at Normandy.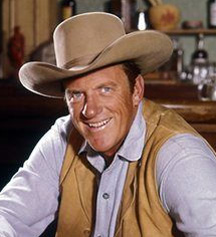 James Arness was wounded at Anzio
Brilliant character actor Charles Durning played Lt. Snyder in 1973's The Sting, but is probably best remembered for his Oscar-nominated portrayal of the governor in 1982's The Best Little Whorehouse in Texas. Of all the actors who participated in the war it would be safe to say that none was more fortunate to survive it than Durning – if what he said happened to him actually did happen to him. Of course, he was not an actor at the time. Just like Audie Murphy, he would become a movie actor after the war. But his story is unique, although altogether confusing just the same.
Charles Durning, the soldier and the actor.
He claimed he was in a landing craft at Omaha Beach on D-Day, June 6, 1944, yet his military record states he arrived in Normandy on the 15th of June, over a week after D-Day. 'I was the second man off my barge,' he recalled, 'and the first and third men got killed. First guy, the ramp went down, the guy fell and I tried to leap over him, and I stumbled and we both slipped into the water. And I was in 60 feet of water with a 60 pound pack on, so I let it all go.' Upon reaching the beach he soon found a rifle and helmet. They were everywhere. Again, military records state he was severely wounded by a mine detonated by a German shell on the fifteenth, and did not become 'fit for full-field duty' until December 6 that year.
He further claimed that he was captured at Malmedy during the Battle of the Bulge and was extremely fortunate to escape the Nazi massacre there of 200 US soldiers from the ill-fated 285th Field Artillery Observation Battalion. One military website describes how he was bayoneted eight times by a German soldier, before killing the man with a rock and escaping into the forest. Once again, however, military documents prove he was in England at the time and was never anywhere near the Battle of the Bulge. That Durning had a respectable war there is no doubt, so why he would choose to fabricate details is difficult to explain. Added to this, he was definitely awarded a Silver Star for gallantry, but nowhere can records be found describing the circumstances. It is all quite puzzling.