Because of the research I do on movie stars and Hollywood in general, friends have asked me whether or not John Wayne was a draft dodger in the Second World War. To be perfectly honest, I haven't the faintest idea. For every comment I have read that described him as a coward and a shirker, there are just as many who vow and declare that he did everything in his power to get into uniform. It all depends on who you choose to believe, so I shall let you be the judge.
Wayne's first feature film was in 1930 when he was 23 years old. Seventy B-Grade westerns later his career had gone nowhere, unless you feel his stints as 'Singing Sandy' in several of them constituted some sort of high note. 'Duke' Wayne certainly didn't. But then, in 1939, his pal John Ford put him in the classic western Stagecoach. Suddenly, the 32 year-old nobody became a somebody. After years of ignominy his star began to rise. December 7, 1941, however, threw a spanner in the works and he was faced with a dilemma. Should he continue to ride his newfound wave of success, or should he turn his back on Hollywood and rush off to fight for his country against the Japanese?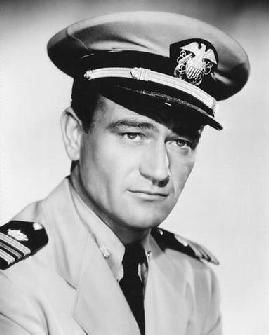 John Wayne playing at war
Some biographers claim the answer is a 'no-brainer'. They say he had worked too hard for too long to throw his career away by becoming a soldier. The war might drag on for years and his one chance at stardom would be gone. It is a compelling argument, but it does not take into account four things. One, he was now 34 years old and married. Two, he had four children to support. Three, he once broke his leg playing football, hence the odd gait. Four, he was classified 3-A by his draft board ('deferred for dependency reasons').
Of course, it could be argued that Henry Fonda was 37, married with three kids, yet he joined up when America entered the war, so why didn't Wayne? To be fair to the Duke, Fonda was already an established star and quite well off. He, like Jimmy Stewart and Clark Gable, could resume their careers at war's end, but Wayne was just getting a name. He was not rich either. Initially, he confided to friends that he just needed a couple of feature films to establish himself and to set up his family financially, then he would 'do his bit'.
In 1944 his classification was changed to 2-A ('deferred in support of the national interest'). By then he had become far too important to public morale to be risked in a war zone. And that is perfectly understandable. Scores of other actors were being used in War Bonds tours, entertaining troops with the USO, or working in film units turning out training and propaganda films. Mickey Rooney, for example, could do infinitely more good lifting the spirits of homesick boys in camp shows than he could firing a rifle. Wayne, too, lifted morale by depicting the all-American hero in war movies. He was important to the war effort.
A month after giving him his 2-A status, the Selective Service had a change of heart and passed him 1-A, and fit for duty. His studio immediately appealed and he once again became 2-A, this time until the war ended. Wayne's biographers (some of them) claim that he tried several times to get into one of the services, but his studio vetoed his every move. Maybe so, maybe not. Whatever the truth about it, one thing is indisputable; John Wayne appeared to take his own sweet time 'doing his bit', because his 'couple of feature films' stretched to thirteen by the end of the war. Even so, the man was no coward, I am convinced of that. If anything, he was probably enjoying life as one of the biggest Hollywood stars at a time when most of the other big fish were absent. He just didn't want to give that up.
There is no doubt about the wartime exploits of Lee Marvin, even though a great many people still believe he fought on Iwo Jima and won the Navy Cross there. Untrue. He was never on Iwo and he most certainly did not win the Navy Cross. But he did indeed join the USMC as a Scout Sniper during WW2 and saw a lot of action. In 1944, on Saipan, he was severely wounded (in the buttocks of all places), damaging his sciatic nerve. At the end of that particularly ferocious battle he was one of only nine survivors of his entire unit. He received a Purple Heart for his wounds and was evacuated back to the states where he took several months to recuperate.
Lee Marvin was severely wounded on Saipan.
When it comes to combat heroism, the performance of future Hollywood tough guy Neville Brand is worthy of mention. He arrived in Europe with the US Army in December 1944. At the age of 24 he fought in the Ardennes, the Rhineland and in other central European campaigns. Brand earned his Silver Star for gallantry after single-handedly storming into a hunting lodge and killing all the members of a German machine-gun nest that had pinned down his unit. 'I kind of flipped my lid', he explained later.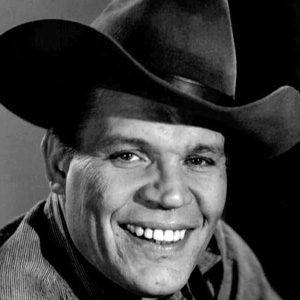 Neville Brand was highly decorated for bravery.
A month before the German surrender he was shot in the arm at the Weser River and almost bled to death before corpsmen could extract him. He was shipped out in September 1945, just nine months after his arrival in the battle zone that was central Europe. Brand became a fine character actor in Hollywood, remembered by his colleagues as an all-round nice guy and, surprisingly, an insatiable reader. He died in 1992 from emphysema at 72. His ashes reside in a book-shaped vessel with his name engraved down the spine.
An unlikely WW2 combatant, given his dithering portrayal of the professor in TV's Gilligan's Island, was Russell Johnson. At 18 he enlisted in the United States Army Air Force as an aviation cadet. Stationed in the Philippines, he flew forty-four combat missions as a bombardier in B-25s, and later in a B-24 Liberator, and was fortunate to survive the war. In March 1945 his plane was severely damaged in a bombing run and forced to crash-land near the Japanese-held port of Zamboanga in the Philippines. Both Johnson's ankles were broken in the landing, but he was rescued and taken to US territory. He was awarded a Bronze Star, the Air Medal with Oak Leaf Cluster, and a Purple Heart. The much-loved and respected actor lived until January 2014.
Russell Johnson, a much-decorated bombardier
When it comes to bona fide WW2 combat heroes nobody really comes near America's most decorated soldier, Audie Murphy. Coming from a sharecropping family in Texas, he enlisted in the US Army in 1942 as a 17 year-old. It was his second attempt and he lied about his age to get in. He was small (about 5'6" then), slightly built, and possessed of a 'baby-face' that completely belied the steely resolve beneath it. As director John Huston would later say: 'He's a gentle little killer. Why, in the war he'd go out of his way to find Germans to kill.'
Audie Murphy during WW2, the US Army's most decorated soldier.
Murphy fought in nine major campaigns against the Germans over three years, rising from buck private to a battlefield commission as a second lieutenant. He won two medals for bravery in Italy, but he was just getting warmed up. In France, between August 1944 and January 1945, he won three of the highest decorations awarded to an American serviceman, the last of which was the Medal of Honor. In that particular action he was nothing short of extraordinary. As his comrades pulled back through some woods, Murphy leapt on top of a burning tank destroyer, full of gasoline and ammunition, and commenced firing at the advancing German troops. He killed an astonishing 240 of them and halted six enemy tanks as well by directing battalion headquarters firing coordinates over the phone aboard his burning tank destroyer. When HQ asked him how close the Germans were, he famously replied: 'Hold the line. I'll let you talk to them.'
In all, Audie Murphy won no fewer than 33 decorations, mostly from America, but they included French and Belgian ones as well. On his return home, his picture soon adorned the cover of Life magazine; it was spotted by James Cagney, and a movie contract soon followed. Audie mostly starred in low-budget westerns, but in 1955 Universal made his autobiography into a movie of the same name, To Hell and Back. Because he always looked about 15 years younger than he was, Audie played himself and did pretty well. The picture made a mint for the studio.
Audie Murphy movie star
His career stretched over 44 movies, most of them westerns. Critics had no time for him. Kids my age loved him. I still do. Even today, at 68 years of age, I will often sit down and watch one of my Audie Murphy westerns, just for old time's sake. The guy was 'cool'. Sadly, he died at 46 in an air crash. He never really got over his wartime experiences. Medical experts today believe he probably suffered from the then unidentified post-traumatic stress disorder, and they may be right. Of all the tough guys in World War II, who would have imagined that a baby-faced little kid like Audie Murphy would be the toughest of them all? But he was.