Lana Turner began her Hollywood career as 'the Sweater Girl', and for many of her critics that seemed to be the extent of her thespian ability. Quite a few of them revised their opinions, however, following her real life performance on the stand during her daughter's murder trial. Single handed, she succeeded in convincing a jury of her peers that daughter Cheryl had inadvertently ended the life of Lana's hoodlum boyfriend Johnny Stompanato by accidentally ramming a knife into his heart. But more of that later.
Lana was born in Idaho in 1921. She had a normal childhood right up until the age of nine. That was when her father took part in one too many crap games and got himself murdered for his winnings, his beaten and stabbed body found next morning minus the sock in which he kept his money. Her job-hunting mother moved with her only daughter to California where, about eight years later, the positively stunning Lana landed a movie contract at MGM. Contrary to the 'discovered at Schwab's Soda Fountain sipping on a cool drink' rubbish that the studio fed to the media, Lana got her contract the old-fashioned way, by pounding the pavement and knocking on doors.
One year into her contract saw her score a bit in the Mickey Rooney hit Love Finds Andy Hardy (1938), and her future was assured. The moment she sashayed down the street she took the movie-going men of America by storm. She truly was 'drop dead gorgeous'. Rooney thought so too, claiming in his autobiography that he relieved her of her virginity that year, but she always insisted that lawyer and notorious 'swordsman' Greg Bautzer had her first. Whatever.
Lana's approach to the whole marriage thing, especially the 'til death us do part' bit, was somewhat vague right from the beginning. She would marry eight times in all, and if marriage number one is anything to go by, we can see why. In 1940 she wed band leader Artie Shaw, not because she loved him, but to make Greg Bautzer jealous after he stood her up without offering her an explanation! 'I thought of someone who would make Greg mad and jealous', she said later. 'So I called Artie Shaw.' Ah, true love. You can't beat it with a stick. For the record, Artie was a first class sleaze ball. When he married Lana he was already deeply involved with 17 year-old Judy Garland and Betty Grable was pregnant with his child! Like Lana, he would ultimately marry eight times and divorce eight times.
The union lasted barely six months, time enough for Lana to become pregnant and to have an abortion. Six years later she would abort Tyrone Power's child as well. Mickey Rooney is generally believed to be the cause of yet another of her abortions. Of her remaining seven marriages, suffice to say that only two had any significance, and none of them lasted five years. Through her union with Stephen Crane (whom she wed twice) she produced a daughter, Cheryl, in 1943. There were still-births in 1949, 1951 and 1956. Husband number five was actor Lex Barker (below) who briefly shot to prominence as one of the better celluloid Tarzans, making five apeman features in the 1950s.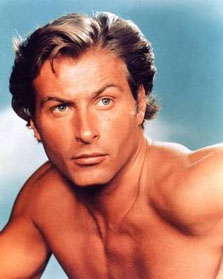 In 1957, Lana ordered him from their house after she learned he had been sexually assaulting Cheryl during much of their marriage. Divorce quickly followed, although Lana refused to charge him, wary that the ensuing publicity would harm her daughter. It would not do Lana's career much good either. And Lana lived for her career. In 1973, Barker collapsed in the street and died from a heart attack. When a newsman asked Lana for a comment, she famously replied. 'What took him so long?' It should be stated here that Barker denied her allegations until the day he died, not that a denial under the circumstances probably means all that much. After all, an admission of guilt would have seen him imprisoned.
Those who knew Lana well attested to her obsession with two things – her career and sex. And not always in that order. 'An MGM executive said of her, 'She was amoral. If she saw a stagehand with tight pants and a muscular build, she'd invite him into her dressing room.' When another studio executive chastised her for picking up a gas station attendant for casual sex, she retorted. 'Don't worry, honey. Who's gonna believe it?' Her make-up man Del Armstrong said she was, 'always the aggressor, but once she slept with a guy she'd lose interest. Except with Tyrone Power.' 'Ty was the love of her life', good friend Esther Williams commented. 'She never got over him.'
Well, she may not have gotten over losing Tyrone Power, but she was certainly never lonely. Her list of celebrity lovers reads like a 'Who's Who', never mind all the non-entities she serviced along the way as well. The following is an abbreviated list of men who found their way into her bed:
Richard Burton, Leonard Bernstein, Billy Daniels, Clark Gable, John F Kennedy, Ricardo Montalban, Dean Martin, Ty Power, Frank Sinatra, Robert Wagner, Sean Connery, Rory Calhoun, John Garfield, Gene Krupa, Howard Hughes, Tony Martin, George Montgomery, Robert Stack, Mickey Rooney, Desi Arnaz, Kirk Douglas, John Hodiak, Fernando Lamas, Peter Lawford, Robert Taylor, Victor Mature, Mel Torme, Greg Bautzer, Turhan Bey, and various directors and executives.
Robert Taylor's first meeting with his 20 year-old co-star happened on the set of Johnny Eager in 1941, and she dazzled him. 'I couldn't take my eyes off her', he recalled, 'and there were times during Johnny Eager I thought I'd explode'. He also said he was surprised that Lana was not as 'busty' as her publicity stills, but her lips were the most exquisite he had ever seen. It was her alluring voice, however, that fascinated him most (or so he said anyway). 'She did not know how to speak without being sexy', he recalled.
As expected by those who knew her, Lana was equally impressed by her famous co-star and went after him with a vengeance. What was completely unexpected, however, was that Taylor responded so vigorously. All Hollywood knew he was bisexual and married to Barbara Stanwyck just for show. Nevertheless, when Barbara found out about their affair she was unable to handle the situation and slit her wrists. Taylor found her in time and immediately rang MGM's 'fixer' Howard Strickling for advice. Only then did he drive his stricken wife to the hospital. She pulled through and Strickling told the press that her injuries were caused when she had attempted to close a window that was stuck.
Lana tired of Taylor very quickly, as was her way, and soon moved on to Clark Gable, also a married man. Clark had finally settled down with one woman, his wife of two years Carole Lombard, but that did not stop him dallying with Lana on the set of Somewhere I'll Find You (1942). Carole knew of Lana's reputation for sleeping with anything in pants, so she began haunting the set and threatening to 'kick both stars in the ass.' Eventually, she was barred from the production altogether. Then she took off on a bond-selling tour, but decided to cut it short and hasten back home, concerned that her husband might still be seeing Lana while she was away. He wasn't. Tragically, her plane hit a mountain and all those aboard were killed. Gable blamed himself for her death for the rest of his life.
Fast forward to an evening in 1958 when Lana's gangster lover, Johnny Stompanato (pictured below with Lana), walked into a blade presumably in the hand of little 15 year-old Cheryl. Lana's last confidante and lover, a man named Eric Root, whom she met in 1969, penned The Private Diary of my Life with Lana Turner (1996), in which he claims she told him: 'I killed the son of a bitch, and I'd do it again.' Root then states that Fred Otash (see my post on Marilyn Monroe), was called by Lana who pleaded with him to 'fix' things, something the former detective was most adept at doing. Fred dashed to her house and went to work.
According to Root, Lana had discovered her lover in bed with her teenaged daughter and had stabbed him through the heart as he slept. 'The bed looked as if a hog had been slaughtered in it', he wrote. Otash cleaned up the mess, disposed of the soiled bedding, and rearranged Stompanato's body before laying it on the floor. He then removed the knife, had Cheryl clasp it in her hand, and then re-inserted it in the corpse's chest. It had been agreed between the three of them that Cheryl, being a minor, should say she rushed into the room when she heard her mother being attacked by her lover, and that unlucky Johnny had ran into the knife in her hand on his way out of the room. It was a flimsy story at best, but the police and the jury bought it. Cheryl and Lana walked free despite prolonged protests from the gangster's friends in the courtroom who smelled a very large rat.
Lana Turner was arguably one of the most beautiful women ever to grace the silver screen. She had that indefinable 'star quality', and she had it in spades. Just as her movie career was an unqualified success, her private life was a disaster area. Multiple marriages, countless affairs and one-night stands, abortions, alcoholism and (probable) murder are a rare combination for one life, even in Hollywood. She was fortunate indeed that she lived before the DNA age, for it is doubtful if the Stompanato case would have had the same outcome today given the advances in criminology.
In 1992, Lana was diagnosed with throat cancer. Typically, she went against doctors' advice and continued to smoke until the disease killed her in 1995. Perhaps, her troubles were best summed up in her own words. 'I planned on having one husband and seven children, but it turned out the other way around.'