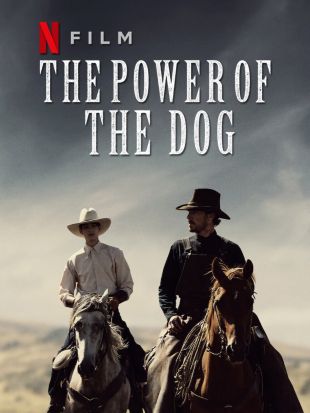 THE POWER OF THE DOG (2021)                      
I have watched an awful lot of movies in my life. Some were quite brilliant; others less so, but they generally held my interest for much of their screen-time because there was usually the expectation that something would happen sooner or later. Not so with The Power of the Dog, which is sad because I had expected so much more. Directed by Jane Campion, starring Benedict Cumberbatch (whom I really like as an actor) and Kirsten Dunst, (a most capable actress), I was genuinely looking forward to the film. Unfortunately, it was directed at a glacial pace and virtually nothing happened in over two hours of screen-time. Nothing. This coupled with the most pedestrian screenplay and the dullest of scores to match, combined to produce the most boring film I have ever watched!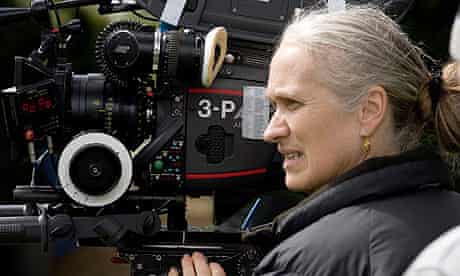 Director Jane Campion behind the camera
On at least least four occasions my wife and I discussed turning it off, but I stubbornly held out for just a glimmer of something interesting to be offered by someone, either from the director or a cast member, but it was not to be. The screenplay was a complete drag; Campion's direction beggared belief as it crawled along at a snail's pace, the score was mind-numbingly dull, and the performances entirely un-memorable. Compared to this movie the snail world closely resembles Formula One racing! My wife and I have been patiently awaiting the arrival of our medals in the mail, for we feel we have earned consideration simply for lasting until the end of this opus. A hundred and twenty-six minutes stolen out of our lives should be compensated for in some way – by someone.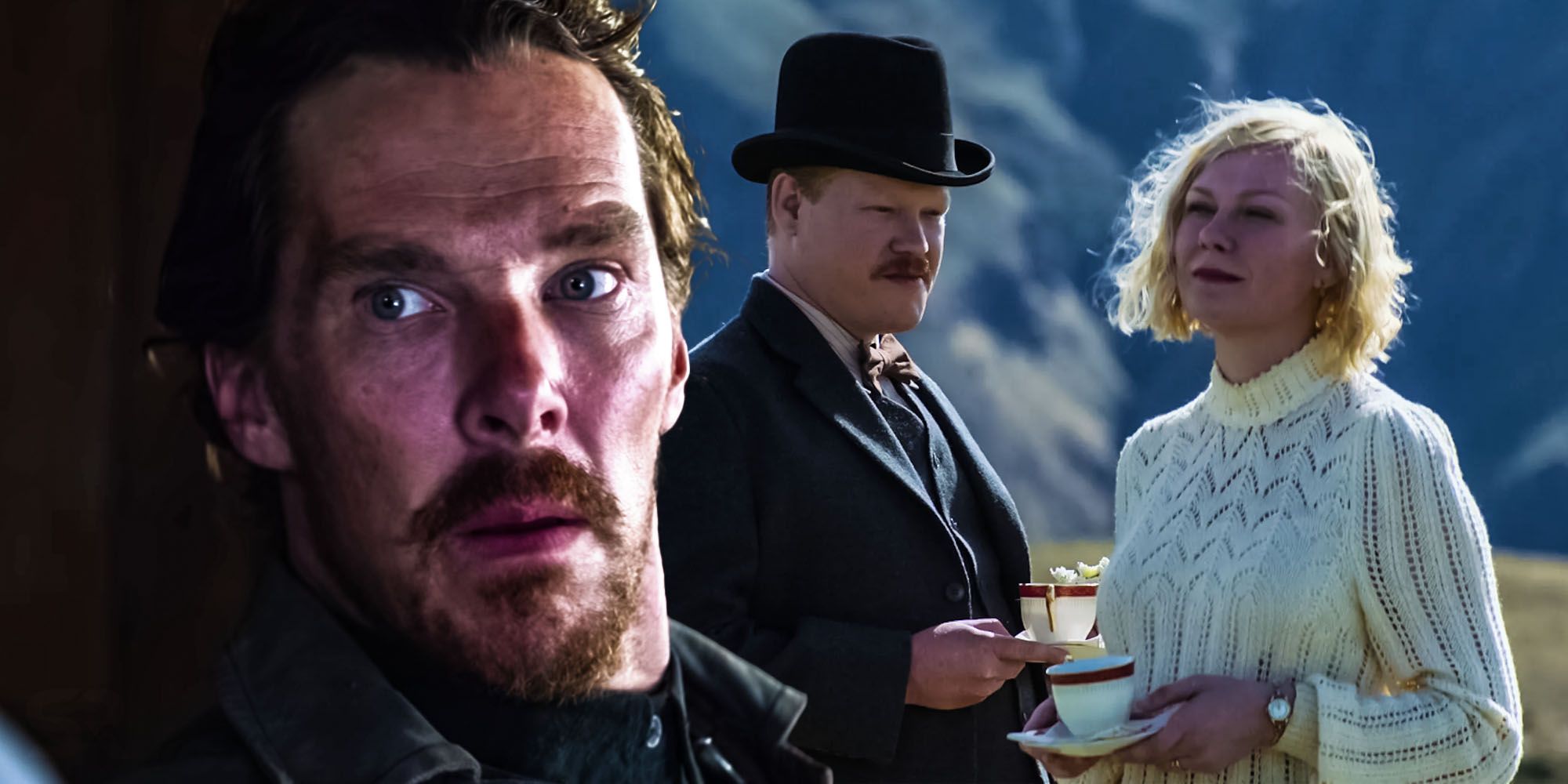 (L to R) Benedict Cumberbatch, Jesse Plemons & Kirsten Dunst
To our utter astonishment we later learned that this exercise in ennui had been nominated – wait for it – for no fewer than twelve Academy Awards. Twelve of them! Clearly the Academy had decided that entertainment value is no longer part of the recipe required for determining what constitutes a good film and what does not. Come to think of it, given some of the winners over the last century or more, perhaps entertainment value has never been a requisite. Below are listed the categories and some of the nominees for The Power of the Dog:
Best Motion Picture of the Year. (Maybe 2021 was considered to be a really weak year)
Best Achievement in Directing – Jane Campion
Best Adapted Screenplay – Jane Campion
Best Original Score – Jonny Greenwood
Best Sound
Best Achievement in Cinematography
Best Achievement in Film Editing
Best Achievement in Production Design
Best Actor in a Leading Role – Benedict Cumberbatch
Best Actress in a Supporting Role – Kirsten Dunst
Best Actor in a Supporting Role – Jesse Plemons
Best Actor in a Supporting Role – Kodi Smit-McPhee
One gets the impression that the director asked the cast to 'downplay' their characters, an expectation that evidently evolved into mass somnambulism – (Cumberbatch appears to have sleepwalked through his performance even more than the others). In a picture riddled with low-points, one in particular stands out, however. Benedict's character takes hold of a bull's testicles at one point and neuters the unfortunate beast before our eyes! It is a revolting and completely unnecessary scene! What a pity that Ms Campion was too young to have directed Lawrence of Arabia back in 1962. Perhaps, if Peter O'Toole had castrated a Turk or two in the massacre scene, (instead of simply stabbing the life out of them), he might have knocked off Gregory Peck's performance as Atticus Finch in To Kill a Mockingbird for the Best Actor Oscar. I guess we will never know.
I lost interest in watching the Academy Awards show years ago, but I may have to tune in this year, if only to see how many successes this monstrosity accumulates. I have always considered 1952's The Greatest Show on Earth to be the worst film to steal the Best Picture Oscar, but if The Power of the Dog wins I shall be compelled to revise my thinking on this. In my opinion, Ms Campion's picture might win 'Best Cinematography' – but that is it! If this movie is representative of the standard of entertainment deemed by the Academy to be at the pinnacle of productions churned out in 2021, I truly lament for the industry as a whole. Surely, the voters cannot reward this movie?
A TIME TO KILL (1996)                 
Tonya Hailey is a twelve year-old African-American girl who is raped, beaten and left for dead by two beer-guzzling rednecks on a road outside the fictional town of Clanton, Mississippi. The girl's father, Carl Lee Hailey, (played by Samuel L. Jackson), convinced no white jury will convict his daughter's assailants, takes the law into his own hands and shoots them to death in front of numerous witnesses. Young lawyer, Jake Brigance, (played by Matthew McConaughey), agrees to defend him. Brigance has help from a law research student, Ellen Roark, (Sandra Bullock) who volunteers her services.
The movie is based on John Grisham's first novel, although the story itself is fiction and is set in 1984. It was in that year that Grisham witnessed at the DeSoto County courthouse in Hernando, the harrowing testimony of a twelve year-old rape victim which inspired him to write this, his first book. The rape itself was perpetrated on two young girls, twelve year-old Marcie Scott and her sixteen year-old sister Julie. Unlike the novel and this movie, however, the victims were actually white and their assailant, Willie Harris, a black man. Grisham considered what might have happened if the girls' father had killed their assailant. By the time he had completed his novel in 1987, the two white victims had been transformed into one black victim.          
Paul Newman turned down the role that would ultimately be played by Donald Sutherland. Like many people, Newman felt uncomfortable with the film's message. The movie was indeed controversial and Grisham was widely accused of using his novel to condone murder. At the time of its release in 1996, A Time to Kill featured just two Academy Award winners – Kevin Spacey and Brenda Fricker. Since then, however, four more members of the cast have joined them as Oscar-winners – Matthew McConaughey, Sandra Bullock, Chris Cooper, and Octavia Spencer. Furthermore, Donald Sutherland received an Honorary Academy Award in 2018, and Samuel L Jackson was similarly honoured in 2022. The movie was completed on a budget of $40 million and grossed $152 million worldwide.