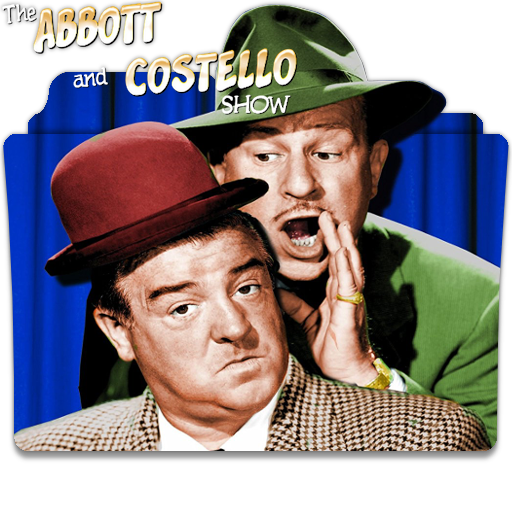 THE ABBOTT & COSTELLO SHOW (1952-4) 52 EPISODES              
Still capitalizing on their enormous success as a movie comedy team, Bud Abbott and Lou Costello starred in their own TV series in which they play a couple of unemployed actors residing at the boarding house run by Mr. Fields at 214 Brookline Avenue. Lou's girlfriend Hillary lives across the hall. The duo regularly used slapstick, puns and gimmicks from their movies in the show. Costello was forever improvising. He was forty-six years old when the series started, yet insisted on doing most of his stunts himself.
In the opening season Bud and Lou had a pet chimpanzee named Bingo, but the animal and Costello took a distinct dislike to each other. When Bingo bit Lou in an episode, he insisted on the chimp being fired. Since it was Lou's company (Television Corp of America) that was producing the series, the animal was gone the next week and never again reappeared. Abbott was happy to work for Lou's company on salary.
Hillary Brooke
Hillary Brooke always called Costello 'Louis', a name that no other character called him; yet she always addressed the other half of the comedy team as 'Mr. Abbott'. The statuesque former photographer's model chose to use a phony British accent to stand her apart from all the other blonde beauties in the business and it worked well for her. She even used it off-screen. In truth, she was a native of Astoria, New York. She retired from acting in 1960 to marry her third husband. The union lasted until his death in 1988. Hillary died at eighty-five in 1999.
MY FRIEND IRMA (1952-4) 39 EPISODES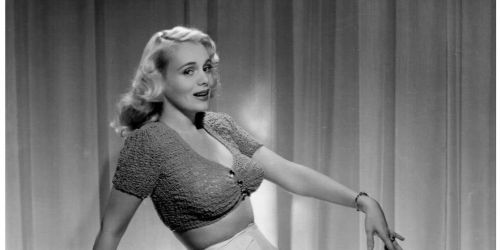 Marie Wilson
Marie Wilson played the lovely, innocent-looking Irma Peterson, a 'dumb-blonde' secretary who lives with her roommate, Jane Stacy, (portrayed by Cathy Lewis), in a run-down Manhattan apartment. During season two, however, Jane moves to Panama and Irma's new roommate, Kay Foster, moves in. She is played by Mary Shipp. Irma's seven year-old nephew Bobby also moves in.
Cathy Lewis & Marie Wilson
Marie benefited from an 'accidental' meeting with director Nick Grinde, when their by then intimate relationship saw him secure her a contract with Warner Brothers in 1935. The contract expired in 1939 and she tried her hand, quite successfully, on the stage for a while. In 1949 she played Irma Peterson in the Martin & Lewis comedy My Friend Irma and most of her kooky characterizations from then onwards were based on her Irma portrayal. She was bitterly disappointed to lose the Billie Dawn role in Born Yesterday (1950) to Judy Holliday, although she would play it in summer stock years later. In 1952 she landed the Irma role in the TV series. Sadly, Marie fell to cancer in 1972. She was only fifty-six.
Mary Shipp
Cathy Lewis spent thirty-five years in show business. At MGM she portrayed (uncredited) the mother of 'Froggie' in the Our Gang series of featurettes. She also sang with the Kay Kyser and Herbie Kay big bands. On the 1961 series Hazel, she also featured as George and Steve Baxter's snobbish sister. Cancer took her a month shy of her fifty-second birthday in November 1968. Pretty Mary Shipp (Kay Foster) had a career that consisted of just fifteen screen credits. It ended after she featured as Lydia Langley in three episodes of The Donna Reed Show (1958-9). A heart attack took her in 1997 at the age of eighty-one.
MISTER PEEPERS (1952-55) 116 EPISODES                
Billed as 'America's favourite science teacher', Mister Peepers is a shy educator at Jefferson Junior High School, who encounters problems on a daily basis but is never outwitted. The show was originally intended as a summer series only for NBC and was not even on the fall schedule at all for 1952. When Doc Corkle bombed out after just three episodes, however, and Mister Peepers scored well with both viewers and critics during its summer run, resulting in NBC receiving thousands of letters in praise of the series, it soon replaced the cancelled show on the schedule.
Wally Cox stars as Robinson J. Peepers, the science teacher. Patricia Benoit, as Nancy Remington, provides the love interest for Peepers, although for quite some time she does not appear to be aware of his attraction to her. In fact, it takes until the April 18th episode in 1954 for him to propose to her. Their marriage episode on May 30 of that year proved to be one of the major television events of 1954. The American TV magazine 'TV Guide' even used the couple's TV wedding on its cover page. Incidentally, Wally wed his first of three wives, Marilyn Gennaro, less than two months after the TV wedding. The union survived for seven years and produced one child.
(L) Tony Randall as history teacher Harvey Weskit
Wally found himself somewhat typecast by the role of mild-mannered, bespectacled Mister Peepers. He continued to get work in both movies and television right up until his early death from a heart attack, in 1973, at the age of forty-eight, however. He starred in a comedy/action series, the short-lived NBC offering, The Adventures of Hiram Holliday that only ran from October 1956 to February 1957. He is best-remembered by game-show fans as a regular panellist on The Hollywood Squares over the last seven years of his life. Wally also provided the voice role for the animated superhero 'Underdog' in the 1964-67 series of that name.
Director James Sheldon cast Tony Randall in what was intended to be a small role in a single episode, but the producer was so impressed with Tony's work that the role as history teacher Harvey Weskit was expanded and he featured in fifty-two episodes as the best friend of Peepers. Randall was actually acting in no fewer than three Broadway shows during the run of Mister Peepers. At one point he worked 365 consecutive days without taking a day off. In the show's pilot, the role of the gym teacher, Frank T. Whip, was played by an uncredited Walter Matthau, but the equally talented Jack Warden landed the permanent role in the series. Just why he was preferred to Matthau is not known.