Michael Crawford
Michael Crawford, before he hit it big on British TV in 1973 as Frank Spencer in Some Mothers Do 'Ave 'Em, performed in theatre as a teenager in the Coventry Rep. One of his earliest bit parts was playing Lucius, servant to Brutus, in Shakespeare's Julius Caesar. Michael and five others were selected as pall-bearers and tasked with slowly circling the stage twice bearing the corpse of the emperor. The actor portraying the dead Caesar was a corpulent fellow who was suffering from both an upset stomach and a severe bout of flatulence. As his pall-bearers laboured on their journey around the stage he suddenly (and loudly) broke wind! Pandemonium ensued as the six pall-bearers gales of laughter quickly spread to the audience. Unable to carry their overweight colleague any farther, they collapsed on the boards in front of the curtain and crawled off. Michael valiantly tried from behind the closed curtain to drag Caesar off-stage by the ankles, but succeeded only in causing the slain Emperor's toga to bunch up over his waist, thereby exposing the actor's multi-coloured Y-fronts. The audience loved every minute of it!
A little girl named Vanessa was suffering from the final stages of leukaemia when Michael agreed to stage a private performance of his musical Barnum for her at a theatre near her hospital ward. He had the theatre staff remove some of the seats to make way for the girl's nurses, hospital bed and family to come and watch. Michael and the entire cast then performed the entire show just for her. Sadly, Vanessa later died of the disease. He still fondly remembers her today.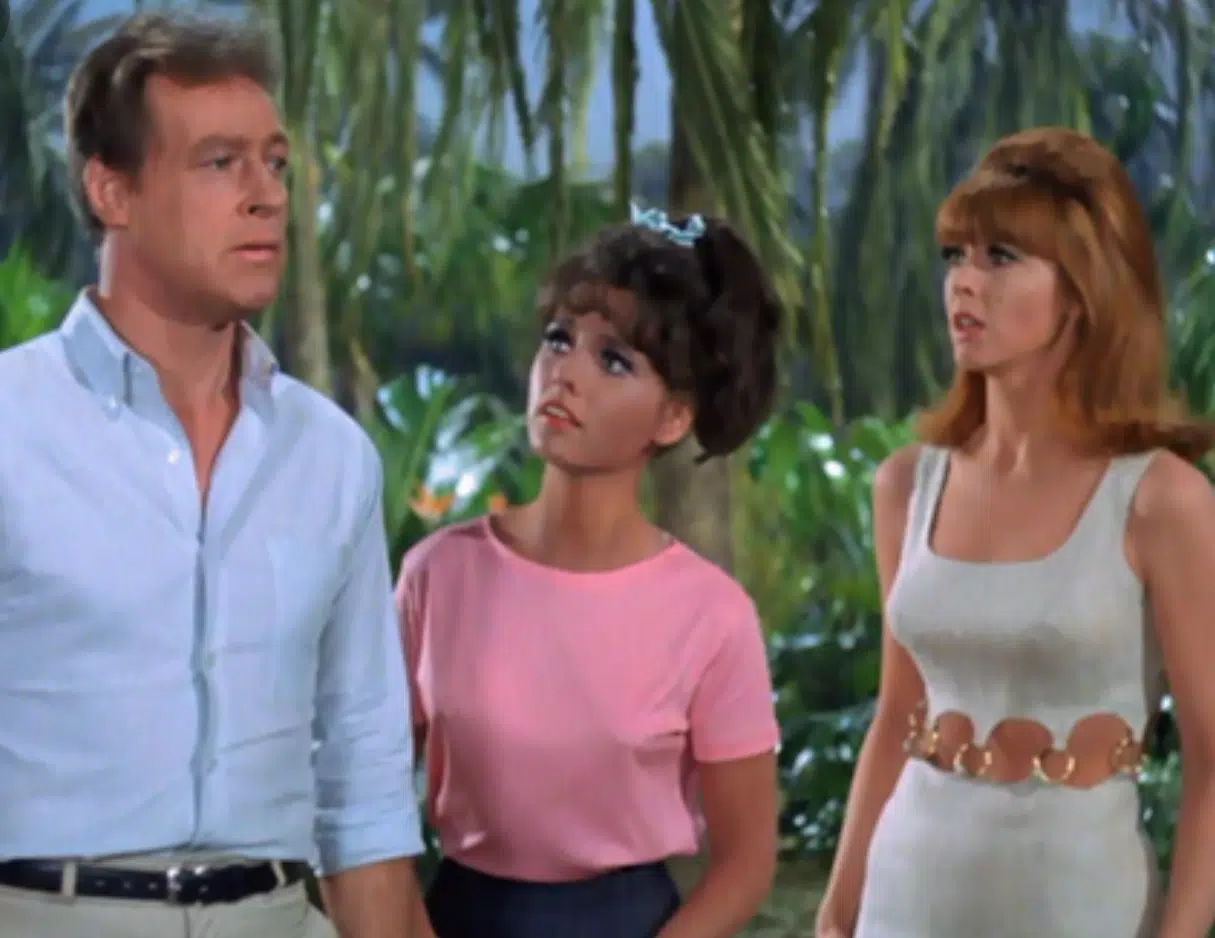 (L to R) Russell Johnson, Dawn Wells & Tina Louise in Gilligan's Island
Tina Louise played Ginger Grant on Gilligan's Island (1964) and made no secret of the fact that she detested the role. Russell Johnson (the Professor) has since said that she had arrived on the set under the mistaken illusion that she was to be the star of the show. She soon learned that she was a supporting player and was infuriated. Consequently, she has rejected offers to appear in various reunion specials ever since, although she did offer to appear in Rescue from Gilligan's Island (1978), but the salary she demanded was far too high. She and Dawn Wells (Mary Ann Summers in the series) never liked each other and had not spoken for years prior to Dawn passing away from COVID in 2020. Tina is now the only surviving member of the cast and is in her 88th year (2022).
No-one could describe nine times married Zsa Zsa Gabor as super intelligent, or someone with anything approaching the IQ of a genius and her passionate campaigning for Richard Nixon in 1968 and again in 1972 tended to emphasize the point. She removed all doubt when she famously described him as 'the most intelligent President of our time.'
Zsa Zsa Gabor in 3 Ring Circus (1954)
Zsa Zsa and Joanne Dru co-starred in 3 Ring Circus (1954) but did not get along and clashed often. After one particular altercation in which Joanne got the better of her, Zsa Zsa vowed to her: 'I'll get even with you if it takes forever.' Joanne replied, 'It probably will, but aren't you rather old to talk about a future?' Ironically, Joanne died in 1996, aged seventy-four. Zsa Zsa outlived her by twenty years, exiting this world in 2016, less than two months shy of her one hundredth birthday! Incidentally, it would take until July 2021 (due to the COVID -19 pandemic travel restrictions), before (as per her request) Zsa Zsa's ashes (75% of them anyway) could be returned to Budapest where they were buried. The rest of her still remains in Los Angeles.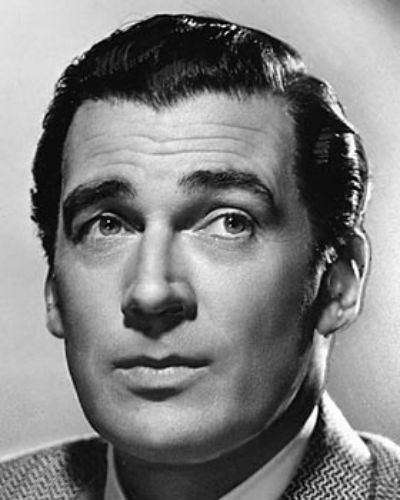 Walter Pidgeon
Paul Jarrico, the producer of Salt of the Earth (1954), found he had been blacklisted during the 'Red Scare' of the mid-1950s. He recalled how actor Walter Pidgeon tried to stop the production of the picture because it was being made by men described as suspected Communists. 'We had started the film in quite a normal fashion', said Jarrico in a 1997 interview, 'until a whistle was blown by Walter Pidgeon, the then President of the Actors Guild, the FBI swung into action, and we found ourselves barred from laboratories, barred from sound studios, barred from any of the normal facilities available to film makers, and we found ourselves hounded by all kinds of denunciations on the floor of Congress and by columnists. The public was told that we were making a new weapon for Russia, that since we were shooting in New Mexico, where you find atom bombs, you find Communists, and every kind of scurrilous attack – vigilante attacks – on us while we were still shooting developed.'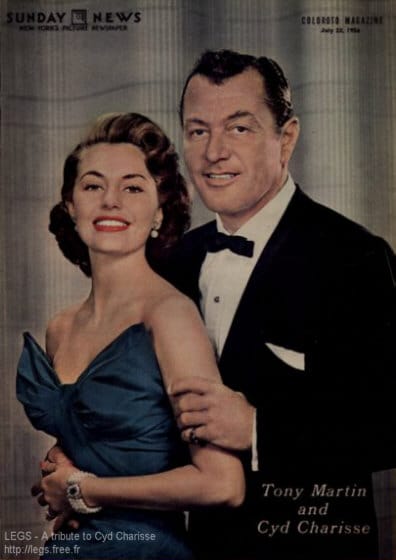 Singer/actor Tony Martin enjoyed a big hit with his 1950 single for RCA Victor titled 'There's No Tomorrow'; a reworking of the Neapolitan ballad 'O Solo Mio'. The song was later an even bigger hit for Elvis Presley under the title 'It's Now or Never'. Tony married twice in his life; the first of which was to singer/actress Alice Faye (1937-41). The second was a sixty-year union with the gorgeous dancer/actress Cyd Charisse, (1948-2008), that ended with her death at eighty-six. Tony lived on until July 2012, passing away six months shy of his 100th birthday.
Craig Stevens & Alexis Smith
Craig Stevens has his niche in television history, courtesy of his portrayal of Peter Gunn in the series of that name (1958-61). For forty-nine years he was married to Canadian-born actress Alexis Smith until her death in 1993 from brain cancer. Despite her starring opposite Errol Flynn in Gentleman Jim (1942) and San Antonio (1945), plus numerous other sound performances throughout the forties, Alexis has never been honoured with a star on the Hollywood Walk of Fame. For that matter, neither has her husband. For her final years she and Craig lived in the West Hollywood home formerly owned by Loretta Young. The living room still had the big white doors that Loretta used for her weekly entrance on her TV show.
Wendell Corey
Sometimes in Hollywood, even funerals are not what they might appear to be. Take, for instance the reading of the eulogy at the 1968 service for actor Wendell Corey. Fifty-four year-old Corey had succumbed to a liver ailment brought on by, as everyone who knew him was well aware, his alcoholism. Kirk Douglas agreed to deliver the eulogy as a kindness to the dead man's widow, Alice. Kirk and Wendell had started out in Hollywood at roughly the same time and often worked together in those early days, but it was an open secret that they truly disliked each other. Douglas especially resented Corey's anti-Semitism and drunkenness.