DOROTHY LAMOUR (1914-96)               
In 1931, at the age of seventeen, Mary Slaton (later to become Dorothy Lamour) was crowned Miss New Orleans. Even as a child she had ambitions; not as an actress but as a singer. After her beauty pageant win, Dorothy headed for Chicago where she started work as an elevator operator. Before long she was the lead vocalist for the Herbie Kay Band. By 1935, she and Kay were husband and wife but the union dissolved inside four years. Her portrayal of Ulah in The Jungle Princess (1936) brought her silver screen fame and the commencement of her image as 'The Sarong Queen'.
Dorothy & husband Herbie Kay
Very early in her career, Dorothy met J Edgar Hoover, director of the Federal Bureau of Investigation (FBI). His biographer, Richard Hack, wrote that the director and Dorothy spent a night together at a Washington DC hotel. When later asked if she and Hoover had been involved in a sexual relationship, Dorothy replied, 'I cannot deny it.' Several books have since named her as the love of Hoover's life, something Dorothy never confirmed nor denied during her lifetime. In her autobiography, My Side of the Road (1980), she does not describe Hoover in detail, referring to him only as 'a lifelong friend.'
Dorothy out on the town with J Edgar Hoover
The ever-sexually active attorney Greg Bautzer began a relationship with Dorothy in 1939, one that progressed to the point where they were engaged to be married until the Second World War intervened. During the years that she criss-crossed the United States selling in excess of $300 million worth of war bonds, Dorothy met Air Force captain and former advertising executive William Ross Howard III. She broke off her engagement to Bautzer and, on April 7, 1943, tied the knot with Captain Howard. Their marriage produced two sons and was a happy one until her husband passed away in 1978. A heart attack took Dorothy eighteen years later at the age of eighty-one.
Dorothy & fiancee Greg Bautzer
Mr. & Mrs. William Ross Howard III
Over the years her name has been linked in several publications with some interesting celebrities, but this writer places little faith in such claims. She probably did what a great many studio contract actresses did – go out on publicity dates with stars. One such star was James Stewart, an actor who seemed to spend much of his life 'being seen' with Hollywood beauties. No doubt he was adored by women everywhere but he also did an awful lot of dating as per studio orders. As for rumours that Dorothy was involved with both Randolph Scott and Cary Grant, well…The two men were lovers for decades and regularly used actresses as studio-endorsed 'beards' for dating purposes in order to throw off the media.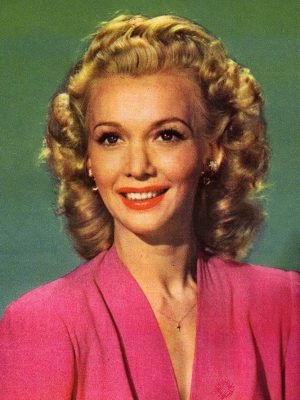 CAROLE LANDIS (1919-48)                                             
Carole Landis was born as Frances Ridste in Wisconsin in 1919, but later chose Carole as her acting Christian name because she was a huge fan of actress Carole Lombard. She married her next door neighbour, Irving Wheeler – twice. She was only fifteen when their first union was quickly annulled by her mother in 1934. Six months later the couple wed again but were only together for three weeks before going their separate ways. Carole was still officially wed to him in 1938 when she became involved with dance director Busby Berkeley. Wheeler (now named Jack Robbins) actually sued Berkeley for $250,000! The suit proved unsuccessful and Carole divorced him in 1939. In June that year Berkeley proposed to Carole but later broke it off.  Throughout her life Carole was unable to conceive because she suffered from endometriosis.
Newlyweds – Carole & Willis Hunt Jr 1940
A brief marriage in July 1940 to yacht salesman Willis Hunt saw Carole walk out on him after just two months together. The man would be stabbed to death in 1970 by his sixth wife, Deannie Best. Her attorney would claim Hunt was 'drunk and unstable' at the time, and had first picked up the butcher knife with which he was later killed. Deannie was acquitted. Carole was dubbed by 20th Century Fox as 'The Ping Girl', a nickname she particularly disliked. Office employees stated that she was studio head Darryl F. Zanuck's 'four o'clock girl'; visiting his office each day at that time for sex. Throughout her short life she searched desperately for genuine love without finding it. Zanuck used her as he used scores of young hopefuls, yet Carole was the one lumbered with the loose reputation. Henry Fonda loathed Zanuck, describing him as, 'a narrow bastard with only two interests in life, making movies and satisfying his cock.' Once Carole chose to end the relationship, Zanuck made certain her career opportunities suffered accordingly.
Carole & husband Captain Thomas Wallace 1943
During World War Two nobody travelled more miles than Carole Landis in the service of her country. She requested opportunities to entertain troops throughout the Pacific and flew thousands of miles to do so. And it almost cost the lady her life when she became gravely ill with amoebic dysentery and malaria in the South Pacific. In London she met and married Captain Thomas Wallace (in January 1943) but the union ended in July 1945. Then there was a broken engagement with producer Gene Markey. In 1945 she married Broadway producer W. Horace Schmidlapp but, once again, the union was troubled and she filed for divorce in May 1948. When Carole's contract with Fox was not renewed in 1946, she attempted suicide for the first time.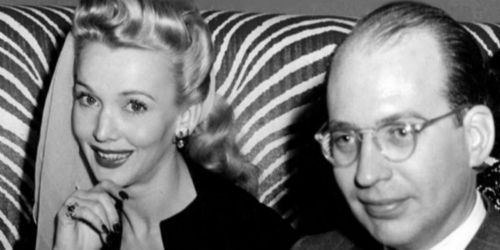 Marriage to Broadway producer W. Horace Schmidlapp
At the time of her death in 1948 she was embroiled in an affair with married British actor Rex Harrison. He is supposed to have discovered her body after she took her own life in her apartment, but there are still doubts about the precise circumstances. Carole may have been pregnant to him as well. She is said to have left a trunk of her love letters to Harrison with friends. He is believed to have burned them (before hastily returning to Britain), but there is no proof of this.
Maureen O'Hara wrote that a lot of people in Hollywood were convinced that Carole and Rex had signed a suicide pact shortly before she went through with her part of the bargain. Then Rex, they say, chickened out. A studio employee was said to have found the note and destroyed it. Well, maybe – but only maybe. It does seem more likely that Harrison (after dining with her at her apartment), told Carole of his intention to end their relationship and return to his wife, actress Lili Palmer. Carole's family have since disputed the 'suicide' verdict handed down by the coroner.
Carole at the peak of her beauty
'A policeman found a note in Carole's clenched hand, and said it contained something highly compromising', said Lilli later. 'He would let us have it for $500. We refused, but he gave it to us anyway. On the note was scrawled, 'The cat has a sore paw. She must go to the vet.' That note says a lot about Carole's nature. Utterly despondent and about to end her life, she still found time to ask that her cat's problems be addressed! Harrison later described Carole as a 'close friend' of his and of his wife. Both attended the funeral.