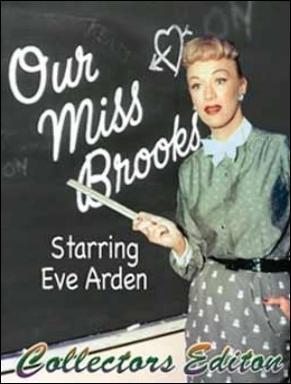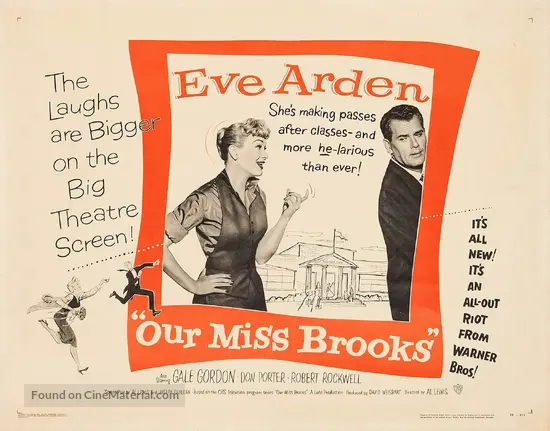 OUR MISS BROOKS (1952-6) 130 EPISODES                 
Connie Brooks (played by Eve Arden) teaches English at Madison High School. She gets a ride to school each day from student Walter Denton, portrayed by a very young Richard Crenna, long before he became Sly Stallone's C.O. in the Rambo pictures. She clashes with the school's principal Osgood Conklin (Gale Gordon), and has the hots for the shy, somewhat sappy, biology teacher Philip Boynton, played by Robert Rockwell. Connie's attraction to Boynton remains just that for the duration of the series. Eve Arden, incidentally, was a dozen years older than Rockwell when the series was aired.
Richard Crenna as student Walter Denton
Like a great many early TV series, Our Miss Brooks started life as a radio program. Even after the show became a hit on television, several cast members continued to play their roles on both radio and TV. Richard Crenna was one principle player who brought his character from radio to the TV series – squeaky voice and all. In fact, although he played a high school student, he was twenty-five years old when the television series debuted. Crenna was a fine actor, probably best-remembered today for his recurring role as Colonel Samuel Trautman, John J. Rambo's commanding officer in the 'Rambo' franchise; but he was far better than that. He was almost forty when he was cast as Captain Collins in the 1966 feature The Sand Pebbles, alongside Steve McQueen. He gave a superb performance, one that was passed over at the Academy Awards. Pancreatic cancer claimed him at seventy-six, in 2003.
Gale Gordon & Eve Arden
Eve Arden was making around $200,000 a year on the show which, in today's money, equates to more than two million dollars per annum. She arrived in this world as Eunice Quedens in 1908. At sixteen she quit school and joined a stock company and, by the mid-thirties, had appeared in a few films, having changed her name to Eve Arden, a decision she reached whilst looking over some cosmetics and coming across the names 'Evening in Paris' and 'Elizabeth Arden'. A minor role in Stage Door (1937) was expanded into the wise-cracking, fast-talking friend to the lead; and she would play virtually the same character for most of her career. It was as if Our Miss Brooks was hand-crafted for her style of acting. Eve and Gale Gordon were the only cast members to appear in all 130 episodes. She was wed to an actor named Brooks West, from 1952 until his death in 1984. Fans of Anatomy of a Murder (1959) may recall him playing the local prosecutor going up against defense attorney Jimmie Stewart. Eve died six years after her husband, in 1990, aged eighty-two.
If Lucille Ball had gotten her wish, Gale Gordon would have played Fred Mertz in I Love Lucy, the part eventually going to William Frawley. Gale had enjoyed a long association with Lucy over many years and appeared in the final episode of Life with Lucy. When Joseph Kearns died suddenly, he was replaced in the role of Mr. Wilson by Gale in the popular TV series Dennis the Menace. In Our Miss Brooks, he portrayed the principal at Madison High, Osgood Conklin. He gained quite a reputation on the sets of his movies and TV series for his ability to execute cartwheels at the drop of a hat, even after reaching his senior years. Gale passed away from lung cancer in 1995. He was eighty-nine.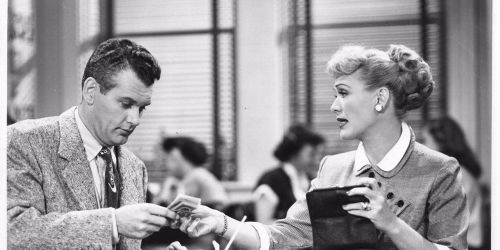 Robert Rockwell as Philip Boynton
Robert Rockwell became identified with his role as the biology teacher Philip Boynton to such an extent that he often worried it was costing him more dramatic film roles. However, he appeared in over three hundred and fifty television shows over fifty years, as well as more than two hundred voiceovers in commercials. When Our Miss Brooks began life as a radio show, he replaced Jeff Chandler in the Boynton role prior to the show's transition to TV. Cancer also claimed him at eighty-six in 20.
THE ADVENTURES OF OZZIE AND HARRIET (1952-66) 436 EPISODES              
Real life husband and wife, Ozzie and Harriet Nelson, bring up their two boys, David and Ricky, on the show, in one of television's longest running family sitcoms. In fact, it was only surpassed by an episode of The Simpsons in 2004. When the series kicked off, David was nearly sixteen and Ricky around twelve years of age. Both were grown men by the time the last of the four hundred and thirty-six episodes aired.
Pop idol Ricky Nelson
During those years Ricky emerged as a genuine pop idol, racking up a string of major hit songs as the show progressed. Initially, there was quite an outcry against young Ricky becoming a pop singer. This was the beginning of Rock & Roll and many adult Americans felt the music was at the root of juvenile delinquency! The boy's parents trod warily when he sang on the show for the first time, cautiously explaining their reasons for giving Ricky an opportunity to sing. In time, America (especially the youth) accepted Ricky as a respected pop singer with hits such as 'Hello Mary Lou', 'Poor Little Fool', and Traveling Man' topping the charts. When his real life girlfriend, Kristen, became part of the show, Ozzie insisted the couple marry quickly when it was learned (away from the set) that she was pregnant to Ricky. Pregnancies out of marriage were considered scandalous at the time, so the early birth of the baby was explained as a premature birth. Kristin was the older sister of actor Mark Harmon (Special Agent Leroy Gibbs in 426 episodes of NCIS). She wed Ricky in 1963 (divorced in 1982 – four children). Kristin appeared in 30 episodes of the show from 1963-66.
Ricky & wife Kristin Harmon
The Nelsons' house shown in exterior shots was the family's actual home in the Hollywood Hills above Hollywood Boulevard. Cast members often broke the 'fourth wall' during the show, turning directly to the audience to offer a joke or an aside related to the action taking place. After the series concluded in 1966, it was replaced by Batman. Not only were the Nelsons the stars of the series, Ozzie also directed most of its episodes. The eldest son, David, also directed a few later episodes. The show started as a radio program, with actors portraying the two boys who were very young. When it was decided to move the series to television, Ozzie managed to wrangle a guaranteed salary for a minimum of ten seasons, even if the show was cancelled prior to that. The Adventures of Ozzie and Harriet was a lot of innocent fun; no crude jokes, no profanity, and no sexual situations.