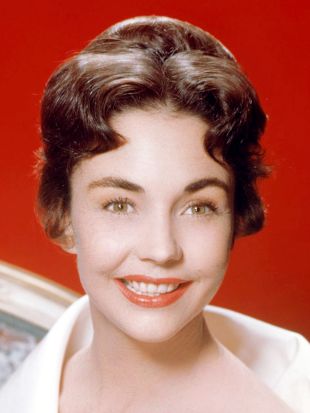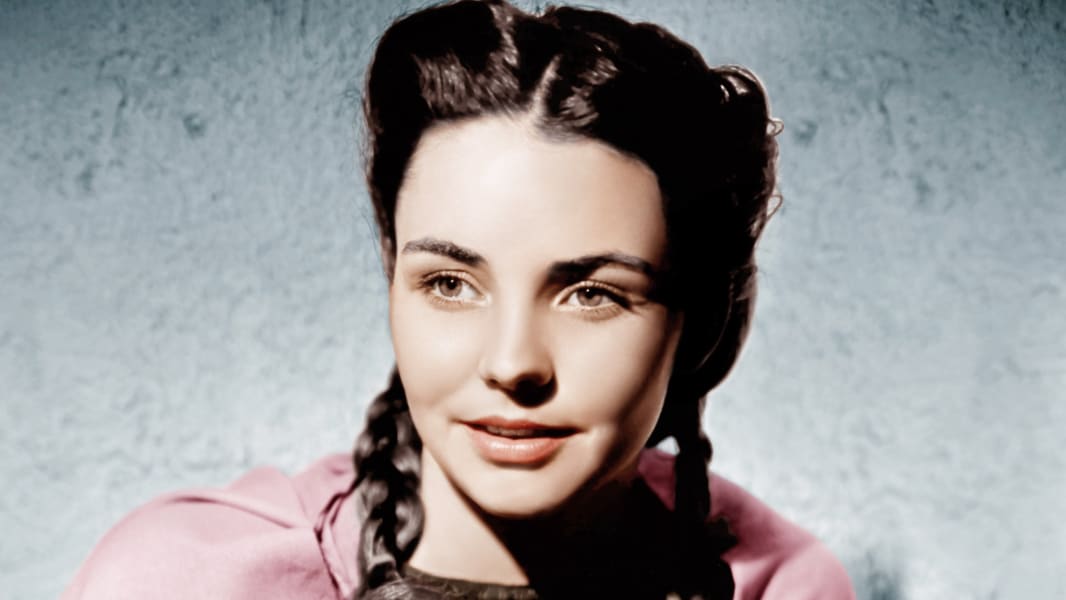 JENNIFER JONES (1919-2009)                
She was born Phyllis Isley in 1919, and met her first husband, Robert Walker, when they played Elizabeth and Robert Browning in the American Academy of Dramatic Arts production of 'The Barretts of Wimpole Street'. The love-struck couple married and honey-mooned in 1939 before moving to Hollywood, where they landed a few bit roles in movies. In 1940, they were residing in New York City when their son, Robert Jr., arrived. His brother, Michael, entered this world a year later.
Phyllis and Bob lived in a small room in Greenwich Village (sixteen dollars a month rent), and played on stage together at the Cherry Lane Theatre in the Village for a paltry fifty cents a performance! But they were happy and in love. Even so, Phyllis was all set to give up on her acting when she was invited by producer David O Selznick to read for the lead in a stage play titled 'Claudia'. The part ultimately went to Dorothy McGuire, but the producer was clearly taken with the dark good looks of Miss Isley. He convinced her to change her name to Jennifer Jones then and there, and earmarked her for the lead in his upcoming movie Song of Bernadette. She tested successfully and was immediately placed under personal contract to him. The role and her performance brought her an Oscar and instant stardom. The following year, Bob was signed by MGM and, in 1943, the role as a young, naïve sailor in Bataan made him a star also. But by then their marriage was doomed.
Jennifer & her estranged husband Robert Walker in Since You Went Away (1944)
Jennifer had fallen head over heels for Selznick and was soon sleeping with him. Walker never got over losing his wife to the powerful mogul. 'I was only 19 but even then I knew there could never be anyone else', he said. 'I didn't consider myself good enough for her. She made me want to be somebody. We were happy. Or at least I thought we were. My personal life has been completely wrecked by Selznick's obsession for my wife. What can you do to fight such a powerful man?' Selznick was seventeen years Jennifer's senior and was now masterminding her career. He was also a married man. His wife, Irene, the daughter of MGM mogul Louis B. Mayer, left him in 1945, partly over his open affair with his new protégé. That same year Jennifer and Bob divorced.
With husband #2 – David O Selznick
After Song of Bernadette, Selznick cast her as Claudette Colbert's eldest daughter, Jane Hilton, in Since You Went Away (1944), and cast her estranged husband as her lover in the film! Walker was borrowed from MGM for the role and Selznick was given a producer's credit for writing the screenplay. Jennifer's nomination for Best Supporting Actress was unsuccessful, even though she had more screen-time than any previous 'Supporting' nominee.
Mary Jennifer Selznick (1954-76)
Walker's death in August 1951, officially from 'an adverse reaction to prescription drugs', raised eyebrows (he was only 33), but talk of him committing suicide over the loss of his wife to Selznick is unconfirmed and dubious at best. He had had emotional issues since childhood. Friends felt he was unstable his entire life. Jennifer's marriage to Selznick took place in 1949 and lasted until his death in 1965, at which time her career, too, began to peter out. In 1967, she made headlines after swallowing a bottle of sleeping pills and being discovered, near death, lying in the surf at Malibu. Further tragedy struck in 1976 when her 21 year-old daughter, Mary Jennifer Selznick, jumped to her death from a building in West Los Angeles.
With #3 – Norton Simon
Jennifer met her third husband, Norton Simon, when he tried to buy the portrait of her that had been used in her film Portrait of Jennie (1948). Their romance began at a high society party. Norton was a multi-millionaire industrialist, philanthropist and art collector; their union following a courtship of only three weeks. The groom had spent more than $100 million on his collection, which is now housed at the Norton Simon Museum. He died in 1993 at age 86. As for Jennifer, she lived on until December 2009 before dying from natural causes aged 90.
SHIRLEY JONES (1934- )             
Strictly speaking, the prodigiously talented (not to mention wholesome) Shirley has no place in a volume titled 'Affairs to Remember'. As far as I am aware she has never indulged in affairs or one-night-stands, as seems to be more the norm than the opposite in the movie business. Indeed, the lady has had only two men in her life (as far as can be ascertained) and she married both of them. Nevertheless, her story is an interesting one that should be told.
With Gordon MacRae in Oklahoma! (1955)
Born Shirley Mae Jones in Charleroi, Pennsylvania, (named for Shirley Temple, at a time when the little 'Curly Top' was at the peak of her fame), she was singing at six and being formally trained at twelve. In 1952, she finished first runner-up in the Miss Pennsylvania beauty pageant. In 1954, she was twenty years old when her folks took her to New York to audition for Rogers & Hammerstein. Within a week she had become the only actor ever signed to a personal contract by them! Quite an achievement. After starring in Oklahoma! (1955) and Carousel (1956), she toured Europe in the stage production of the former, where she met and fell in love with actor Jack Cassidy. In her autobiography she wrote that she lost her virginity to him at twenty-one during the Italian leg of the tour. They were wed in 1956 and she became step-mother to his six year-old son David.
Shirley with husband Jack & step-son David Cassidy
Shirley fell pregnant to Jack soon after the wedding, but her agent persuaded her to have an abortion as her career had just taken off. She refers to the termination as 'the biggest regret of my life.' Two years later she gave birth to Shaun Cassidy, followed by Patrick in 1960 and Ryan in 1966. When David turned twenty he became part of the cast of her TV show The Partridge Family. He later admitted to having had a genuine crush on his real life step-mother during the series. He passed away in 2017, aged 67, from complications of dementia and organ failure.
Both Shirley and David confirmed reports that Jack was bi-sexual and had many same sex encounters throughout his life; among them an intimate relationship with songwriter Cole Porter. Jack also suffered from bi-polar disorder and was an alcoholic who displayed increasingly erratic behaviour as he got older. In 1974, neighbours witnessed him watering his front lawn, stark naked in the middle of the afternoon. On another occasion Shirley found him sitting in a corner, again stark naked, reading a book. 'I know now that I'm Christ', he calmly informed her. Unable to come to terms with his condition, Shirley agreed to a divorce in 1975.
Speaking of the end of their marriage, she had this to say: 'Jack had a breakdown. A real mental breakdown. He was manic depressive. But he was the one that wanted the divorce. He thought it was better for me and the kids. I never did. I would have hung in there. Jack wanted to come back to me right up to the day he died. And I wanted him. That's the terrible part.' On December 11, 1976, he asked her over for drinks, but when she declined his invitation he dined alone at an Italian restaurant, then returned to his apartment quite drunk. A few hours later he fell asleep on his couch with a lit cigarette between his fingers. It dropped onto the couch and started a fire. His remains were discovered in the morning by firefighters.
Shirley & husband Marty Ingels
In 1977, Shirley wed funny man Marty Ingels who played Arch Fenster of TV's I'm Dickens, He's Fenster in the early sixties. He worked occasionally while they were married, but Shirley was the family breadwinner. They separated in 1999 for six months, but then got back together again. They were still together when a massive heart attack claimed him in 2015. Shirley probably summed up her second marriage quite accurately when she said: 'Much as I love Marty and have a wonderful relationship – I'd say this with Marty sitting here, I'm not sure if Jack were alive I'd be married to Marty.' Shirley turned eighty-six in March 2020.