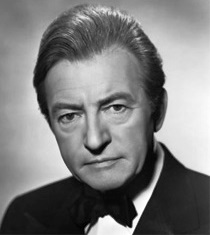 CLAUDE RAINS (1889-1967)                   
The actor who was immortalized as Captain Louis Renault in the 1942 classic film Casablanca, was born in London in 1889. This meant, of course, that he was almost fifty years old when hostilities broke out between Britain and Germany in September 1939, far too old for active service in WW2. Besides, he had already seen active service in the First World War. In 1913, he had accepted an opportunity to perform on the New York stage, but the following year he returned to England and enlisted in the London Scottish Regiment. Caught in a gas attack, Rains suffered permanent loss of 90% of vision in his right eye, yet by war's end he had risen from private to the rank of captain.
Rains in World War One
He became a citizen of the United States in 1939 and during his life he married six times. His fourth wife, Frances Propper, gave him his only child, a daughter born in 1938. Rains was nominated for a Best Supporting Actor Academy Award on four occasions – all unsuccessfully – for Mr. Smith Goes to Washington (1939), Casablanca (1943), Mr. Skeffington (1944) and Notorious (1946). He died from an abdominal hemorrhage in May 1967 at the age of 77.
TONY RANDALL (1920 – 2004)              
He was born Arthur Rosenberg, to a Jewish family in Tulsa, Oklahoma in 1920. After attending Northwestern University for a year he moved to New York City in the mid-thirties and studied at the Neighborhood Playhouse School of the Theatre under Sanford Meisner and choreographer Martha Graham. He acted on stage as Anthony Randall, working with the likes of Ethel Barrymore and Jane Cowl, before World War Two came along and he enlisted in the United States Army Signal Corps. After refusing an entertainment assignment with Special Services, he rose to the rank of lieutenant and worked at the Signal Intelligence Service until war's end.
Tony & second wife Heather Harlan
Today, he is remembered for his hilarious supporting roles in four films starring Rock Hudson and Doris Day in the late fifties and early sixties, but it was his portrayal of Felix Unger in television's The Odd Couple, playing opposite Jack Klugman in a series that ran for five years, that made him a household name across the globe. He was married to Florence Gibbs for 54 years (1938 until her death in 1992), before tying the knot a second time in 1995 at the age of 75. His bride, Heather Harlan, was 25 and their union produced two children, a daughter born in 1997 and a son in 1998. Randall passed away from pneumonia in 2004 aged 84.
BASIL RATHBONE (1892-1967)                          
It might surprise some readers to learn that Basil Rathbone, the quintessential 'English bad guy in movies', was actually born in Johannesburg, South Africa in 1892. His father was from Liverpool and his mother South African. Three years after his birth the family was forced to flee South Africa because the Boers suspected his father of spying for the British at a time when both nations were heading towards what would become known to history as the Second Boer War (1899-1902), the first one having been waged almost twenty years earlier (1880-81). The Rathbone family fled to England where young Basil was raised.
Rathbone during WW1
At school he excelled at sports, particularly at fencing, but soon developed an interest in acting. By 1911, he was landing bit parts in theatre and within two years had progressed to juvenile leads. But then World War One intervened. Enlisting in the British Army in 1915 via the Derby Scheme, he later served as a 2nd Lieutenant in the King's Liverpool Scottish Regiment, an outfit that would boast the services of future movie stars Claude Rains, Herbert Marshall and Ronald Colman at various points in the conflict. In time, working as an intelligence officer, he eventually attained the rank of captain.
Basil (R) & Errol Flynn in Captain Blood (1935)
Basil was twice the British Army Fencing Champion, a skill he would later bring to his movie roles opposite the likes of Errol Flynn, Tyrone Power and others. In June 1918, his younger brother John was killed in action and his death affected Basil deeply. Possibly, out of feelings of guilt or a need for vengeance, he persuaded his superiors to allow him to scout enemy positions in daylight rather than at night. Camouflaged in foliage, he conducted highly dangerous reconnaissance missions that resulted in the Military Cross being bestowed upon him for 'conspicuous daring and resource on patrol.' As soon as the Second World War erupted, he wrote to the War Office in London offering his services. The hero of the First World War received a lengthy letter in response that informed him, politely but firmly, that he was 'too old'. After a lengthy and successful career on the stage and in movies, Basil Rathbone died suddenly of a heart attack in New York City in 1967 at the age of 75.
RONALD REAGAN (1911-2004)                                                              
When the future 40th President of the United States (1981-9) was called up in April '42, it was quickly decided that his poor eyesight disqualified him from active duty. Long before that, back in 1933 when he was 22, he had enlisted in the Fourteenth Cavalry Reserve, stationed at Fort Dodge, Iowa. He never would get anywhere near the front, but the Reagan war mythology began from the moment he was called up. 'So long, Button Nose', wrote one fan magazine, referring to his farewell to wife, actress Jane Wyman. The article went on: 'He said it with a grin, she smiled in reply. But when Ronnie went riding off to battle, he left his heart behind him – with Button Nose.' The problem with this heroic tripe was that Ronnie never 'rode off to battle' anywhere. In fact, he never left California and came home every night! Indeed, when 'Button Nose' went selling war bonds in a few southern states, she was farther from home than her husband ever was.
Ronald Reagan – December 1941
Reagan hated to fly. Fortunately, he did not have to. Because of 'severe hearing loss' he was not permitted any flying duties. In 1968, I wrote to him at the Governor's mansion in Sacramento, California, and specifically asked about his war record. He wrote back, proudly informing me that he was in the 7th Cavalry (an armored division) during the war. Not so. Records indicate that before the war he was a cavalry officer in the Nebraska National Guard. Perhaps, he was referring to that or, perhaps, he was telling me of his 1933 enlistment in the 14th Cavalry Reserve in Iowa. Perhaps, he felt that the 7th Cavalry and its historical connection to George Armstrong Custer sounded more romantic (and dangerous) than the obscure 14th. There was no mention of him having never left the states throughout the conflict. On May 15, 1942, he successfully applied to the Army Air Force (AAF) for a transfer to AAF Public Relations and subsequently to the First Motion Picture Unit at Culver City, California. In July 1943 he was promoted to captain.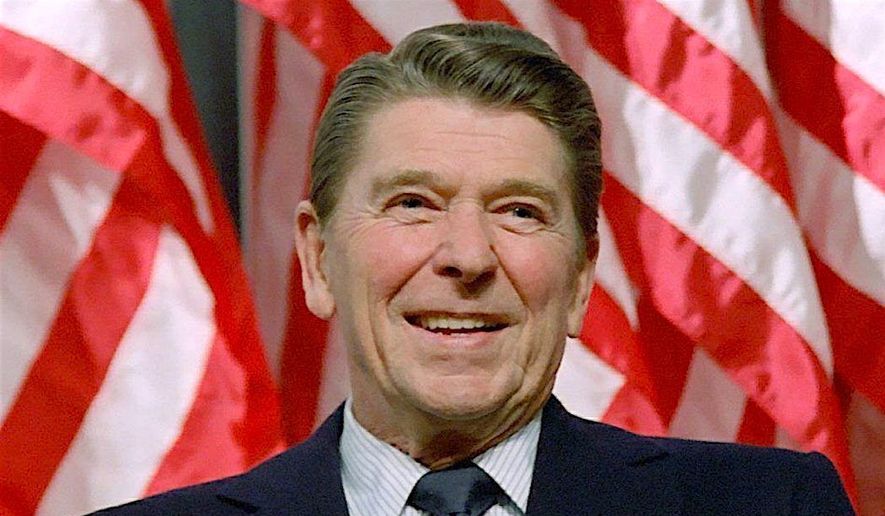 President Ronald Reagan
The fact was, Ronnie spent WW2 as a 'Culver City Commando'. During that time the seed was sewn for his future anti-Communist stance. His simplistic position was soon known – if you were not openly anti-Communist, you must be pro – Communist. By 1948, minus his wife Jane Wyman, he had embarked upon his road to Washington and the rest is history. I should emphasize here that only a small percentage of those who were enlisted in the armies of the world in WW2 actually saw action. Reagan was just one of many, but his PR people seemed to enhance his exploits at every opportunity, a policy that must surely have alienated many of those who did the fighting for real. Reagan lived to the age of 93 before a combination of pneumonia and Alzheimer's disease took him in 2004.