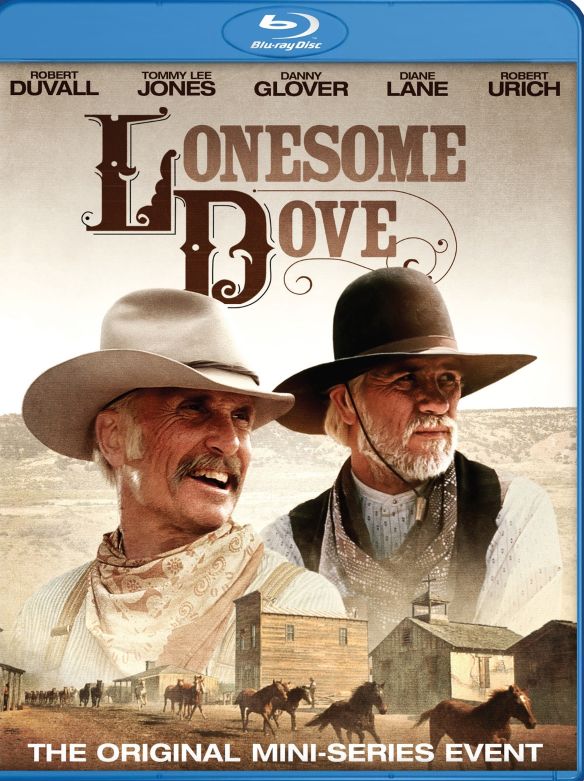 LONESOME DOVE (1989) – A Mini-Series masterpiece.
Larry McMurtry wrote Lonesome Dove in 1971 as a movie script. His intention was for John Wayne to play Woodrow Call, James Stewart to portray Gus McCrae, and Henry Fonda to hold down the Jake Spoon role. Hot director Peter Bogdanovich was to be at the helm. However, Wayne turned it down and the entire project was shelved. Ten years passed and McMurtry bought back the script, turned it into book, and decided to attempt to sell it as a mini-series. In 1985, writer/producer Suzanne De Passe purchased the rights to his yet unpublished novel for $50,000 and set about selling it as a mini-series. Every major network in America turned it down. But then the novel was published, became a best-seller and won a Pulitzer Prize. Suddenly, those same networks did a re-think and contacted her. They all wanted to make the mini-series!
Anjelica Huston as Clara Allen
At first, Tommy Lee Jones was to play Gus and Robert Duvall would play Woodrow, but after he read the novel Duvall wanted the Gus role and the two stars switched. Back when Bogdanovich was going to direct, his then girlfriend Cybill Shepherd was to play the female lead role of Lorena Wood but, by 1988, Shepherd and Bogdanovich were no longer an item and he was no longer the hot director he was back in '71. The beautiful (and highly talented) Diane Lane became Lorena instead. Australian-born Simon Wincer was picked to direct and would win a Primetime Emmy Award for his efforts. The series itself was also nominated for an Emmy yet, despite its massive critical acclaim and enormous viewer rating, lost out to the greatly inferior War and Remembrance. That series' star was Bob Mitchum who was almost seventy. Most captains in the US Navy during the Second World War were aged in their thirties or forties, yet his character, Victor Henry, finds himself placed in command of a cruiser following the Japanese attack on Pearl Harbor!
Robert Duvall (Gus) & Diane Lane (Lorena)
McMurtry always claimed that the characters in his novel had no basis in historical fact, but that seems highly unlikely. The characters Augustus 'Gus' McCrae and Woodrow Call appear to have been modelled after cattlemen Oliver Loving and Charles Goodnight. Oliver died of sepsis (blood poisoning) from Indian arrows (just like Gus), and Charles promised to tote his body back to Texas for burial, just as Woodrow does for Gus. The two real life friends had an escaped slave named Bose Ikard as their scout. When he died, Charles carved a sign for his grave, just as Woodrow does for scout Joshua Deets (Danny Glover) in the series.
Robert Duvall (Gus & Tommy Lee Jones (Woodrow)
Lonesome Dove is rich in diverse characters, each one superbly portrayed by some of America's finest character actors. The cast contains four Oscar-winners – Robert Duvall, Tommy Lee Jones, Anjelica Huston and Chris Cooper, plus two Oscar-nominees – Frederic Forrest and Diane Lane. It also sports a score of supporting players of genuine quality such as – Danny Glover, Robert Urich, D.B. Sweeney, Ricky Schroder, Glenne Headley, Barry Corbin, Steve Buscemi, Gavan O'Herlihy, to name but a few.
Ricky Schroder as Newt
The series is replete with wonderful moments that transport the viewer back to the American West of the 1870s with dialogue that depicts the nature, values and mind-set of the people of those times. For instance, there is a scene in a cattle town when a man whips young Newt (Ricky Schroder) and is set upon by an incensed Woodrow. After beating the man almost to death with a branding iron, Call climbs back aboard his horse and matter-of-factly explains his actions to the horrified on-lookers: 'I hate rude behaviour in a man. I won't tolerate it.' The character of Woodrow Call is defined in that one scene.
Danny Glover as Joshua Deets
Frederic Forrest is the personification of evil in his portrayal of the renegade Indian named Blue Duck. Captured at last, he is about to be hanged when his old adversary Woodrow takes time out from his journey to Texas to visit him in jail. Woodrow is toting the remains of his old friend Gus, another of Blue Duck's long-time enemies, back to Texas for burial. The two enemies exchange pleasantries in the jailhouse:
Frederic Forrest as Blue Duck
Blue Duck: 'I hear you brought your stinkin' old friend to watch my hangin'.'
Woodrow: 'He'd have enjoyed it.'
Blue Duck: 'I should've killed him when I had a chance.'
Woodrow: 'I'd have killed you for it.'
Blue Duck (laughing): 'I stole horses, burned farms, killed men, raped women and stole children all over your territory and until today, you never even got a good look at me! I don't think you would've killed me. Rangers! I 'spect I'll kill a passel of you yet.'
Gavan O'Herlihy as Dan Suggs
Former Texas Ranger and long-time friend Jake Spoon (Robert Urich) falls in with a vicious gang that randomly commit cold-blooded murder for no apparent reason. The three Suggs brothers. Dan, Roy and Eddie, along with Jake, are captured by Woodrow, Gus, Newt and others from the cattle drive who prepare to hang all four. The evil leader Dan Suggs is to be first:
Gus: 'Say goodbye to your brothers; I expect you got them into this.'
Dan Suggs: 'The hell with them! They ain't worth a red piss; and neither are you!'
Gus: 'I'll say this, Suggs; you're the kind of man it's a pleasure to hang. If all you can talk is guff, you can talk it to the Devil.' (Gus hits Dan's horse with a quirt, causing his brother Eddie's horse to bolt as well.)
Roy Suggs: 'I shoulda been second. Little Eddie was the youngest.'
Gus: 'I apologize, son; I never meant to scare his horse like that. Well, are you ready?'
Roy Suggs (shrugs): 'Yeah, I guess so.'
Robert Urich as Jake Spoon
Jake tries to explain that he really tried to leave the gang, to which Gus replies: 'A man that will go along with five killin's is taking his leaving awful slow.'
Jake Spoon: 'Well, hell, boys. I'd damn sight rather be hung by my friends than by a bunch o' damn strangers. Newt…Well, adios, boys. Hope you won't hold it against me. Never meant no harm.' (Then he spurs his horse, hanging himself, before Gus can do it).
D.B. Sweeney as Dish
Woodrow and Gus ride into San Antonio, Texas, past the ruins of the Alamo in the background, reminiscing as they trot along about the Texas of their youth:
Woodrow: 'Things sure have changed since the last time I was here. It's all growed up.'
Gus: 'Of course it's growed up, Woodrow. We killed all the Indians and bandits so the bankers could move in.'
Woodrow: 'Only a fool would want the Indians back.'
Gus: 'Has it ever occurred to you, Woodrow; that all the work we done was for the bankers? Hell, we killed off everybody made this country interestin'!'
Barry Corbin (L) as Roscoe Brown & Chris Cooper (R) as July Johnson
Lonesome Dove is quite simply an almost perfect piece of movie-making. Unfortunately, it spawned several sequels and extra series that were not even remotely as good. So be wary of them.