ELIZABETH HURLEY (1965 – )  
Elizabeth Jane Hurley hails from Basingstoke, Hampshire and is today (2020) in her mid-fifties and still very beautiful. After joining a punk rock band called 'Vestel Virgins', and a lengthy flirtation with the punk rock look (pink hair and nose ring), she altered her image to get work in the theatre and made her screen debut in Aria (1987). Her Hollywood movie debut took place in 1992 when she landed a role in Wesley Snipes' action drama Passenger 57. In 1994, cosmetics giant Estee Lauder signed 29 year-old Liz as a model. She would be replaced as the face of Estee Lauder in 2001, but would continue to work with the company non-exclusively.
(L) Liz in her punk rock days
In 2006, Liz hosted the British reality show Project Catwalk on Sky 1, but it failed to fire. The former editor of Cosmopolitan magazine, Marcelle D'Argy Smith, described her as 'witheringly boring', adding: 'Liz Hurley has no fashion experience whatsoever. She wore a dress and has appeared at premieres.' After one series she was dropped for being 'too wooden'. Life has not been unkind to Liz Hurley. As of March 2020, her nett worth is estimated at around $40 million.
Young Liz changes her look
Liz was seventeen and Thomas Arklie twenty-three when they met in a Basingstoke pub in 1982. He was a marine who had just returned from the Falklands War. Before long they were seemingly wildly in love, friends claimed, and even Liz's penchant for swimming topless in mixed company, not to mention her disdain for wearing nickers on the dance floor, seemed not to faze him. 'Liz never wore nickers', her girlfriends remembered, 'even when she wore little leather mini-skirts.' At times she and Tom liked to have sex in empty railway carriages, enjoying the reactions of passengers in full carriages passing in the opposite direction. A youth with the decidedly unappealing name of 'Septic' was Liz's punk lover when she was a spikey-haired, bolt through her nose, punk teenager. In fact, she was dating him and Arklie simultaneously. The relationship fizzled out in 1985.
Liz, and that dress – with Hugh Grant in LA 1994
Liz and actor Hugh Grant met in 1987, when they were up for roles in Rowing in the Wind, and have remained friends long after the romance wore off. Enemies of Liz argue that she slept with him for 13 years without falling pregnant, yet 'accidentally' found herself with child to billionaire Stephen Bing after just a few months. Hugh's much-publicized encounter with Los Angeles hooker Divine Brown in his car in June 1995, actually boosted his career and, by association, Liz's as well. He would later say that Liz had stopped fancying him 'years ago', hence his indiscretion. Back in 1994, when he was enjoying the phenomenal success of his movie Four Weddings and a Funeral, Liz accompanied him to the Los Angeles premiere in a plunging black Versace dress, held together with gold safety pins, which gained her instant media attention.
Tom Sizemore
The American actor Tom Sizemore fanned the flames of the rumour mill when he responded to tales of him seducing Liz in 1990 by describing her as 'a sexy, wonderful girl.' He also claimed that she had slept with Bill Clinton, but later admitted he made up the story. Did he also invent his own affair with her? Who knows? Three years later, while boyfriend Hugh was away in Australia making Sirens (1993), Liz embarked upon a presumably torrid sexual relationship with restaurateur William Annesley in 1992, a man who just happened to be the boyfriend of her supposed best friend Charlotte Lewis. The restaurateur delighted in detailing his romps with Liz to News of the World in 2000 – for a price, of course. 'She's supple and athletic', he told an interviewer, 'and what she doesn't know about sex isn't worth knowing', adding that, she liked to wear a tiny red bra and nickers for 'lust-filled' sessions with him. According to Annesley, there were 'spanking sessions' as well with the 'insatiable Liz'. He was reported to have received a cool thirty thousand pounds for his disclosures!
With Teddy Forstmann 1998
In 1998, 33 year-old Lord John Somerset, son of the Duke of Beaufort, dated Liz for a while. He was the former husband of Princess Diana's close friend Cosima Somerset. That same year Teddy Forstmann, a fifty-eight year old, balding, grey-haired billionaire, began warming the thirty-three year old beauty's bed. He would send his private plane to whisk her away to his luxury home in the Rockies and happily lavish money on her. They ceased seeing each other in 2000.
Dating Dennis Leary 2000
Early 2000 saw Liz dating German socialite Sven Ley; then she was seen holidaying on the Italian Isle of Capri with photographer Santo D'Orazio. Her relationship with American comedian/actor Dennis Leary must have been more than a fling because she would later make him one of the godparents to her son by billionaire Stephen Bing. Bing and Liz had been dating for several months prior to the public announcement in December 2000 that the Grant – Hurley relationship was no more. When she fell pregnant, Bing refused to accept Liz's decision to keep the baby, demanding she have an abortion instead. She refused, so he insisted on a DNA paternity test to prove beyond doubt that he was the father. He was and Liz became a mother at 36.
Liz & Stephen Bing
In an attempt to maintain the high moral ground and to ward off accusations of 'gold-digging', Liz publicly declined Bing's offer of financial assistance to raise the boy. Nevertheless, the billionaire immediately began depositing a hundred thousand pounds a year in Damian's bank account, so the boy will soon receive a 1.8 million pounds nest-egg on his 18th birthday in 2020. The young man has seven godparents – Hugh Grant, Heath Ledger, Denis Leary, Elton John and David Furnish, Patsy Kensit and Henry Dent Brocklehurst.
Before he met Liz, Bing had lived for nine years at the exclusive Hotel Bel-Air in Los Angeles, forking out a cool $2,500 per night – meals and tips not included! 'Money is simply not an option with him', said Liz. 'I was completely loyal and faithful to Stephen throughout this time', she added proudly, 'as, indeed, he assured me he was to me.' Interestingly, when he was vigorously denying paternity, Bing described their involvement as 'a brief, non-exclusive relationship'. One of them was being less than candid. His Hollywood conquests, by the way, are said to have included Sharon Stone, Farrah Fawcett, Uma Thurman, Alana Hamilton – and Liz. Not for nothing has he been labelled 'The Star Fucker'.
Koo Stark's former husband, Tim Jefferies, supposedly had a brief 'encounter' with Liz early in 2001, and she was photographed dating Canadian basketball star Steve Nash, then singer Bryan Adams, in the summer. At a Long Island charity polo match someone took a couple of interesting snapshots. One showed Liz kissing and cuddling handsome New Yorker Mark Reynolds; another group shot featured her standing alongside Reynolds, Stephen Bing and Dennis Leary! Liz and three lovers past and present.
Mr. & Mrs. Arun Nayer 2003
Thirty-eight year-old Liz met her husband Arun Nayar in February 2003 when he was still somebody else's husband. Heir to a textile fortune, the Indian-German multi-millionaire owned a penthouse in Bombay's most exclusive area and had been living apart from his Italian-born model wife Valentina. 'I know him and he is an obnoxious and arrogant brat', declared Bombay newspaper columnist Shoba De when commenting on Nayar in the Daily Mail. Liz clearly judged him more favourably because she married him in 2007. The bride's wedding gown was designed (not surprisingly) by Donatella Versace. The union, nonetheless, officially ended in June 2011, Liz citing the virtually meaningless 'unreasonable behaviour' as sufficient grounds for divorce.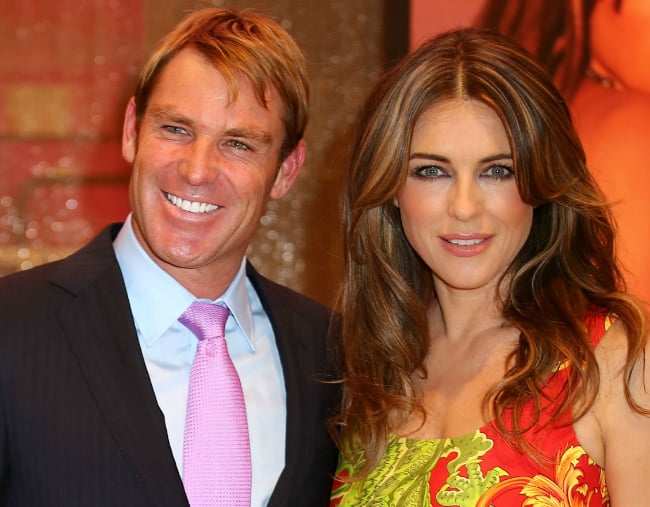 Liz & Australian cricket icon Shane Warne
The legendary Australian cricket star Shane Warne seemed all set to wed Liz when they announced their engagement in October 2011, three months after Liz and Nayar had officially divorced, but their much-publicized romance had collapsed by December 2013. Both parties claimed their heavy work schedules were the cause of the break-up, but friends vowed that Warne had become disgruntled with Liz inviting former beau Hugh Grant to stay over at her home whenever Shane was away. A possible reconciliation was torpedoed just two days later when, according to Liz, Warne spent four hours in a hotel room with lingerie tycoon Michelle Mone. He denied this ever happened.
'I have always been attracted to Australians and Australia', Liz confessed. Then again, she has also said the same thing about Indians and India, and the Irish and Ireland. Tycoon wildlife photographer David Yarrow entered her life in 2014 after she had permanently parted from Warne, but that did not last either. In her fifty-second year Liz again 'found love' when she became romantically involved with an Italian property tycoon named Niccolo Barattieri Di San Pietro, who promptly dumped Lady Kitty Spencer (the late Princess Diana's niece) for her in June 2017.