ONCE UPON A TIME IN…HOLLYWOOD (2019)
This Quentin Tarantino film can best be described as a revisionist-fictional tale of a created Hollywood star and his best friend/stuntman/ gopher; a tale that culminates in a thoroughly preposterous, concocted climax that takes place right next door to a residence that, in reality, was the scene of one of America's most heinous crimes. It is 1969 and fading star Rick Dalton (Leonardo DiCaprio) is endeavouring to salvage his career with the help of his bosom buddy, stuntman Cliff Booth (Brad Pitt). Rick and his Italian movie star wife live next door to Roman Polanski and his wife Sharon Tate, who reside at 10050 Cielo Drive, Los Angeles. However, if you expect to see the Manson Family killers slaughtering the occupants at 10050 Cielo, you will be (thankfully) disappointed, for this 162 minute picture stops short of that. Indeed, a whole new outcome to that fateful night completes this odd film.
           (L) Margot Robbie portraying Sharon Tate (R)
The picture gives us a lot of historically accurate detail leading up to that tragic night. The connection between hairdresser Jay Sebring (Emile Hirsch) and Sharon Tate (Margot Robbie) is explained in one scene at Hugh Hefner's Playboy Mansion, by Homeland star Damian Lewis, portraying Steve McQueen. That scene, incidentally, was set in February 1969, but Hefner did not purchase the place and make it into the Playboy Mansion until 1971. We also see Sharon greet English actress Joanna Pettet, (played by Bruce Willis and Demi Moore's daughter Rumer Willis), at her home on August 8, 1969 and enjoys lunch with her. Joanna cannot stay, however, and leaves in the afternoon. This being a Tarantino film, everybody and his dog wanted to be in it, so there is no shortage of cameos by past and present 'names'. Former child star Dakota Fanning, for example, plays Lynette 'Squeaky' Fromme, the Manson Family member who would be sentenced to life imprisonment for attempting to assassinate President Gerald Ford in 1975. She was paroled in August 2009, after serving thirty-four years.
          (L) Nicholas Hammond portraying Sam Wanamaker (R)
Actor/director Sam Wanamaker is portrayed by none other than Nicholas Hammond whose greatest claim to cinematic fame was undoubtedly his role as Friedrich, one of the von Trapp children, in The Sound of Music (1965). Al Pacino, Kurt Russell, Bruce Dern, James Remar and Luke Perry all get a run. So does eighty-one year old Brenda Vaccara. Burt Reynolds was signed to play George Spahn but passed away before his scenes could be shot. Bruce Dern replaced him. The off-screen narrator's voice you hear belongs to Kurt Russell. Margaret Qualley (Pussycat) is Andie MacDowell's daughter; Maya Hawke (Flowerchild aka Linda Kasabian) is the daughter of Uma Thurman and Ethan Hawke;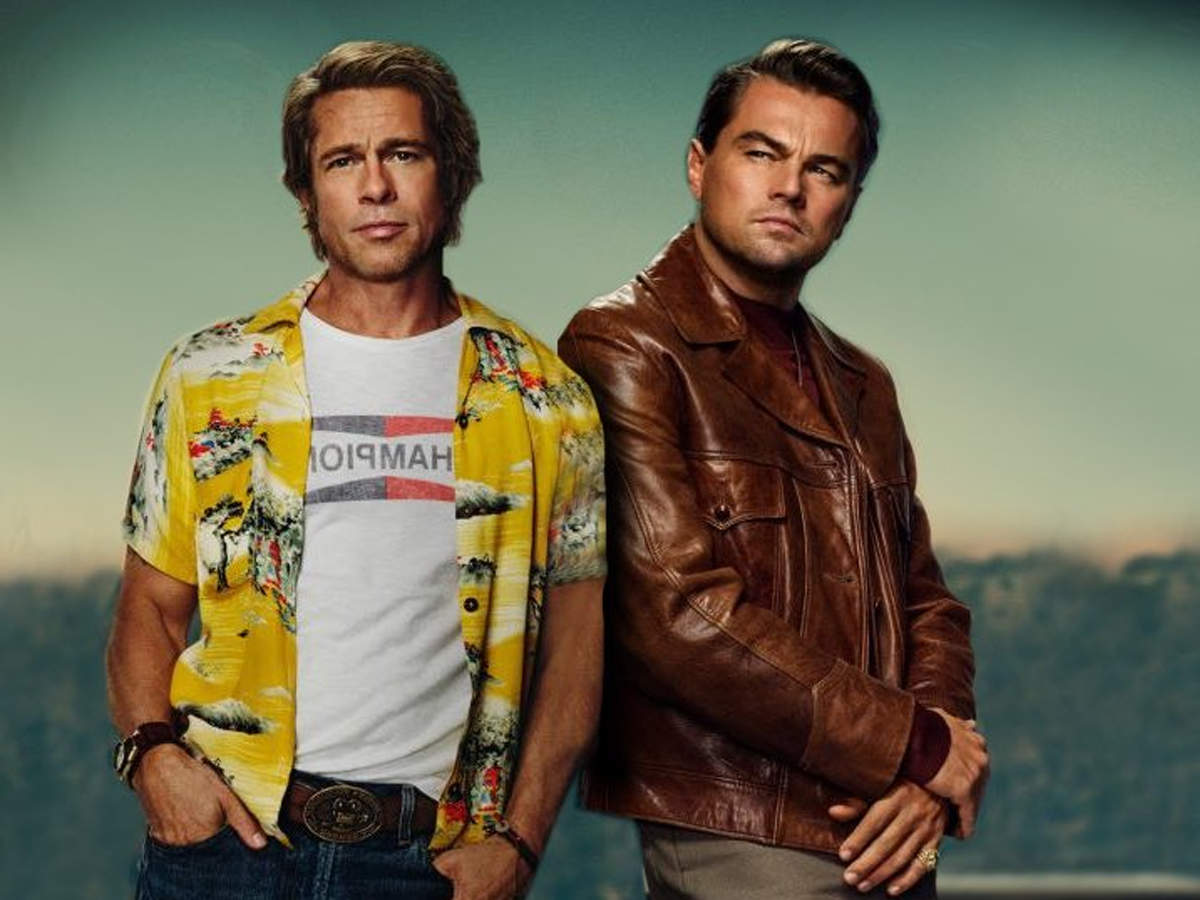 Brad Pitt as Cliff Booth & Leo DiCaprio as Rick Dalton
The Maltese Falcon seen in the book store visited by Sharon is actually the one used in the 1941 film of that name. It now belongs to Leonardo DiCaprio. The hippie who knifes the tyre and is confronted by Cliff is supposed to be real life character Steve 'Clem' Grogan, a nasty piece of work who was one of the killers of Donald 'Shorty' Shea, a ranch hand employed by George Spahn. The unfortunate man had attempted to warn George about the Manson Family and was consequently murdered by them. In 1977, Grogan agreed to show police where several of Shea's body parts had been buried.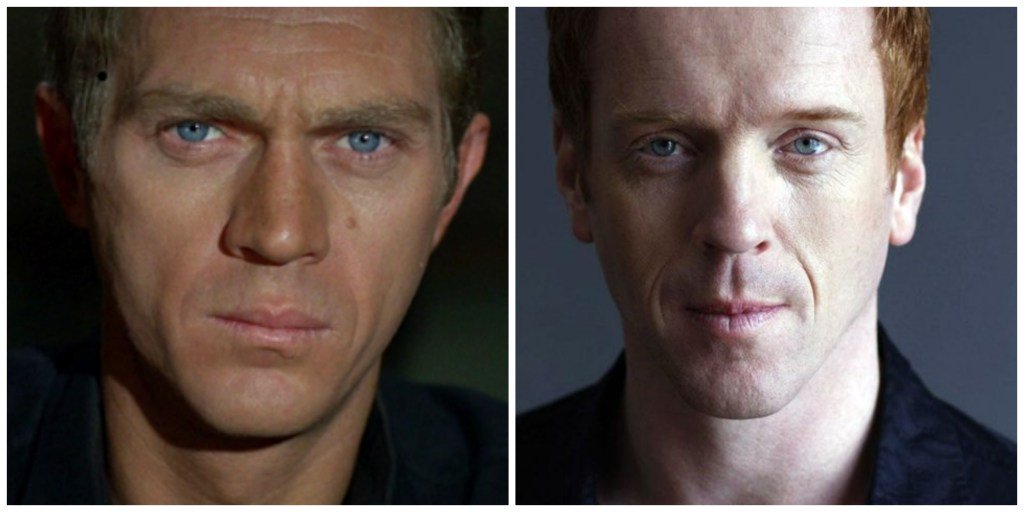 (L) Steve McQueen portrayed by Damian Lewis (R)
Steve McQueen was one of the names at the top of Manson's hit List of celebrities to be murdered. He was supposed to be at Sharon's place for dinner that fateful evening but he picked up a hitch-hiker and spent the night with her at a hotel. When Charles Manson appears at the Polanski house and asks after Terry and Candy, he is referring to Doris Day's son Terry Melcher and his live-in girlfriend at that time, actress Candice Bergen. (Mark Lindsay, lead singer for Paul Revere and the Raiders, was a room-mate of Terry and Candy for a while). Melcher was a record producer and had turned down Manson for a recording contract. Manson also mentions Dennis Wilson of The Beachboys whom he also knew. For a while it was mistakenly believed that Manson ordered his gang to kill Melcher because he had refused him a recording contract, but that was not the case.  Aware that Melcher and Bergen no longer resided at 10050 Cielo Drive, he simply told his killers to murder everyone they found at that address. And they did.
Actor James Stacy starred as Johnny Madrid Lancer in the series Lancer (1968-70). On 27 September 1973, he and girlfriend Claire Cox were aboard his motor cycle in the Hollywood Hills when they were struck by a drunk driver's car. Claire was killed and Stacy lost his left arm and left leg. Shannon Lee, daughter of martial arts legend Bruce Lee, was most disappointed in the way her father was portrayed as an arrogant blowhard full of hot air in this picture. The Chinese were equally unimpressed, demanding the sequence be either altered or cut before they would allow the movie to be released in China. Tarantino flatly refused to bow to their demands. NBA superstar Kareem Abdul-Jabbar was a friend of the late Bruce Lee and he, too, was angry about the way his pal had been depicted.
For the climax, Tarantino tossed his history book out the window and had the Manson killers invade Rick's house instead of Sharon's. The four 'family' members involved in the attack are shown to be Tex Watson, Squeaky Fromme, Susan Atkins and Linda Kasabian. Kasabian gets cold feet and drives off while the other three break in and attack Cliff and his dog. In real life, of course, the four who attacked the Tate home were Watson, Atkins, Kasabian and Patricia Krenwinkel. Kasabian stayed with the car as lookout, the others killed five people including Miss Tate. Tarantino's ending is pure fiction.
           Victims of the Manson Gang
During the actual murder of Sharon, Jay Sebring, Wojciech Frykowski, Abigail Folger and Steven Parent, Kasabian waited at the car, thereby taking no part in the actual killings. She was the only Manson family member who had a license to drive a motor vehicle, so she drove on the Tate murder spree and on the LaBianca pne the next evening. When she witnessed Frykowski's murder outside the house, Kasabian claimed she wanted to drive away but was too scared to do so in case her child back at the Spahn Ranch would be harmed.
Poor Sharon, eight and a half months pregnant, was stabbed sixteen times, apparently by Watson and Atkins. Any one of five of those wounds would have been fatal. Sixty-one year old Atkins was still in prison when she died from brain cancer in 2009. She had been denied parole fourteen times, and her request for compassionate release was also denied. Krenwinkel was imprisoned in 1971 and is still there, having been denied parole fourteen times also, most recently in 2017. Charles 'Tex' Watson has been denied parole seventeen times, the most recent in 2016.  In prison, this cold-blooded killer claims he has become a 'born-again Christian! Nobody's buying it. As for Manson, he died in prison in 2017 from respiratory failure and colon cancer. After 1997, he refused to attend any of his parole hearings.
Linda Kasabian was offered immunity from prosecution in exchange for turning state's evidence. She testified at each of the trials and was the only member of the Manson Family to show regret or compassion for the victims and their families. When shown horrendous photographs of Sharon's body, she broke down and wept while Atkins and the others laughed. Manson kept drawing his finger across his throat whilst staring at her as she testified. She received full immunity despite being both a driver and lookout at both killing sprees. She is still alive today and in her 70th year (as of March 2020).