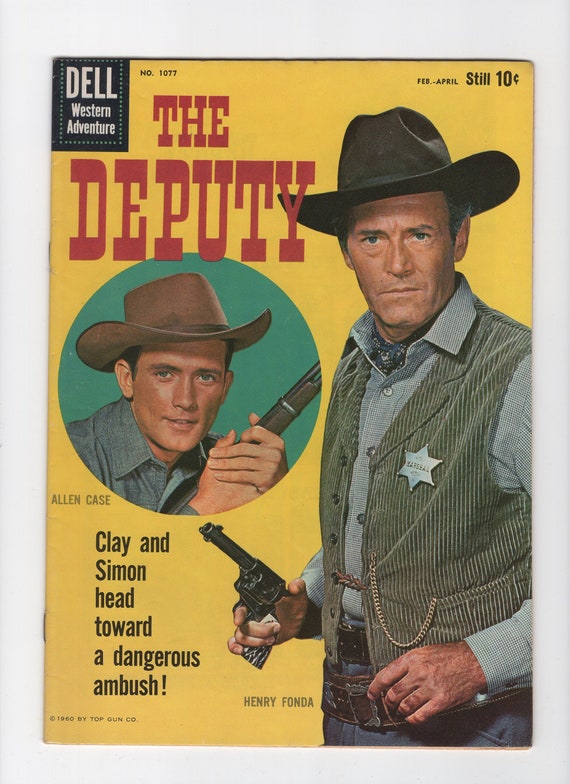 THE DEPUTY (1959-61) 76 EPISODES                                       
This short-lived series starred screen legend Henry Fonda, not in the title role, however, but as Chief Marshal Simon Fry of Silver City in the 1880s. Allen Case plays Deputy Clay McCord who keeps order while Fry is out of town. Fonda's contract enabled him to shoot all of his sequences at the start of each season, leaving him the time to pursue his film and theatre careers as well. And therein lay the main reason for the series failing to catch on with the viewing public. People initially tuned in to watch Fonda, only to discover that Case occupied the screen far more than him.
Many of the episodes use very brief footage of Fonda as they focus on Deputy McCord. Indeed, Fonda is an integral part of only six first season episodes and thirteen in season two. The rest of the episodes see him shown briefly at the commencement and conclusion only, although he narrates most of them. To make matters even worse, the McCord character abhors violence and refuses to use his gun, believing that weapons are the cause of all the violence on the frontier. Not surprisingly, this does not sit well with TV audiences who expect gunplay in their westerns. The series is set in the American West, of course, yet the producers choose to have an electric guitar play frequently in each episode, particularly in montage sequences featuring Fry and McCord on horseback. It is an anachronism that simply does not fit the series.
Allen Case was an accomplished singer who appeared in a small role in the movie version of Damn Yankees (1958). His screen career, apart from that, was entirely television and not a very distinguished one at that. In fact, The Deputy proved to be the highlight of his short career. While it was on the air, however, he recorded an album of songs on Columbia that did reasonably well. Sadly, he died from a heart attack at fifty-one while on vacation in Truckee, California in 1986.
DESTRY (1964) 13 EPISODES                              
Harrison Destry is the son of legendary (but fictional) lawman Tom Destry, and portrayed by John Gavin in this series that comprises just thirteen episodes screened over a solitary season. Framed for a crime he did not commit, Harrison drifts around trying to salvage his reputation, in search of the men who actually committed the crime. It sounds like pretty serious stuff, but the series is quite light-hearted, much like the enormously popular Maverick which was screening around that time.
Destry aired on ABC from February 14, 1964 until May 8, 1964, and was assigned the broadcast time slot of the recently cancelled 77 Sunset Strip. Gavin had recently been signed to a contract by Universal, a studio that churned out forty pictures a year. Almost immediately, the bottom fell out of the studio system and he found himself starring in a TV series for which he was ill-prepared. He believed the departure of the studio executive who had commissioned the show brought about its speedy cancellation.
DICK POWELL'S ZANE GREY THEATRE (1956-61) 146 EPISODES           
Zane Grey was actor Dick Powell's favourite author. Before Powell's Four Star Production Company began making this series, he obtained the rights to all Grey's novels. Every one of them. This probably explains why none of his stories have been filmed since. Powell's partners at Four Star Productions, Charles Boyer, David Niven and Ida Lupino, were content to act in a few episodes while leaving the running of the series to him. The series ran on CBS and had a kind of 'weekly playhouse' format, rather than that of a proper western series. Initially, only stories by Grey were used, each featuring a star or two of considerable magnitude. Powell himself played in fifteen of the episodes and hosted the entire series. Eventually, sources other than Grey had to be utilized, mainly because many of his novels were simply too long to be fitted into the series' thirty-minute per episode time-slot. Zane Grey Theatre was unique for its time because it was the only western anthology on television during the fifties. Anthologies were popular on early TV because they were the equivalent of today's tele-movies and many stars were keen to appear in them
EMPIRE (1962-4) 33 EPISODES                           
Empire was an ambitious modern-day western that hit TV screens in 1962 and lasted for thirty-three episodes until it was cancelled in 1964. It starred forty-one year-old Richard Egan as ranch manager Jim Redigo, and newcomer, twenty-two year-old Ryan O'Neal, two years before he gained worldwide recognition as Rodney Harrington in ABC's Peyton Place. He plays Tai Garrett and Terry Moore is his thirty-three year-old sister Connie who has an early romantic interest in Redigo. Anne Seymour co-stars as the ranch matriarch Lucia. Both characters were removed at mid-season when the series had a name change to Redigo. The explanation was that Lucia had died and a grief-stricken Connie had consequently left the ranch. Two new characters, Chuck Davis (Warren Vanders) and Paul Moreno (Charles Bronson) were added about half-way through the season. By the second season O'Neal and Bronson were also gone, replaced by new characters played by Roger Davis and Elena Verdugo
(L to R) Ryan O'Neal, Terry Moore & Richard Egan
The most interesting of all these players (from a personal history point of view) is undoubtedly the vivacious Terry Moore. The first of her six husbands was the eccentric billionaire playboy Howard Hughes. After his death, she claimed they had secretly wed on a yacht in international waters off the coast of Mexico back in October 1949 when she was not quite twenty-one. Terry also claimed they had never divorced, despite the fact that she had married two of her other 'husbands' while still hitched to Hughes. He died in April 1976, so they had been husband and wife for more than twenty-six years. In 1984, his estate paid her an undisclosed settlement. Her sixth husband passed away in 2001 and Terry, now in her nineties, lives quietly in Santa Monica.