DOLORES MORAN (1926-82)                                                                              
Dolores was one of those actresses whose private life proved to be far more interesting than her film career. The extremely well-endowed Californian beauty was signed to a seven-year contract at Warner Bros at the age of sixteen (with her parents' full consent) in 1942. The studio immediately promoted the brunette (now-turned platinum blonde) as a World War Two pin-up and she was extremely popular, appearing on the cover of Yank, The Army Weekly, regularly from then until 1944. 'Flying Tiger' pilots in the Asian theatre even tagged her as their 'Tiger Girl'. She would also appear twice a week doing tap routines in army camp shows throughout her first year at Warner Bros.
It was Warner Bros. that conceived the idea of making a movie of the Hollywood Canteen phenomenon. It would be a multi-studio production (just like the actual canteen), featuring stars from rival studios Fox, Paramount, MGM, Columbia, Universal and a couple of minor outfits. However, other studios baulked at having their performers appear, even though profits were reportedly earmarked for the war effort, and chose not to support the plan. So Warner Bros. turned the picture, titled Hollywood Canteen, into a one-studio affair. Dolores briefly appeared as herself in the film.
The Hollywood Canteen was, perhaps, not quite as harmonious an enterprise as has often been mooted. Marlene Dietrich's daughter, Maria Riva, often cited an incident involving her mother and Hedy Lamarr that took place at the canteen one evening. The two German-born stars were busy washing dishes when the co-founder of the establishment, Bette Davis, walked in. Bette was heard to snap, 'get those two krauts out of the kitchen!' Was it spoken in jest? With Bette it was sometimes hard to tell.
(L to R) Howard Hawks, Bogart, Dolores & Walter Brennan – on the set of To Have and Have Not (1944)
Dolores was initially given a large supporting role in Howard Hawks' production To Have and Have Not (1944). She was led to believe this would be her big career break, but it was not to be. In spite of her having an affair with Hawks at the time, he down-sized the role in order to beef up that of newcomer Lauren Bacall. It appears that Hawks had bedded Dolores in a fit of jealousy because Bacall had fallen for co-star Humphrey Bogart. By the time the director realized that Bacall and Bogart were a serious item, he had irretrievably built up Lauren's part at the expense of Dolores's. Prior to her affair with Hawks, Dolores was intimately involved with Mickey Rooney following his divorce from Ava Gardner in 1943. In 1946, she wed producer Benedict Bogeaus and gave him a son before they divorced in 1962. Dolores's career had gone nowhere by the time cancer claimed her twenty years later at the age of 56.
KENNETH MORE (1914-82)                                                                                                                                
More tried unsuccessfully to join the RAF but failed the medical test for equilibrium. The Royal Navy turned him down as well, simply because there were many more applicants than there were positions available. 'I left feeling very puzzled and disappointed', he later wrote. 'I thought they would be welcoming men into the services, but it wasn't like that at all. I just thought that defending my country was more important than being an actor, and I wanted to join the Navy because my father had been in the Navy.'
He managed to be accepted as an ambulance driver, but even that was short-lived. In the spring of 1940, however, he joined the crew of a Defensively Equipped Merchant Ship which eventually led him to the Royal Naval Volunteer Reserve (RNVR), where he served on the light cruiser HMS Aurora as a Watch-Keeping Officer. Later still, he served as a Fighter Directions Officer aboard the aircraft carrier HMS Victorious. He saw action aboard both vessels.
In his second autobiography titled More or Less (1978), More wrote of a recurring dream he had since childhood, one in which something akin to a giant wasp kept descending towards him. During the war a German Stuka dive-bomber descended upon him in just such a manner. He never had that dream again. The most affable star of such wonderful films as, Reach for the Sky (1956), A Night to Remember (1958), and Sink the Bismarck! (1960), was diagnosed with a rare form of Parkinson's disease in the 1970s and made his last film in 1980. The disease took him in 1982 at the age of 67.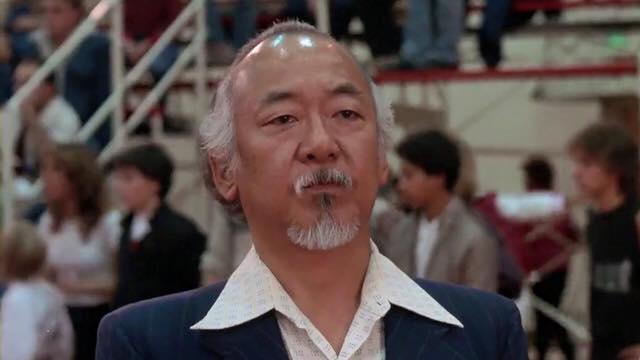 PAT MORITA (1932-2005)                                                            
The native Californian Pat Morita spoke with a feigned accent when he memorably portrayed Mr. Miyagi in The Karate Kid (1984). In real life his English was accent-free. As a boy, he and his family were forced by the US Government to re-locate to an internment camp in Arizona following the Japanese attack on Pearl Harbor, Hawaii in December 1941. From there, after about a year, the family was moved again, this time to a camp in Northern California. Over 100,000 Japanese-Americans from the West Coast of the USA were forcibly removed from their homes in the early days of the war simply because of their Japanese origins. It was one of the most disgraceful episodes in American history. Many wondered why millions of Italia and German Americans were not treated similarly. Much later, Pat and many other survivors of the camps were paid some compensation by the US government and given a formal apology. The small compensation did not even begin to make up for the confiscated property that was taken from them in early 1942.
Pat was nominated for a Best Supporting Actor Academy Award for The Karate Kid. Actually, playing a teacher of karate so impressively was an achievement in itself. He knew nothing of karate, whatsoever. His real birth name was Noriyuki Morita, and it was a priest who gave him the name 'Pat'. Only a few family and close friends were aware that Pat was a closet alcoholic. His heavy drinking (which doctors urged him to stop) would prove to be the primary cause of his eventual death when kidney failure took him at 73 in 2005.
GLENN MORRIS (1912-74)                                              
Glenn Morris was born in 1912, in Denver, Colorado and made his way into the movies on the back of his gold medal performance (he set new world and Olympic records for the event) in the Pentathlon at the Berlin Olympics in 1936. He even won the prestigious James E. Sullivan Award for the most outstanding amateur American athlete of that year, beating the decidedly more famous Jesse Owens in the process. Glenn made Tarzan's Revenge (1938), and two other equally unimpressive films, but his performances were abysmal and he quietly slipped into obscurity thereafter. At the commencement of WW2 he enlisted in the US Navy. As an officer commanding amphibious-assault landing craft in the Pacific, he was reportedly wounded and suffered severe psychological trauma, which resulted in him spending many months recuperating in the San Francisco Navy Hospital. Morris never fully recovered from his wartime experiences and spent many years in poor health, living out his final days at Menlo's Park, California, before dying at 61, in 1974, at a veterans' hospital.