MIRIAM HOPKINS (1902 – 72)                
Born Ellen Miriam Hopkins into a wealthy Savannah, Georgia family in 1902, 'Mims' Hopkins attended the finest educational institutions, including (according to most historians but not all of them) Syracuse University in New York State. She studied dance in New York and got her feet wet in the entertainment business as a 20 year-old chorus girl; but she had bigger plans and set her sights on becoming a dramatic actress. Early reviews of her performances were savage but she stuck at it and by her mid-twenties had begun to be noticed.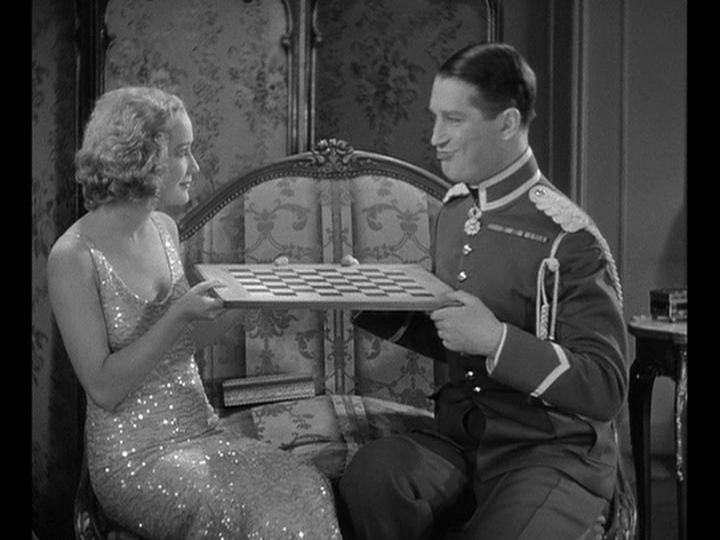 Miriam & Maurice Chevalier in The Smiling Lieutenant (1931)
She also married her first husband in May 1926, a 24 year-old actor named Brandon Peters. Unfortunately for him, Miriam met and fell in love with screenwriter Austin Parker in 1928, a man ten years her senior and said to have been 'the love of her life'. Despite some questions about her first marriage being officially dissolved, she wed Parker anyway and the newlyweds embarked upon a four-month tour of Europe. In 1930, she signed with Paramount Pictures after receiving some rave reviews for her work on Broadway. A year later she divorced 'the love of her life', although the couple remained friends until Parker's death in 1938.
Miriam and one of her lovers, director Ernst Lubitsch
Miriam scored a major hit with the film The Smiling Lieutenant (1931) for Ernst Lubitsch. She and the German director were already lovers at the time, although the relationship did not last. Her intimacy away from the set with director Rouben Mamoulian may also have helped her performances in the two films they made together. Miriam's reputation for being 'difficult to work with' was not in evidence with either Lubitsch or Mamoulian. Both men praised her for her 'cooperation' on the sets of their movies.
Bette Davis & Miriam shaping up for director Edmund Goulding in 1939
The feud between Miriam and Bette Davis was, according to Miss Hopkins, fuelled by Bette's studio and kept going for publicity purposes. However, it was considered common knowledge that Davis had slept with Miriam's third husband, director Anatole Litvak, in 1938, and that there truly was little love lost between the two actresses. Nevertheless, Warner Bros. went so far as to have the two women pose wearing boxing gloves in promotional photos for The Old Maid (1939). Miriam would marry for a fourth time, to a war correspondent named Raymond Brock in 1945, but it was over by 1951. She died in New York City from a massive heart attack nine days before her seventieth birthday.
(L to R) Tyrone Power, Miriam & husband Anatole Litvak
Apart from her four marriages, Miriam Hopkins had several lovers, among them actors Fredric March, Robert Montgomery, Maurice Chevalier, John Gilbert, Herbert Marshall and Franchot Tone. She and crooner Bing Crosby were an item for a while. All in all, however, she preferred intellectuals, hence her affairs with the two directors mentioned above. And there were others. Austrian director Fritz Lang and American director King Vidor were intimates, as was film and TV producer Leland Hayward.
LENA HORNE (1917-2010)
Lena Mary Calhoun Horne was an American singer, dancer, actress and civil rights activist who entered this world through Brooklyn towards the end of World War One. Her mother was an African-American actress who travelled extensively with a black theatre group; her father was also African-American and a numbers kingpin in the gambling trade. Her maternal grandmother was a Senegalese slave and probably a factor in Lena's lifelong commitment to civil rights. Her father deserted the family and fled to Pittsburgh when Lena was still a child.
Lena performing with Cab Calloway in the 1930s
At the age of sixteen the talented youngster was singing at New York City's Cotton Club and on her way to becoming an established night-club performer. At eighteen she moved to Pittsburgh and lived there for five years in Little Harlem. It was there she met American jazz composer Billy Strayhorn, a man remembered for his thirty-year association with legendary band-leader Duke Ellington. Lena fell hopelessly in love with Billy and would always describe him as the 'love of her life'. In fact, she often said she would have married him in an instant, had it not been for the fact that he was openly gay. Strayhorn would prove to be a major influence on Lena's singing career as he used his classical background to fine tune her singing technique.
She made her first screen appearance as a dancer in a musical short titled Cab Calloway's Jitterbug Party (1935), and a few years later released her first records for Decca. By then she was married to a political operative named Louis Jordan Jones. The couple had a daughter, then a son, but separated in 1940 and divorced four years later.  Lena's MGM debut was in 1942's Panama Hattie, and the following year she sang the title tune from Stormy Weather. She had the voice and the looks to make it to the top. But she was black.
Lena with Paul Robeson
In all her films she was never featured in a leading role simply because she was African-American. Her pictures had to be re-edited if they were to be screened in theatres in America's Deep South. That meant removing her entirely from the picture without disrupting the storyline. Consequently, her movie career consisted primarily of solo singing spots. 'Mostly, I just sang songs in other people's movies', she said. Another problem was that she photographed 'too white', and MGM heads were concerned that she might be mistaken for a white woman. To ensure she always looked African-American they had Max Factor create a make-up line for her called 'Dark Egyptian'. Hedy Lamarr would use the same make-up in White Cargo (1942), when she played a half-caste African native.
Lena & Joe Louis
Her civil rights commitments saw Lena singing at Café Society and working with the great Paul Robeson during the war years. Their association, plus her affiliation with Communist-backed groups during that time would lead to her being blacklisted in the early 1950s as a suspected Communist. She would subsequently disavow Communism. Not one to mince words or to hide her feelings, she caused a stir in the early sixties when she confronted Robert Kennedy on his administration's much-lauded but highly dubious civil rights record: 'Mr. Attorney-General', she told him to his face, 'you can take all those pious statements and stuff them up your ass!'
With 2nd husband Lennie Hayton
Her second marriage was to MGM musical director Lennie Hayton in December 1947. It encountered enormous pressures as any inter-racial union did in those days. They separated in the early 1960s but never divorced. Lennie died in 1971. When she sang with Billy Eckstine's Orchestra back in 1945-6, Lena and the singer entered into a relationship. Other lovers included band-leader Artie Shaw, director Vincente Minnelli, actor Orson Welles, and world champion boxer Joe Louis. Her long life came to an end through heart failure in 2010. She was ninety-two.