FOUR WEDDINGS AND A FUNERAL (1994)                                         
The enormously popular Four Weddings and a Funeral (1994) was the first British film since A Fish Called Wanda (1988) to top the American box-office charts. It was to star Jeanne Tripplehorn as Carrie, but the sudden death of her mother just prior to the commencement of filming saw her withdraw from the production. Andie MacDowell was cast instead. Hugh Grant was content to accept $100,000 to play the male lead, convinced throughout the shoot that the picture was awful and liable to be a box-office disaster. As part of his $100,000 fee, Hugh was required to learn British Sign Language for his scenes with his brother, played by deaf actor David Bower. The budget for the film was so small that the Scottish wedding could not even be filmed in Scotland, and the extras in the wedding scenes had to supply their own suits!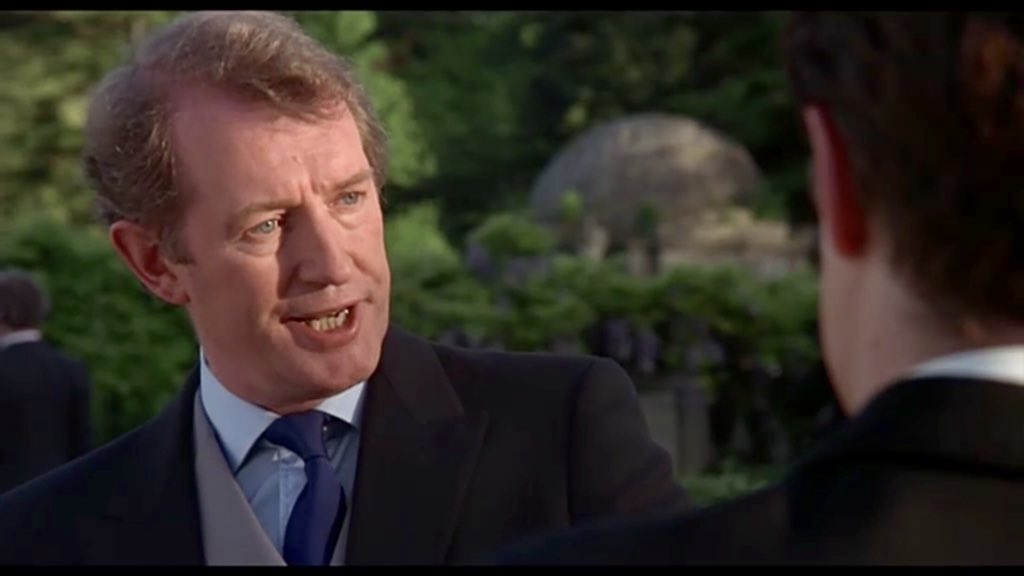 Corin Redgrave as Hamish in Four Weddings and a Funeral 
Unlike Hugh, however, Andie waived her fee for playing Carrie and settled instead for percentage points. The picture's incredible success saw her receive an eventual $2 million! For several years after its release, Four Weddings and a Funeral was the highest-grossing British film in cinema history, earning over $260 million worldwide. It has since been overtaken. Oddly enough, a British on-line poll voted that the character of Carrie was one of the most annoying characters of all time. In the picture she weds a Scot named Hamish, played by Corin Redgrave (Vanessa's brother), an actor twenty-nine years Andie's senior. Corin passed away in 2010 from prostate cancer. He was 70.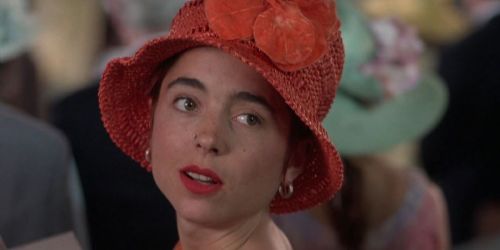 Charlotte Coleman as Scarlett
Another of the featured players was Charlotte Coleman who played Scarlett, the sister of Hugh Grant's character Charles. Just seven years after the release of Four Weddings and a Funeral she suffered an asthma attack that killed her. She was just 33 years old. Her life contained more than its share of tragedy. In 1987 her twenty-three year-old boyfriend, Jonathan Laycock, died in a cycling accident, and his death affected her deeply. She went through bouts of depression, and developed the eating disorders anorexia and bulimia. Her mother found Charlotte lying unconscious on the floor of her flat, her inhaler in another room. The actress was pronounced dead on arrival at Whittington Hospital, London, from a massive attack of bronchial asthma
Writer Richard Curtis with Hugh Grant
Inspiration for the film came when writer Richard Curtis was thumbing through some old diaries and realized he had attended seventy-two weddings over the previous ten years. As of January 2020, Curtis has written five films starring or co-starring Hugh Grant, the other four being Notting Hill (1999), Bridget Jones's Diary (2001), Love Actually (2003) and Bridget Jones: The Edge of Reason (2004). The huge success of Four Weddings and a Funeral resulted in Hugh being paid $7,500,000 for his next Curtis film Notting Hill. Incidentally, when Grant turned up at the London premiere of Four Weddings and a Funeral, he was accompanied by his then partner Elizabeth Hurley. She was wearing a seductive Gianni Versace outfit that drew most of the media attention away from the star of the film. And he was not impressed.
John Hannah
This writer personally thought the highlight of the film was the eulogy delivered by Scottish actor John Hannah at the funeral of Simon Callow's character Garth. He recited the moving 1936 poem titled 'Funeral Blues' by W.H. Auden, a piece that evokes emotions of pain, despair and sadness for most people who read it or hear it. The fact that Hannah's character was in love with the deceased added an extra element to the recital, and his delivery was beautifully handled by an accomplished actor. Very few moments in movies move me to tears but this is one of them. It is worth repeating it here in its entirety:
Funeral Blues by W.H. Auden (1936)
Stop all the clocks, cut off the telephone.
Prevent the dog from barking with a juicy bone.
Silence the pianos and with muffled drum
Bring out the coffin, let the mourners come.
Let aero-planes circle moaning overhead,
Scribbling on the sky the message, 'He is Dead'.
Put crepe bows round the white necks of the public doves.
Let the traffic policemen wear black cotton gloves.
He was my North, my South, my East and West,
My working week and my Sunday rest,
My noon, my midnight, my talk, my song;
I thought that love would last forever: I was wrong.
The stars are not wanted now; put out every one.
Pack up the moon and dismantle the sun.
Pour away the ocean and sweep up the woods,
For nothing now can ever come to any good.
NOTTING HILL (1999)                               
This is the second of the five screenplays written by Richard Curtis specifically in the hope that Hugh Grant would star in them. Notting Hill is one of those romantic comedies that get worse every time one sees it. The concept is, nonetheless, a clever one. After all, who among us has not fantasized about actually having a beautiful movie star fall in love with us for real? The idea hooks us and reels us in from the get-go – Julia Roberts and Hugh Grant deftly have us believing that such a scenario just might happen. If we are lucky. Fairy tales (just like the one in Pretty Woman (1990) that happened to Vivian, also played by Ms Roberts), can come true. A billionaire can fall head over heels for a hooker and marry her! If you believe that there is every chance you will believe anything. Notting Hill is Pretty Woman in reverse, minus the hooker!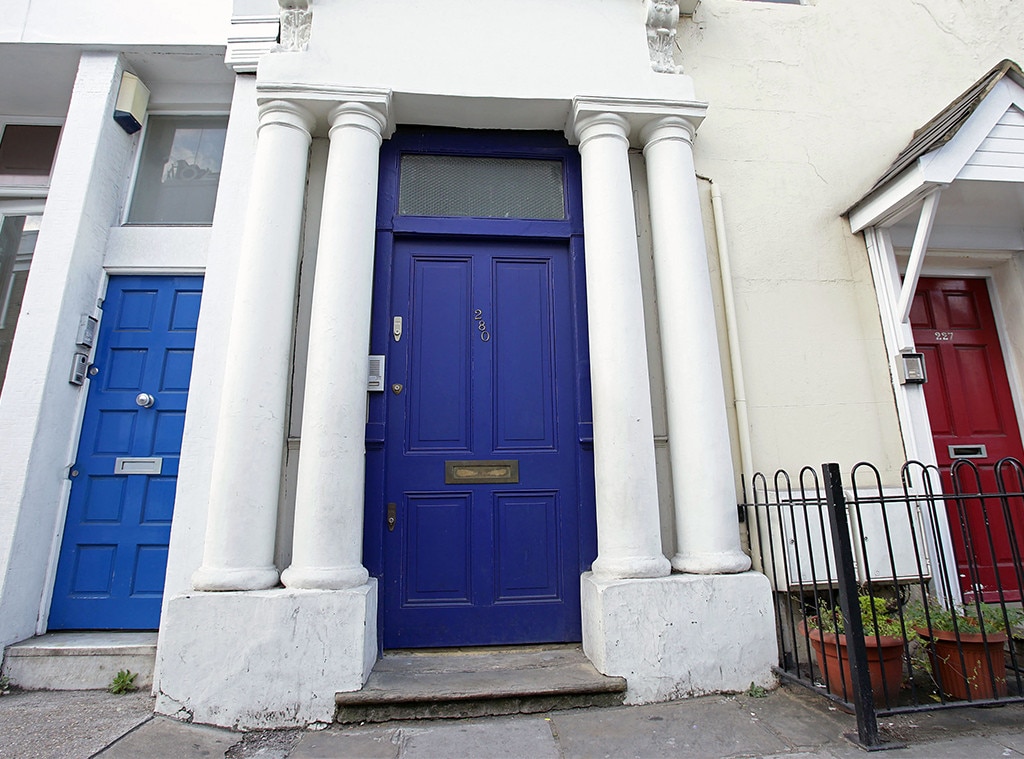 The famous blue door from Notting Hill
William Thacker (Hugh Grant) has a bookshop in the film, in which he first encounters Anna Scott the movie star (Julia Roberts). The shop actually exists but it is an antiques shop, next to a butcher, and a couple of doors from an office of writer Richard Curtis's Production Company. Speaking of doors, Thacker's blue door was once Curtis's blue door before he sold the property. In fact, the original blue door was removed and auctioned. The park bench Thacker and Anna recline on now resides in Queens Gardens, East Perth, Western Australia, having been purchased at auction as a romantic gift for a relationship that failed. An anonymous Perth resident donated it to the City of Perth.
The Notting Hill bench now situated in Queens Gardens, Perth, Western Australia
Two scenes in Notting Hill especially annoy this writer. The first involves Thacker's lame attempt to stop Anna from opening the front door of his unit, when he is fully aware of the massed media camped on his doorstep. He then compounds the problem when he makes barely any effort at all to deter his room-mate from stepping outside in his underpants! The other scene takes place at the media conference at the Savoy at the end of the picture. After the media hullabaloo over Anna's recent relationship with Thacker, not one of the newshounds present recognize his face when he asks her questions. In fact, they cannot even remember his name. I am afraid this movie is not a patch on neither Four Weddings and a Funeral nor Love Actually (2003).