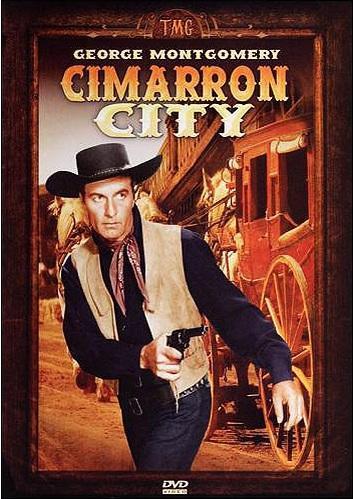 CIMARRON CITY (1958-9) 26 EPISODES                    
Cimarron City only survived for 26 one-hour episodes. Up against the very popular CBS series Gunsmoke and Have Gun – Will Travel in a tough Saturday night time-slot, it may have done better had it been switched to the less competitive Sunday slot. That tactic would save Bonanza from the axe a few years later but it was not tried with this series. George Montgomery starred as Mayor Matt Rockford of Cimarron City, while the blandly named John Smith played Deputy Sheriff Lane Temple. Former MGM B-feature star Audrey Totter was signed to play the show's answer to Miss Kitty on Gunsmoke, but she walked away from the series, convinced her status had been reduced to little more than that of a bit player.
Audrey Totter & George Montgomery in Cimarron City
George Montgomery was a popular star of B-westerns and married for twenty years to the lovely singer Dinah Shore (1943-63). It was quite a surprise to everyone when he turned down Desilu's offer to star in the studio's upcoming series The Life and Legend of Wyatt Earp. The role went to Hugh O'Brian and it made him a star. A few years later, George changed his mind about TV westerns and accepted NBC's offer to star in Cimarron City. When the series was dropped in 1959, he returned to B-western movies, but the genre was beginning to wear out its welcome. After divorcing Dinah in 1963, he hit the headlines when his house-keeper, suffering from an obsessive infatuation, attempted to shoot him before intending to commit suicide. She failed in both objectives. Montgomery would die from heart failure in 2000 at the age of 84.
John Smith as Deputy Sheriff Lane Temple
John Smith was born Robert Van Orden in 1931 and was one of super-agent Henry Willson's stable of young beefcake stars. He chose to change his name to John Smith simply because he figured he would then be the only John Smith acting in Hollywood! Starting out as a mail boy at MGM, he eventually gained reasonably regular employment as an actor without rising to any memorable heights. He is best-remembered today for his stint as Slim Sherman in the Laramie series that ran from 1959 until 1963. Cirrhosis of the liver would claim him in 1995 at the age of 63.
CIMARRON STRIP (1967-8) 23 EPISODES                  
The creators of Gunsmoke brought Cimarron Strip to the television screens of America between September 1967 and March 1968. It was one of only three '90 minute per episode' western series aired in the sixties, the other two being The Virginian and Wagon Train (for one season only). In truth, the 90 minutes included 18 minutes of commercials, so Cimarron Strip really ran for only 72 minutes each episode. The show starred Stuart Whitman as Marshal Jim Crown and was set in the Cimarron Territory of the 1880s, a region that would become the Oklahoma Panhandle in 1890.
Stuart Whitman as Marshal Jim Crown
Whitman is a San Franciscan-born leading man. As a young man he was a light-heavyweight boxer when serving in the US Army, winning 32 fights prior to his discharge in 1948. He won an Academy Award nomination for his performance portraying a child molester in the 1961 film The Mark, but was also effective as a light comedian and romantic lead in films such as The Comancheros (1961) and Those Magnificent Men in Their Flying Machines (1965). Now in his nineties, he has, through good financial investments, amassed a personal fortune of over $100 million.
Percy Herbert as MacGregor
British actor Percy Herbert plays MacGregor, a Scottish retired colonel in Queen Victoria's forces who occasionally wears a Deputy US Marshal badge in the series. Herbert was one of those character actors whose face was instantly familiar but whose name was not. During the Second World War he somehow survived four years in a Japanese POW camp. When selected as a support player in The Bridge on the River Kwai (1957), the director paid him an extra five pounds a week to be a consultant, once he learned of Percy's war experiences. In fact, it was Herbert who suggested the POWs might whistle 'The Colonel Bogey March' in the picture. He would live on until a heart attack claimed him at 72 in 1992.
Jill Townsend & husband Nicol Williamson
Twenty-one year old Jill Townsend has the female lead in Cimarron Strip. In the sixties she appeared in several westerns, both on the big screen and on television, and married stunt man and horse-wrangler Tom Sutton, who was also Whitman's stand-in on the series. Her second marriage, to Scottish actor Nicol Williamson, was a tempestuous affair due to his violent temper. It lasted from 1971 until 1977, produced one child and numerous confrontations. Lovers of the Richard Dreyfuss – Marsha Mason film The Goodbye Girl (1977), might recall him playing the director Oliver Fry towards the end of the picture. Jill is now wed to her third husband and lives in California.
CIRCUS BOY (1956-8) 49 EPISODES                 
Mickey with his father George Dolenz
Eleven year-old Mickey Braddock was selected to play Corky, the title role in a TV series called Circus Boy. Mickey hailed from a show business family, his father being actor George Dolenz, a former leading man signed to RKO by Howard Hughes. Mickey was born George Dolenz but his acting name was changed to avoid confusion. The popularity of Circus Boy saw young Mickey sent out on public appearances with Bimbo the show's baby elephant during the second season. As an added attraction the boy was required to sing and play guitar, so he was sent to lessons to enable him to do so. Later, after the series ended, he fronted his own pop group. He auditioned for The Monkees TV show, singing Chuck Berry's 'Johnny B. Goode', and was selected. The Monkees' first single, 'Last Train to Clarksville', featured Mickey on lead vocals and hit #1 two days after its release in 1966.
Robert Lowery
Noah Beery Jr was a prolific character actor who graced over 170 films and television shows. In Circus Boy he was in every episode as the good-natured, kind-hearted Joey the Clown. No stranger to playing second and third leads in westerns, he is probably best-remembered today, however, for portraying Joseph 'Rocky' Rockford, the father of Jim Rockford (James Garner) in The Rockford Files (1974-80). Robert Lowery racked up even more screen credits than Beery (184 in all), one of which was as Big Tim Champion, the owner of the circus in this series. Lowery's greatest claim to fame was his uncanny resemblance to Clark Gable, especially as he grew older. A heart attack took him at 58 in 1971. Guinn 'Big Boy' Williams provided the comic relief in Circus Boy, appearing in 35 episodes as Pete the Canvasman. He passed away from uremic poisoning in 1962, just four years after the series was dropped.