Frobe & Connery in Goldfinger (1964)
In Goldfinger (1964) there is a golf game between James Bond (Sean Connery) and his nemesis Auric Goldfinger (Gert Frobe). The two men end up playing the match for a bar of solid gold. Anyone who has ever picked up a club could see that Connery was a good player and that Frobe was woeful. In fact, poor Gert would be hard-pressed to defeat a reasonable five year old opponent, yet he accepts the bet and the match gets down to the final putt on the 18th green to determine the winner. Despite his obvious superior golfing ability, 007 has to cheat to ensure victory!
Young Matthew Perry the tennis champ
Born in Williamstown, Massachusetts, Friends star Matthew Perry was raised in Toronto, Canada before moving to Los Angeles at the age of fifteen. At high school in Toronto he was a classmate of the 23rd Prime Minister of Canada, Justin Trudeau. In fact, Matt's mother, Suzanne Morrison, was the press agent for Pierre Trudeau, Canadian PM during the seventies and eighties. Growing up in Canada, young Matt was ranked as one of the top junior tennis players in the country but focused on acting after arriving in Los Angeles.
Hattie & Clark in Gone with the Wind (1939)
African-American character actress Hattie McDaniel will forever be remembered for her Oscar-winning portrayal of 'Mammy' in the 1939 classic Gone with the Wind. When she passed away in 1952, it was her wish to be buried among her peers in Hollywood but the racism of the day denied her that right. Forty-seven years later, in 1999, she was at last memorialized by a pink and grey granite monument at the Hollywood Forever Cemetery. Hattie was no stranger to racism. Even at the moment of her greatest triumph, she was unforgivably not invited to the premiere of GWTW in Atlanta in '39. It took all her powers of persuasion to convince her friend Clark Gable to attend the premiere. On learning she had not been invited, an incensed Gable threatened to boycott the premiere himself in protest.
Frank & Nancy Sinatra
Frank with Ava Gardner & Marilyn Maxwell
Frank Sinatra's first wife Nancy recalled the day, prior to Christmas 1946, when she was cleaning out the glove-box in his car and came across a diamond bracelet. Assuming it was a gift for her she said nothing. She had plenty to say to her husband when she spotted the same bracelet around the neck of his fellow actress Marilyn Maxwell at a Christmas party a couple of days later. When Nancy confronted Marilyn and gave her a piece of her mind, Frank was infuriated and demanded she apologise to Miss Maxwell! She refused point blank to do so. Five years later, in October 1951, Frank and Nancy divorced. Nine days after that Sinatra re-married – not to Marilyn who was long gone – but to ravishing Ava Gardner.
Robert Mitchum
In 1981, when Robert Mitchum fired Reva Frederick, his secretary of many years, he decided to close down his office permanently. An irate Ms Frederick sued him, claiming Mitchum owed her a pension back-dated to 1961, even though here existed no paperwork to support her claim. She quickly dropped her suit as evidence emerged that she had, in fact, stolen millions of dollars from Mitchum over the years she had been employed by him! Some kind of deal was negotiated and the actor agreed not to prosecute her. During the course of events Ms. Frederick suffered a stroke from which she never fully recovered.
Ethel & ERnie on their wedding day June 27, 1964
Ernest Borgnine's marriage to singer Ethel Merman began unravelling during their June 1964 honeymoon. Ernie was riding high with his popular TV series McHale's Navy at that time and was receiving far more fan attention than his new bride. And Ethel bitterly resented this. 'By the time we got home, it was hell on Earth', Borgnine recalled. 'And after 32 days I said to her, 'Madam, bye'. In fact, the couple had separated after just eleven days together. Ernie filed for divorce first on October 21 and Ethel filed a cross-complaint shortly afterwards. The marriage officially terminated on November 18.
Images of Leslie Parrish
If fans of the musical Li'l Abner (1959) have ever wondered what happened to Leslie Parrish, the stunning blonde actress who portrayed Daisy Mae Scragg in that delightful movie, you will be happy to learn she is alive and healthy and in her mid- eighties as of 2020. Back in December 1955, twenty year-old Leslie wed actor/songwriter Ric Marlow, the man who wrote the lyrics for the hit tune, 'A Taste of Honey'. The marriage ended in divorce five years later and, in 1977, forty-two year old Leslie took her second trip down the aisle, this time with Richard Bach, author of the best-selling novel Jonathan Livingston Seagull. They divorced in 1999.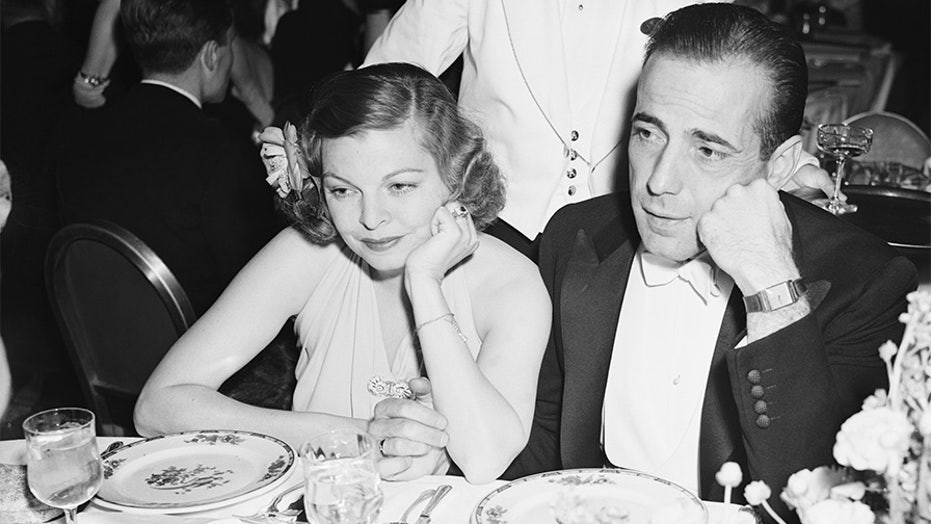 Mayo Methot & husband Humphrey Bogart
Actress Mayo Methot had a turbulent marriage to Humphrey Bogart (1938-45). On one occasion they were dining with actress Gloria Stuart ('Old Rose' in 1997's Titanic) and her husband when Mayo pulled a gun and began threatening Bogie with it. No-one was shot but their guests genuinely feared for their lives at one point. Bogie left her for Lauren Bacall in 1945. The lady's excessive drinking and violent temper were well-known in Hollywood. Sadly, she died all alone, a victim of the long-term effects of alcoholism, in a third-rate hotel in Oregon in 1951, her body remaining undiscovered until several days after her death.
Peggy Moran
Henry Koster
Peggy Moran was an Iowan beauty who starred in a number of B-pictures for Warner Bros prior to marrying director Henry Koster in 1942 and promptly retiring from acting. Her image would appear in movies until 1966, however, because her husband promised she would be in every picture he would ever direct after their wedding day. And he kept his word. Henry, (the man who, incidentally, discovered Abbott & Costello working at a New York nightclub and convinced Universal to sign them), directed 26 movies after 1942 and made sure that a bust of his beloved wife appeared in every one of them! Usually, it was in the form of a sculptured head on a mantelpiece or on a piano or desk. In The Robe (1953), for instance, he commissioned a Grecian bust of her which he prominently displayed in a Roman villa.