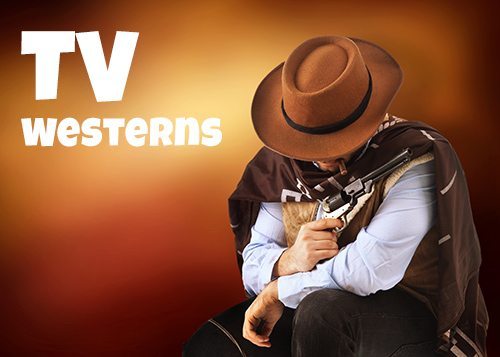 For all those baby-boomers (like myself) who grew from childhood to adolescence to adulthood watching innumerable western series on television throughout the 50s, 60s & 70s, below is a list of pretty much every series that graced our home screens during those formative years. The only omissions are animated children's westerns and modern day law enforcement shows shot in western settings. At the risk of making us all feel even older than we already are, I have added a small note regarding the demise (or otherwise) of those actors and actresses we grew up with all those decades ago. Any extra information I have gleaned about their private lives is also included.
ADVENTURES OF JIM BOWIE, THE                           1956-8             76 episodes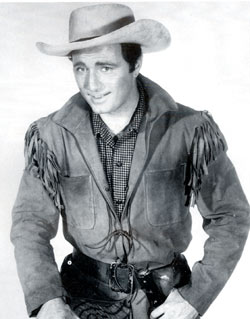 Scott Forbes (1920-97) He was an English actor of limited ability who portrayed Bowie in this cheaply made black & white series. The series somehow managed to eke out 76 episodes about the man who many history books tell us invented the Bowie knife. In fact, the famous blade was the brainchild of Jim's brother Rezin! Forbes, incidentally, only appears in the first 75 episodes. When informed that the series was to be cancelled, he stormed off the set and refused to participate in the final episode. The writers were instructed to script around him, saying Bowie was away on business.
ADVENTURES OF KIT CARSON, THE                                    1951-5             105 episodes
Bill Williams (1915-92) He was born in Brooklyn, New York City and, despite his boyish good looks, never really got out of B-features. In 1946, Bill married actress Barbara Hale who played Della Street in the long-running Perry Mason series that starred Raymond Burr. Bill and Barbara remained husband and wife until a brain tumour took him in 1992. Their middle son was actor William Katt, the young actor who would star as Ralph Hinkley in the TV series The Greatest American Hero (1981-3). Williams probably missed his one chance at TV stardom when he turned down the lead in Sea Hunt (1958-61). He (understandably) felt an underwater action series would be a failure on black and white television. Lloyd Bridges accepted the role and it was a hit.
Don Diamond (1921-2011). Although he played Carson's Mexican sidekick, El Toro' in this series, Diamond will almost certainly be remembered by most TV fans for portraying Crazy Cat, Chief Wild Eagle's cowardly underling in the sixties cult comedy F Troop (1965-7). Heart failure ended his long life a fortnight after his 90th birthday.
ADVENTURES OF RIN TIN TIN, THE                          1954-9             164 episodes
Lee Aaker (1943 – ) Californian Lee had already appeared in several big movies, among them High Noon and The Greatest Show on Earth (both released in 1952), plus Hondo, Jeopardy and Mister Scoutmaster the following year, so his casting as Corporal Rusty in this series came as no surprise. He was also promised the role of Joey Starrett in the feature film Shane (1953), but the part went to Brandon De Wilde at the last minute. After this series folded in 1959, Lee found few acting jobs in his teen years. He briefly went into production before leaving the industry altogether to take up carpentry. In September 2019, he celebrated his 76th birthday.
Rin Tin Tin II.  A pedigree German Shepherd named Golden Boy Jr, he named after Rin Tin Tin but not related to him. When the series hit screens in American households it was an immediate success. Of the 30 million TV sets in the US at that time, 9 million of them were tuned to the show. It was second only to the Walt Disney Show.
James Brown (1920-92) Texan James Brown was a tennis champ in his youth before taking up acting in 1941. He landed small roles in a number of prominent movies but never quite made it to the top. Perhaps, being one of thirteen James or Jim Browns in the movie business had something to do with it. Sadly, he is probably best known today to baby boomers who saw him playing Lt. Rip Masters at Fort Apache for its six season run. Lung cancer claimed him in 1992 after a lengthy illness. His one marriage produced three daughters.
Joe Sawyer (1906-82) Canadian character actor Joe Sawyer was of German extraction (not Irish as most fans assumed) and was born Joseph Sauers in 1906. He changed his name after one too many people mispronounced his surname as 'Sewers'. At Fort Apache he played Sgt. 'Biff' O'Hara in 96 episodes of the series. Throughout his long career he racked up over two hundred screen credits and was a close friend of John Wayne. When Joe's adored wife June Golden died in 1960, it was Wayne who convinced his friend that a change of scenery might help him get over his grief. The 'Duke' was about to make North to Alaska (1960) and gave Joe the role of the land commissioner. It was one of his final acting jobs before retirement. Liver cancer took him 22 years later.
Rand Brooks (1918-2003) Rand was Corporal Boone in 88 episodes. Hailing from St. Louis, Missouri, he got his big break when he was cast as Charles Hamilton, Scarlett O'Hara's first husband (and Melanie's brother) in 1939's classic Gone with the Wind. He was 28 years old in 1946 when he played Hopalong Cassidy's youthful sidekick in a dozen feature films, but stardom would never be Rand's destiny. Even his 30-year marriage to Stan Laurel's daughter Lois did not accelerate his career. In 1966, he started the highly successful Professional Ambulance Service in Glendale, California, and about 30 years later sold the business to corporate giant American Medical Response. Rand fell victim to cancer in 2003.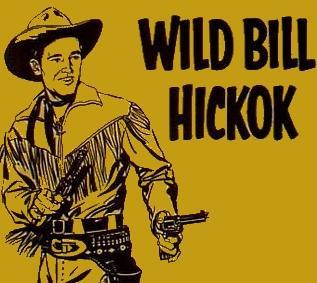 ADVENTURES OF WILD BILL HICKOK, THE       1951-8             112 episodes
Guy Madison (1922-96) Born Robert Moseley in California, Guy was discovered by agent Henry Willson who was looking for a 'sailor-type' for a small role in Since You Went Away (1944). Moseley was on leave from the Coast Guard in 1943 and the rest is history. His marriage to the beautiful but alcoholic Gail Russell ended inside five years. As Hickok in this series he always wore his pistols backwards in their reversed holsters! (Even as a kid I thought that was the dumbest thing I ever saw a cowboy do). I still do. The series sure was popular though. Many of the episodes were even strung together and released as feature films. Wild Bill's horse's name, incidentally, was Buckshot. Guy later moved to Europe and made several movies in Italy and Germany. Emphysema got him in 1996.
Andy Devine (1905-77).  Portly character actor Andy Devine came out of Flagstaff, Arizona and was a prolific performer with almost 200 screen credits to his name. Here he played Wild Bill's sidekick, Deputy Marshal Jingles P. Jones. His unfortunate horse was named Joker. Andy's high-pitched, raspy voice was his fortune and, depending on which version you believe, it was caused by a childhood injury. Little Andy was running with a curtain rod (or a stick) in his mouth, tripped and fell, and rammed the rod through the roof of his mouth. For a year he was unable to speak at all. Another version has him sliding down a bannister at home when he injured himself. John Ford chose him to play Buck, the teamster in Stagecoach (1939), because he had experience in handling a six-horse team. He landed the role of Deputy Jingles after singer Burl Ives turned it down. Andy's leukaemia widowed his wife of 44 years in 1977. John Wayne and James Stewart attended his funeral.