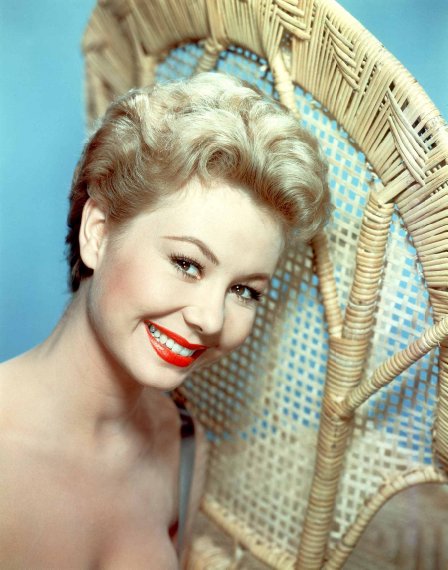 MITZI GAYNOR (1931 – ) 
Mitzi Gaynor is a rarity in Hollywood, an extraordinary talent who was married to the same man for more than half a century and, as far as we are aware, remained in love and faithful to him throughout. Mitzi Gerber was born of Hungarian descent in Chicago in September 1931. She was signed to a 7-year contract by 20th Century Fox at 17, and a studio executive soon changed her surname to Gaynor. It sounded better. Two years later she met billionaire Howard Hughes. 'We dated for about six months, she said. 'I was 19 and so hot! I'd already done a couple of movies. Then I found out he was asking a hundred other girls to marry him too. I liked him, but wasn't in love with him.' He suggested she buy some land. 'So, I bought five acres on the Las Vegas strip. And I was rich.'
Mitzi & her husband Jack Bean
Jack Bean was a talent agent and public relations executive at MCA when he met Mitzi. They married in San Francisco in November 1954 and it was a match made in heaven. She had been released from Fox soon after completing There's No Business Like Show Business (1954), so Jack took charge of her career, getting her starring roles in several musicals, and also the well-received biopic The Joker is Wild (1957), opposite Frank Sinatra. It was her wonderful singing, dancing and acting performance in 1958's Rodgers & Hammerstein classic South Pacific, however, that made her a star.
Mitzi as Nellie Forbush in South Pacific (1958)
Gower Champion once said, 'The trouble with Mitzi is nobody can peg her. She doesn't just do one thing well. She does it all.' And he was right. Mitzi Gaynor has sung, danced and acted up a storm for decades, always leaving audiences applauding for more. She has starred in shows across the US, on television and in the occasional movie, although her screen career ended in 1963. As for marriage to Jack Bean, it was a joyful union lasting until his death from pneumonia in 2006. When asked why the marriage endured, she replied simply, 'I loved him.' He was a most fortunate man.
WHOOPI GOLDBERG (1955 – )                                       
Whoopi dropped out of Washington Irving High School at 17 and became addicted to heroin and alcohol for a time soon afterwards. In 1973, she married her drug counsellor, Alvin Martin, and they had a daughter together. Alexandrea Martin is today a TV producer/actress. The marriage to Martin, Whoopi's longest, ended in divorce six years later in 1979.
Husband #2 was cinematographer David Claessen. They wed in 1986 but that relationship also ended in divorce three years later. 'I love men and men love me', said Whoopi, 'I'm lucky that way. I just feel bad that it took me so long to realize that I wasn't meant to be in a relationship.'
Whoopi & Timothy Dalton out on the town
By her own admission she has had a lot of lovers. British writer Alan Moore was one of them back in 1987, just prior to her three-year involvement with Raging Bull cameraman Eddie Gold. Then there was a one-year dalliance with one of the screen's James Bonds, British star Timothy Dalton, but that ended in 1991.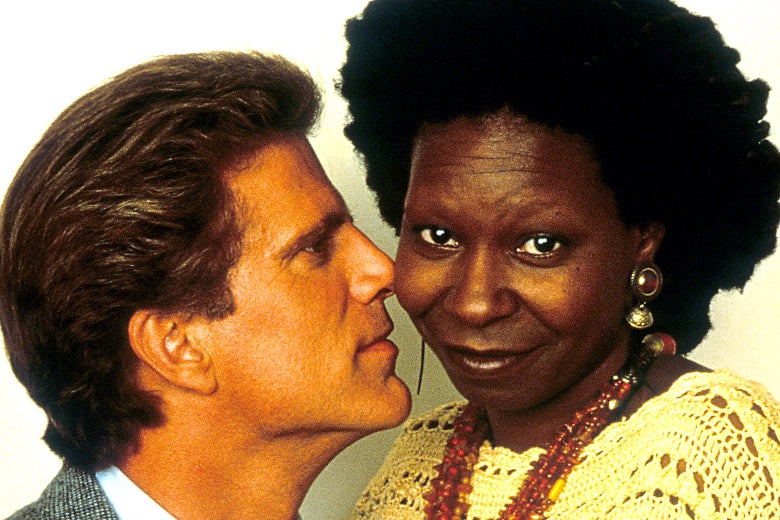 Whoopi & Ted Danson
Whoopi met Ted Danson on The Late Show Starring Joan Rivers in 1992 and they shared an instant chemistry. When the two co-starred in the 1993 feature Made in America, rumours of an on-set affair began to circulate. Ted's wife, producer Casey Coates, filed for divorce, picking up a cool $30 million settlement from the former star of TV's Cheers.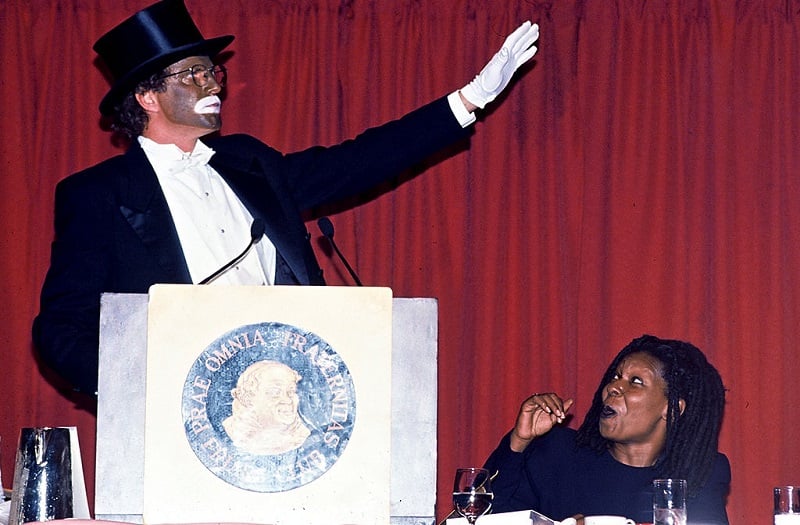 Danson in blackface at the Friars Club Roast for Whoopi
Everything in the Goldberg-Danson romance went swimmingly until the Friars Club announced a roast in honour of Whoopi in early 1994, and Ted decided to participate in the proceedings. He walked out in front of the gathering, wearing black-face and slurping on a slice of watermelon, then delivered an intended comedy routine that was pure, unadulterated tastelessness. It was quite awful. Later, Whoopi tried to publicly support him and defuse the criticism but nobody was listening. They ceased being seen in public together and before long she was photographed dating actor Frank Langella. In 1995 Ted married actress Mary Steenburgen. When asked in 2015, on 'Watch What Happens Live', if she still saw or spoke to Danson, Whoopi's response brought a roar from the audience: 'That's, like, 20 years ago!' she exclaimed. 'I've boned so many people since then!'  
She and union organizer Lyle Trachtenberg dated for nine months before announcing their engagement in May 1994. They married in October that year. Both public and the media seemed in awe of their happiness but it was short-lived. Whoopi announced their intention to divorce in 1995, and has since stated that the breakdown of their relationship was her fault entirely. She would not elaborate on that.
Dating actor Frank Langella
Langella and Whoopi had met on the set of Eddie in 1996. They dated and eventually lived together for about five years until 2001. Little is known about their relationship or why it ended, although chances are that Whoopi probably made that decision. Her last known lengthy relationship was with a gentleman named Michael Visbal from 2001 until 2004. She has reiterated that she has no interest, whatsoever, in having any more long-term relationships. 'Hey, listen, I don't want a relationship', she says. 'I just want sex and then you can go home. I just want a hit and run. Boom. Boom. Goodbye.'
She admitted to Piers Morgan on his TV program that she never loved any of her three husbands and had only been in love once in her entire life, and that was a long time ago. She conceded she had had multiple lovers over the years but refrained from naming the 'love of her life', except to say that it was not Ted Danson. When pressed on why she married in the first place, she answered that she wanted to feel 'normal' and that marriage might, hopefully, fulfil that need. It didn't. She admitted quite openly her preference for living alone because it enabled her to enjoy her freedom. 'I like being able to go up and down my stairs farting like a queen and not having to explain', she said, adding, 'I like being able to smoke all over my house…' Her support of LGBT causes has regularly raised questions about her sexuality, but the lady has always maintained she is straight. Given her penchant for calling a spade a spade, there seems no reason to question the veracity of that statement. Whoopi is nothing if not candid.