Producer Robert Evans had no time for the vertically challenged Al Pacino, referring to him as 'The Midget', when director Francis Ford Coppola made it clear he wanted him for The Godfather (1972). Oddly, Evans considered firing Pacino early in the shoot and replacing with, of all people, Dustin Hoffman, an actor who was even shorter than Pacino! For a while, Coppola also had a slippery grip on the director's job. Paramount Pictures frequently tried to have him replaced, citing his inability to stay on schedule, unnecessary expenses and production and casting errors. Coppola out-foxed them, however, and brought his picture in ahead of schedule and under budget.
Francis Ford Coppola (L) & Robert Evans
Ironically, after Coppola shot his own unofficial screen tests with Pacino, James Caan, Robert Duvall and Diane Keaton, at his home in San Francisco, an unimpressed Evans insisted on official screen-tests being held. The studio then spent $420,000 on the tests, the result being that all four actors tested by Coppola were cast in the roles he wanted them for anyway. Considering that Paramount was in serious financial trouble prior to making The Godfather, and in desperate need of a hit, in retrospect, the squandering of almost half a million dollars seems to have been a strange decision.
Al Pacino as Michael Corleone
Pacino was clearly the undisputed star of the movie, occupying more screen-time than anyone, including Marlon Brando who portrayed his father, Don Corleone, yet when it came time for the Academy Awards, he found himself nominated for 'Best Supporting Actor', and Brando alone nominated for 'Best Actor'. It was a blatant manipulation and Pacino was furious, so furious in fact that he refused to attend the ceremony. Who could blame him? To add insult to insult, both James Caan and Robert Duvall, two of his co-stars in the film, were also nominated in the Supporting Actor category. With three of the five nominees competing for votes against each other, it came as no surprise when Joel Grey won for Cabaret. Eddie Albert was the fifth nominee.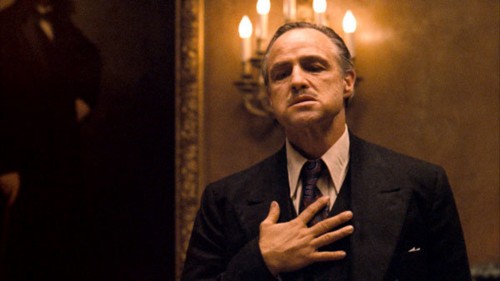 Marlon Brando as Don Corleone
Brando ultimately won for Best Actor and it reeked of a 'set-up', as part of the same manipulation. His opposition consisted of two nominees from Sleuth, Michael Caine and Sir Laurence Olivier, plus Peter O'Toole (for The Ruling Class) and Paul Winfield (for Sounder), two films that were seen by only a few academy voters, whereas everybody saw The Godfather! So much for a level playing field. Brando, more or less, had the Best Actor Oscar guaranteed him. Not everyone appreciated the husky whisper he used for the Corleone character, a decision deliberately arrived at by him. Back in 1951, he had watched the Estes Kefauver hearings on television, in which real life mobster Frank Costello provided him with the inspiration for the voice he chose to use.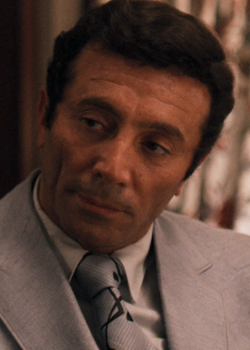 Al Martino as Johnny Fontane
Much has been written about the Johnny Fontane character (played by recording artist Al Martino). Most people believed Fontane was based on singer Frank Sinatra, but Mario Puzo, the author of The Godfather, stated that was not the case. Sinatra himself certainly believed it was. When he met Puzo at a restaurant, he screamed expletives and threats at the alarmed writer. Consequently, Fontane's role was watered down considerably. Incidentally, when Don Corleone slapped Fontane's face, the look on Martino's face was one of genuine shock because the hit was improvised by Brando. 'Martino didn't know whether to laugh or cry', said James Caan later.
Gianni Russo as Carlo Rizzi
Gianni Russo made his movie debut playing Carlo Rizzi, the husband of Connie Corleone (played by Talia Shire). In an interview with journalists, Russo hinted that he had used his Mafia connections to secure the role. Puzo poured scorn on his claim, saying that if he really had done this, he would have been murdered for revealing the fact. Russo's solitary claim to fame, prior to making The Godfather, was his 12-year relationship with singer Dionne Warwick. Few believed he had even met any Mafia people.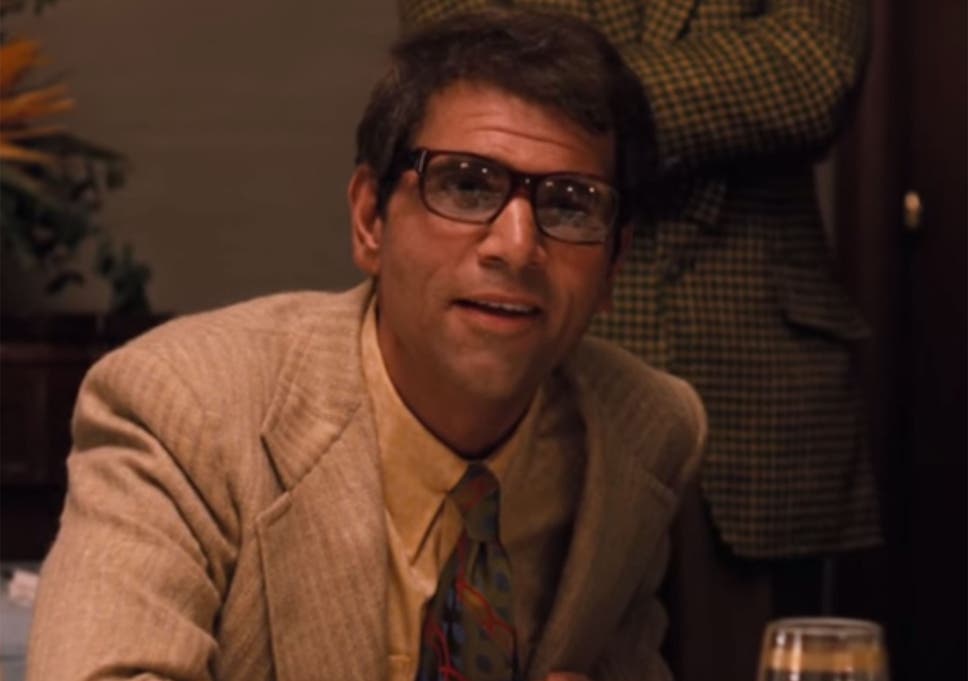 Alex Rocco as Moe Greene
The fictional Moe Greene character (played by Alex Rocco) was modelled after the notorious Jewish mobster Benjamin 'Bugsy' Siegel, although it must be said that Siegel was not known for wearing glasses. Greene in the movie and Siegel in reality were both shot in the eye. The glasses worn by Greene in his assassination scene were necessary to accomplish the special effect eye shot.
One could be forgiven for describing Coppola as a 'champion of nepotism'. In no particular order, here is the list of family members who appeared in The Godfather:
His sister, Talia Shire, portrayed Connie Corleone.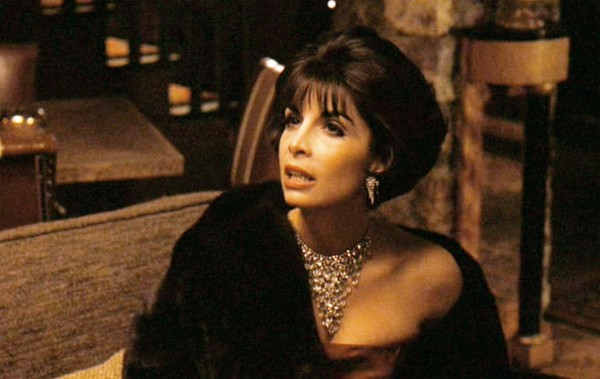 Talia Shire as Connie Corleone
His father, Carmine Coppola, was the piano player in the 'Mattresses' sequence.
His mother, Italia Coppola, was an extra in the restaurant meeting.
His sons, Giancarlo and Roman, appear as extras in two scenes.
His daughter, Sofia, is the baby, (Michael Rizzi), in the baptism scene. She was just three weeks old at the time. In 1990, she would play Mary Corleone in The Godfather Pt III, would win an Oscar for writing the screenplay for Lost in Translation (2003), and be unsuccessfully nominated for Best Director for the same film.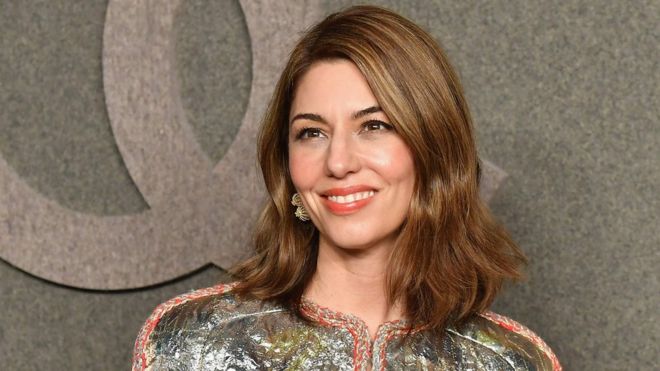 Oscar-winner Sofia Coppola
Cinema audiences, (people in general), have been known to possess an unusual sense of values at times. In The Godfather (1972), animal activists vehemently protested the horse's head scene. Coppola told Variety, 'There were many people killed in that movie, but everyone worries about the horse. It was the same on the set. When the head arrived, it upset many crew members who are animal lovers, who like little doggies. What they don't know is that we got the head from a pet food manufacturer who slaughters two hundred horses a day – just to feed those little doggies.'
The attention to detail in this movie is most impressive. For example, the sequences set in World War Two featured motor vehicles of the era, and every one of them has wooden bumpers. All chrome bumpers were removed during the conflict and replaced with wooden ones, the original chrome items being turned in for the war effort. It took several years after the war ended to have them all replaced.
Robert Duvall as Tom Hagen
James Caan as Sonny Corleone
John Cazale as Fredo Corleone
Finally, on a lighter note, there was a lot of 'mooning' on-set, started by Caan and Duvall and carried on by Brando. The ultimate 'moon' came when Brando and Duvall dropped their trousers in front of 400 cast and crew members during the shooting of the wedding scene. Most of those present roared with laughter as the two actors bared their backsides to the gathering, but several of the older ladies on the set were less than impressed. Eventually, Brando was crowned 'Moon Champion' and presented with a heavyweight-style leather belt. Most of his fellow actors consider Brando to be the best movie actor ever, and a great many movie fans would concur, myself included. Having said that, however, I still believe Pacino should have at least been nominated the Best Actor for The Godfather. It would have been a fascinating head-to-head tussle. But we will never know which man might have won.