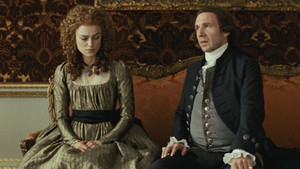 Keira Knightley & Ralph Fiennes in The Duchess (2008)
The Duchess (2008) is an interesting period piece about the marriage of the 25 year-old William Cavendish, 5th Duke of Devonshire, to 17 year-old Georgiana Spencer in the late 18th century. Keira Knightley (23) portrays Georgiana opposite Ralph Fiennes (46) as the Duke in this movie. A major factor in their marriage was the chronic gambling addiction of the new Duchess of Devonshire (she squandered a fortune), yet this issue seems not to have concerned the writers of the screenplay in the slightest, so as a historically accurate chronicle, The Duchess is found a little wanting. Curiously, the unusual marital arrangement, consisting of the Duke, his mistress Bess Foster and the Duchess, all living under the same roof, draws a rather loose comparison with the recent marriage of Prince Charles, his mistress Camilla Parker Bowles and Princess Diana. Diana, of course, was a Spencer, directly descended from Georgiana's family.
Jack Palance in Shane (1953)
Jack Palance may not have looked overly tall on the screen but he was, in fact, a touch over 6'3" (1.91 m). As a young man he had no intention of following in his father's footsteps by earning his living as a coal miner, although he did a brief stint below ground before winning a football scholarship to the University of North Carolina. He subsequently dropped out to try his hand at professional boxing and by December 1940 had won his first 15 heavyweight bouts, 12 of them by knockout. His career as a fighter ended when he was stopped in the fourth round by heavyweight contender Joe Baksi. Then World War Two intervened (see my soon to be published book 'World War 2: The Stars & their Stories' for details). When Charles Bronson turned down the role of Curly Washburn in City Slickers (1991), Jack stepped in and made it his own, winning an Academy Award for his performance – and deservedly so. Throughout his long career he had his ups and downs, but he was seldom dull to watch.
Jim Broadbent in Iris (2001)
Born in Lincolnshire, England, Jim Broadbent is one of England's finest actors. Shortly after winning his Best Supporting Actor Oscar for his role in Iris (2001), he was interviewed by America's Joan Rivers, who clearly had not bothered to do her homework prior to meeting him on 'live' TV. 'Here we have Jim Broadbent, all the way from Australia', she announced to her millions of viewers. 'You're Australian aren't you?' Jim let her off the hook and softly replied, 'No, I'm British.' There is no substitute for class and Mr. Broadbent is a class act right down the line.
Bill Boyd as Hopalong Cassidy (with Topper)
William Boyd had to be one of the shrewdest businessmen in the entertainment industry. The silver-haired actor, who came to be known to millions of children around the world as Hopalong Cassidy, had to sell nearly everything he owned, including his beloved ranch, in order to purchase the rights to the entire 'Hoppy' film library and the Hopalong Cassidy name. With the advent of television, the films were broadcast and syndicated around the globe, making Boyd a fortune. The cowboy star became a hero to children everywhere, Boyd receiving 15,000 fan letters a week. But that was just the start. In 1950 he became the first entertainer to place his licensed image on a commodity – in this instance a lunch box – and it sold in the millions. The demand for Hopalong Cassidy merchandise was staggering and led to over 100 companies manufacturing an eventual 2,500 products and raking in $70 million! And not all of these products targeted children. Products aimed at adults included motor oil, tyres, eggs and milk, to name but four. Boyd always had the final say on what could be marketed under his Hopalong Cassidy banner and what could not. For instance, he did not approve of bubble gum for some reason, so he refused to endorse it. Incidentally, in the first 'Hop-along' film, Boyd was shot in the leg, causing him to walk with a limp. The result was the coining of the 'Hopalong' name.
Jim Dale
English funny man Jim Dale adorned several 'Carry On' pictures beginning in the sixties and progressing into the early nineties, but he was much more than that. In the fifties he had a few hit pop singles as a singer – 'Be My Girl (1957, UK #2), 'Crazy Dream' (1958, #24), 'Sugartime' (1958 # 25) and 'Just Born' (1958, # 27). In the 1960s, he wrote the lyrics for the Seekers hit single 'Georgy Girl', which earned an Academy Award nomination for Best Original Song. His most impressive achievements, however, relate to his ability to provide voices for audio books. He set a record with his 134 different voices for one audio-book, 'Harry Potter and the Order of the Phoenix', then broke his own record by providing 146 voices for 'Harry Potter and the Deathly Hallows' in 2007. Dale is an unusually gifted man.
Alec Guinness as 'The Admiral' going down with his ship
During the making of Kind Hearts and Coronets (1949), Alec Guinness very nearly lost his life. One of the eight characters he played in the film, the Admiral, was required to go down with his sinking ship, and Alec very nearly went down with it – permanently! The scene required him to be held down by wires whilst the set filled with water. And it almost went fatally wrong. The scene was wrapped and the crew started to leave, when a technician remembered that Alec was still underwater and wired to the set!  The man immediately dove into the water with some wire-cutters and freed him just in time. Fortunately, Alec took great pride in his ability to hold his breath for long periods of time.
Earl Holliman & Angie Dickinson in Police Woman
Earl Holliman (of Police Woman (1974-8) fame) was adopted, his biological father having died six months before Earl was born. Henry Holliman and his wife wanted to adopt, but when they came to see him he was sick with yellow jaundice. They were in the backwoods of Louisiana and paid the mid-wife seven dollars fifty for him, then took the sick child to see a doctor. 'You don't have a baby here', they were told. 'You have a funeral expense.' Ironically, the child described as a 'funeral expense' back in 1928, celebrated his 91st birthday in September 2019.