DONALD, James:                                                                
The highly respected Scottish actor James Donald is probably remembered by most movie fans for his portrayal of the Senior British Officer in the enormously successful 1963 film The Great Escape, but he graced many other fine productions in his career. In 1939, he tried to enlist, but a medical classified him as unfit for military service, so he joined the Entertainments National Service Association (ENSA) instead. Playing minor roles in several war films, including In Which We Serve (1942) and The Way Ahead (1944), he also provided entertainment for troops and factory workers throughout the conflict. He signed with MGM in 1943, but then the British Army reversed its earlier decision and called him up after all. Assigned to British Army Intelligence, he spent the remainder of the war typing up decoded enemy messages. A lifelong sufferer from asthma, he grew grapes and made wine on his farm in Hampshire, until stomach cancer took him in 1993 at the age of 76.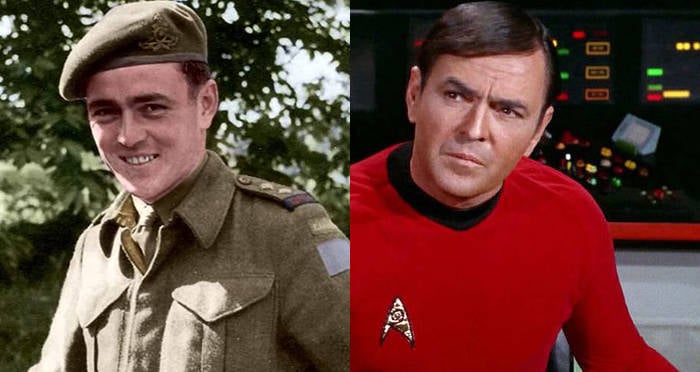 DOOHAN, James:                                                                                                                                       
Fans of the original TV series Star Trek (1966-69), (of which this writer is most definitely one), know James Doohan as chief engineer Lieutenant Commander Christopher Jorgensen Scott of the starship USS Enterprise. The Canadian-born actor was a veteran of the Second World War, participating in the D-Day landings in Normandy in June 1944. Assigned to the Royal Canadian Artillery, he landed on Juno Beach and was returning to his command post, after liaising with the unit's Regimental Survey Officer, when he was hit by a burst of machine-gun fire. He took eight bullets; one in his chest, four in his leg and three in his hand. The chest shot would have been fatal, had it not deflected off a silver cigarette case resting in the breast pocket of his uniform. One of the bullets through his hand smashed his middle finger. In 1999, he would be among many WW2 veterans to publicly thank Steven Spielberg for not holding back on the intensity of the Normandy Invasion scene in his film Saving Private Ryan (1998).
A combination of pneumonia, Parkinson's disease, diabetes and Alzheimer's disease took Doohan in 2005. According to his wishes, part of his ashes were launched about 70 miles above the Earth on a private SpaceLoft XL rocket from Houston's Space Services Inc., a company specializing in such memorials. The ashes of over 200 individuals were aboard that particular flight, including those of Mercury astronaut Gordon Cooper and Star Trek writer/producer/director John Meredyth Lucas. Space Services Inc. had previously sent up the ashes of Star Trek creator Gene Roddenberry and LSD guru Timothy Leary in 1997.
DOUGLAS, Kirk:                                                                                                   
He was acting on Broadway when the Japanese attack on Pearl Harbor brought the US into the war. Experiencing what he described as 'a wave of patriotism and a wave of Jewishness', he joined the Navy and was sent to midshipman school at Notre Dame. He was then assigned to US Patrol Craft 1137, a kind of sub-chaser, as its communications officer. In 1944, PC 1139 sighted a Japanese sub and dropped its depth charges, one of which detonated too soon and put Kirk in hospital in San Diego for five months. He was medically discharged later that year. In December 2019, he will be celebrating his 103rd birthday!
DURANTE, Jimmy:                                                
Jimmy was a Broadway-Hollywood star throughout most of the thirties, but his career was definitely slipping by the time war came. He revived it by entertaining the troops after Pearl Harbor. He became so beloved, in fact, that GIs voted him the person they would most like to live next door to, (with the exception, of course, of the ever-popular June Allyson). Marlene Dietrich recalled one particular USO trip she shared with Durante. Nobody was buying until Jimmy made the crowd an offer. 'For all of you who will buy bonds', he announced, 'Marlene and I will wash all the windows in your house free of charge.' As she said years later, 'We did exactly what Jimmy had promised [for several weeks]. I've still got a sore back to prove it.'
In 1943, Jimmy teamed with Garry Moore for the Durante-Moore Show and they became the nation's favorite duo, not only for the duration but for the rest of the decade as well. Their Armed Forces Radio Network Command Performance with Frank Sinatra remains a favorite of radio-show collectors to this day. Jimmy retired from performing in 1972 after a stroke left him wheelchair-bound. He passed away from pneumonia in January 1980, twelve days short of his 87th birthday.
DURBIN, Deanna:                                                  
It is often forgotten today just how extraordinarily popular Deanna Durbin was at the peak of her powers. For instance, from 1939 until 1942, she was the # 1 female box-office star in Britain. In fact, in 1942, a seven-day 'Deanna Durbin Festival' screened her films exclusively on the Odeon Theatre Circuit throughout the British Isles. She was Prime Minister Winston Churchill's favorite movie star, and he insisted that he be permitted to screen her films privately before they were released to the public in Britain. Churchill would often screen her One Hundred Men and a Girl (1937) whenever he wished to celebrate British victories during the war.
Anne Frank
In 1941, Italian dictator Benito Mussolini published an open letter to her in his official newspaper Il Popolo, asking her to intercede with US President Franklin Roosevelt on behalf of the youth of America and endeavor to dissuade him from entering the war. She made no attempt to do so. Deanna was also Holocaust victim Anne Frank's favorite movie star. On the doomed girl's 'Movie Wall', in the secret annex in Amsterdam where Anne and her family hid from the Nazis, there are two pictures of the Canadian-born songbird. Deanna passed away in Paris, France in 2013 at the age of 91.
DURNING, Charles:                                                                                                           
Debate still rages over the military record of actor Charles Durning. There are those who say he won a Silver Star and was awarded three Purple Hearts for wounds received in action on three separate occasions. It has also been claimed that he survived the infamous massacre of American POWs at Malmedy, Belgium by German Panzer troops! Furthermore, he was supposedly in the first wave to hit Omaha Beach on D-Day June 6, 1944, but his military records from the National Archives appear to tell a different story.
According to them, he arrived in Normandy on June fifteenth '44, and was wounded that same day by shrapnel from a German 'S' mine, earning his first and only Purple Heart. Arlington National Cemetery recently recut his headstone to reflect the award of one Purple Heart. The waters are further clouded when, in April 2008, the French Consul in Los Angeles bestowed on him the Legion of Honor; and in doing so mentioned him surviving the Malmedy massacre, even though for 60 years or more his name had never appeared in any record of such an infamous event. It seems that confirmation of much of his war record is still waiting to be found. Then again, I watched the film clip of him describing his experiences on D-Day, as he landed on Omaha Beach in the very first wave, and he was both convincing and very moving. The man was always a fine actor but I personally felt he was being honest about that day. Maybe, the National Archives got it wrong. It probably would not be the first time. Charles Durning died aged 89 in 2012, on the same day as fellow actor Jack Klugman.