Frances Dee
Lovely Frances Dee married Joel McCrea after meeting him on the set of The Silver Cord in 1933 when she was 23 and considered to be one of Hollywood's most beautiful actresses. The marriage would last 57 years until his death in 1990. She was a strong contender for the role of Melanie Wilkes in 1939's Gone with the Wind, but David O. Selznick ultimately decided against casting her because he was concerned that her great beauty might overshadow newcomer Vivien Leigh, already cast as the female lead character Scarlett O'Hara. Selznick picked pretty Olivia De Havilland to play Melanie instead and Frances could blame her exquisite looks for missing out on the role of a lifetime.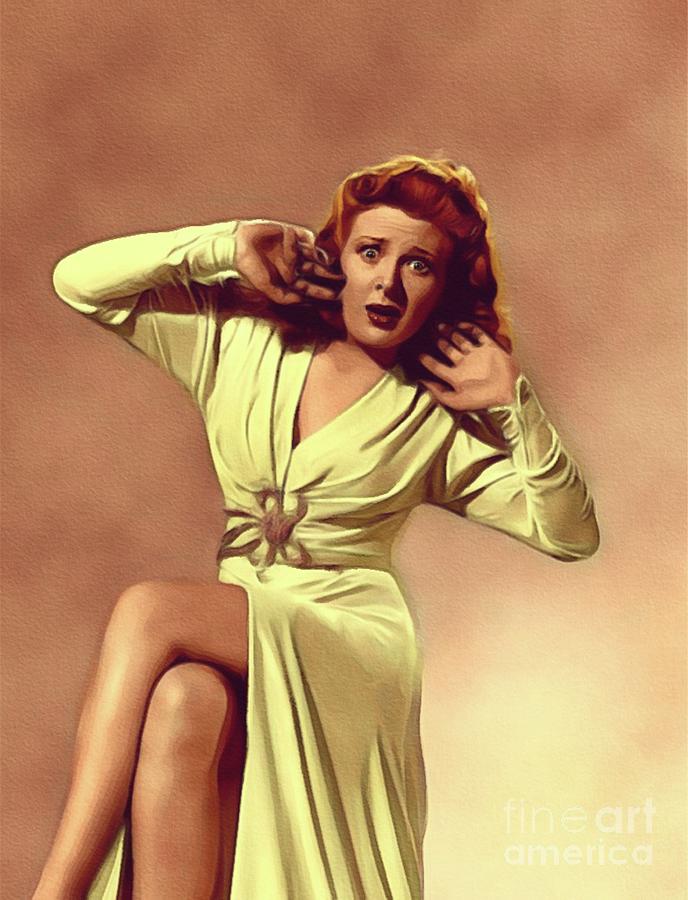 Evelyn Ankers, 'Queen of the Screamers'
Evelyn & husband Richard Denning 1942
Chilean-born Evelyn Ankers was known as 'The Queen of the Screamers' because of the blood-curdling screams that emanated from her in five horror movies she made with Lon Chaney Junior during the forties. The two actors did not get along on the set, however, Evelyn referring to her co-star as 'a brute with bad breath'. 'When he wasn't drinking, he could be one of the sweetest men in the world', she said later but, unfortunately, he drank a lot. Evelyn was engaged to Glenn Ford, but broke it off after meeting her future husband Richard Denning while Ford was away on location in 1942. Evelyn and Dick would remain as husband and wife for the next 43 years until her death from ovarian cancer in 1985.
Lon Chaney Jr & Evelyn on screen together
Shortly after Ankers and Chaney completed Son of Dracula in 1943, Universal Studios invited a few major magazines to a dinner party on the lot to meet all the horror stars. Everybody was there: Boris Karloff, Bela Lugosi, George Zucco and Lon Chaney Jr. He was seated near Evelyn and Dick Denning. An inebriated Chaney kept directing rude, uncalled for comments at Denning who politely ignored them for some considerable time. 'How come you're in the Navy and still in Los Angeles?' sneered Lon. Denning, who was serving aboard a submarine at the time, replied, 'It's a lot better than not being in the service at all during war-time', which happened to be Chaney's situation. The evening progressed somewhat icily after that exchange, until Lon escalated things. 'I've got a little ice-cream on my sleeve', he said, and proceeded to wipe it on Dick's dress blues. That did it. Denning took his own pistachio green ice-cream and pushed it in Chaney's face! And a good time was had by all.
Donald Pleasance (L) & Peter O'Toole in The Night of the Generals (1967)
Both Peter O'Toole and Omar Sharif had signed seven-year contracts back in 1961 with Sam Spiegel when he offered them Lawrence of Arabia (1962). Consequently, when they agreed to make The Night of the Generals (1967), they were compelled to accept much smaller fees for their services than stars of their status were currently being paid. In fact, Donald Pleasance received more than double their combined fees for his supporting billing in the picture! Christopher Plummer had a brief, unbilled role as Erwin Rommel and was given a Rolls Royce as payment by Spiegel. O'Toole and Sharif made the picture out of gratitude to Sam who had made them international stars, but they used their charge accounts to the max as a kind of mild protest.
Raquel Welch as Captain Nirvana in Mork & Mindy (1979)
Such was the popularity of the television series Mork & Mindy in 1979, it could afford to entice big stars for guest appearances. Iconic beauty Raquel Welch was one such player, chosen to portray Mork's love interest, Captain Nirvana, in a two-part episode. Producer Garry Marshall greeted her on her first day on the set and asked if there was anything she needed. 'Buy me a television', she promptly replied. Intent on keeping her happy, he acquiesced, assuming she wanted it for her dressing-room. To his astonishment she took it straight home!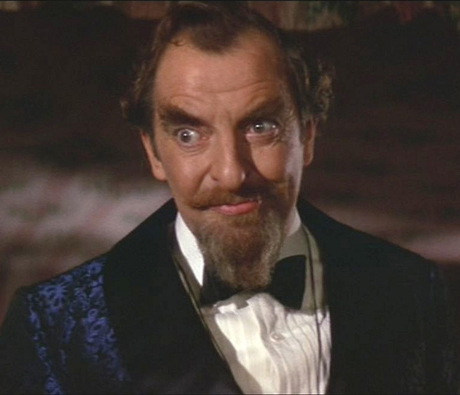 Hugh Griffith in How to Steal a Million (1966)
Eccentric Welsh actor Hugh Griffith played Audrey Hepburn's rascally father in the 1966 romantic comedy How to Steal a Million and, in the course of production, was fired for persistent bad behaviour. Evidently, he made a habit of walking naked through the corridors of the George V Hotel, holding a 'Do Not Disturb' sign over his genitals; a sign he had altered to read 'Do Disturb'. Hugh was a lifelong friend (and drinking companion) of legendary Welsh poet Dylan Thomas, which probably explains a lot. His six years in the Royal Welsh Fusiliers, stationed in India during World War Two, might also have led to his notorious over-imbibing.
Charles Coburn
Piper Laurie left few things unsaid in her memoirs titled Learning to Love out Loud. For instance, she recalled working with elderly actor Charles Coburn, (he with the omnipresent monocle in his films), and noted that he positively loved pinching women's bottoms on the set. 'It was for him like a tic', she said. 'Every female under 105 had to move fast around him. But no-one ever considered reporting him for sexual harassment.' It was a different age, a different time.
Alexa Kenin
Alexa Kenin played Dana in Little Darlings (1980), opposite Kristy MacNichol and Tatum O'Neal and, two years later, was Marlene in Honkytonk Women (1982) opposite Clint Eastwood. Shortly after filming ended on the Molly Ringwald vehicle Pretty in Pink (1986), in which Alexa played Jena Hoeman, she was found dead in her Manhattan apartment. Just twenty-three years old, the cause of her death remains unknown to this day. Pretty in Pink is jointly dedicated to Alexa and to Bruce Weintraub, the Set Decorator and Production Designer for the picture who died of AIDS at 33. Rumours abounded regarding Alexa's cause of death, ranging from an asthma accident, to a heroin overdose, to being murdered by her ex-boyfriend, but it remains a mystery.
Julia Roberts in Valentine's Day (2010)
In the 2010 ensemble feature Valentine's Day, Julie Roberts spoke just 251 words, for which she reportedly received $3 million. That works out to $11,952 per word. Furthermore, her contract guaranteed her 3% of the gross, which meant she pocketed over $10 million for her performance! Included in the cast was 75 year-old Shirley MacLaine. She was unhappy with her own pay-check and duly complained to the director about it. 'These are not lucky numbers for me', she informed him. 'The money is fine. I just need the numbers at the end of the cheque to be 131.' The numbers were quickly changed and she was happy.