Rod Taylor & Tippi Hedren in The Birds (1963)
One day, before I die, I would like someone to explain to me just why Alfred Hitchcock's pitifully weak 1963 'thriller', The Birds, is considered to be a classic by so many so-called cinema experts. The screenplay is sub-standard, mostly boring and contrived, and the sequences that are supposed to strike fear in the hearts and minds of cinema-goers are, to put it mildly, laughable. Rod Taylor does his usual professional job with the material he is lumbered with, but Tippi Hedren was no actress and is clearly, hopelessly out of her depth. Jessica Tandy's talents are simply wasted. I can only assume she either needed the work, or had joined that odd legion of actors and actresses who simply could not say 'no' to a chance to be in a Hitchcock movie.
It's too dangerous indoors, so let's run down the hill instead.
The worst of a lot of idiotic moments in this film comes when Tippi and Suzanne Pleshette take a look out of the schoolhouse window, at the crows gathering outside, and jointly arrive at the brilliant decision to herd the schoolchildren out of the building and run them down the hill (presumably to another building)!. Of course, they are attacked by birds all the way down the hill. Throughout this dumb movie we are expected to believe that nowhere is safe from these homicidal gulls and crows; not inside motor vehicles, nor buildings, nor telephone boxes! Grown men and women cower in terror indoors. And these are seagulls and crows for crying out loud, not elephants and rhinoceros! In one unforgettable moment, Rod, his daughter and Tippi leave the safety of a brick house – and leap into a convertible to make their escape! Rod even takes the time to put up the canvas top, so we can safely assume the director was clearly aware of this.
The Bodega Bay schoolhouse, in which several scenes were shot, was said by the locals to be, (surprise, surprise), haunted! Miss Hedren has since stated that, when Hitchcock heard about this prior to filming, it further encouraged him to use the premises. Nothing like a genuine haunted house to add a touch of the supernatural to a thriller, I suppose. To cap everything off, this so-called 'classic' movie contains over fifty gaffs, most of them to do with continuity. Fifty! This is about normal for a Hitchcock film, by the way. Let's face it, the man was a sloppy director. No wonder he never won any Oscars. In fact, the only Golden Globe he ever collected was for his TV series, Alfred Hitchcock Presents (1955).
Rear Window (1954), another Hitchcock film, was one of the infamous 'Five lost Hitchcocks', left as part of his legacy to his daughter. She re-released them in 1984. The other four were Rope (1948), The Trouble with Harry (1955), The Man Who Knew Too Much (1956) and Vertigo (1958). At the risk of alienating every Hitchcock fan who reads this, I have never thought much of any of them. Rear Window is the best of the bunch, which is not saying a lot, but it still drags along at a snail's pace, despite having the services of Jimmy Stewart, Grace Kelly, Thelma Ritter, Wendell Corey and Raymond Burr.
The one and only Grace Kelly in Rear Window
Hitchcock used Stewart and Cary Grant as his romantic leads whenever they were available, although he found Jimmy much easier to work with than Cary, who was fussy and demanding. Not that Stewart was a 'pushover', by any means. According to Wendell Corey, who worked with him several times, 'Jimmy had a whopping big ego and could intimidate even Hitchcock by out-shouting and out-arguing him if he thought a scene wasn't going well. There was steel under all that mush', said Corey.
Thelma, Grace & Jimmy – a trio of voyeurs.
In the book on which Rear Window was based, there is no love affair. Hitchcock added it, inspired by the real life affair between war photographer Robert Capa and Swedish actress Ingrid Bergman. Personally, I am delighted he did, because Grace Kelly is by far the best thing in the picture. She looked exquisite in all three of her Hitchcock films, the other two being Dial 'M' For Murder (1954) and To Catch a Thief (1955), but in Rear Window she is even more beautiful than usual. She was also a highly proficient actress. As usual, Hitch was noticeably obsessed with his leading lady, particularly when it came to determining her wardrobe for the picture. He even instructed costumer Edith Head to use 'falsies' to give Grace a 'bustier' look. Head and Kelly made only a few minor alterations, yet convinced him that his star's bust had been generously padded as per his instructions. On November 12, 1953, Grace celebrated her 24th birthday on the set.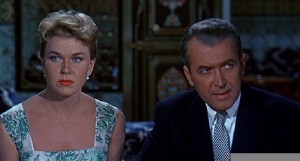 Doris Day (33) & Jimmy Stewart (47) in The Man Who Knew Too Much (1956)
It is most difficult to form any kind of affinity with Stewart's character in Rear Window. There is something about the 'hero' sitting in the dark, spying on his neighbours with a tele-photo lens that just doesn't sit right. One gets the distinct impression that, underneath it all, he is nothing but a sleazy, dirty old man. Some hero! Another thing I have always found difficult to fathom; why do Stewart, Grace and Thelma whisper for much of the story? Are they afraid the killer might hear them? Surely not. After all, he is on the other side of the quadrangle. There is a lengthy telephone conversation between our hero and his police buddy (Corey), near the end of the picture, and he whispers the whole time. Why? This is the kind of basic mistake Hitchcock makes, that places him, in my eyes anyway, well below the really good directors.
Kim Novak (24) & Jimmy (49) in Vertigo (1958)
This movie aside, it is probably significant that the two Hitchcock films I enjoyed most are Dial 'M' For Murder and To Catch a Thief.  Both of them starred the gorgeous Grace. Equally significantly, I have to admit that I have no feeling at all for The Man Who Knew Too Much or Vertigo. And that is mainly because they starred Jimmy Stewart, an actor I find irritating in the extreme. Even Hitchcock ultimately tired of him after Vertigo. Evidently, he realised very quickly that his leading man, at 49, was too old to convincingly play a romantic lead opposite 24 year-old Kim Novak, and the picture suffered for it.  Jimmy was only two years older than when he starred in The Man Who Knew Too Much opposite Doris Day. However, his 47 years in 1955 did not look quite so old when compared to her 33 years.